Surrounded by 3000+ metre jagged peaks, in the heart of The Alps, a stay at the quiet Camping la Rencontre du Soleil is all about the views. The local village of Le Bourge-d'Oisans and the challenging switchbacks up to Alpe d'Huez often feature on the Tour de France, and during the winter, this is a premier skiing destination. This site was the perfect start to our 2021 summer France road trip in our Mazda Bongo camper, and we've added this to our list of the best family campsites in France.
Disclaimer: TraveLynn Family were offered a complimentary stay at Camping la Rencontre du Soleil through Eurocamp Independent in exchange for this honest review and social media coverage. As always, these are all my own words. Also, this post contains affiliate links, should you click to purchase, it is at no additional cost to your, although I receive a small commission.
Does this mean you need to be a super fit mountain biker to fully appreciate these views? Not at all. Directly from the campsite are traffic-free, FLAT, cycle paths along the Romanche river that are perfect for kids, affording absolutely jaw-dropping views with snow capped peaks even in the height of summer.
Or if you want to experience some altitude hiking without an epic uphill struggle, drive the 25 minutes up to the cable car station at Alpe d'Huez and ride up to the summit of Pic Blanc at 3330 metres. Just incredible.
The campsite
Camping la Rencontre du Soleil is a small, quiet campsite, and the perfect base for adventure loving families. Onsite there is a small swimming pool (no slides), a ball court, a restaurant (also serving takeaways, including amazing pizzas), small playground and a kids club.
There is no bakery onsite, but you can order your croissants and baguettes for the next day from reception, and they will be waiting for your from 8am (cash only).
Pitches are average size compared to what we've experienced elsewhere in France. The hedges around each pitch provide privacy and there are lots of trees providing shade; even though this is The Alps, it still gets very hot (30°C) in the summer.
There is one central wash block with toilets, showers, washing machines, and washing up sinks, built in an Alpine style. These were always clean and a toilet was always available. However, there are only 3 female showers for the entire campsite, so time your shower with quieter times (in the morning).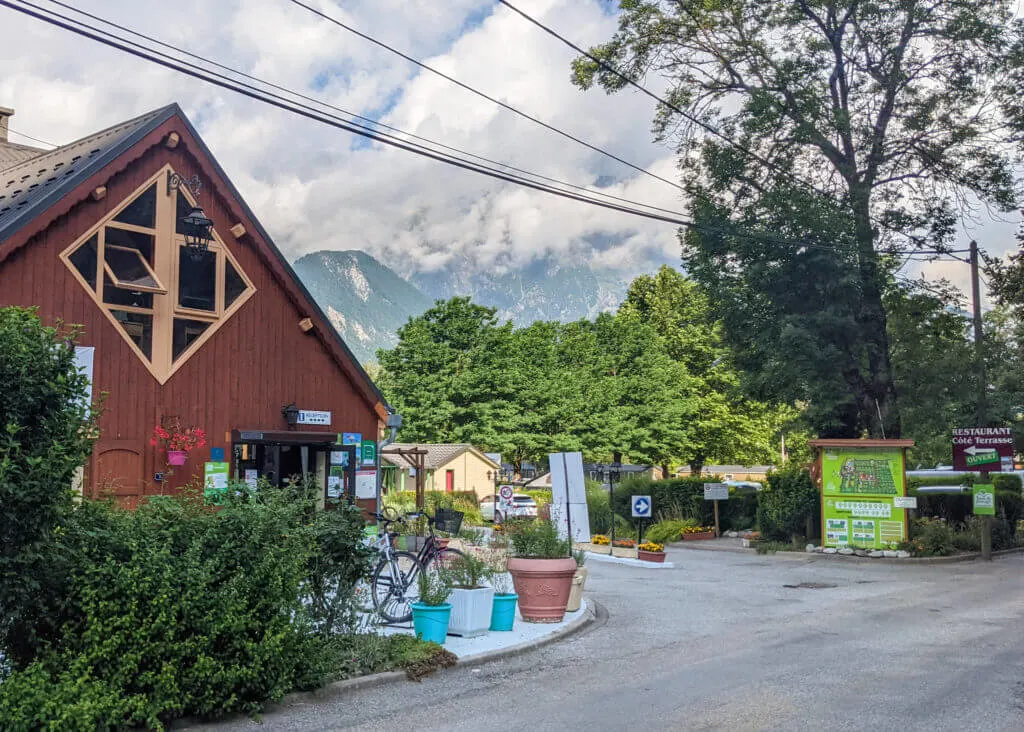 The playground
There is one playground, tucked away in the corner of the campsite, next to the swimming pool. It's rather basic with a swing, and climbing frame with slides. Toddlers will struggle to get up onto the climbing frame, and it may not keep older kids entertained for long. But with it's impressive views, it's worth taking a cuppa over to keep an eye on the kids whilst they have a quick play. Our 6 year old loved it, but our 7 year wasn't too fussed.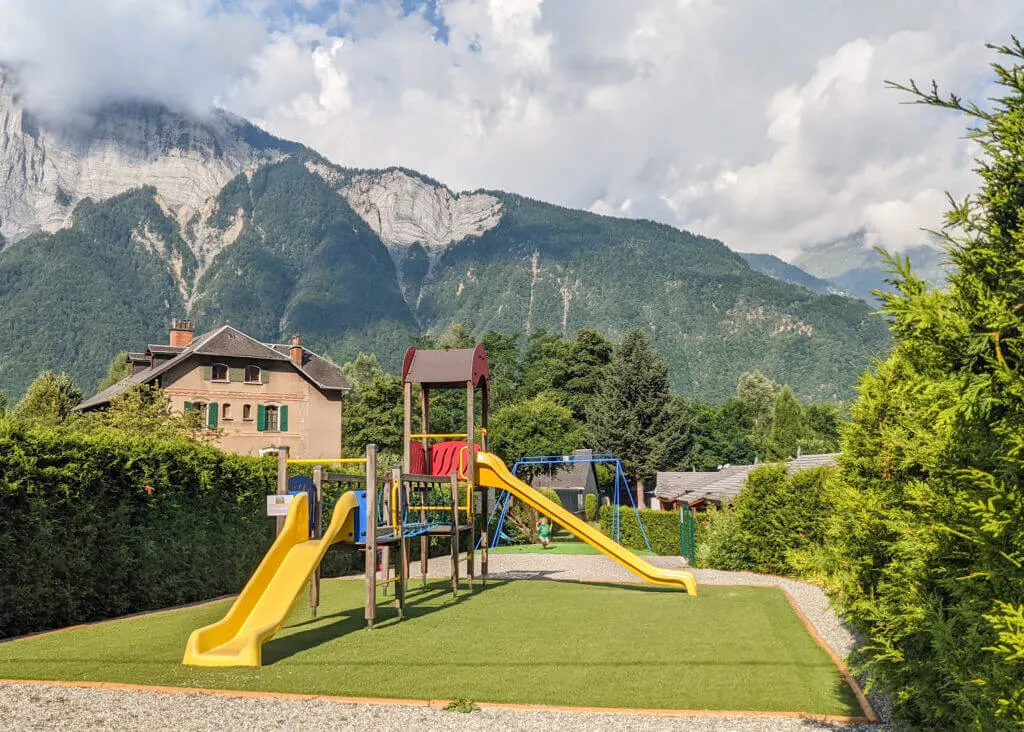 The swimming pool
There is a small swimming pool heated to 27 degrees. A roof is rolled over during wet or cold weather.
There is no separate toddler pool, and the shallow end of the pool isn't shallow enough for small kids to stand up in. But if you're kids are confident in the water, or happy wearing aids, it's a lovely pool for a dip after a day adventuring. Plus the views are pretty special.
The pool gets rather busy from 5-7pm. Although we had a couple of chill days onsite and went to the pool around 1pm, to find we had it completely to ourselves!
Kids Club
Even though this is a Eurocamp site, there is no specific Eurocamp representation and therefore no Eurocamp Kids Club. Instead there is the site-run kids club, which runs 10am-11:30am Monday to Friday. I loved that this was an opportunity for my boys to mix with kids from other countries, and even though it was much tamer than previous Kids Clubs they've experienced through Eurocamp, they absolutely loved it, and we ended up having to arrange our days around Kids Club.
WiFi
Whilst we all like the idea of switching off whilst camping, in this day and age, the majority of us need good internet access for one reason or another. There is free Wifi available, although I personally found this a little slow. But that wasn't a problem as my phone was able to access 4G+ internet.
Are dogs allowed?
Yes, we've seen families with dogs on site, and the couple that manage the site also have their own dog.
Where is the nearest supermarket?
The is no shop on site. You can purchase breads for the morning, but that's it. For all other foods you will need to stock up at the Casino Supermarket in the local village of Le Bourg D'Oisans (1km from the campsite). This is a huge supermarket and you should find everything you need here; although try and avoid going between 5 and 7 pm as it's often super busy at this time.
Social distancing measures for 2021
As we are travelling during the COVID pandemic, there are still social distancing measures in place in France, even though many of these have been lifted in the UK.
To check into the campsite, we had to show our COVID vaccine certificates and 'pass sanitaire' (the signed French document to say you have no COVID symptoms and haven't knowingly been in contact with COVID in the preceding fortnight).
Masks are to be worn around the campsite (at reception, in the washblock etc).
Kids over the age of 6 should wear a mask at Kids Club (although this isn't strictly enforced).
What is there to do in the area?
Cycle along the Romanche River – it's a flat path and the mountain views are incredible.
Eat ice-cream in the local village of Le Bourg D'Oisans (1km from the campsite). There are lots of restaurants and cafes to choose from.
Visit the impressive waterfalls of Cascade de la Pisse. To get there, follow the bike path upstream along the Romanche for 4km and from there follow the signs to the waterfalls. You will have to lock your bikes up and walk the last 200 metres to the falls.
Drive up to the alpine resort of Alpe d'Huez. Here you will find a whole range of activities from paragliding, tobogganing, mountain biking. But an absolute must is to get the cable car up to Pic Blanc (3330 metres) for incredible 360 degree views. A family return ticket is €70, and make sure you take a jumper and jacket as it's -2 up there, even in the height of summer.
Final thoughts on Camping la Rencontre du Soleil
For us this is the start of a summer of travels after months of travel restrictions in the UK, and we couldn't have asked for a better start. Waking up to these jaw-dropping views every morning were just incredible, and then to enjoy them with flat cycle paths with the boys was very special.
We loved that it was a small, chilled out site, it was perfect for our boys aged 6 and 7. But if you've come from a larger site with a waterpark, older kids may be a little disappointed with the facilities. Indeed this was a reason we decided to start this trip with a smaller site.
How do you book Camping la Rencontre du Soleil?
A pitch for tents / campers / caravans / motorhomes can be booked through Eurocamp Independent. Currently you are unable to book through Eurocamp for a glamping site or villa. However, there are chalets onsite and this can be booked directly on the Camping la Rencontre du Soleil website.
We have changed our dates and sites for this summer trip so many times due to changes in travel restrictions, so it was so handy having all our site bookings through Eurocamp so they could move around our dates as and when we needed.
---
You may also like to read:
All about our Mazda Bongo camper
The best family campsites in France
Our Bongo packing checklist