A winter road trip from Santander to Barcelona and back, mostly camping in our Mazda Bongo camper and a stay at an aparthotel in the Pyrenees. Includes beaches, cities, desert, amazing food, and skiing, all crammed into 2.5 weeks. Read on for details of our Northern Spain road trip…
Disclaimer: Eurocamp Independent provided us with a complimentary one week stay at Camping Vilanova Park in return for this honest review and social media coverage. We paid for all other accommodation, travel and activities on this Northern Spain road trip ourselves. Also, this post contains affiliate links; should you click to purchase it is at no extra cost to you, but I receive a small commission.
We love to be able to camp in our Mazda Bongo year round. But in all honesty, camping in the UK winter months for more than the a couple of nights doesn't really appeal to us. But camping in Spain over the winter when the sun is shining and day temperatures are hitting 20 degrees! Well yes, that sounds much more like a holiday. And then add in some skiing (although staying in an aparthotel), and it really does make for the perfect winter road trip.
This Northern Spain road trip from Santander to Barcelona and the Pyrenees took us almost 3 weeks over the school Christmas holidays 2021/2022 (a time when travel restrictions were constantly changing). We sailed with Brittany Ferries from Portsmouth to Santander (a 30 hour crossing), then after a couple of nights camping in Santander and then San Sebastian, we continued to Vilanova Park Campsite, just south of Barcelona, where we camped for a week. We then drove up to the Spanish Pyrenees to the small ski resort of La Molina, which is perfect for families and absolute beginners (we stayed in a self-catering aparthotel here, rather than camping in the Bongo), before returning to Santander and boarding Brittany Ferries back to Portsmouth.
The route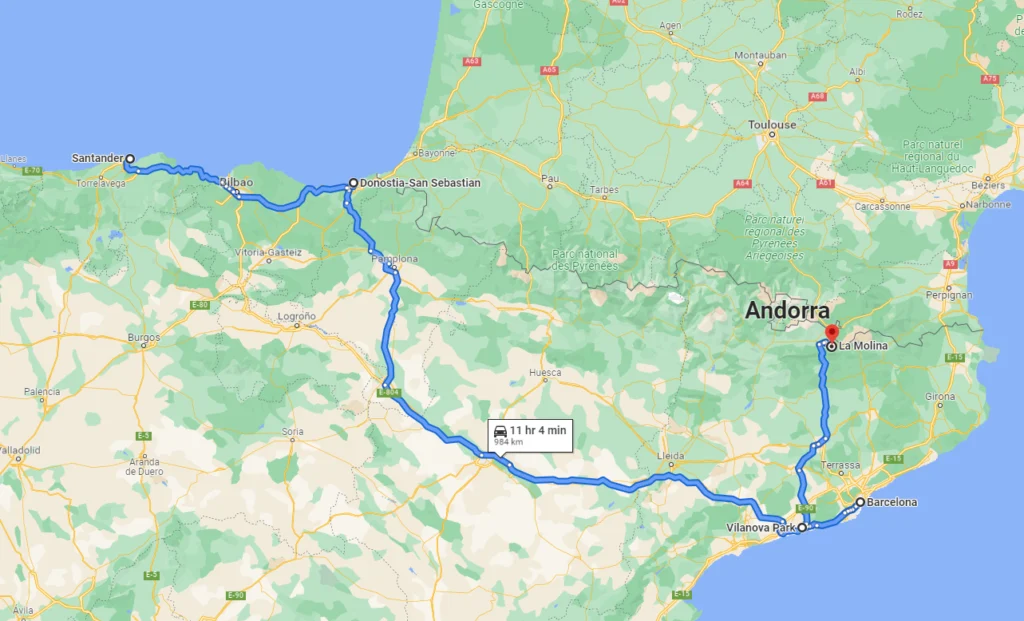 Tips to share from our Northern Spain road trip
Many businesses (including supermarkets) close for a siesta every day, commonly between 2pm and 5pm.

Even though many restaurants don't open for dinner until 8pm (or later!), you can generally find somewhere serving tapas in tourist areas.

Daytime temperatures were warm enough around Barcelona to be walking around in shorts and T-shirts. However, the temperature drops as soon as the sun goes and you will need a jumper and/or light jacket.

Vegetarians may struggle, and there's only so much patatas bravas and cheese a person can have. Have some ideas of easy veggie meals to cook whilst travelling. Vegans will definitely find it tricky.

As with everywhere we go, knowing a little bit of the language goes a long way. Basque, Spanish, and Catalan are the prime languages in the regions covered on this Northern Spain road trip. We scrubbed up our very basic Spanish, and a 'gracias' here and there from the kids was always rewarded with a smile.

At smaller campsites, most of the facilities will be closed (bars, restaurants, swimming pools). But at larger sites, you can expect many of these to be open.

Cars from the UK now have to display a UK sticker on the rear of the car; since Brexit, the GB sticker is no longer allowed. Check out this RAC guide for up-to-date information on driving in Spain.
The itinerary
The timescales of the below Northern Spain road trip itinerary worked pretty perfectly for us. The only thing I would perhaps change is rather than returning to Santander for the ferry back to Portsmouth, we would drive back through France (click here to read about our ferry crossing experience from England to Spain). Although at the time of writing, British travellers were not allowed to enter France due to COVID travel restrictions and our only option was to return direct to England via the ferry.
DAY 1: Ferry to Santander
READ: Essential tips for taking the ferry to Spain from the UK
We sailed with Brittany Ferries from Portsmouth to Santander. The ferry departed at 9am, so we stayed in this Premier Inn the night before.
At the time of year we were travelling (Dec/Jan) this was the only ferry crossing from England to Spain, and running only once per week. In busier months, ferries are much more frequent. You can also sail Portsmouth to Bilbao with P&O Ferries; so it's worth looking around for the best times/prices.
The ferry crossing from Portsmouth to Santander is 30 hours. We had a 4 berth cabin, and 1 dinner and 1 breakfast per person was provided with our booking.
It was a wonderfully relaxing crossing on the way over to Spain, and we found it to be the perfect decompression after a hectic end to the Autumn term. There are interactive play areas for the kids, but I also came prepared with some craft activities which the boys enjoyed whilst we ate tapas and us parents drank wine in the Tapas Bar. If you're lucky, you may even spot whales or dolphins from the deck!
However, the experience of the return ferry was very different. More on that further down this northern Spain road trip itinerary.
DAY 2: Arrive in Santander
Camping at: Camping Virgen del Mar
Our ferry arrived into Santander at 2:30pm. We drove straight from the ferry to a supermarket (this one) to stock up on food (remember that you can no longer bring in meat and dairy products from the UK into Spain) and then on to our campsite, Camping Virgen del Mar.
Like many Spanish campsites, the pitches are rather small and cramped. But as a base for two nights, it's absolutely fine. The wash block is good and there's a small play area for little ones. During the high season there is an onsite bar/restaurant and a swimming pool, though these were both closed as we were visiting in December.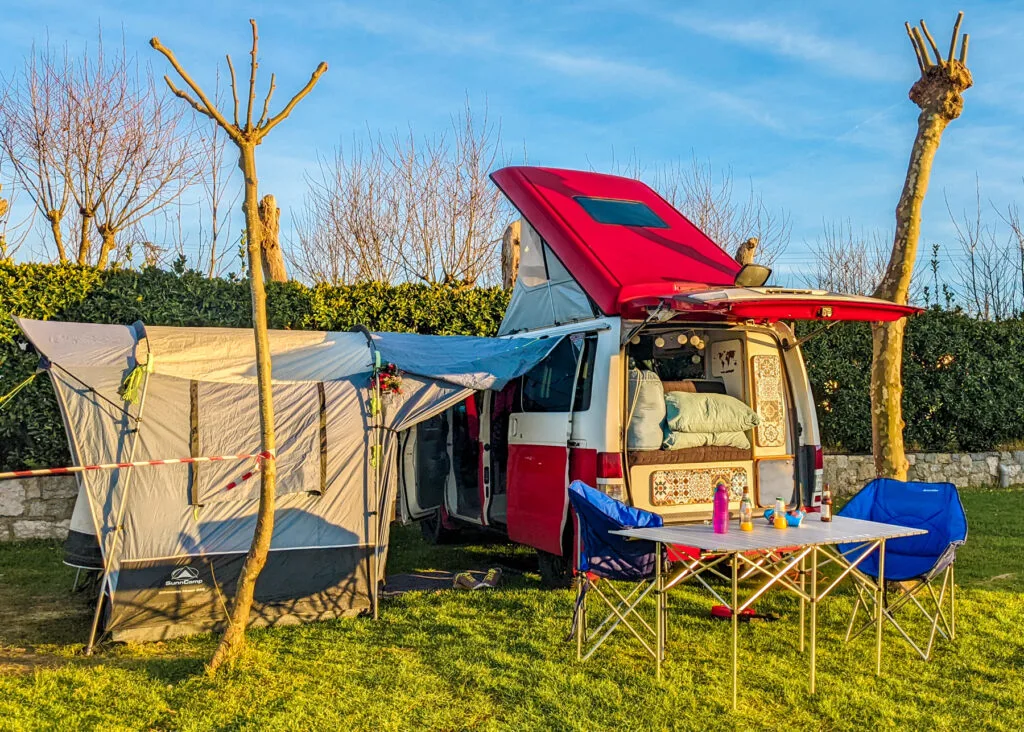 Once we'd pitched up and enjoyed a routine arrival beer, we took the short walk down to the beach (turn left out of the campsite and walk 250 metres down the road). It's a small sandy cove surrounded by rocks, and a little further on is a church. There's a small taverna here too, though we took our own wine down to the beach with us to enjoy whilst the kids played. It's a lovely spot.
DAY 3: Santander
Camping at: Camping Virgen del Mar
The number 17 bus to the centre of Santander runs hourly from the stop outside the church (not the church on the coast, but the church in the village), which is a 10 minute walk from the campsite. At the time of our visit it was €1.30 per person (and we also had to pay for our kids).
When you alight at the central bus station, make your way to Centro Botin, a striking modern building that overlooks the harbour. You can walk up the steps (for free) to check out the views of the city.
In the Jardines de Pereda, just behind Centro Botin, is a fantastic playground for kids with outdoor seating next to a bar. Yes parents, order yourself a Mahou and tapas whilst your little darlings release their energy in the playground.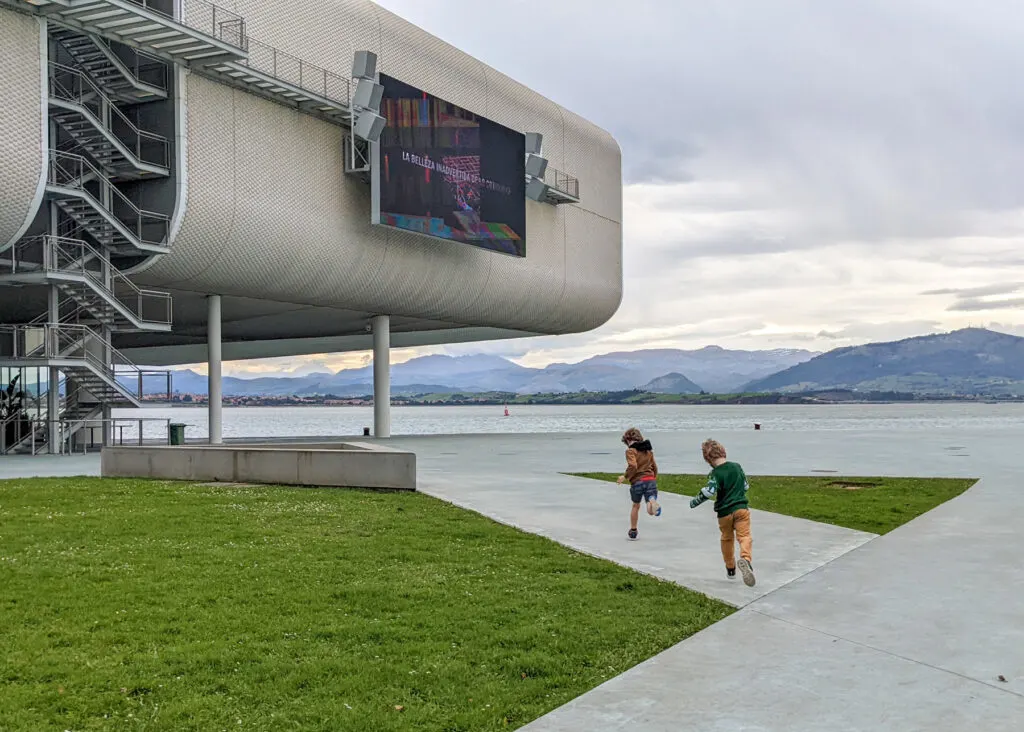 Follow the footpath along the waters edge, leading away from the city centre. This section is actually really good for scooters (wish we'd brought ours). This leads you past a marina, and then further onwards to Playa Los Peligros (a lovely sandy beach with the stunning backdrop across the waters of jagged mountains).
Further round the coast is vast swath of sandy beach known as Playa Del Camello. From here, we took the number 2 bus back towards the campsite.
DAY 4: Drive to San Sebastian
Camping at: Camping Bungalows Igueldo San Sebastian
It's only a two hour drive to San Sebastian (one of the best beach towns in Spain). After a lazy morning packing up the Bongo, it was easy enough to fit in a detour to Monte Igueldo before heading to the next campsite.
Monte Igueldo is a superb viewpoint overlooking the perfect arc of city coastline that is San Sebastian. You can either take the short funicular ride to the top, or drive up (the price for parking is pretty much the same as the very short funicular).
There is also a small fairground at the top. It's a little tired in places, but this adds to its rustic charm. Check their website ahead of visiting for opening times. Unfortunately it was closed for our visit on Christmas Eve, but we were able to pre-warn the kids.
Camping Bungalows Igueldo San Sebastian is a ten minute drive out of the city, along the coast. The mountain views from the pitches are lovely, and kids will appreciate the playground. There's a restaurant and small swimming pool on site, but these were closed for our winter visit.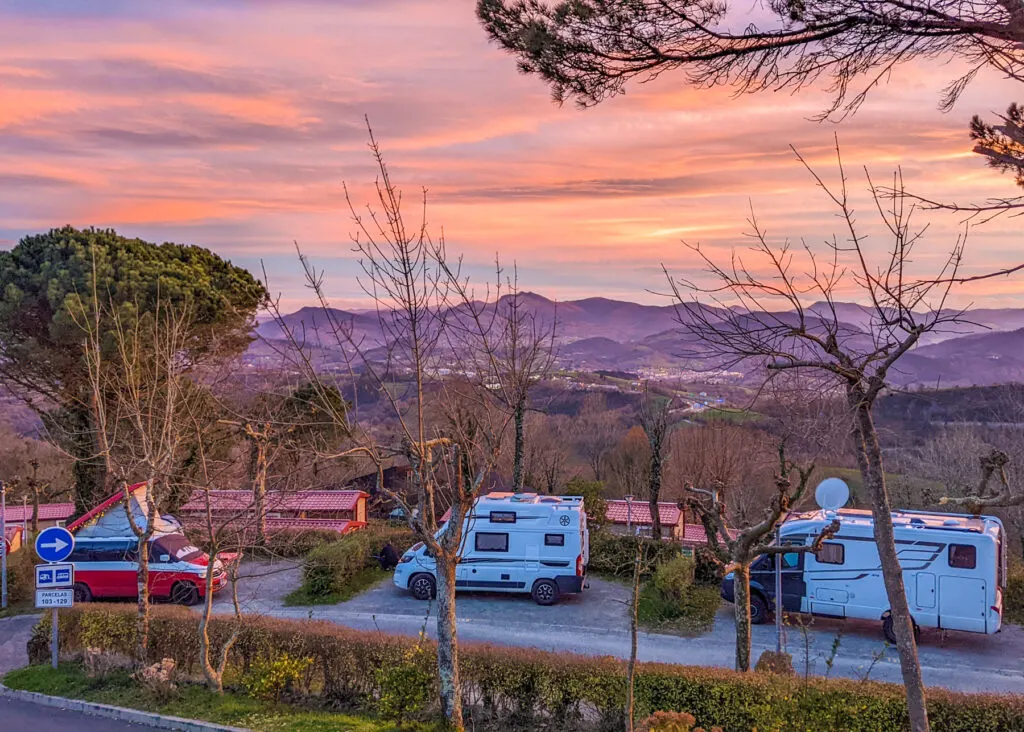 Day 5: San Sebastian
Camping at: Camping Bungalows Igueldo San Sebastian
The best thing about Camping Bungalows Igueldo San Sebastian is the direct bus from right outside the entrance that takes you into the heart of the city. The Number 16 bus runs every half hour or hourly depending on the day of the week (pick up a timetable from the campsite reception). The journey is 20 minutes, €1.30 per person (free for 5s and under).
Our visit to San Sebastian coincided with a Christmas Day abroad. We hadn't expected anything to be open, but not only was the bus running, but bars were open and even a ferris wheel.
We enjoyed pintxos and beers in stunning Casco Viejo de San Sebastian, the festive vocals in this 15th century cathedral gave us goosebumps, we hiked to the fantastic viewpoint of Motako gaztelua looking back over the city (click here for location), rode a Ferris wheel, and built a snowman on the beach.
It really was a very special Christmas Day that we will remember forever. And don't worry, Father Christmas managed to find us in the Bongo!
DAY 6: Drive towards Barcelona
Camping at: Vilanova Park Campsite
It's a 5.5 hour drive to Vilanova Park Campsite. The latter half of the drive is through a desert landscape with medieval villages hugging hill tops. It's absolutely beautiful.
Vilanova Park Campsite is just 50km south of Barcelona, so it's a good base for exploring the city. The campsite itself is huge and extremely busy in the summer months. But in the winter months, when we were visiting, it was very quiet indeed; although the restaurant, supermarket, and indoor pool were still open. Pitches are also much larger than we've experienced elsewhere in Spain, and tall hedges on three sides provide privacy (more common with what we have previously experienced with French campsites).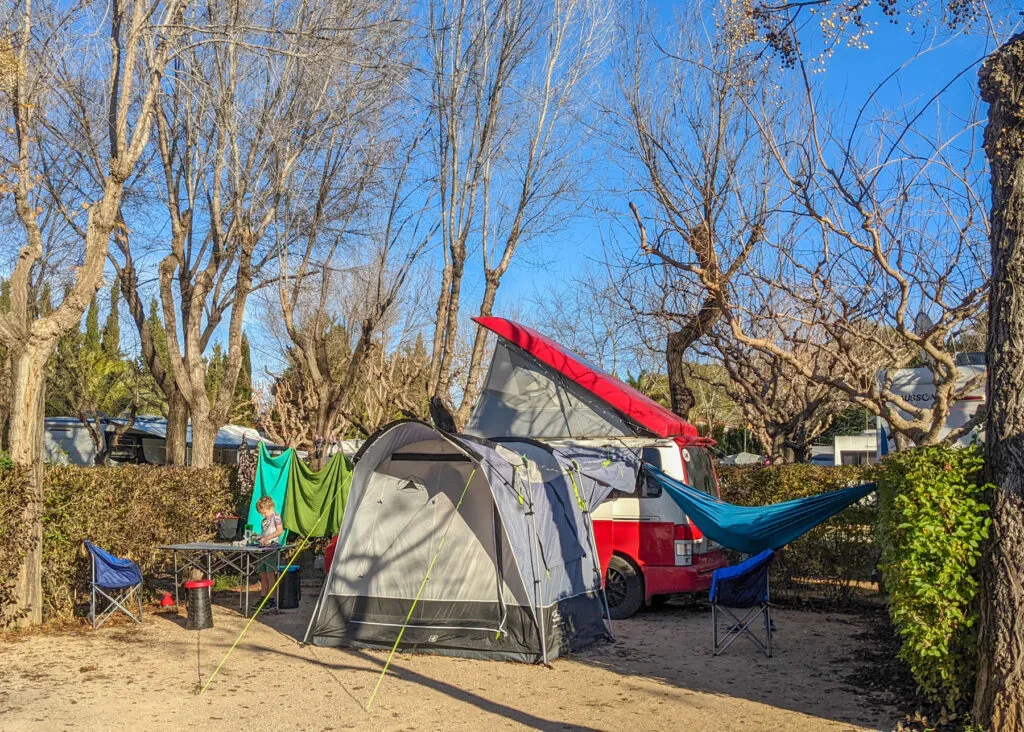 After the long drive from San Sebastian, the delicious wood fired pizza and €9 bottle of house red from the campsite restaurant was much appreciated.
DAY 7-12: Vilanova Park Campsite (including Barcelona and Sitges)
Camping at: Vilanova Park Campsite
We had a superb week camping at Vilanova Park Campsite (click here to read our full review). Basking in glorious sunshine with day time temperatures hitting 20°C in late December, and with a direct bus to the heart of Barcelona, we felt we had hit the jackpot for a winter sun destination.
As it's such a lovely campsite, allow for a couple of downtime days for the kids to play and for everyone to relax. However, absolute must dos are a day trip to Barcelona, the walk from Vilanova to Sitges along the coast, a day trip to Tarragona, and watching the sunset over the Mediterranean from the beach at Vilanova i la Geltrú. More details in this post.
DAY 13: Drive to La Molina in the Pyrenees
Staying at: Guitart La Molina Aparthotel & Spa
It's only a two hour drive to the ski resort of La Molina, and most of the drive is through a arid landscapes, making you wonder if there will actually be snow when you get there. Don't worry, snow will appear just before you reach the resort, and even if there hasn't been much snowfall, there are snow machines at La Molina.
Make sure you visit a supermarket before you arrive at La Molina. There is only one small supermarket at the resort, which is fine for the staples of bread, milk, cheese, and frozen pizza.
A full review of our accommodation is coming soon. In summary, it's a basic apartment for a family of four with a small kitchenette and dining table, an ensuite bathroom (with shower, no bath), a double bedroom, and a lounge area with TV (the sofa separates into two single beds). The mountain view from the balcony that spans the lounge and bedroom were very special to wake up to. There's a restaurant serving a buffet breakfast and dinner on site, although we just cooked for ourselves. There's also an indoor pool (which at €10 per adult and €5 per child we didn't really think was worth it).
Once you're checked into the apartment, visit Club Elements Molina, which is a two minute walk from Guitart Hotel, to arrange your ski equipment hire and lessons. Residents of Guitart receive a 10% discount at Club Elements Molina. We were told that you don't need to pre-book equipment hire or lessons. However, it's worth emailing ahead to arrange lessons; we booked a 10 hour lesson pack for our boys for a total of €400.
DAY 14-17: Skiing at La Molina
Staying at: Guitart La Molina Aparthotel & Spa
Click here to read our blog post detailing everything you need to know about skiing at La Molina! This was a first family ski trip for us, booked independently without the use a of ski travel agent. In fact, La Molina isn't even on the books for UK Travel Agents.
La Molina is a small-scale ski resort in the Spanish Pyrenees, and especially good for families with its range of gentle green and blue runs that are manicured daily by snow machines and snow groomers. There's very little in the way of après ski here, aside from a low-key bowling alley and a couple of café style restaurants.
But for a first time ski experience, it was perfect for us, and under the fantastic tuition of Feran from Club Elements Molina our boys (age 6 and 8) went from not even knowing how to put skis on, to giving their parents a tour of the mountain and whizzing confidentially past them in four days.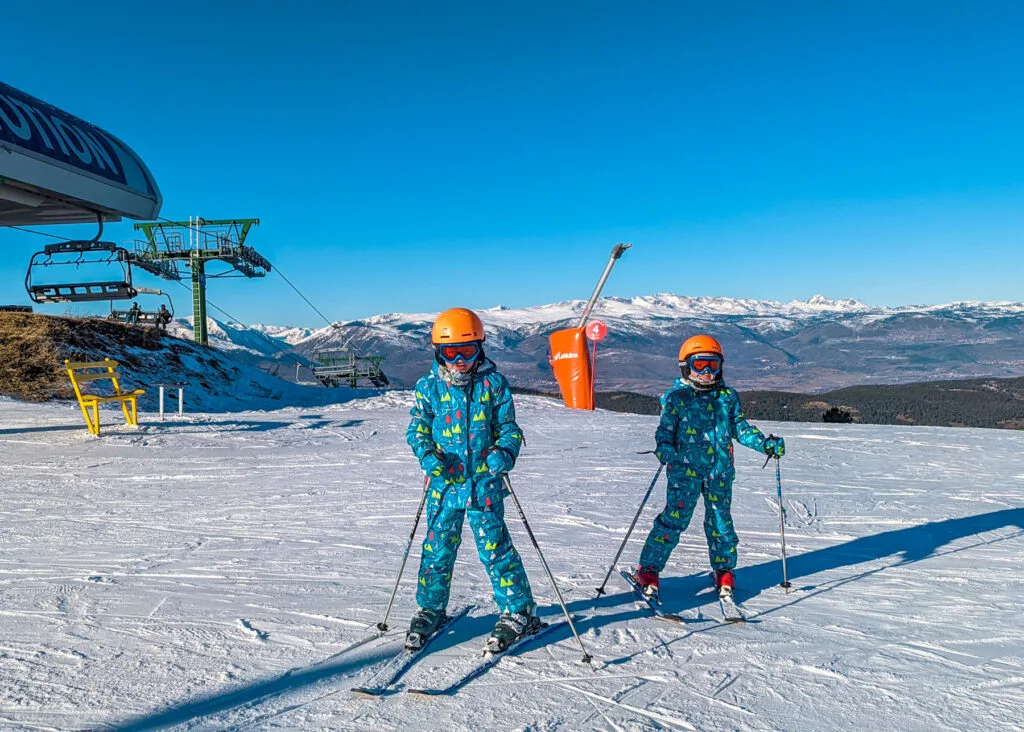 Even though the boys seemed keen to do more, four full days felt like the right amount of time for our first family ski trip. It was an absolutely brilliant introduction to skiing for our boys and we really couldn't have asked for anything more. We're now officially a ski-obsessed family!
DAY 18: Drive back towards Santander
Camping at: Camping Fuenmayor
It's a 7 hour drive back to Santander. In all honesty, this isn't the most efficient way to get back to the UK; if driving north through France, in 7 hours you would be as far as Bourges. However, we had planned this trip to only travel through one country at a time, as crossing borders during the pandemic gets very complicated. Indeed, at the time of our visit, British travellers were not allowed to enter France.
To break up the drive back to Santander, we camped at Camping Fuenmayor, just outside Logroño (5.5 hours from La Molina). From their website, the campsite looks quite nice. However, on a grey January evening, with no one around and lots of permanent, empty caravans on site, we didn't get the best vibe. However, it was the only campsite open enroute that worked with our timings, and it was absolutely fine for a night.
If you have time and would like to extend this Northern Spain road trip into France, have a look at one of our France road trips for inspiration, or check out our top family campsites in France.
DAY 19: Ferry back to the UK
READ: Essential tips for taking the ferry to Spain from the UK
Allow a good few hours to get to the ferry port in Santander, including time to stop at a supermarket to stock up on wine.
After such a fantastic ferry crossing over to Spain, we were really looking forward to the return crossing. However, little did we realise what was in store.
The ferry route between Portsmouth and Santander goes through the Bay of Biscay, which is notoriously rough and we experienced the worst ferry crossing of our lives returning back to England.
As the waters were so choppy, everyone was forbidden to go out on deck and ordered to stay in their cabins for half of the 30 hour crossing. We were sliding from one end of our cabin beds to the other as the ferry tipped from extreme side to side. It was impossible to stand and made for a miserable and sickly crossing. And as things flew off the shelves, I couldn't help but worry if our beloved Bongo camper had been knocked over (it somehow managed to stay upright).
Whilst the boys were fine (our youngest thought it was the most exciting rollercoaster ever!) we have vowed never to do the ferry to Spain from the UK again. It really is pot luck how the seas will be, and at £1400 for the return experience, we'd rather not risk it. Next time, we'll drive through France.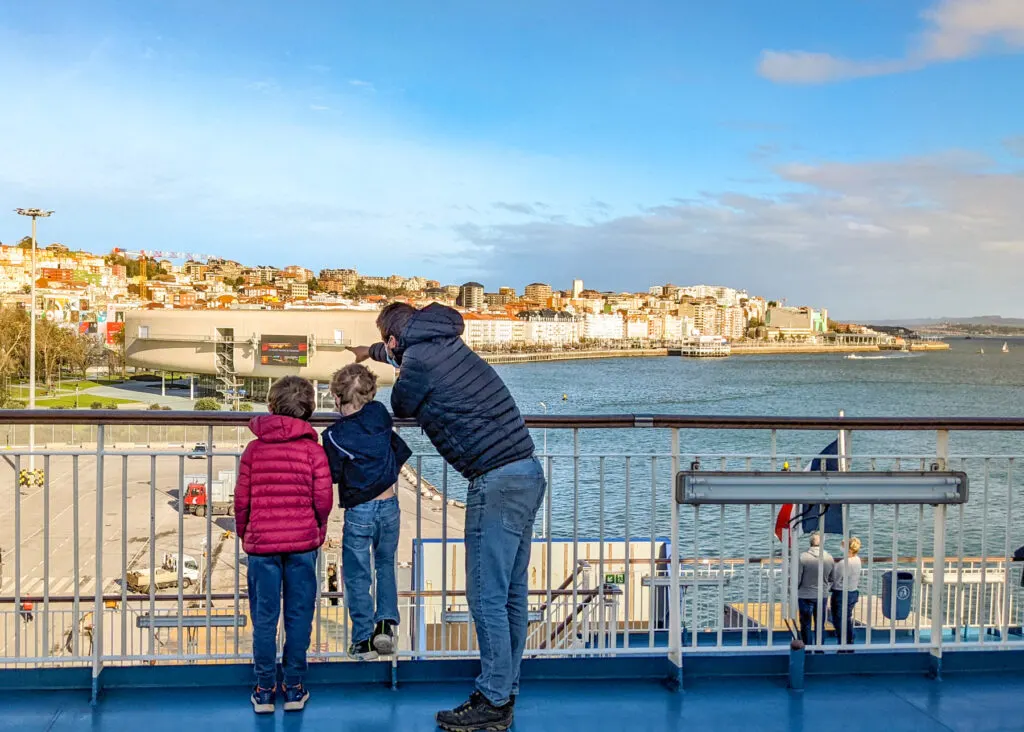 Final thoughts on this Northern Spain road trip
Aside from the very choppy return ferry, this really was the perfect winter road trip. So much so, that we've been saying that we should try and do something very similar next Christmas holidays.
Being able to experience winter sun and skiing in the same holiday was absolutely wonderful, and we couldn't help but feel rather smug eating our breakfasts and lunches outside our Mazda Bongo in the middle of winter.
---
You may also like to read:
All about our Mazda Bongo camper
Calais to Pyrenes road trip
Bongo camper summer road trip in France 2021