Set behind a sandy horseshoe lagoon, San Sebastian with it's characterful old own, and world-renowned pintxos (Basque tapas) is a must visit city on any northern Spain road trip. And if you're looking for a good camping spot in San Sebastian to explore the city for a couple of days, your best option is Camping Bungalows Igueldo.
To allow a full day to explore the San Sebastian, we camped for two nights at Camping Bungalows Igueldo in our Mazda Bongo in December 2021. In fact, we were visiting for Christmas Eve and Christmas Day, and were pleasantly surprised how much was open.
If you are taking the ferry between Santander / Bilbao and Portsmouth / Plymouth, read: Essential tips for taking the ferry to Spain from the UK.
What to expect at the campsite
After reading this review of Camping Bungalows Igueldo from our blogger friends over at This Bristol Brood, we had very low expectations. I did actually look around to see if there was a better option for San Sebastian camping. But with the handy bus that takes you direct from the campsite entrance to the city in 15 minutes, there really isn't a better located campsite for the city, and other campsites in the region were either closed, too far out, or didn't seem in great condition.
If you're coming from the campsites in France (indeed road tripping between this region of Spain and to/from France is very popular), you may be disappointed. The French campsites really are some of the best in the world with their facilities and pitch sizes.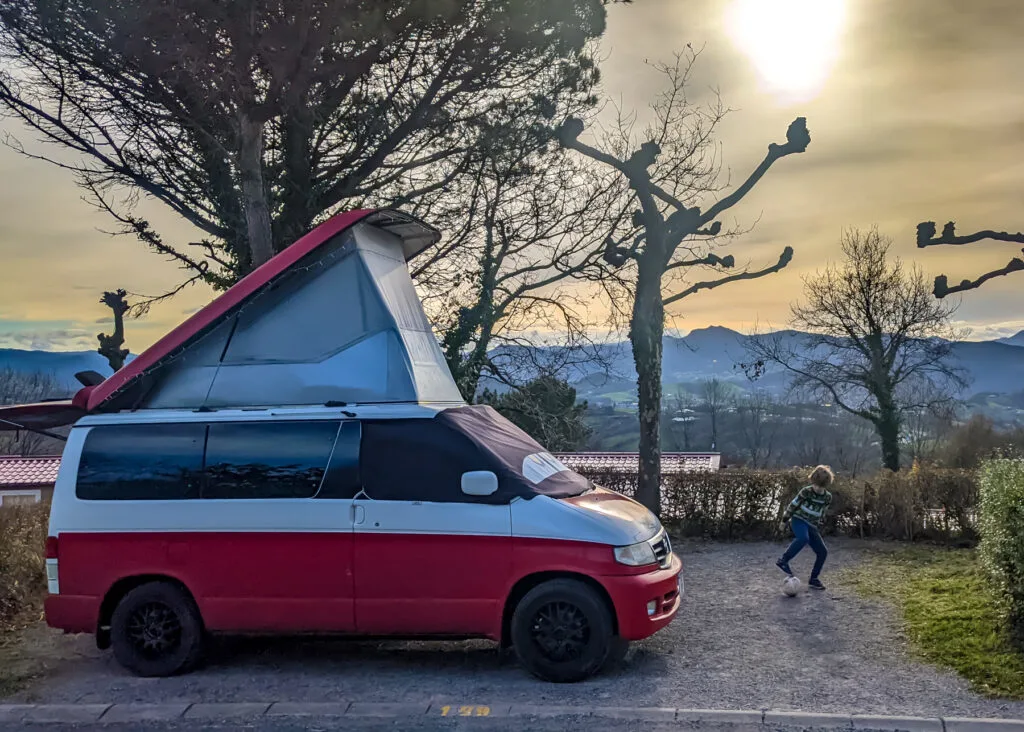 However, built on a hillside, Camping Bungalows Igueldo is more on par with other campsites we've stayed at in Spain where the pitches are very small and rather unkept. This isn't so much of a problem if you're in a small Mazda Bongo camper like us and just staying a couple of nights. But for bigger motorhomes, your vehicle is like to take up the entire pitch.
The pitches are generally hard gravel, so it can be tricky pegging a tent or awning down. We ended up extending the guide ropes to peg into the soil underneath the hedges. Thought there are some grassy pitches if you're camping in a tent.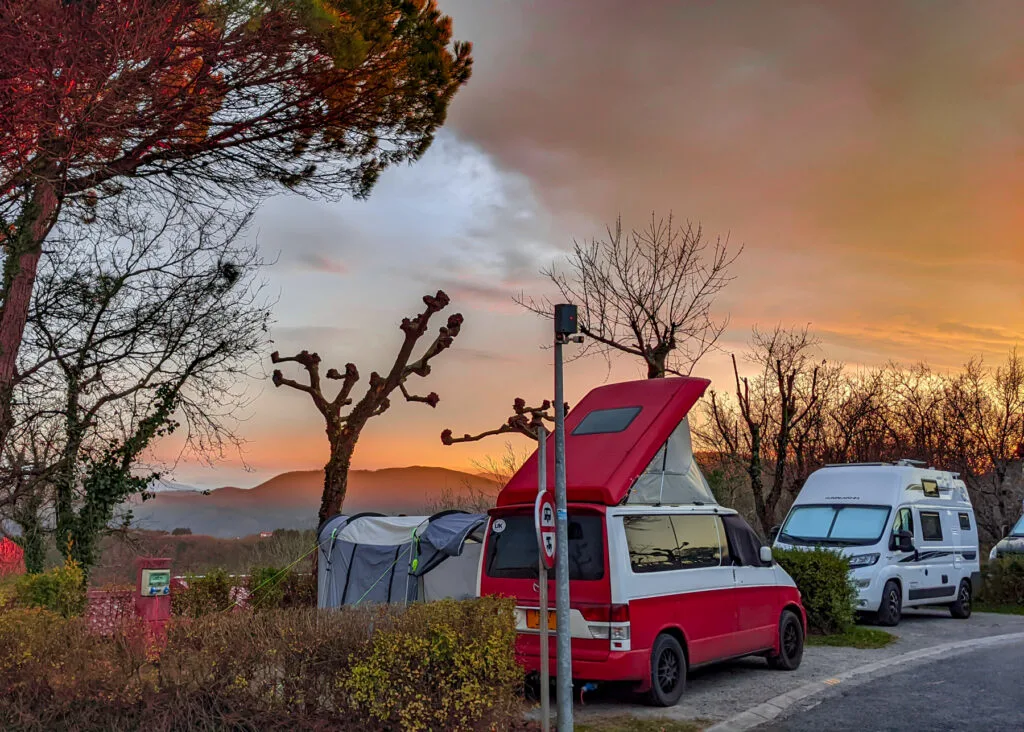 There are three washblocks onsite, although only one was open at the time of our visit. It was clean and functional. There is also a bar / restaurant and swimming pool, but both were closed during the time of our winter visit.
The views from the playground are pretty special and great for sunset. So take a beer up to the picnic benches as sunset to enjoy whilst your little ones play in the adjacent playground.
Getting the bus to Santander
The biggest plus point of this campsite is the direct bus into the city of Santander from right outside the campsite. The bus runs half hourly (even on Christmas Day). Pick up a timetable from reception. The bus takes about 20 minutes if you're visiting the old town. Less if you alight at the beach.
What is there to do in Santander?
Santander is a food-lovers dream with pintxos bars on every corner and an abundance of Michelen star restaurants to choose from. Our approach was to wander around and see what we stumbled upon. But if you are looking for some background on typical dishes served and restaurant / bar suggestions, you may find this eating guide to San Sebastian useful.
Away from the food scene, our top things to do in Santander include:
wandering around the old town (highlights include Casco Viejo de San Sebastian and Koruko Andre Mariaren basilika)
walk up to Motako Gaztelua along walled ramparts for amazing views over the city
chill and play on the beach
take the funicular up to Monte Igueldo for a different viewpoint and a quaint amusement park
If you're visiting San Sebastian with kids, My Travel Monkey has this excellent guide.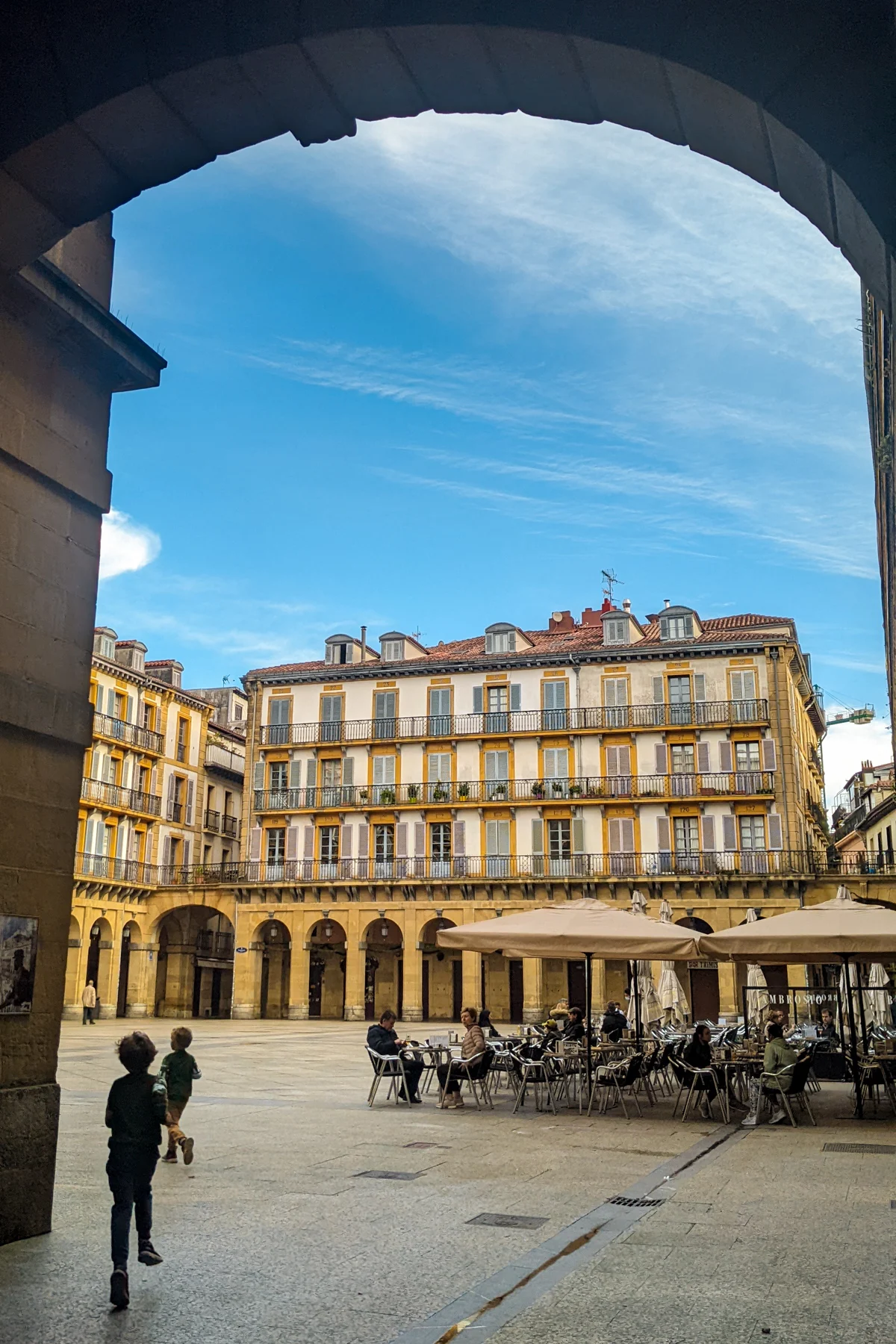 Things to note for Camping Bungalows Igueldo
open year round.
it's a hilly site so getting around with scooters/bikes can be hard work, although all pitches are even.
there are bungalows and mobile homes to rent if you wish not to camp.
there is a mini market on site, although this was closed during our visit. We advise stocking up at a supermarket before pitching up.
try and get a pitch with a view. The pitches opposite us all had obscured views.
How to book Camping Bungalows Igueldo
Visit the Camping Bungalows Igueldo's website to book online.
Final thoughts on Camping Bungalows Igueldo
The location of this campsite is perfect with the direct bus into San Sebastian. Whilst the pitches were a little cramped (typical of Spanish sites), it's absolutely fine for a couple of nights. The sunset views over the mountains from the seating area next to the children's playground are very special.
It really was a lovely spot to spend Christmas Day abroad.
---
You may also like to read:
Camping Virgen del Mar REVIEW: a campsite near Santander ferry port
Essential tips for taking the ferry to Spain from the UK
A Northern Spain road trip in a campervan: Santander to Barcelona