The is a review of our personal experience on the ferry to Spain from the UK with Brittany Ferries (crossing from Portsmouth to Santander and back again) in Dec 2021 / Jan 2021. We paid for our own ferry crossing and this post is in no way affiliated with Brittany Ferries. Also, please note that all photos were taken in calm seas; I was not up to doing any photography on the return crossing.
Disclaimer: This post contains affiliate links. If you click to purchase, it is at no additional cost to you, and I receive a small commission.
The boys were quietly engrossed in a little crafting kit, only looking up to nibble on some more tapas, and us parents sipped rioja in peace watching the sun dip over the horizon. It really was a perfect travel moment, and we couldn't help but feel smug about taking the ferry from Portsmouth to Santander, rather than driving through France from Calais.
Yes, it had cost us £1400 return (with our Mazda Bongo camper and booking into a 4-berth cabin), but after the craze of the end of Autumn term with nativities, carol concerts, Christmas parties, jumpers (blah de blah… parents, you know the score), this was the decompression we all needed before commencing our Northern Spain road trip.
The cabin was cosy, the service was brilliant, the whole experience was wonderful! Indeed the crossing with Brittany Ferries from Portsmouth to Santander was such a success, that we were very excited about the return ferry crossing.
However, little did we know what was in store for us on that return crossing. Never again will we risk the ferry to Spain from the UK. Why? Well I'll get to that a bit later on…
Why did we decide to take the ferry from the UK to Spain?
Our regular followers will know that we frequently travel to France in our Bongo camper, always taking the Dover-Calais crossing. We love our fix of culture, sunshine, good food and wine, and plus, France really does have some of the best family campsites in the world.
But for our Christmas travels in 2021/22, we wanted to head further south to explore northern Spain and hopefully top up on some Vitamin D and try out some family skiing in the Pyrenees.
It's 'only' an 11 hour drive from Calais to San Sebastian in Spain, and the ferry crossing from Portsmouth to Santander is 30 hours. It would certainly have been quicker (and cheaper) to drive through France, but 30 hours on a ferry sleeping, chilling, eating and drinking, seemed a more relaxing way to arrive to Spain after the Christmas rush. And if the Bay of Biscay is a little choppy, well there are sea sickness tablets for that, isn't there?
So for the first time ever, we decided to book the ferry crossing from Portsmouth to Santander with Brittany Ferries, sailing on Galicia. Being winter, there were very limited crossing times. If you're travelling in the summer months, there's much more choice.
What to expect onboard
We sailed on Galicia. Other Brittany Ferries ships may be different.
When you check in at the port, you are presented with your key card to your cabin. We had booked an inside cabin (without a window) for the outbound crossing, and with a window for the return. This choice was down to availability at the time; the difference in price between with/without a window is very small, and the cabin layout is identical aside from the window.
Once you're parked up on the car deck, climb the stairs to find your cabin. Our four-berth cabin was very cosy and immaculate. There's a small ensuite bathroom with shower, a TV with videos on demand, and three of the four berths come down for sleeping or can be folded away for more space. The beds are extremely comfortable.
One dinner and one breakfast per person is included in your ticket. The dinner is a three course meal (drinks not included) and breakfast is a continental breakfast (you need to pay extra for a full English cooked breakfast). These can be taken in either of the two restaurants onboard.
There's also a bar and small shop on board.
Young kids will enjoy the two small play areas with interactive screens. One is in the main restaurant, the other is next to the bar. There's also an interactive app for kids to enjoy; download Brittany Ferries' Ferrynauts app and search for the clues around the ferry.
As for WiFi, passengers can get 30 minutes free with Brittany Ferries, but then you need to pay. Your phone internet connection won't work for most of the crossing.
Sea sickness on the Bay of Biscay
The Bay of Biscay is notoriously rough. We booked our ferry crossing with this knowledge. But in all honesty, we consider ourselves quite hardy travellers and naively believed that rough seas could be fixed with a pill if needs be.
How wrong we were.
The return ferry crossing from Spain back to the UK was absolutely horrendous.
On leaving Santander we stood out on deck pointing out all the places we had walked to on our first day of our northern Spain road trip. The ferry port is right in the very centre of Santander. But soon, staff came on deck to usher everyone in, explaining that it was going to get rocky soon. But we hadn't even left the harbour yet?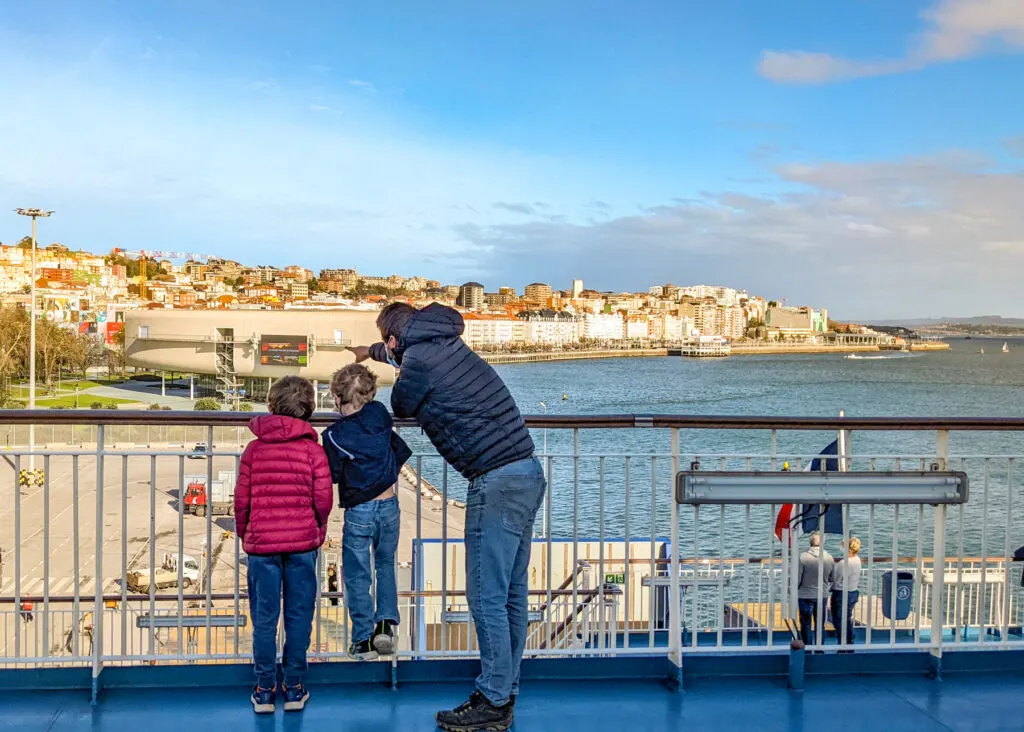 One hour in, and we were laid on our cabin beds totally debilitated. The ferry swayed to its extremities as items flew off the shelves. I have been on a few boats in my life (and even did a short stint in the Navy whilst at University), but I have never experienced anything like this.
Jay was visiting the toilet to vomit, and I felt incapable of any movement, void of energy. The kids? Well Arthur (age 8) felt a little queasy, but was happy laid reading a book. On the other end of the scale, Ez (age 6) thought it was incredible fun as he giggled and bounced around the cabin (there's always one).
For 15 hours we were forbidden to go out on deck and told to stay in our cabins. Thankfully a good 8 hours of this was night time.
The huge problem was that our kids were hungry, but us parents were incapable of getting to the restaurant. Surely they were going to knock on our door soon with some food, as we had all been asked to stay in our cabins? But no. The boys were left to a baguette and humous dip that I had bought by chance at a supermarket before we boarded. Sorry boys. It was far from the promised three course dining experience with a Spiderman ice-lolly for dessert.
We attempted breakfast the following morning. It's a buffet service, which was rather challenging with trays, hot food, drinks, and a swaying ferry. We lasted all of two minutes before we felt the need to lie back down.
It was only when we were fully in the English Channel, a good 25 hours into the crossing, did the rocking subside enough so that we felt able to sit down and eat. By that time we were all starving, but had missed out on the dinner and breakfast included in our fare, so we begrudgingly paid for lunch. The tapas just didn't taste the same as it had on the way out.
There and then we swore that we would never do the UK to Spain ferry crossing again.
We finally stopped feeling the sway of that ferry a full two days after being on dry land.
Is the ferry to Spain from the UK worthwhile?
No.
Considering the cost of the crossing and the very high risk of choppy waters through the Bay of Biscay, it really isn't worth the risk.
That return crossing was truly horrendous. Never again.
Tips for taking the ferry to Spain from the UK
If I haven't put you off doing the crossing, and you still want to go for it, then here are some tips for you to get the most out of your UK to Spain ferry experience.
1. Allow extra time for customs
Since Brexit and COVID, it's a much lengthier process going through passport control and customs at either end. Be prepared to queue and allow yourself at least 2 hours before your ferry departure time.
2. Pack a small bag just for the ferry
Space in your cabin is tight. Rather than bringing all your luggage with you up to the cabin from the car, just bring your essentials for the overnight trip: pyjamas, wash bag, change of clothes, books, games, as well as the suggested items below.
3. Bring a small travel kettle
There are no tea/coffee making facilities in your cabin and the half cup of boiling water and tea bag from the bar is extortionately priced. Pack a small travel kettle in your bag for onboard the ferry (such as this one), as well as tea, coffee and milk. Milk can also be bought from the onboard shop.
4. Crafts and games for the kids
Whilst there are a couple of small play areas onboard, these aren't going to keep your kids entertained for the entire crossing. Bring some small crafts and games with you.
Favourite travel games for our family include:
For crafts, we find the Baker Ross craft kits really good.
5. Don't forget your coat
It gets surprisingly chilly out on deck. Bring a jacket with you.
Kids will love seeing all the big Navy ships as you depart Portsmouth and it's also very pretty seeing the mountains and beaches as you come into Santander.
6. Download the Ferrynauts app
Brittany Ferries have created an interactive app for kids to do around the ferry – Ferrynauts. It's great fun and fills a good hour. Make sure you download it before you sail and lose internet connection on your phone.
7. Look out for dolphins and whales
In calm weather, you may spot dolphins and whales! This is apparently quite common, although we didn't manage to spot them on either crossing.
8. Make a note of sunrise and sunset
It's so special watching the sun set and rise over the sea. If you're in a cabin with no window, you may miss what the sun is doing. So make note of the sunrise and sunset times before you sail and head out on deck to watch.
9. Check you have everything you need to drive in Spain
Check here to see what you need to drive in Spain. These include: reflective jackets, warning triangle, headlamp beam deflectors, valid UK driving licence, proof of ID (passport), motor insurance certificate, vehicle registration document, UK sticker (NOT GB).
Forgotten something? Don't worry and you'll be able to purchase them at the onboard shop.
10. Check the shipping forecast
Check the shipping forecast before you depart so you can be prepared for what's in store.
11. Pack snacks
Remember that you only have dinner and breakfast included in your fare and it's a 30 hour crossing, so you may want to bring onboard extra food.
If the shipping forecast is bad, we recommend purchasing food for dinner and breakfast to bring onboard with you. If people in your party are feeling unwell, you will not be able to make it to the restaurant to eat, and no food will be brought to your cabin.
12. Pack the seasickness tablets
Even if the shipping forecast doesn't look bad, it's worth wearing patches and/or travel bands before you sail as a preventative measure. We wore these patches and these travel bands.
We took Sea-Band Nausea Relief for seasickness tablets.
13. Turn off your mobile data as soon as you board the ferry
A reader reported that her mobile data automatically connected to the ship's 3G mast, which counts as international data (not EU), and was charged by her mobile provider.
To be on the safe side, turn off your mobile data before you board.
14. Camping in Santander
Once you arrive in Santander, take the time to explore the city with it's modern architecture and stunning beaches. If you're camping, we recommend staying at Camping Virgen del Mar.
Final thoughts on the ferry to Spain from the UK
It was a truly wonderful crossing on the way over to Spain with Brittany Ferries. The service was brilliant, and we all felt so relaxed. If you could guarantee a crossing like that every time from the UK to Spain, we would take this crossing time and time again.
But nothing is guaranteed with Mother Nature and the Bay of Biscay is notoriously bad, especially when sailing on a car ferry. That return crossing for us was horrendous.
Perhaps we were unlucky. Maybe we had an exceptionally bad crossing? Maybe it was because it was winter?
Considering the cost of the crossing and the very high risk of choppy waters through the Bay of Biscay, we personally don't think it's worth the risk. Plus, the direct drive from Calais to San Sebastian is 11 hours, compared to the 30 hour ferry crossing.
Sorry Brittany Ferries, but next time we'll drive through France.
---
You may also like to read:
Northern Spain road trip itinerary
Calais to the Pyrenees road trip
All about out Mazda Bongo camper