Spain isn't an obvious choice for skiing. Indeed, the UK travel agencies don't include it on their books (although some include neighbouring Andorra in the Pyrenees), and for the winter months, most travellers visiting Spain are searching for sunshine.
Disclaimer: This post contains affiliate links. If you click to purchase, it is at no additional cost to you, and I receive a small commission.
However, the low-key Spanish ski resort of La Molina, just two hours north of Barcelona (there's even a direct train from the city to La Molina) is a the perfect resort for a first family ski trip with its array of gentle green and blue runs.
We visited La Molina at the end of our Northern Spain road trip in January 2021. My husband and I had skied previously, although this was before the boys were born and we were both apprehensive of how we'd now go on the slopes. And our boys (age 6 and 8) had never skied before.
As the Pyrenees is so close to Barcelona on our planned winter road trip through Spain, we figured this would be a good opportunity to try out skiing as a family. We had already paid to get there, so this was a way of keeping down ski holiday costs, which are notoriously expensive.
Booking our ski trip independently
We tend to be independent travellers, preferring to organise things ourselves and going with the flow of what we want to do. However, when it came to booking this ski trip, it had been so long since I'd been skiing, I found it rather overwhelming as to where to start!
None of the common UK ski travel agencies seemed to cover Spain for skiing, and as we were travelling at a time of constant changes to travel restrictions, we didn't want to cross borders to Andorra or France. In fact, it was a good thing that we didn't opt for France as at the time of our visit British tourists were not allowed to enter.
So we had no choice but to DIY this La Molina ski trip. And in fact, I'm so pleased we did, as we barely had to pay anything until we arrived (which kept things flexible should we need to cancel) and we could arrange everything on our terms with timings and days.
Additionally, and in hindsight, four days skiing was the perfect length of time for our first family ski trip. Ski travel agencies seem to only work on a weekly basis, i.e. Saturday to Saturday.
So first I looked for a hotel. Then once this was booked, the hotel directed me to where to organise ski equipment hire, lessons, and also ski passes.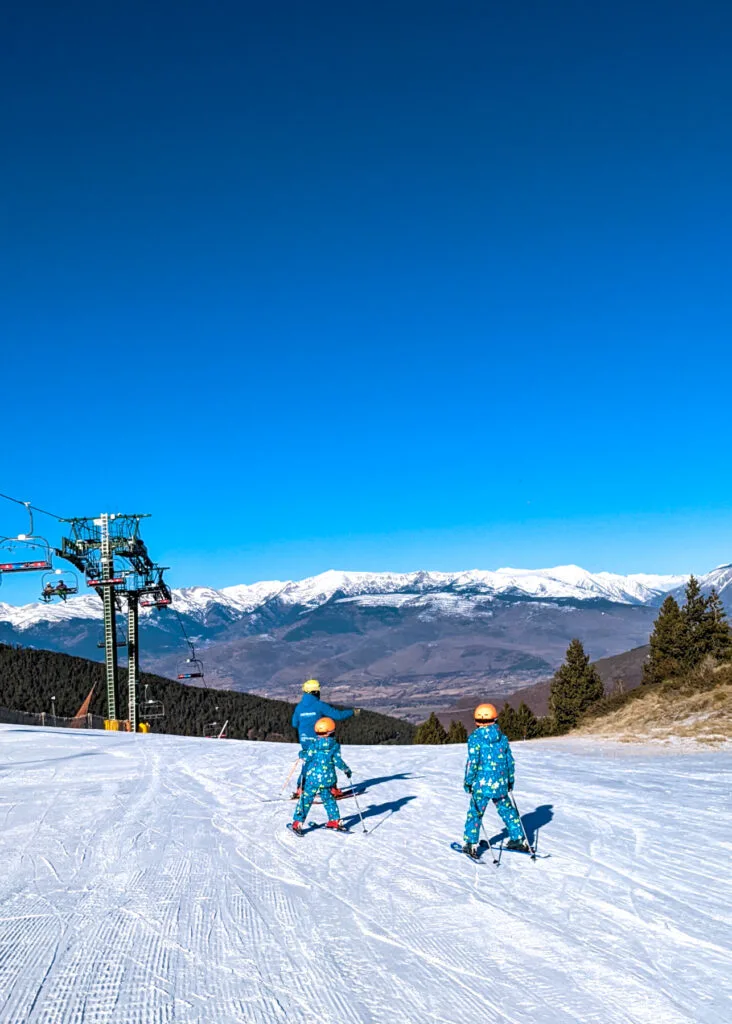 Is snow guaranteed at La Molina?
Driving up to through the Pyrenees at the beginning of January, I was suprised to see how arid the landscape still was. It wasn't until we had just reached La Molina that we saw signs of snow.
In all honesty, if it was left to Mother Nature, then skiing would not always be possible at La Molina during the season. Temperatures reached 12°C on our first day, although this dropped to -8°C at night towards the end of our week. But, with an abundance of snow machines dotted around the mountain and snow groomers out every night, you can be assured that there will definitely be snow for skiing.
What are the ski runs like?
There are lots of easy green and blue runs, which is why La Molina is so popular with beginners and families. There are a handful of red and black runs; though if you consider yourself a pro skier, there may not be enough here to challenge you.
But for our first family ski experience, it was perfect.
The pistes are nicely groomed each morning, and if you're visiting La Molina during the week and out of Spanish school holidays, it will be very quiet.
The main green runs at the base of the mountain are the busiest, but if you take the chair lift up to the top of Puigllançada, there are a number of lovely blue ones that you will pretty much have to yourselves.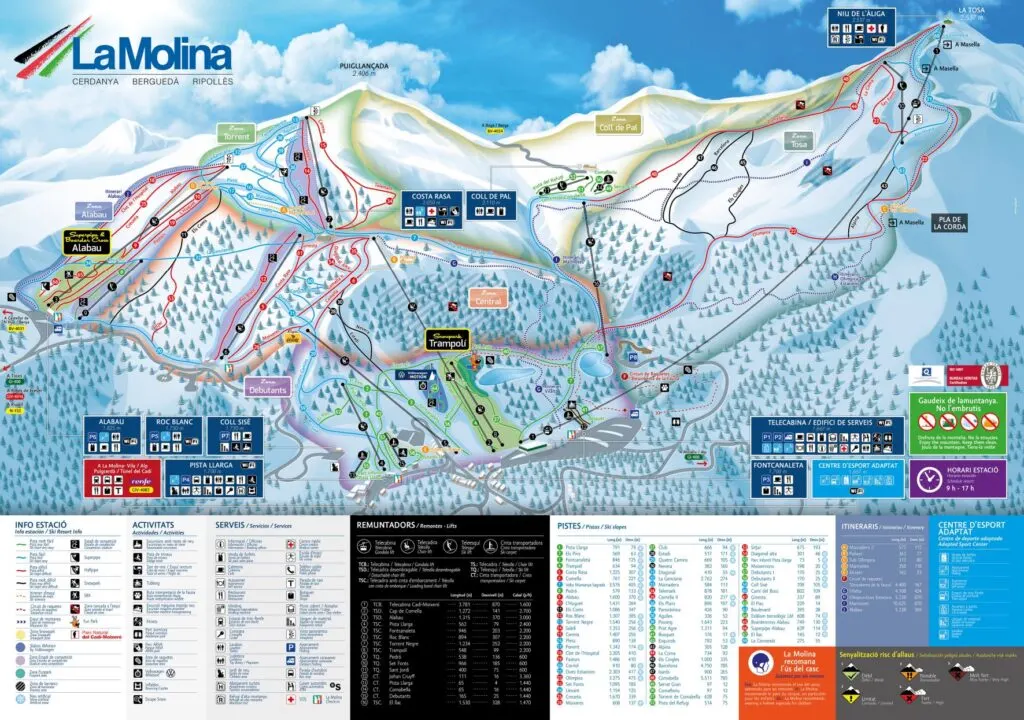 Where we stayed
5 nights at: Guitart La Molina Aparthotel & Spa
Whilst we did for a moment consider camping in our Mazda Bongo, as we had so far on our Northern Spain road trip, this was our first family ski experience so we wanted to keep things as simple as possible. We therefore decided to look for a self-catering apartment.
Now there really isn't much choice of accommodation in La Molina as it's such a small resort, popular with day trippers and weekenders from Barcelona. Plus we wanted something close to the slopes, so we didn't have to walk too far with all our ski equipment each day (anyone else hate walking in ski boots?)
La Guitart La Molina fitted the bill perfectly, and we managed to get a Black Friday deal when booking in November, just a few weeks before our planned arrival. We only had to pay for the first night, and then the preceding four nights were paid at checkout.
We booked an aparthotel that slept 4. There was a good-sized double bedroom with fitted wardrobes, an ensuite with shower (no bath), a small kitchenette with dining table, and a lounge with TV. The 'sofa' in the lounge splits into two single beds, which is where the boys slept. Then spanning the lounge and bedroom is a balcony over looking La Molina; views of the colours cast onto the mountains at sunset and sunrise were stunning.
The kitchette is very basic with a microwave-type oven, two small electric hobs, a wash basin, and fridge with small freezer compartment. The frying pan was rather worn and the bowls too shallow for cereal, so we ended up using our Ridge Monkey (a sandwich toaster that cooks pretty much everything!) and bowls that we store in our camper. We also used our pillows from the Bongo, as the single pillows provided were rather thin.
Towels are provided and the room was cleaned everyday.
There is a restaurant in the hotel serving buffet breakfast and dinner for an additional cost (book at reception), but we didn't eat there as we were happy to self-cater. There is also a spa and indoor swimming pool, which at €10 per adult and €5 per child we didn't really think was worth it.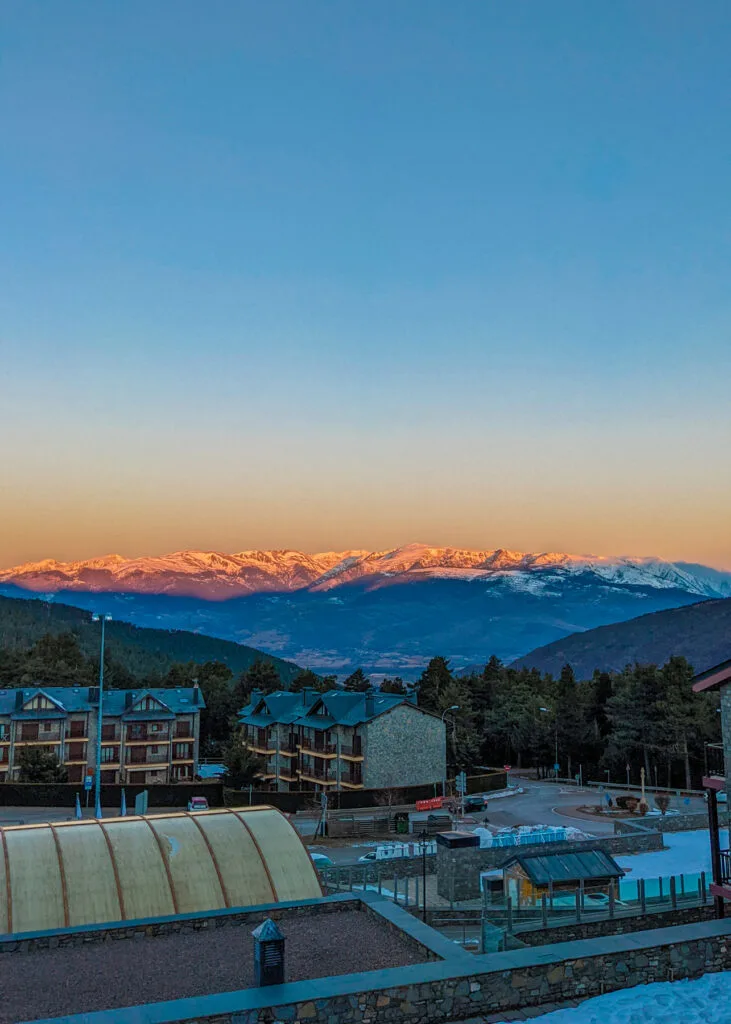 Where we hired our ski equipment
Through our aparthotel (La Guitart La Molina) we received a 10% discount on ski equipment hire at Club Elements Molina, just a two minutes walk away.
We didn't have to book in advance, but rather turned up and ordered our ski equipment the day we arrived in La Molina, ready for skiing the next day.
The staff here are really lovely, and wonderful with the kids. Plus there are a couple of staff members who speak English if, like us, your Spanish isn't up to ordering ski equipment.
We were all measured and weighed for ski boots, skis, poles, and helmets. It worked out at around £200 for all four of us, for four days.
Do check your boots fit with all their straps and buckles done up. My feet fitted fine, but on the first morning, just as I was about to buckle up my boots and go on a chairlift for the first time in nine years, I found that the buckles were so tight around my calf I couldn't close them! I therefore had to go back and get new boots.
Also, get a helmet. When I last skied, it was only kids and pro-skiers that wore helmets. But these days, quite rightly, everyone wears a helmet for safety. You wouldn't go riding a bike without a helmet would you? And even if you think you're just a slow skiing beginner, you have no control of others on the mountain skiing behind you down the piste.
Storing our ski equipment
We stored our ski equipment in the lockers at La Guitart. These are located in the underground carpark, next to the main door. To get to the slopes, don't walk through the main door. Instead take the side entrance to the carpark (follow the signs). The lockers are free, but you need to leave a €20 deposit with reception when you get the key.
With Jenga precision, all our boots, skiis, and poles just about fitted in the slimline locker. We took our helmets back up to the room though, as we couldn't quite fit them in.
Skiing lessons for the boys
We also arranged ski lessons for the boys through Club Elements Molina, at the same time as organising our ski equipment. Although, it's a good idea to email ahead and book in your preferred lesson times.
We booked a 10 hour package of lessons for €400. This was for private tuition with both boys at the same time. We spread the 10 hours across the four days.
Feran, the ski instructor, was absolutely brilliant with the boys! I have been told many times how quickly kids pick up skiing, but it really wasn't until I saw the boys going through the process themselves that I really understood. It's mind blowing to witness first-hand! On their first lesson they didn't know how to even put skis on and their skis kept crossing over, tripping them up. But by day four, the boys were giving us parents a tour of their favourite runs at La Molina and skiing off in the distance (in control), leaving us parents for dust!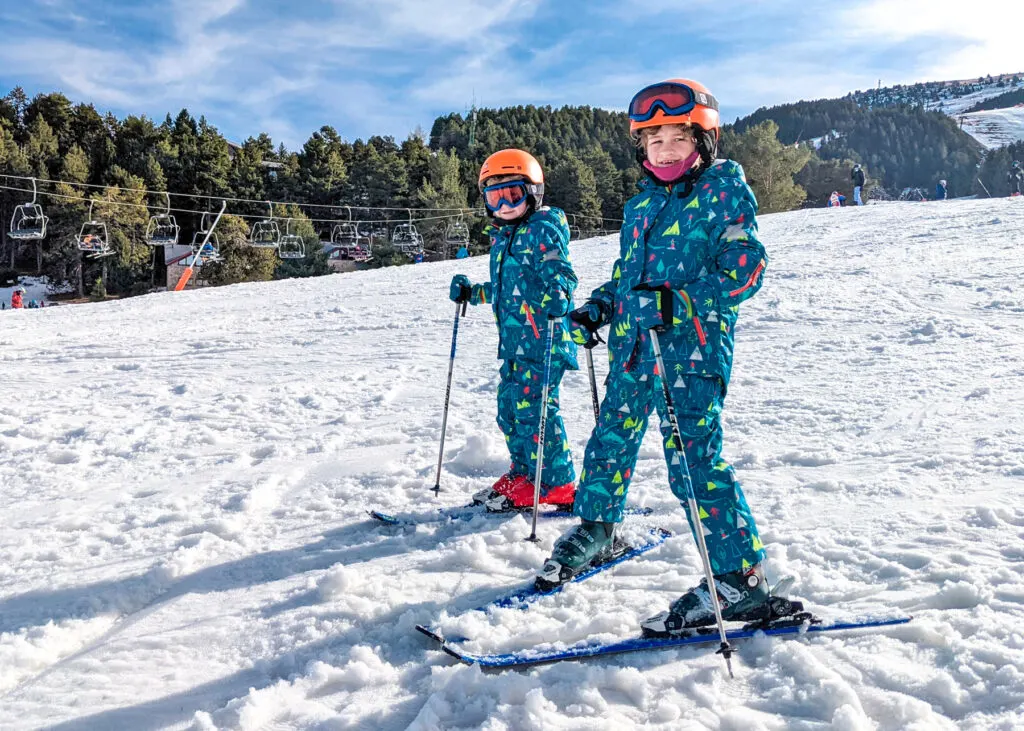 Whilst the boys were at their lessons, us parents went off and enjoyed some runs to ourselves. We very rarely have the opportunity for date nights at home and can count on one hand the number of date nights we've had over past years; but we definitely made up for it here. And we were both rather chuffed to realise that our legs hadn't forgotten how to ski!
Lift passes
We bought our lift passes direct from the kiosk at La Molina. The queue can get very long (and slow), so we advise getting there for 8:30am when they open (the chairlifts don't start until 9am). There are machines to purchase your passes from, but we couldn't really work out how to get the right passes for our family, and preferred to ask a human.
On the first day when I went to buy the lift passes I explained that we were skiing for four days, and are a family of four, with kids age 6 and 8. The lady at the desk explained that it was cheapest to get a two day family pass at a time. So that's exactly what we did.
This covered 2 parents, plus Arthur. Then we had to pay €5 per day for Ezra as he is 6 years old; although I'm not entirely sure why he couldn't be included in the family pass.
So altogether it was €420 for the four of us, for four days of skiing.
Eating at La Molina
The après ski scene at La Molina is very low key compared to the big resorts in The Alps. There are few restaurants and bars at the foot of the slopes, in the main area, but you won't find any up in the mountain.
There are a few more options in the village of La Molina, a 7 minute drive away. This is where the direct train from Barcelona stops.
We made use of the main restaurant by the lift pass kiosk most days for a mid-day snack, although it was often tricky to get a table. The service is very efficient. The boys especially loved the creperie, whilst us parents especially loved the cold beer and tapas in the sunshine.
For breakfast and evening meals, we would eat back at the apartment. If you too plan to self-cater, make sure you visit a supermarket before you arrive at La Molina. There is only one small supermarket at the resort, which is fine for the staples of bread, milk, cheese, wine, and frozen pizza.
What else is there to do at La Molina
As I've previously mentioned, La Molina is a small scale resort, and therefore there isn't much else on offer here aside from skiing/snowboarding. However, sledging is popular with families, and there's a dedicated sledging run.
There is also a small bowling alley, in front of the La Guitart.
Parking at La Molina
We used the underground parking in the basement of La Guitart La Molina. This was at an additional cost of €12 per day.
Otherwise, there is a huge car park right next to the main area. You could call it a park-up-ski-out car park, it's that close. As La Molina is popular with day trippers, this car park gets exceptionally busy between 10am and 5pm. But outside of these times, it's very quiet and you can easily get a prime spot next to the entrance to the slopes.
We did discuss parking our Bongo in one of these prime spots and keeping our ski equipment in the van each day. But we decided against it, in case he got snowed in or scratched by passing ski equipment.
How to get to La Molina
As our visit to La Molina formed part of our Northern Spain road trip, we drove direct from our campsite south of Barcelona (Camping Vilanova Park). We had taken our Bongo camper on the ferry to Spain from the UK and so this was self-drive.
However, if you want to travel to La Molina directly from the UK, the easiest way is to fly to Barcelona, and then hire a car to drive the 2 hours to the resort.
You could get the direct train from Barcelona to La Molina, but when you consider the cost and faff of getting to and from the train station either end for a family, it probably works out cheaper hiring a car and driving yourselves.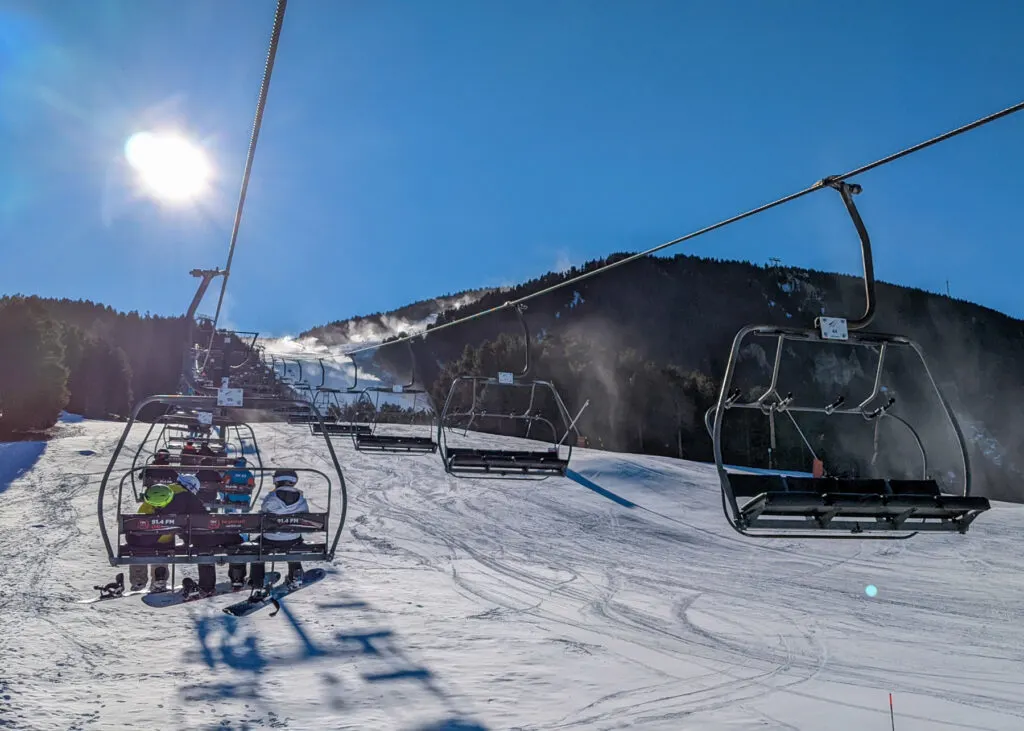 Summary of costs skiing at La Molina
See the breakdown below of our skiing costs at La Molina. This worked out at about £1700 for the four days, for two adults and two kids (age 6 and 8).
| | |
| --- | --- |
| La Guitart La Molina (5 nights) | €945.60 |
| Parking (5 nights) | €60 |
| Ski lessons for the boys (10 hours) | €400 |
| Ski equipment hire | €200 |
| Lift passes for four days (2 adults, 1 infant, 1 bambino) | €440 |
| Total cost (€) | €2045.60 |
Please note that these prices are what we paid Dec/Jan 2020/2021. They are likely to change for future seasons.
I haven't included food, as this depends with how much you eat out or self-cater. It is very possible to keep food costs down (or cheaper) to what you normally spend at home.
I also haven't included travel costs to get to La Molina as we were road tripping Spain and in Northern Spain anyway.
Final thoughts on our first family ski trip in Spain
This was a superb introduction for our boys to skiing. With all it's blue and green runs and the fantastic instruction from Feran, I really couldn't have asked for more. I'm amazed at how the boys' ability leaped in just four days; they are now hooked and desperate to go skiing again!
Also, for a first trip, four full days of skiing felt to be just the right amount of time. The boys certainly wanted to stay for longer, but us parents can tell when they're getting tired, right? Plus, by the end of the fourth day, my legs were ready for a day off.
Some people may be put off at the lack of après ski. But as it was our first family ski trip, not only did it help keep costs down, but it meant that there were no distractions once the lifts had closed for the day and we could all return to the aparthotel to relax.
Click here to read our tips for a successful fist time family ski trip.
La Molina, we'll definitely be back.
---
You may also like to read:
A Northern Spain road trip: Santander to Barcelona and the Pyrenees
Essential tips for taking the ferry to Spain from the UK
Your first family ski trip: tips for success!