Despite being the Spanish capital, Madrid is often overlooked as a family friendly city break in favour of Barcelona or Seville's architectural charm. But this buzzing and grand city is a fantastic place to explore, and there is more than enough to fill 2 days in Madrid with kids thanks to fantastic parks, an excellent metro system, and churros for starters.
I visited Madrid with my eldest, Arthur, when he was 6 years old. I had previously done a 1:1 trip with his younger brother to Lanzarote, and I was keen to experience the same with Arthur, albeit on a shorter time scale to fit around school. The reason we picked Madrid? Well, it just came down to a cheap flight offer with Ryan Air from Manchester airport, and we're very pleased we jumped on the deal!
If you're looking for the best things to do in Madrid with kids or wondering if you should book a family holiday to Madrid, read on…
Best time to visit Madrid with children
We visited Madrid in January and I'll be honest, it was cold. Much colder than I had anticipated. We even saw a flurry of snow! Whilst warmer weather would have been appreciated, it was a great time to visit as there were fewer crowds and accommodation prices lower.
I would honestly avoid July and August as the popular sights get extremely crowded and temperatures can easily climb above 35 degrees. That's a great temperature for a beach holiday, but not at all ideal for a city break with kids.
Late Spring and early Autumn are probably the best times for a family trip to Madrid as temperatures are usually mild. If your kids are in school, you may want to consider either the May or October half term. In May you would benefit from the long summer days; al fresco dining in one of Madrid's many pedestrianised plazas late in the evening is an absolute treat.
But if you are totally flexible or just escaping for a weekend in Madrid like us, June and September are definitely the best months to visit because of the amazing weather and incredibly long days. It's just a case of finding affordable family accommodation.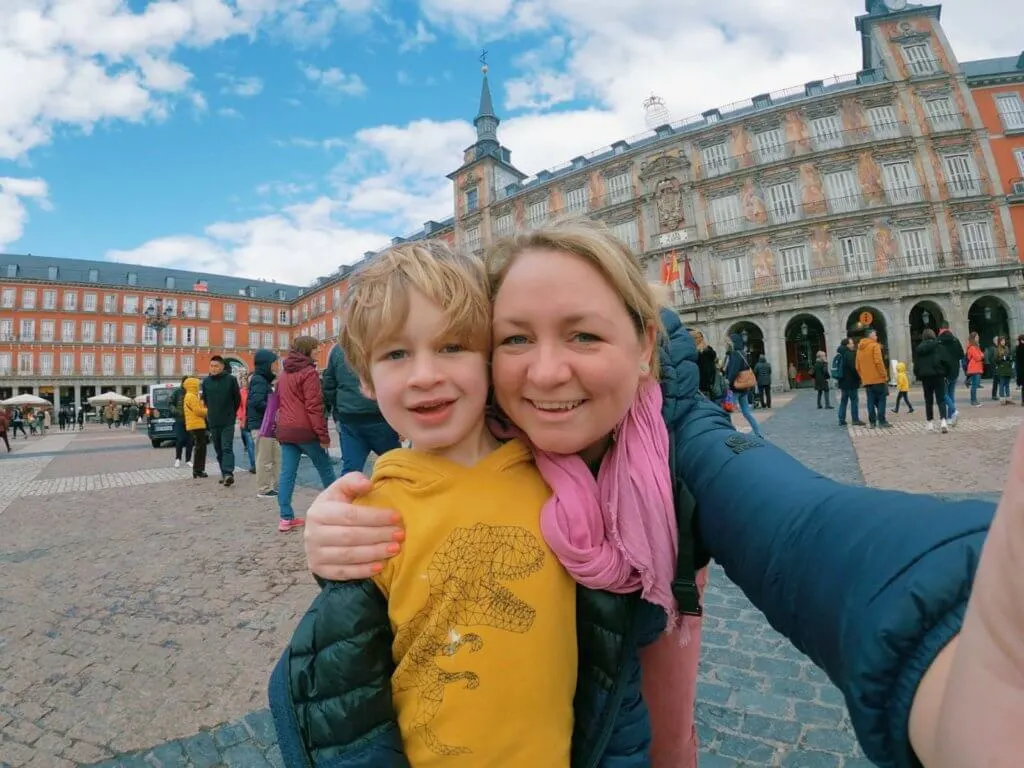 Tips for a family trip to Madrid
Madrid is a buzzing, busy city and there are a few things to consider:
If visiting Madrid with a toddler or baby you may find getting around tricky with a buggy. Whilst there are lots of flat pavements and walkable areas, the public transport isn't very buggy friendly. The metro is excellent in that it connects lots of different places and is easy to use, but only the very large stations have lift access and many only have stairs. Buses are slow and get very crowded. You may want to consider taking a carrier.
Madrid is a very walkable city and it's likely you will do a lot of walking. Consider wearing hiking boots. It may not look as cool, but I'm always grateful for wearing them. This also goes for the kids hiking boots.
There are very few public toilets. Make sure your kids go whenever you see a toilet. Don't wait around for the next one.
When considering where to stay in Madrid with kids, it's not necessary being in the city centre as the metro is so good. Consider staying further out, but close to a metro station, to perhaps get a better standard of accommodation for your budget.
The Spanish operate on very different timings to us Brits. Most people adhere to a siesta between 2pm and 5pm, and people eat very late in the evening, often around 10pm, including families. Thankfully in Madrid there are many eateries open all hours and we never had a problem picking up a snack in the afternoon or grabbing dinner at 6pm. Although it may be worthwhile asking your accommodation for dining recommendations if eating earlier.
English isn't as widely spoken in Madrid as you may think it would be. A few Spanish words go a long way and it's worth having Google Translate handy.
If you are visiting Madrid with older kids, check out this guide to visiting Madrid with teens.
Our 2 days in Madrid with kids itinerary
We arrived on a Saturday evening to Madrid-Barajas Adolfo Suárez Airport, so we only had time to grab a bite to eat and enjoy a short wander to Puerta del Sol after checking in to our accomodation. But after a good night's sleep we were ready for a city adventure!
Now there are A LOT of galleries and museums in Madrid including Museo del Prado and Centro de Arte Reina Sofia, all boasting world famous historical artwork, and these are some of the top things to do in Madrid for solo travellers. But when visiting Madrid with children (especially if visiting Madrid with a toddler or pre-schoolers), you perhaps need to be rather selective in where you go, unless you have any serious history buffs in the family. Instead, we decide to head to the markets and plazas to get our flavour of Madrid, found some dinosaur bones, and even took a little trip out of the city to Toledo.
Here is a map of all the places we visited in Madrid in 48 hours, and some extra ideas if you have more time.
Day 1 in Madrid
Start your day at El Rastro markets (take the metro to Puerta de Toledo), Madrid's most popular open air flea market, held every Sunday and public holiday during the year. It's mainly clothes on sale, but you may be able to pick up a bargain. Arthur decided to spend his pocket money on a Real Madrid football shirt.
Then walk the ten minutes to Plaza Mayor, Madrid's most popular public square that was once the centre of Old Madrid. Just the East of Plaza Mayor are the food markets of Mercado de San Miguel. This is a good snack stop, although this get very busy closer to lunch time.
Consider taking a the Hop on Hop Off Madrid City Tour to rest the legs and admire the city from the top or a bus. The metro is a great way to get around, but to really appreciate the architecture of the city a bus tour is a great idea.
Grab a picnic and spend a long lazy afternoon at the landscaped gardens of El Retiro Park. They are simply stunning and perhaps the best place to visit in Madrid for kids as there is open space to run, lots of playgrounds (see map below) and you can even hire a boat on the lake for a paddle.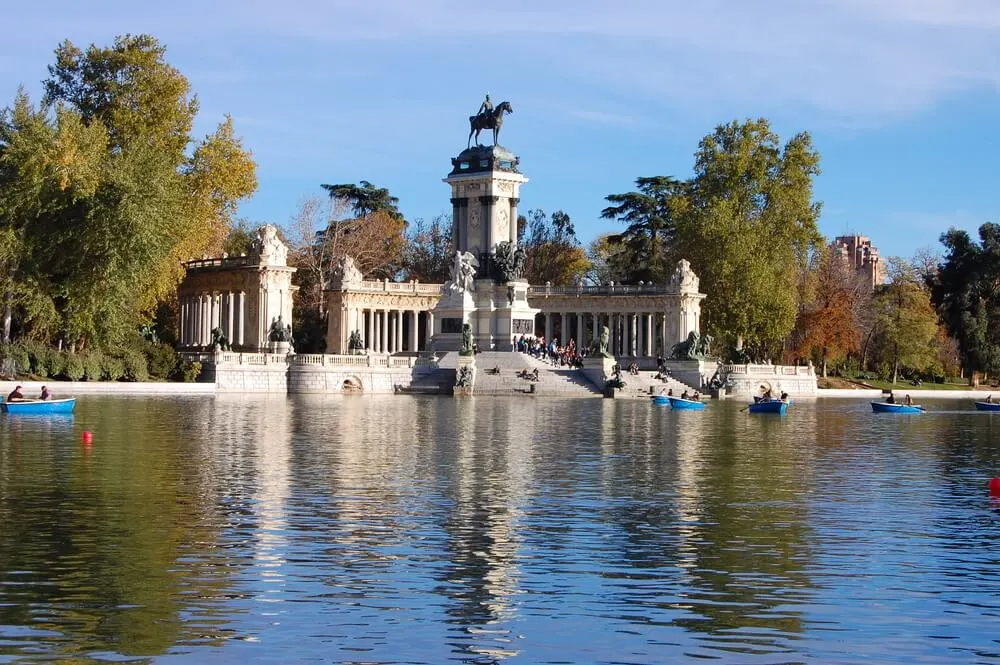 However, El Retiro Park was sadly closed for our visit due to high winds. There have been previous fatalities caused by falling trees in high winds, so if the wind picks up to a certain level the authorities close the park. Check this website for notifications of closure.
So we had to find something else to do! Instead we ventured over to Faro de Moncloa, a 92-metre-high transmission tower with an observation deck. The views on a clear day are fantastic and it's interesting seeing the network of roads across the city. Do note that it is closed on a Monday. There are only fast food restaurants at the metro stop over this way, so try and grab something in the city before hand.
To finish the day (yes, we were still going strong!) we took the metro to Gregorio Marañón to visit the Museo Nacional de Ciencias Naturales. This Natural Sciences Museum is split in two. Head to the entrance on the far left first. This is the main entrance and where you purchase tickets (adults €7, children €3.50). This half of the museum is devoted heavily to taxidermy. Budding palaeontologists need to head to the entrance on the right hand side of the building to investigate fossils and see dinosaur skeletons.
Faro de Moncloa and the National Museum of Natural Sciences are also good options for things to do in Madrid when it rains.
Day 2 to Toledo
The medieval town of Toldeo is only a 30 minute train journey from Madrid and an absolute must for anyone visiting Madrid. You can get the bus, which is slightly cheaper, but the train is much quicker and more comfortable. Otherwise you can book a day tour from Madrid to Toledo.
We wandered from our hostel to Puerta del Sol, which is where all roads in Spain radiate from. There are always roving characters around tempting your children to take a photo with them (make sure you have change). From Sol take the metro direct to the impressive Atocha Station.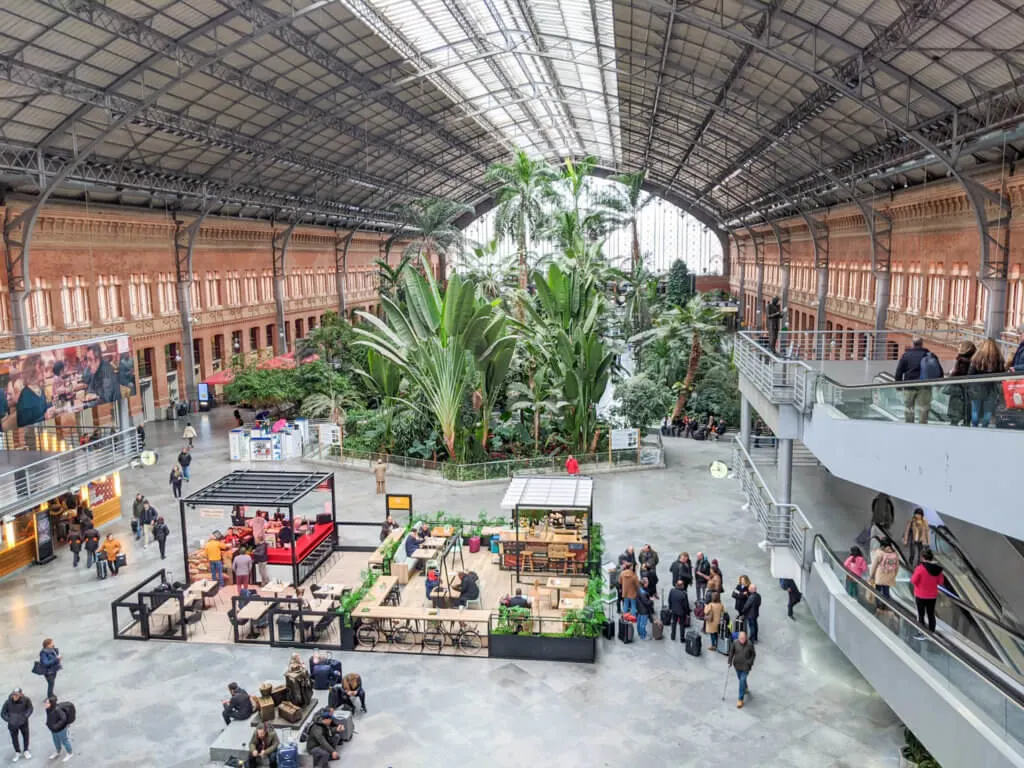 Atocha Station is the largest railway station in Spain and can be difficult to navigate, so allow lots of time to find your way. You will need to purchase and book a specific train time for your journey to Toldeo. Trains depart every hour or half hour in the morning and every hour in the evening. Tickets are about €13. Train times are subject to change, so check the latest train times at Rail Europe before you depart for the day.
Once you arrive at Toledo Station, you may want to do the Toledo City Tour Bus Tour that waits right outside, there's also a Tourist Train. However, if you want to explore under your own steam (like us), it's a 20 minute stroll to the city walls via Puerta de Alcántara, and then we suggest you just wander and get lost, stumbling across palaces and churches along the way. Many of the streets are pedestrianised or have very little traffic, so your little ones are free to run, jump and explore.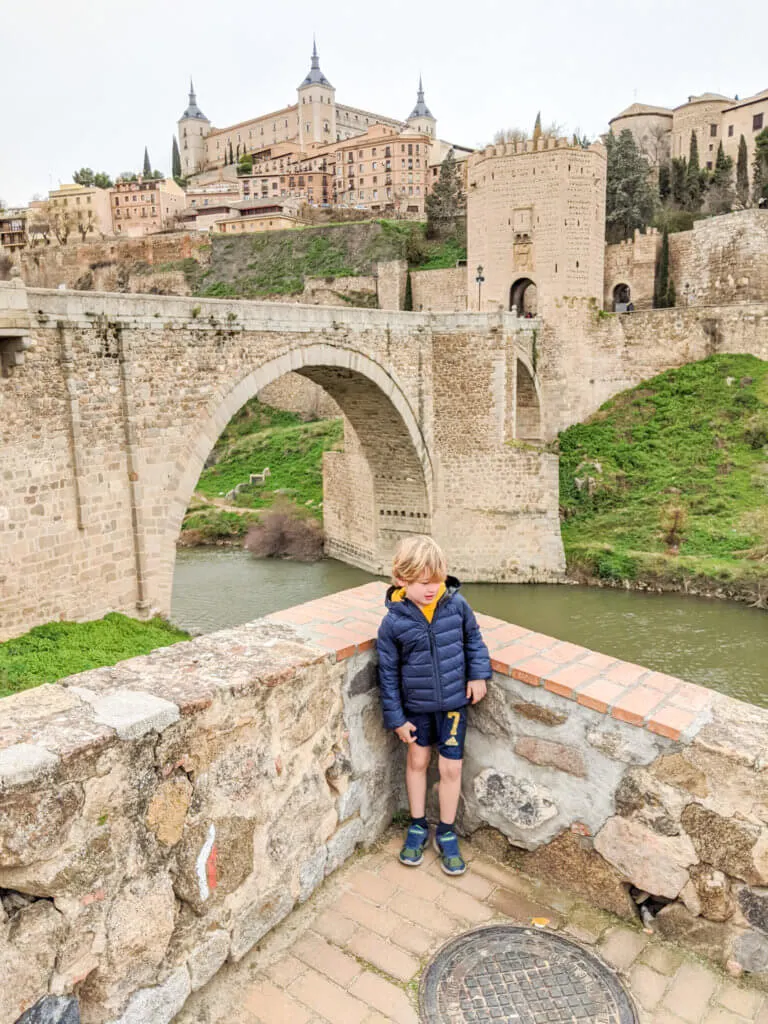 Top things to see in Toldeo include:
Catedral de Toledo – one of the top 10 cathedrals in Spain
Alcázar – a very large military museum in a 16th century palace
Sinagoga del Tránsito – a beautiful synagogue built in 1355
Monastery of San Juan de los Reyes – a 15th-century church with grand cloisters
There are also lots of souvenir shops selling swords and gear for budding knights, and there is an abundance of family friendly eateries. Arthur particularly enjoyed the pizza here.
More ideas for things to do in Madrid for families
If you're looking for more family things to do in Madrid, you may be interested to learn that there are some fantastic amusement parks in and around the city. Many of these are shut in the winter months, so check the websites for opening times.
In addition, nature loving kids would enjoy an afternoon exploring the different ecosystems and animals at Faunia, including kangaroos, meerkats, crocodiles and even dinosaurs!
And finally, we should perhaps fit in a museum. Does your little one like robots? Then a visit to the Robot Museum is a must, as it houses one of the largest robot collections in the world. Book on to a guided tour lasting 45 mins. You can only do this on the day of your visit, but you can do this online. At 4pm Monday to Friday there is an English tour. Check the website for opening times and tickets prices, and note that it is closed on a Sunday.
How to get around Madrid with kids
Madrid is a very walkable city and we did A LOT of walking. But when little legs get tired and when you want to venture further afield, the metro is extremely good and very easy to navigate.
We bought a three day tourist card from the metro station at the airport. This covered all travel on public transport in the city for our stay, including getting to and from the airport to the city centre. Check the website for up to date pricing. Kids under the age of 11 are half price, and children under the age of 4 travel for free.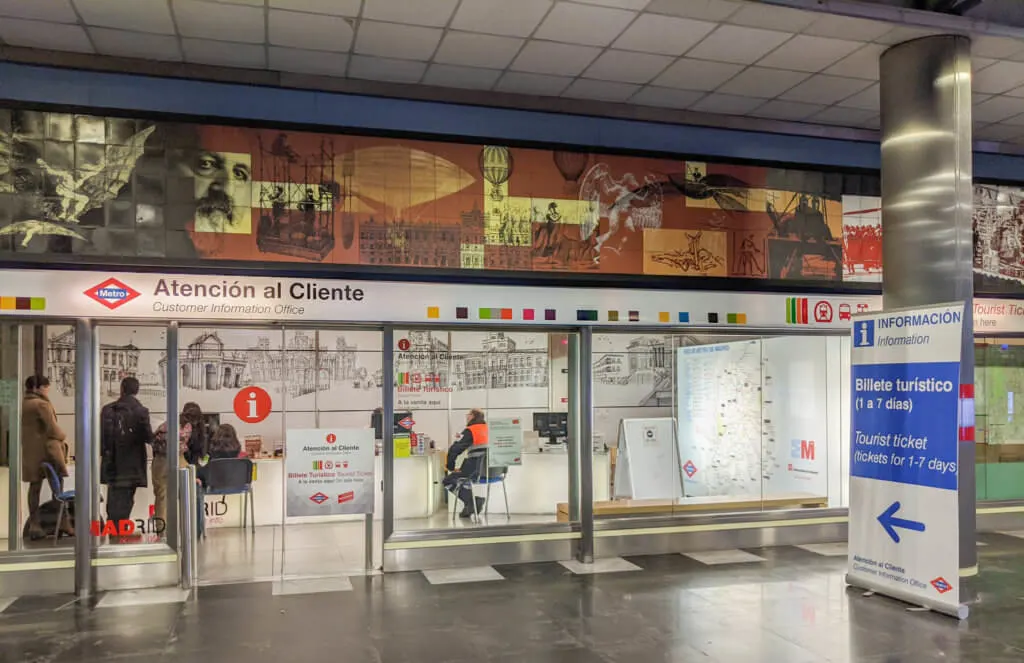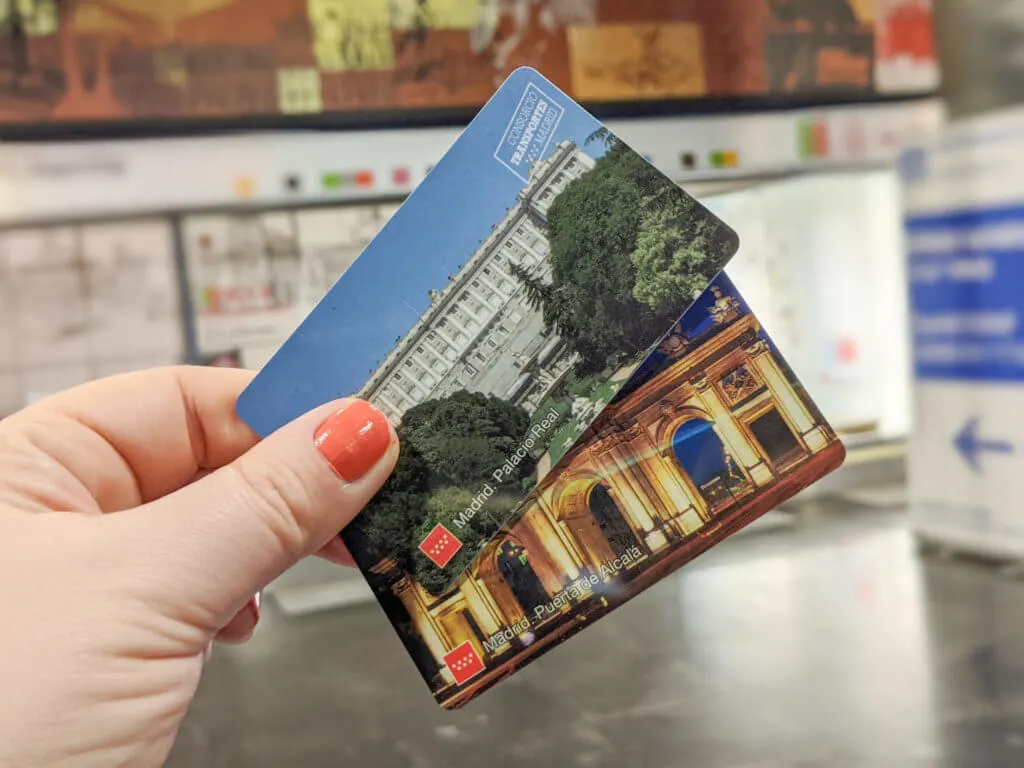 You may also want to consider doing the Hop on Hop off City Bus Tour. If you are visiting Madrid with teenagers, you may want to do a scooter tour!
Getting to and from Madrid airport to city Centre
If you're wondering how to get from Madrid Airport to the city centre, it's actually quite straight forward. There are Metro stations both at Terminal 2 and Terminal 4. You can easily walk to T2 from T1 and T3. Trains leave every 5 minutes between 6.00 am and 2.00 am. Line 8 goes straight to the Nuevos Ministerios Metro station in the centre of Madrid, taking just 12 minutes.
Read this guide if you are doing a long layover at Madrid Airport.
Where to stay in Madrid with kids
Accommodation in Madrid is on the pricey side, even in low season, and we found budget accommodation got booked up quickly even in mid January!
We stayed at Casa de Huespedes Dolce Vita. This is a good budget choice, in a central location and includes breakfast, although it severely lacks any sound proofing. As it was just my son and I we stayed in a double room with shared bathroom. There is one triple room, but no larger rooms to accommodate larger families.
If you are looking for a good family hotel in Madrid you should check out:
Fancy some luxury with a rooftop pool? Then check out these hotels in Madrid with rooftop pools. They look utterly incredible!
---
You may also like to read:
Lanzarote with kids: off the beaten track
The best ALTERNATIVE European city breaks with kids
A Northern Spain road trip: Santander to Barcelona and the Pyrenees