Are you looking to visit Lanzarote with kids? As an adventurous family who prefer an intrepid style of travel, a family holiday to the Spanish island of Lanzarote had always been off our radar. I had wrongly assumed it was all package holiday resorts and British pubs, and offered little in the way of culture and natural landscapes.
Disclaimer: We were invited to stay in the Eco Yurt Royale at Finca de Arrieta for two weeks complimentary stay in return for this honest review and social media coverage. As always, these are all my own words and opinions. Furthermore, this post contains affiliate links. Should you click to purchase, it is at no extra cost to you, but I receive a small commission towards the running of this blog.
But when I was looking into a warm destination in January/February for a one-on-one adventure with just my three year old, I was very much tempted by cheap flights to Lanzarote and the opportunity to thaw out from the cold British winter. Surely the entire island hasn't been overrun by mass tourism? Would we be able to travel Lanzarote off the beaten track? Is there much to do in Lanzarote for kids beside the beaches and waterparks? I bought the flights and hoped for the best. It turned out to be a brilliant decision.
Lanzarote seriously impressed me. There is a wild nature to the barren landscape, carved by volcanoes and moulded by the artist and activist, César Manrique. Strict building controls are in place, where high-rises are forbidden, and all buildings are painted white, with green shutters in the countryside (for farmers) and blue by the sea (for the fishermen).
Yes, there are a lot of tourists (there doesn't seem to be a low season!), and the big resorts do exist (mostly in the South East corner). But we soon realised that there is a lot more to this island than waterparks and beach resorts. During the two weeks with Ezra (my 3 year old) in Lanzarote, we managed to avoid the crowds and found some quiet gems that I feel a little guilty sharing with you. And parents, if you want a treat for yourselves, you can even do a Lanzarote wine tour!
So here are my tips for getting off the beaten track in Lanzarote with kids.
Have your own wheels
Public transport is very limited on the island and the tour buses… well, they don't really embrace independent travel. A car allows you to travel under your own steam, stopping wherever you like for as long as you like, and gets you to those quieter spots away from the tour groups.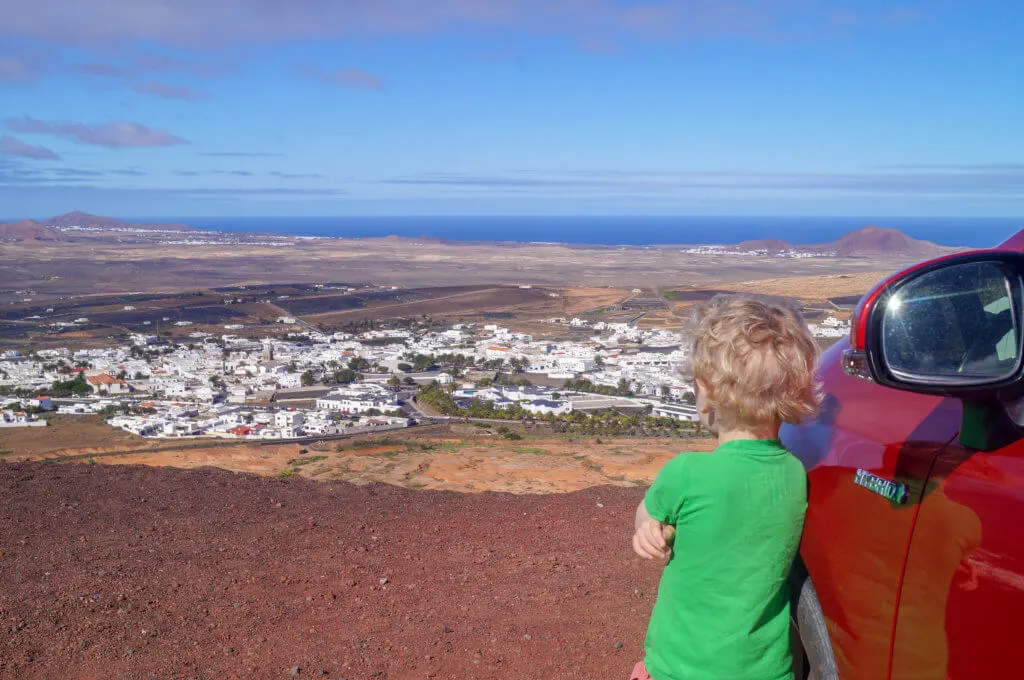 Our yurt at Finca de Arrieta came with a courtesy hybrid hire car.
Find the quiet beaches
The island of Lanzarote offers such an array of beaches; from volcanic black sand beaches, surf beaches, small sandy coves, and stretches of sunbeds lined along shoreline.
The beaches around El Papagayo are extremely beautiful and the sea is a perfect turquoise. However, despite the long, bumpy road to get there, these beaches do get busy. Alternatively, head to the opposite end of the island to Playa de la Cantería, by the tranquil town of Órzola. This is a beautiful sandy cove with a steep mountain on one side, and rock pools to explore on the other. There's quite a surf, so bring a boogie board. The quiet beaches just south of Órzola, off the LZ1, are also worth a visit.
We also loved Playa de Famara, a spectacular surf beach adjoined to the chilled-out surf town of Caleta, on the West Coast, with a dramatic backdrop of mountain. This beach is very much dominated by surfers and THE place to come if you want to learn to surf. If you're visiting Lanzarote with toddlers or younger kids, just walk a bit further along the beach, and you'll find your own little spot for some paddling, boogie boarding, and sand castle building.
Find the authentic towns
Our favourite towns to wander were Arrieta, Orzola, Haria and Teguise. The latter two get very busy on market days. Teguise is firmly on the tourist map and the Friday market caters to its audience, but it's very pretty town. However, Haria market day on a Saturday is more of a local market selling organic fruit and veg. If you want to avoid the crowds through, don't visit on market day.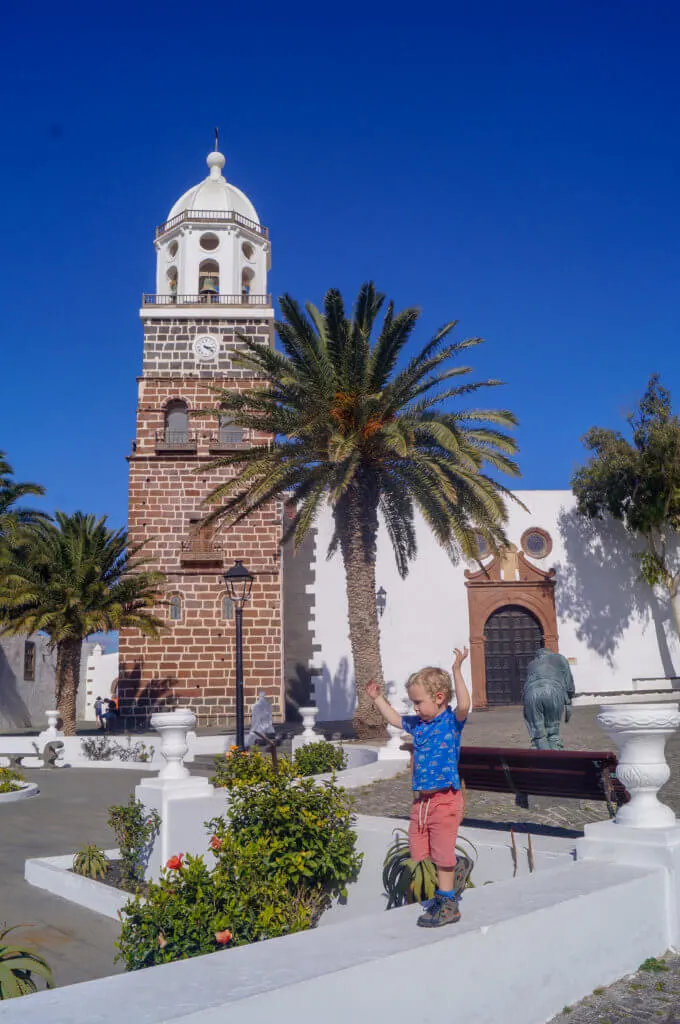 In all these towns there are local restaurants with sea food specialities in abundance, and you will always stumble across a playground and somewhere to pick up an ice-cream.
Arrive early to tourist sites
There are some impressive sights on the island, including the volcanoes at Timanfaya with its Mars-like landscape, the lava caves of Jameos del Agua and Cuevas de los Verdes, the Jardin de Cactus, and the houses of César Manrique. You do not want to miss these, click here to purchase tickets. Your best bet is to arrive at opening to have the best chance of avoiding the crowds. Check the respective websites for up to date opening times.
We arrived to Timanfaya as it opened at 9am, and when we left around 10:30am, there were cars lining up a very long way from the entrance gate, waiting to get in, on a weekday in February.
One tourist spot to perhaps avoid is Mirador del Rio. The view over to Isla Graciosa are indeed incredible, but it's just as incredible 10 minutes south at Mirador de Guinate, where there are no tour buses or entrance fee.
Take the ferry to Isla Graciosa
If you truly want to escape the crowds and get off the beaten track in Lanzarote, take the 25 minute ferry from Órzola to Isla Graciosa. There are no paved roads on this island and only 700 people live here. As you step off the ferry, you feel like you've been transported a million miles away. Click here to purchase your return ferry ticket to Isla Graciosa.
You can walk or hire bikes to get around the island. But as it was just me and my three year old, we clubbed together with some other travellers we met on the ferry and hired a 4×4 to take us around the island. SO MUCH FUN! For four adults the price is €50, and small children are free. When you disembark the ferry, walk to the right and to the line of 4×4 waiting for tourists.
If you stay on Isla Graciosa for a night after the last ferry has left, you will most definitely have escaped the crowds of Lanzarote.
---
You may also want to check out these baby and toddler friendly places to stay in Lanzarote.
You may also like to read:
Lisbon with kids: a winter city break
2 days in Madrid with kids
35 alternative European city breaks for families