Your first family ski trip may feel like a bigger deal than other holidays. This has probably been booked at expense, you're nervous as to how the kids will take to it, and if you're a parent who skied pre-kids, you may be in two minds as to whether your legs can remember what to do. Then come the flashbacks of awkwardly carrying skis whilst walking in boots to get to the chairlift; imagine now doing that with kids!
Disclaimer: This post contains affiliate links. If you click to purchase, it is at no additional cost to you, and I receive a small commission.
We consider ourselves seasoned family travellers. We have backpacked Asia with our boys, driven a Land Rover across Africa with them, and now in this pandemic-stricken world, we road trip Europe at every available opportunity in our Mazda Bongo camper. But when it came to our first family ski trip, even we questioned whether it was worth the faff and expense.
But our outdoor-loving, adventurous boys have been begging to go skiing for years now and last month we decided to make a go of it. We were on a road trip in northern Spain and driving so temptingly-close to the Pyrenees, now was a good a time as any to try our skiing for the first time as a family.
So we booked 5 nights / 4 days skiing at La Molina in the Spanish Pyrenees. We didn't go through a tour agency, but rather booked everything ourselves (accommodation, equipment hire, ski lesson, lift passes). Click here to read all about that trip, including where we stayed and how much it cost us.
By the end of the four days, our boys (who had never skied previously at age 6 and 8) were confidently whizzing off into the distance with big grins on their faces, leaving us parents for dust, and realising that skiing as a family had to become, at least, an annual thing. We had certifiably become a ski-obsessed family.
So if you're thinking about a first time family ski trip, here are some tips we're sharing for a successful trip. Although, as with all family travel experiences, there will be meltdowns along the way and challenging moments. But it's all about balancing those moments to create the memories, right?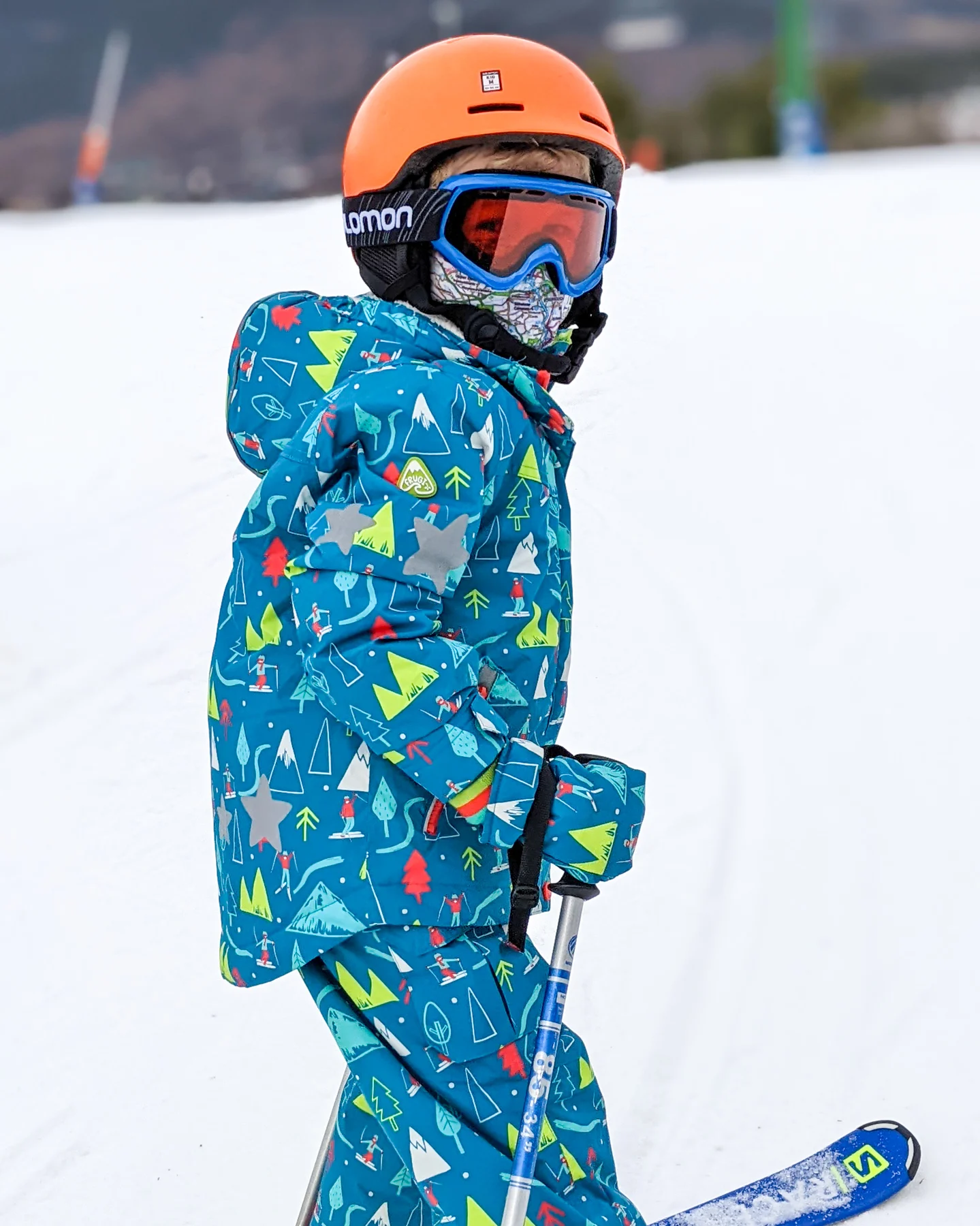 Go for the smaller ski resorts
When the kids are starting out skiing for the first time, you don't need a lot of runs. There's no point paying out for the larger resorts when you don't have the ability for the full experience. Look for ski resorts that are mainly blue or green runs. These beginners slopes are also perfect for parents needing to regain confidence in their skiing ability.
La Molina in Spain is perfect for this and is known as one of the best resorts in the Pyrenees for families and beginners.
The smaller resorts also have less facilities in the way of après ski. This helps keep your spending down (less temptation) and focuses your time on the skiing.
Don't plan on a full week of skiing
The majority of main ski tour operators book ski holidays on a weekly basis (Saturday to Saturday). Personally, a full week of skiing is too much. We found four days to be the perfect amount of time. Whilst our boys wanted to ski longer, as parents we can spot the signs for a much needed break. This 4-day timescale is something that we found to be perfect pre-kids too.
However, if you are booked to go for a full week, which often woks out as 6 days skiing, my advice is that everyone takes a rest day on day 4; do something completely different for the day so that everyone is refreshed for the end of the skiing week.
Similarly, if the boys had their way, they would have skied from 9am to 5pm everyday without a break (these were the times the ski lifts opened and closed). And whilst they we often were the first ones and the last ones on the lift most days, we ensured we had at least a two hour break in the middle of the day, otherwise the evenings would have been total meltdowns from exhaustion.
Ski-in ski-out self-catering accommodation
Getting from your accommodation to the chair lift with everyone fully dressed and with all ski equipment is an utter faff. Little ones will need help with their gloves and boots, and parents are left to carry multiple skis. There's no way around it.
But you can make it easier on yourselves.
We are all for budget accommodation, but when it comes to skiing with kids, location is aboslutely key to success. The cheaper accommodation for ski resorts is often a good walk, or even a bus ride away. But I would pay more any day to mean that we can eliminate the travel time to the chair lifts.
Look for ski-in-ski-out accommodation, or accommodation within 100 metres of the chair lifts.
We also prefer self-catering accommodation. This means that you can be flexible to how tired the kids (and parents) are. There's no shame in kids having dinner on the sofa in front of their screens when they're knackered after a full day of skiing. And if you want to eat out or get a take-away in, you have the flexibility to do so.
Get the kids ski lessons
Nothing beats your kids learning from a expert skier. By investing in lessons, not only are you getting them good tuition in the skill of skiing, but they'll also learn the etiquette of the mountain and how to use the chair lifts.
Our boys had 10 hours of private ski lessons over 4 days, costing £390 between them.
And whilst they were in lessons, us parents went off and enjoyed some runs (and the odd beer) to ourselves. We would then regroup to ski some runs altogether so the boys could show off their new skills.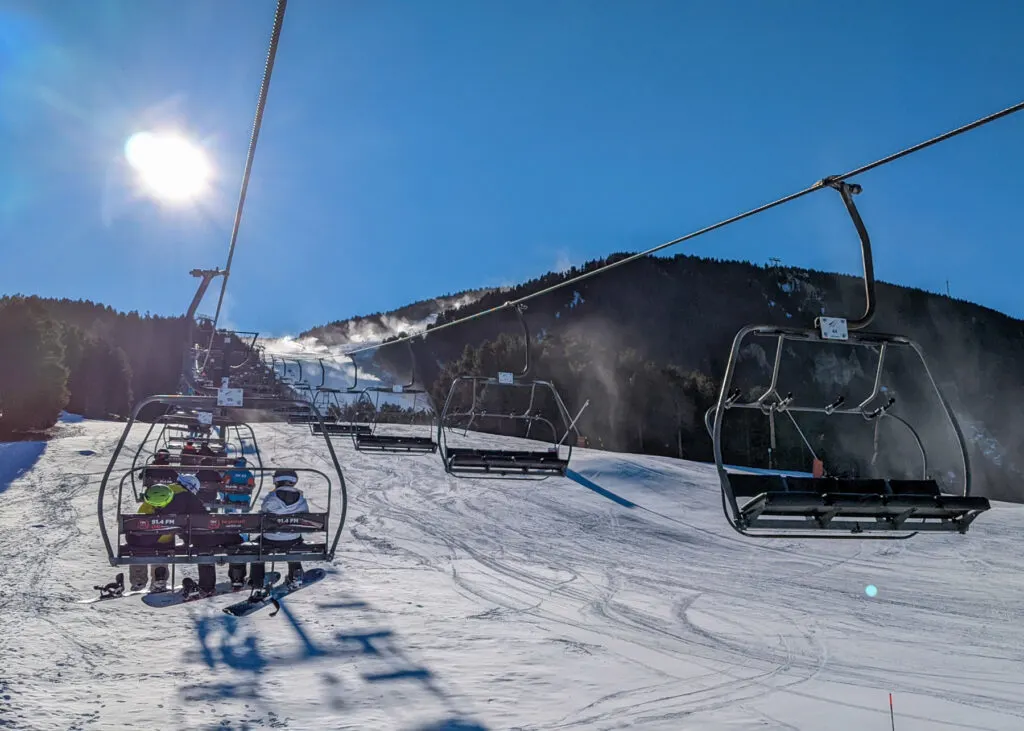 Borrow / hire ski gear for the kids
An additional cost to a first time ski holiday is the ski gear. You can hire all the ski equipment at the resorts (skis, boots, poles, and helmets). But there's also the cost of ski jackets, salopettes (trousers), ski gloves, thermals, and goggles. If you have multiple kids who don't own any appropriate clothing, the cost quickly adds up.
Ski jackets and salopettes can get pricey, but they are essential to keeping kids warm and dry when skiing. Ask around friends to see if you can borrow any, or you could even hire through Eco-Ski. I'm also reliably informed that ALDI and George at ASDA now do cheap ski gear for kids.
Thermals are something that we actually wear throughout the winter months as a family. Living in the Peak District, we do a lot of hiking, and I find that wearing a base layer and T-shirt under a coat, is better than a T-shirt and bulky jumper. Plus our boys are always wearing a base layer for football training and matches. So if you're an outdoor family, it's worth investing in thermals as you will get a lot of use out of them. You don't need to spend too much on thermal base layers (these ones do just fine).
Kids Thermal Winter Warm Underwear Set Long John Bottom and…
KEEP YOUR LITTLE ONES WARM: This kids thermal underwear base layer gives protection against the cold…
FULL SET: Long sleeve top and long john legging trousers included. These can be used for boys…
Thermal trouser and thermal top. Great for those cold winter days, school, ski/snow holidays,…
SOFT AND COMFORTABLE: Our thermal underwear is has some natural stretch for the perfect fit.
BUY WITH CONFIDENCE: This set is covered by our Britwear 101 day guarantee.
As for ski googles, these are a ski item that will hopefully be used year in year out. Supertrip Ski Goggles are for kids age 7-13 and are anti-fog.
Supertrip Kids Ski Goggles, Anti-Fog Kids Skiing Goggles,…
🏂【OVER-THE-GLASSES】- SUPERTRIP Kids Ski Goggles suitable for 5-15 year old skiing boys and…
🏂【HELMET COMPATIBLE】 – The Kids Skiing Goggles use high density woven strap with great…
🏂【ANTI-FOG & UV PROTECTION】 – This Kids Snowboard Goggles use dual-layer lens technology,…
🏂【GREAT GIFT IDEAS】 – Cool full Revo mirror coating reflective lens, just like a real mirror,…
🏂【CUSTOMER ORIENTED SERVICE】 – All Supertrip Kids Snow Goggles are designed for both boys and…
Fit your first time ski experience into a bigger road trip
Something that worked really well for our first family ski trip was that it was part of a bigger holiday. The holiday wasn't just about the skiing, it was about exploring northern Spain.
This takes the pressure off from the holiday being all about the skiing. So if, and let's hope not, it's not a huge success, then the skiing is just part of a bigger trip and you won't feel like you've all wasted a holiday.
But trust us… yes it's expensive, and yes getting out the door and to the slopes is an utter faff. But it's all totally worth it and our first family ski trip has definitely given us all the skiing bug.
---
You may also like to read
LA MOLINA: Family skiing in the Spanish Pyrenees
Iceland with kids: a 5 day self-drive itinerary
The BEST alternative European city breaks with kids