Sipping my morning tea outside our Bongo camper with the sunshine warming my face and palm trees dancing above in the light breeze, I had to remind myself that this was December. Now this is the sort of winter camping I could get used to! Read on for our Camping Vilanova Park review…
Disclaimer: TraveLynn Family were provided a complimentary stay at Vilanova Park through Eurocamp Idependent in exchange for this honest review and social media coverage. As always, these are all my own words. Also, this post contains affiliate links, should you click to purchase, it is at no additional cost to your, although I receive a small commission.
Basking in glorious sunshine with day time temperatures hitting 20°C in late December, just 50km south of Barcelona, Vilanova Park is a superb winter sun camping destination. We visited over Twixmas 2021 as part of our northern Spain road trip, and I was very grateful we had booked a full week here. We had just come from a campsite in San Sebastian with chillier weather and small pitches, but Camping Vilanova Park provided a bit more a holiday vibe.
Arriving to Vilanova Park on Boxing Day 2021, we really weren't too sure what would be open as the restaurants had been closed at our previous campsites on this road trip from Santander to Barcelona. But we were pleasantly surprised to find that not only was the bar open (serving superb woodfired pizzas and patatas bravas for our first night), but the fully stocked onsite supermarket, and the heated indoor pool were also open, albeit with reduced hours. Do bear in mind that as this is Spain, many of the facilities close daily for a siesta, even in winter (check times posted at reception).
Camping Vilanova Park also has bus stop directly outside the entrance with regular buses into the local town of Vilanova i la Geltrú, as well as a direct bus into the heart of Barcelona. From Vilanova i la Geltrú you can also get trains up and down the coastline.
The campsite
Vilanova Park is a huge campsite and described as 'lively' on the Eurocamp Independent website. Over the summer months I can imagine that it would perhaps be too busy and loud for us with the late night parties and entertainment on offer.
But in the winter months, it's a very different story; experience the benefit of the campsite's location and the majority of facilities without the crowds.
During our visit, the pitches at the camping area we were allocated were almost full. It seems that the campsite shuts down some camping areas and leaves others open this time of year. However, it wasn't busy or loud at all, as the clientele were mostly retired couples in their huge motorhomes, seemingly set up for a long stay of at least a couple of months (interestingly, there were quite a few Dutch couples who had escaped The Netherlands lockdown).
That's not to say there weren't any families. There were a handful of families on site for our boys to play with on occasion.
Our camping pitch
Our previous experiences of pitches at Spanish campsites hasn't been great. They always seem very small and packed in. However, the pitches a Vilanova Park are on a par with what you experience at the family campsites in France.
Our allocated pitch was a good size, with high hedges on three sides providing privacy. There are trees to provide shade in the summer months, but as this was winter and the trees had no foliage, the beautiful winter sun would shine onto our pitch, meaning it was warm enough to eat our meals outside.
Each pitch has direct access to a water tap and electricity. The trees also meant that we could tie our hammock up.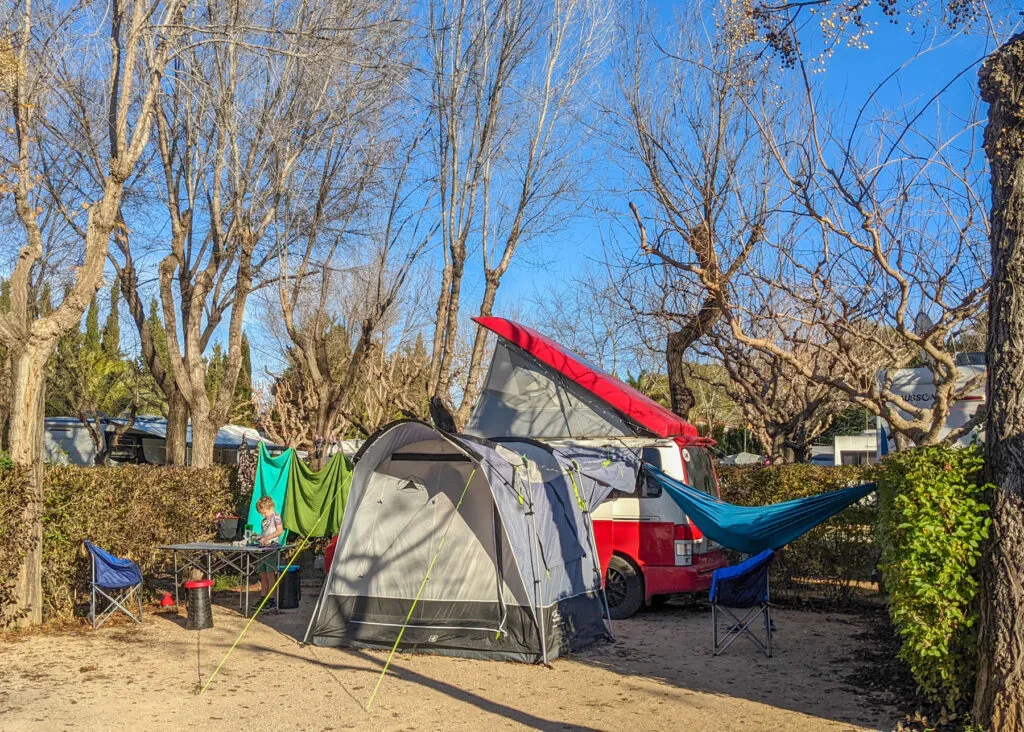 The swimming pool
There are two very large outdoor swimming pools on site; one has a toddler pool and the other a few waterslides. The latter pool has superb views over the town and the Mediterranean Sea.
However, in the winter months, these outdoor pools are shut, even though the weather seemed warm enough to us Brits for a dip. I'm sure the locals wrapped up in their puffer jackets and scarfs would find that very amusing!
But do not worry, there is still heated indoor pool, which is part of the Wellness Centre. In the large pool there are water jets and jacuzzi. There's also a separate small jacuzzi which is much warmer, and a small garden area for winter sunbathing. Do note that there is an entrance fee, it is only open Monday to Friday, and that swimming caps are mandatory (you can buy these from the campsite shop).
The play areas
There are a few play areas dotted around Vilanova Park, but the main one is next to the Wellness Centre. There are also 3G courts for basketball and football enthusiasts.
But the huge hit for our boys was the inflatable jumping pillow. They spent many an hour here, and this is also where most other kids seemed to play too. There were times when this felt busy; so I'm unsure how this works in the heaving summer months.
And if you have budding Wimbledon champions in the family, tennis courts can be found at the entrance.
The supermarket
The onsite supermarket is excellently stocked, even in the low season. Plus most essential items are reasonably priced. This makes life super easy if you don't want to drive away from the site. The nearest supermarket is in Vilanova itself, a 5 minute drive away.
There is an excellent wine section, cold beers, fresh fruit and veg, a small bakery, and everything else in between. I even managed to find veggie burgers, although these were an extortionate €5.50.
Eating on site
The bar and restaurant are in converted farmhouse buildings. We didn't eat in the restaurant, as this seemed to be more formal dining, with no vegetarian or kids options. But the food in the bar area was perfect for us, including woodfired pizzas, tapas, and vegetarian options. Staff were really lovely to our boys, and a bottle of the superb house red is only €9.
WiFi
Whilst we all like the idea of switching off whilst camping, in this day and age, the majority of us need good internet access for one reason or another. There is Wifi available onsite, although we just used our phone internet, which had 4G+ access.
What is there to do in the area?
Whilst no one would blame you for wanting to chill in your hammock with no plans to leave the campsite, Vilanova Park is perfectly located to easily access some fantastic sites.
During our one week stay at Camping Vilanova Park, we managed the first three. We'll have to come back again another day to visit Tarragona.
1. Visit Barcelona
Take the direct bus into Barcelona from the campsite. It takes 1 hour, €5.75 per person.
We had a fantastic day in the city taking in Parc Güell, Sagrada Familia, Las Ramblas, ending with tapas and drinks at Plaça Reial. Barcelona is really a city where a day visit doesn't do it justice, but we found this to be the perfect taster for our boys. Just be prepared for lots of walking. It's also a good opportunity to go shopping and stock up on some gifts from Spain to take home with you.
Football enthusiasts may want to check if there's a game on at Camp Nou. Unfortunately there wasn't one on during our visit.
2. Sitges
Whilst you could take the bus to Sitges, we recommned you follow the fantastic coastal footpath from Vilanova to Sitges (8km). This follows the train track between the two towns, passing rocky cliffs and sandy bays along the way.
Take the bus from the campsite to the local town of Vilanova i la Geltrú and get off close to the lighthouse. The walk starts from the lighthouse; take the road that leads behind the lighthouse, keep the lighthouse on your right. Keep following this path straight ahead. There are red and white stripe markers to guide you.
There are sections where you're very close to the trains, and close the the cliff edge. Whilst little ones will find this thrilling, keep them at arms reach. There are no facilities until you get to Sitges, so make sure you take enough water and snacks with you.
Once you arrive in Sitges, reward yourselves with a tapas and Sangria and one of the many restaurants, before playing on the beach, and exploring the impressive church and narrow alleyways of this beautiful town.
3. Watch the sunset over the Mediterranean Sea
The sandy beach at Vilanova forms a spit leading out to a statue of a bull. Due to the direction of this natural arc, this is the perfect spot to watch the sunset.
This is where we went to say goodbye to 2021. It was perfect.
4. Visit Tarragona
Tarragona is Spain's second-most important Roman site, including a seaside amphitheatre. There's also a beach and lots of restaurants to make it a full day trip from Camping Vilanova Park.
It's a 35 minute drive from the campsite. Or you can get the bus into Vilanova, and then take the train to Tarragona.
Final thoughts for our camping Vilanova Park review
This was the perfect place for us to spend Twixmas and see the New Year in. We really couldn't have asked for better weather, and it was lovely to have access to the facilities during the low season; it was such a chilled vibe on site and I imagine it's a very different story in the summer months.
The direct bus to Barcelona is an added bonus, we had a fantastic day exploring the city. Plus the walk from Vilanova to Stiges is an absolute must if you visit. But my fondest memory is watching the last sun set of 2021 on New Year's Eve from the beach at Vilanova; everyone on the beach that evening clapped as the sun set below the horizon, a very special moment.
And for the next stop on our Northern Spain road trip? We went skiing in the Spanish Pyrenees.
How to book Vilanova Park
A pitch for tents / campers / caravans / motorhomes can be booked through Eurocamp Independent. Their customer service is fantastic; so if you need to move dates around or even cancel (flexibility is key for travel in today's world, right?) then they can sort all this out quickly and efficiently for you, without you needing to worry about any language barrier and change policies at individual sites.
We've stayed at lots of Eurocamp Independent sites throughout France (read: Bongo Camper summer road trip in France 2021), but this was our first in Spain.
Camping Vilanova Park is one of eight campsites they have dotted around Spain. We'll definitely be back next winter to try out another! Click here to view the Eurocamp Independent sites in Spain.
Please note the Eurocamp Independent is a completely different website to Eurocamp (which offers the chalets and glamping tents), although they're under the same business umbrella. If you don't want to camp in your own camper or tent, you can book to stay at this site through Eurocamp (click here).
---
You may also like to read:
A Northern Spain road trip: Santander to Barcelona and the Pyrenees
Lanzarote with kids: off the beaten track
2 days in Madrid with kids