The native Icelandic horse is iconic. Even in the harshest climes, you will see these stoic creatures dotted around the lower hills. One of the best things to do in Iceland with kids is a horse riding lesson, and what better time to do it than whilst staying on a horse farm!
Disclaimer: TraveLynn Family received a one night complimentary stay and family horse riding lesson at Gauksmýri Lodge, booked through Hey Iceland, in exchange for coverage on our social media and blog. As always, theses are all my own words.
Situated just off the main Route 1 ring road, Gauksmýri Lodge is a perfect stopover for horse lovers. The entire lodge is horse themed and you'll notice horse shoes nailed to walls as well as stunning horse photography from one of the owners. Next to the stables is a horse-themed bar with more photography as well as a staggering array of trophies from various horse events.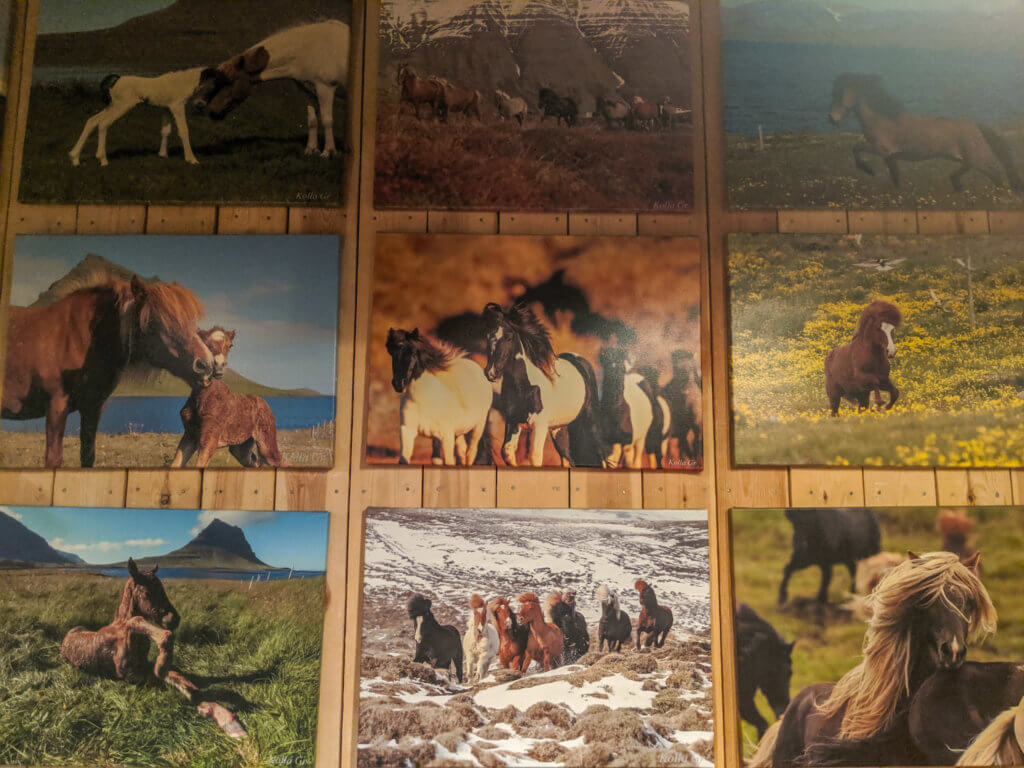 We stayed at Gauksmýri Lodge towards the end of our North Iceland itinerary. We were on a 7 day road trip and making our way back to Reykjavik. As we had come from Lake Mývatn, where we had spent a morning exploring, we didn't arrive to Gauksmýri Lodge until 5 pm. However, there was still time for a family horse riding lesson!
Our family horse riding lesson at Gauksmýri Lodge
We are all total novices when it comes to horse riding. I think the boys (aged 4 and 6) may have been on horses more than us parents! But it was very fun being able to learn something all together as a family.
As we arrived after dark on a cold November evening, we took our horse riding lesson in the stables. We were first lead through to collect our helmets and then introduced to our beautiful Icelandic horses. Only thing is, I couldn't get on my horse! Seriously, how do people make it look so easy? I just didn't have the strength to pull myself up and I had to get a gentle bum push to get me on. Very graceful, and I couldn't help but feel a little sorry for the horse.
In the main indoor paddock the boys were lead around by the staff. But us parents were left to our own devices. Thankfully these horses seemed very well trained to just follow our children!
But it wasn't long before we were all 'tolting' along independently. Tolting? Yes, that was a new one to me too. It's a gait between walking and trotting that only Icelandic horses can do. It's totally genetic, and 'normal' horses can't be taught it. I found this absolutely fascinating.
As the lesson came to an end, the boys were very gutted to dismount their horses. They had the best time and afterwards asked to have lessons back at home. Whilst this did cross my mind, it's an expensive hobby to get into and we may just need to leave it as a special treat on holidays.
After the lesson the boys then got to help feeding the horses. They seemed to enjoy this as much as the lesson itself!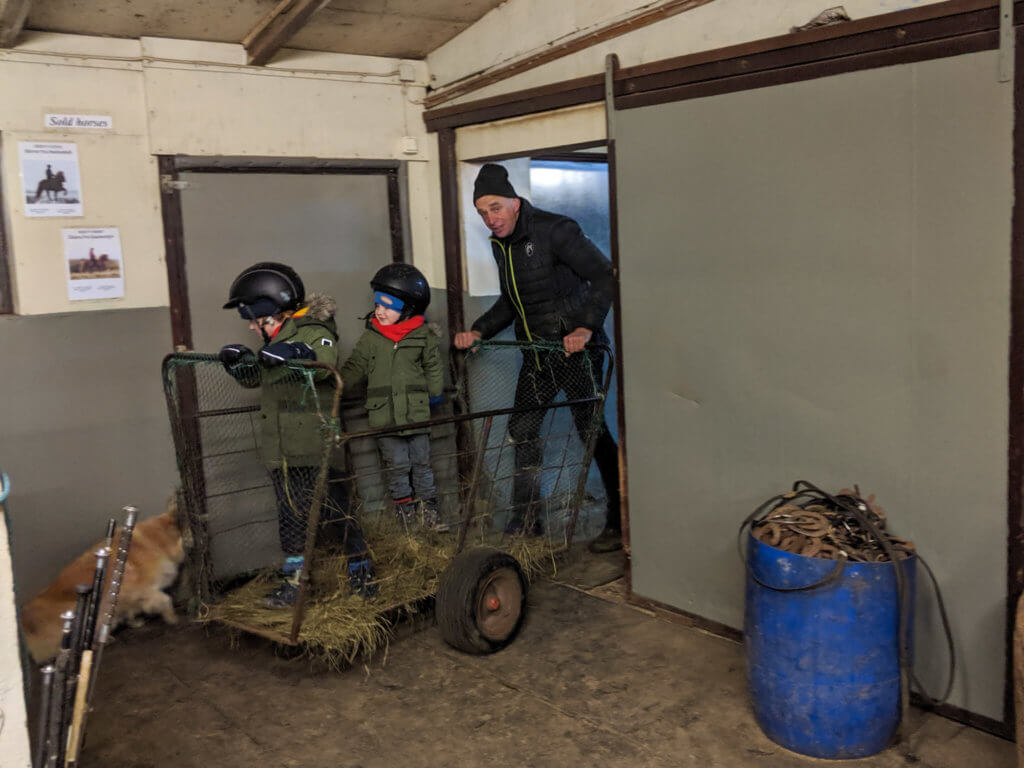 If you have more time and are more experienced riders, you can enjoy a horse riding tour of the local area. There is no minimum participation and tours run throughout the summer and winter months. However, the minimum age for this is 8.
Our accommodation at Gauksmýri Lodge
We had the HUGE family room with five beds. There isn't an ensuite bathroom in the family room, but as no one else was staying in our corner of the lodge, we didn't need to share with anyone.
There are no kitchen facilities (even though it says there are on their website?), but there is a coffee machine in the communal area, which also serves hot water if you need to cook your noodles for dinner. Do note that the onsite restaurant is closed in winter months for dinner, so plan ahead.
Breakfast
A buffet breakfast is served in the airy and spacious dining room. The usual cheeses, meats, cereals, breads, juices and hot drinks are laid out. The actual tables are down some steps from where the buffet is, so this can be a bit tricky when carrying multiple courses for the kids' breakfast.
What else is there to do in the area
It's worthwhile following the 711 route which circles the Vatnsnes Peninsula. Allow 5 hours to do the full loop up to the coastal rock formation Hvitserkur and round to the Icelandic Seal Center, whilst stopping to spot seals along the way. Check out Day 3 of our North Iceland itinerary.
How to book Gauksmýri Lodge
There are (I think) over 20 rooms at Gauksmýri Lodge, but there is only one family room. So if you are planning on staying here as a family and don't want to split across rooms, make sure you book ahead.
Head to the Hey Iceland website to book and find out prices. They also have a range of other family-friendly farm stays in Iceland, including Stóra-Ásgeirsá which we also stayed at and is very nearby.
---
You may also like to read:
ICELAND with kids: a self-drive itinerary (5 days)
How to save money on a family trip to Iceland
The BEST things to do in Reykjavik with kids