The Icelandic Seal Center in Hvammstangi is a great place for a quick stopover as you explore the Vatnsnes peninsula in Northern Iceland. It's compact and well-laid out interior allows you to understand more about the local seals which inhabit this part of the world, and young kids will find some fun activities during their visit. It's also a good excuse to get inside and warm up if you're visiting in the colder months.
Disclaimer: TraveLynn Family received a complimentary visit to The Icelandic Seal Center as part of our North Iceland itinerary with Hey Iceland. As always, these are my own words. Also, this post contains affiliate links. Should you click to purchase, it is at no additional cost to you, but I receive a small commission.
Visiting the Icelandic Seal Centre
As well as an interactive museum, the Icelandic Seal Center also houses a research centre which is dedicated to observing, monitoring and preserving the native seal population which means that adults will have lots of information to read up on as well.
We found the lifesize models and skeletons fascinating and the kids enjoyed the hands-on nature of the museum; you can touch different seal fur, follow the migration pattern of a friendly seal on an interactive map, create paper models and draw your own seal portrait.
When you fancy a sit down, head over to the in-house cinema where comfy seats allow you to chill-out and watch an interesting and informative film on the seals and their life around the chilly shores of Iceland. The museum also has non-seal displays as well, highlighting the varied wildlife you can find around the coastline including foxes, birds, whales and puffins.
We really appreciated the fact that (unlike some museums we've visited), it felt like it was designed with children in mind, with lots of activities laid on for them to enjoy, especially the 'kids corner' which had a small viking boat to climb into, crafts, games and toys, as well as origami instructions to create your own paper seal. Us parents found the origami rather challenging – you've been warned!
Back in the reception area there is a small shop and café if you need to get some gifts or grab a quick bite to eat. There is also a supermarket within walking distance if you need to stock up for your onward journey.
When is Icelandic Seal Center open?
The museum has slightly different opening hours depending on the time of year. These opening times are correct as of November 2019.
June 1st – August 31st: 09:00-19:00
May & September: 10:00-16:00 (Opens at 9am on weekends)
October – April: 10:00-15:00 (Closed on weekends)
Icelandic Seal Centre prices
Prices are correct as of November 2019. You do not need to book in advance. Just turn up on the day!
Adult – ISK 1100
Kids (12-16 yrs) – ISK 750
Kids (under 12) – Free!
How long do I need at the Icelandic Seal Centre?
In all honesty, it's a small museum so I would say allow an hour max. We arrived at 2:30 pm, and it closed at 3 pm. So we were only there for half an hour and that felt like enough time.
Where can I see the seals in Iceland?
If the museum has whetted your appetite for seals and you'd like to see them in the flesh, there are several excellent viewing sites close by the museum, although the exact number of seals you see will depend on tides and weather conditions.
You will find a few sites just off the 711 route which circles the Vatnsnes Peninsula (including aptly named Seal Beach, and across the estuary at Hvítserkur). They are all well signposted off the main road with a picture of a seal.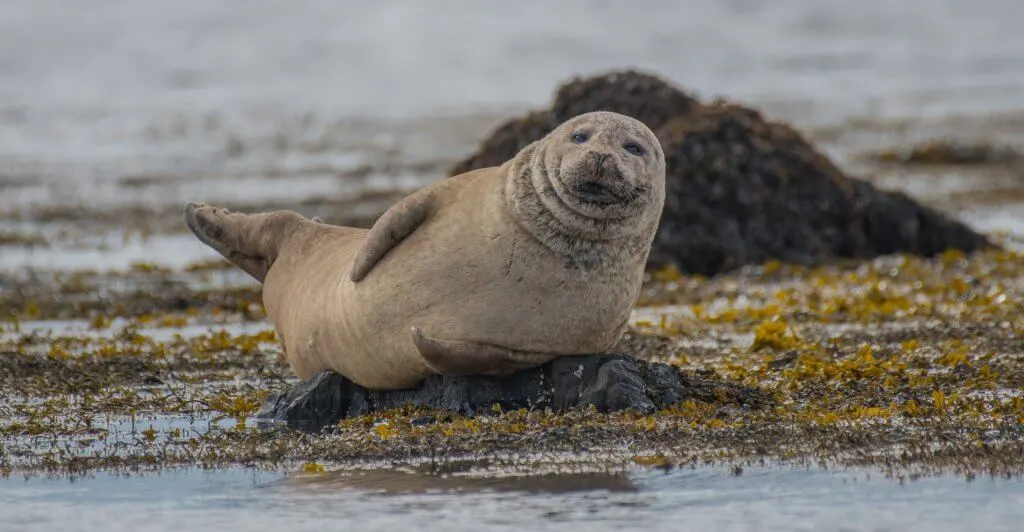 When can you see seals in Iceland?
Seals can been seen around the Vatnsnes Peninsula of Iceland all year round. The best time to see the seals is two hours either side of low tide. Better weather also raises your chances as this is when the seals like to hang out and chill on the rocks. Click here for low tides around Hvammstangi.
If you do see seals, keep your distance, stay calm and be quiet. Be extra cautious in Summer and Autumn when it's pupping season, and don't fly a drone and disturb them.
Accommodation near the Icelandic Seal Center
We stayed at Stóra-Ásgeirsá; a farm stay just a 25 minute drive away. Our kids loved feeding the animals in the morning, and I particularly enjoyed the outdoor hot tub by the waterfall.
Gauksmýri Lodge is also another good option in the area, which is where we stayed when we passed through again on our way back towards Reykjavik.
You may also like to read:
NORTH ICELAND ITINERARY: a 7 day family road trip
Stóra-Ásgeirsá REVIEW: a family farm stay in Northern Iceland
How to save money on a family trip to Iceland