As you travel around Northern Iceland, the natural beauty is all around you and hard to miss. But it's easy to forget that some of the most remarkable sights are actually hiding underneath ice-cold water, only appearing occasionally to break to the surface and take in some air.
Disclaimer: TraveLynn Family were offered a complimentary whale watching tour with North Sailing, booked through Hey Iceland, in return for coverage on my website and social media. As always, these are all my own words. Also, this post contains affiliate links. Should you click to purchase, it is at no additional cost to you, but I receive a small commission.
The whale population off the coast of Iceland is one of the most accessible and extensive in Europe, and the town of Húsavík provides the perfect base to set sail and get a close up glimpse of these beautiful creatures in their natural habitat.
We spent a fantastic morning with North Sailing on our eldest's sixth birthday, spotting several humpback and minke whales on a Húsavík whale watching tour. Húsavík is one of the best places to go whale watching in the world, and a must do on an Iceland family holiday.
The North Sailing whale watching tour
The tour starts by registering at the North Sailing offices in town, where there is also space to park your car (click here for location). The check-in process is really easy and well-organised and you'll soon find yourself on-board the open-decked boat, which will be your transport for the next few hours.
The friendly crew welcome you onboard with an offer of incredibly warm overalls which fit easily over your normal clothes (including winter jacket). It's highly recommended to take them up on the offer and, if you are wearing winter clothes underneath, you'll find you are more than warm enough to brave the elements.
We went whale watching in November and didn't feel the cold once. Note that life-jackets are also available; particularly recommended for the kids as their suits don't have an in-built flotation devices in them, which the adult suits do.
What to wear on your Húsavík whale watching tour
Even if you are visiting in the Summer months, it can get very cold out at sea and we advise wearing the following: • Gloves, hat and scarf (or snood)
• Thermal top and bottoms
• T-shirt and jumper
• Warm socks and shoes with good tread
• Warm trousers
• Warm winter jacket
• THEN ON TOP OF ALL THIS WEAR THE SUIT PROVIDED BY NORTH SAILING.
There are a few seats on board which you can use but you'll spend most of your time standing or lent against the railings looking for the whales. Bear in mind that children won't be able to see over the front of the boat as the sides are quite high so you are better off at the sides, which was the perfect height for our 4 year old. As for actually viewing the whales, most of the best viewing points were from the side anyway.
If you fancy it, there is an option to walk up some stairs to the top of the boat where you can get an even better view, although this area is popular and can get crowded.
Will I definitely see whales?
This is a wild, natural experience, so it's pot-luck when and where the whales will appear. We were lucky on our trip and the guide (who provides an interesting but non-intrusive commentary during the tour) said that we saw a large number of whales close-up for this time of year.
Even when the whales aren't around, the scenery is incredible and you'll enjoy just being out on the water with the sea air and snow-capped mountains for company. It really is a fantastic day at sea.
When is the best time to go whale watching
The best time to see whales in Iceland is June to August. During this time there are multiple sailings per day. You can also combine your tour with seeing puffins at this time of year.
Despite it being the very tail end of the season (excuse the pun!) and whale watching in Iceland in November, we saw two different humpback whales and a minke whale up-close, which was fantastic.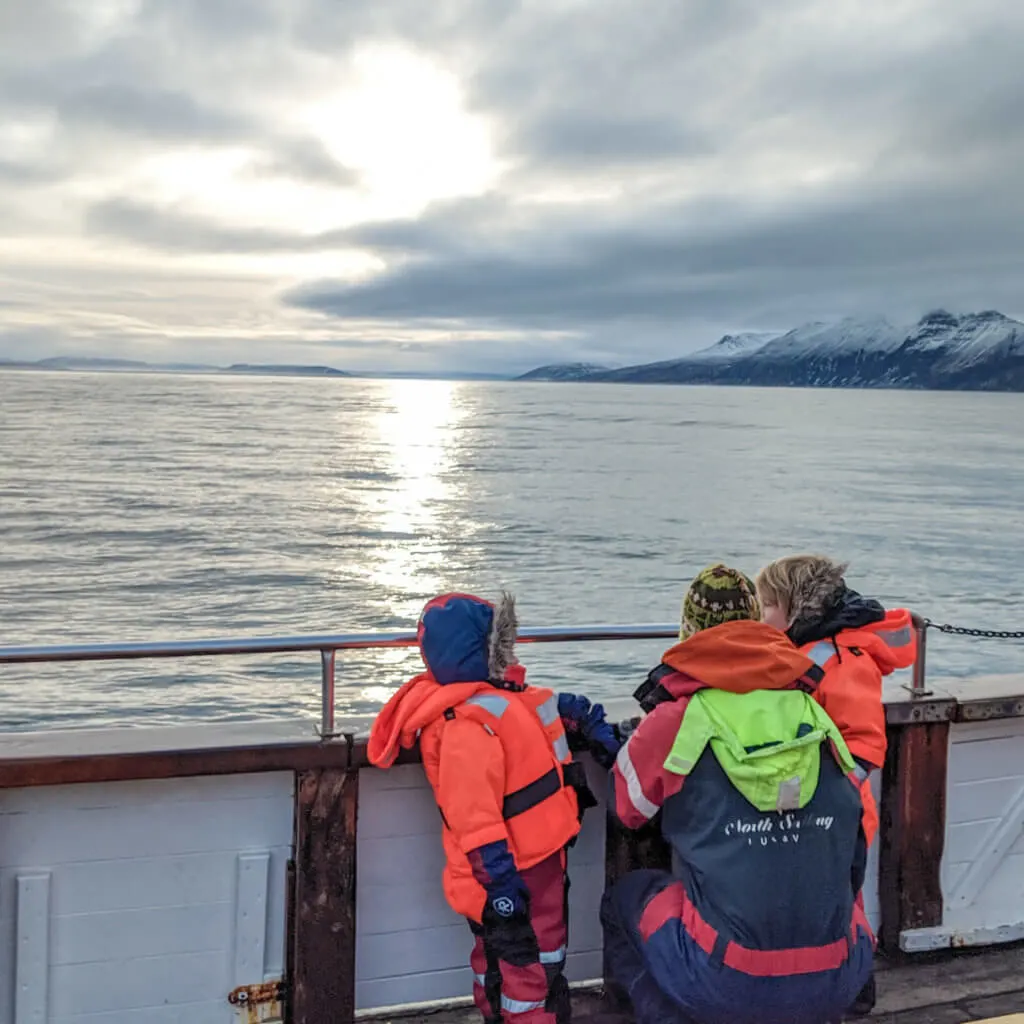 How do they find the whales?
The tour tries its best to be as unobtrusive to the whales as possible (they don't use sonar for example) and instead use eyes and communication with other boats on the bay to find the whales.
On top of this, there was only one other tourist boat out with us during the tour so it didn't feel like we were on a mass-safari, although I'd be interested to see how it is in peak whale watching season. Whenever we spotted something we would saunter over to the general area and patiently wait, only moving on when the whales took a final breath and dived underwater for several minutes.
Snacks and sea-sickness
Towards the end of the tour, the crew will provide hot chocolate and pastries for you to enjoy; a very lovely idea if you haven't been affected by sea-sickness ,which does need to be mentioned. We were all affected (apart from our youngest) to some extent, this was despite wearing sea-sickness bands.
The water was very rocky for us and it can be particularly bad when you are sat still waiting for the whales to appear. Looking at the horizon and mountains helped somewhat. But what didn't help were the numerous passengers being sick overboard; although these people are guided to the back of the boat. Keep this in mind if you are particularly prone to sea-sickness. However, no one in our family was actually sick, and this didn't affect our viewing of the whales. But after three hours at sea, we were ready to head back.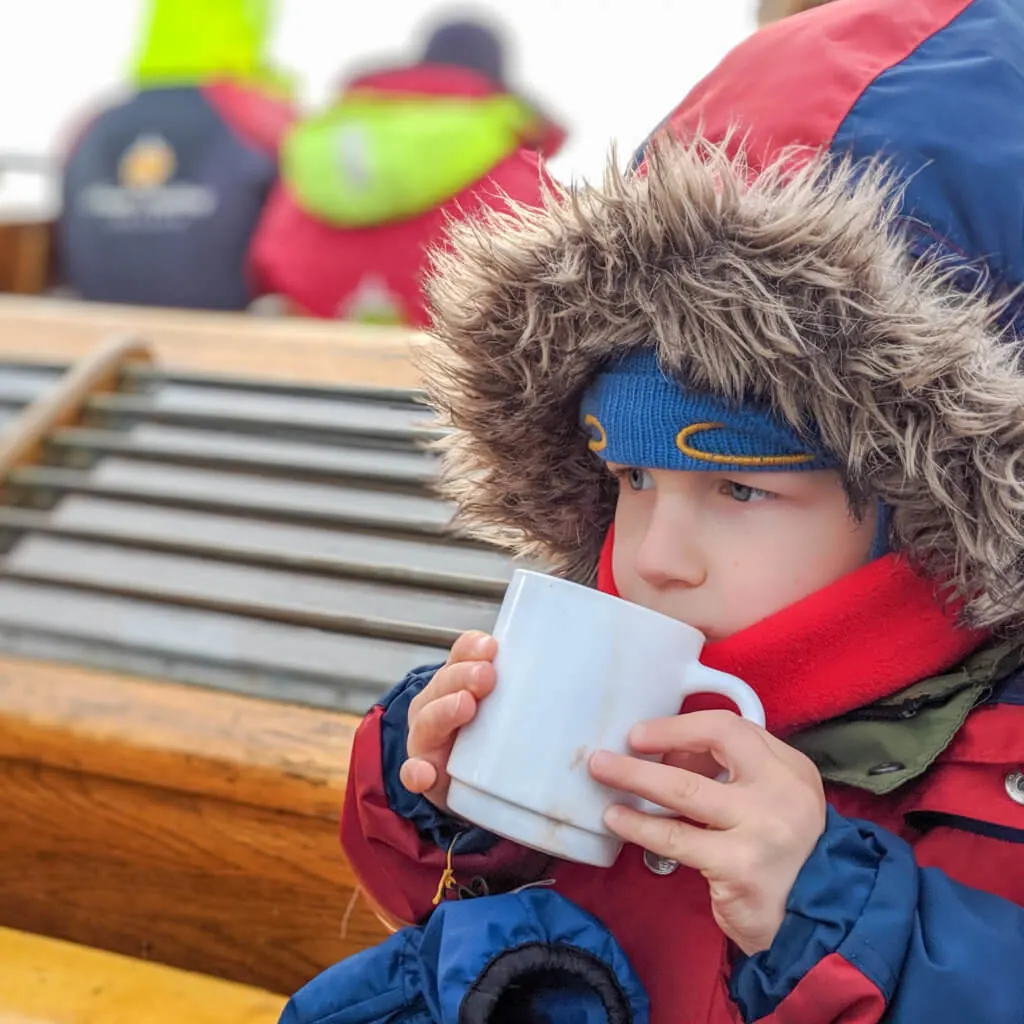 How to book your Húsavík whale watching tour
We went with North Sailing, booked through Hey Iceland. Tours run all year, but check the websites or phone ahead if travelling in winter as sailings will be cancelled in severe weather.
The cost of the three hour (approx) whale-watching tour is ISK 10,500 for adults, ISK 3,500 for children 7-15 and under 7's are free.
You must go to Geosea afterwards!
After your Húsavík whale watching tour we suggest you head over to nearby Geosea (also in Húsavík) to warm up with a long soak in their geothermal baths, overlooking the bay you've just been sailing on. Click here for our review of Geosea.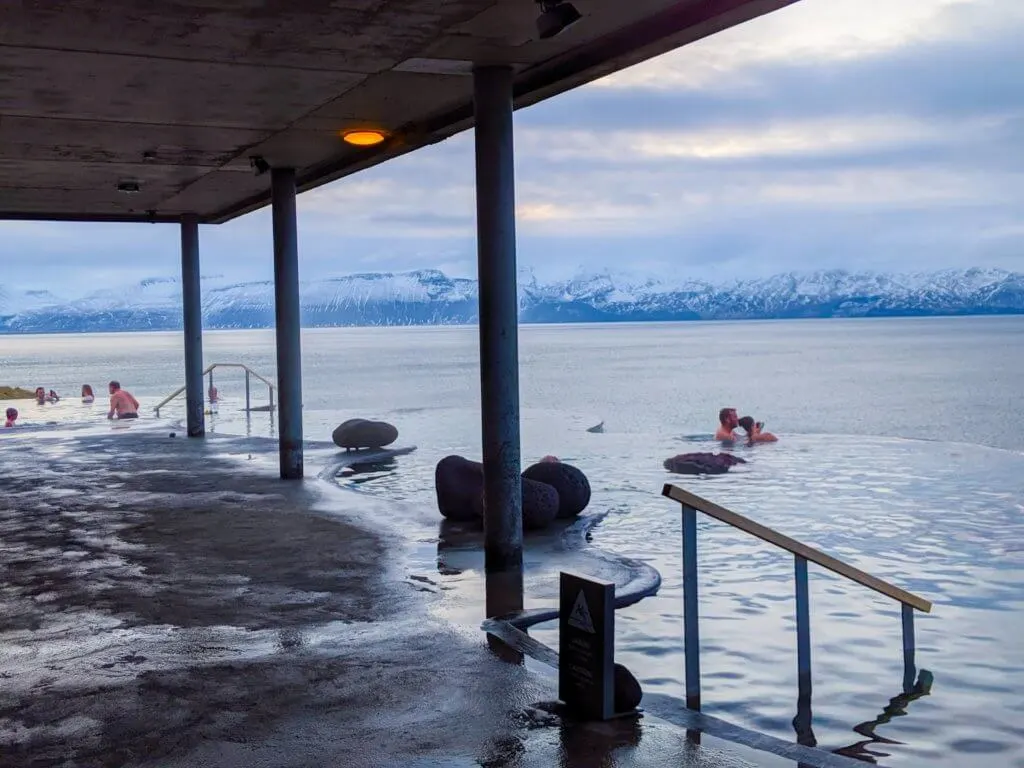 Where to stay nearby
We didn't stay in Húsavík itself, but rather drove the half an hour to a cosy guesthouse in Laugar. We spent two nights at Guesthouse Stóru-Laugar, which has it's own geothermal outdoor hot tub, open 24 hours a day and free to all guests.
Whilst staying here, and in addition to a whale watching tour, make sure you visit the huskies at Snow Dogs, as well the geological sites (including craters, smoking fumeroles, and lava stacks) around Mývatn. There is a road that takes you right around this lake. Check out Day 6 of our North Iceland itinerary for more details.
---
You may also like to read:
NORTH ICELAND ITINERARY: a 7 day family road trip
Geosea Húsavík REVIEW: visiting geothermal sea baths in North Iceland
SNOW DOGS kennel visit: a family friendly husky experience in Iceland