The husky gave four year old Ezra a big sloppy lick. Ez then preceded to giggle away with the biggest grin on his face, his little screeches exciting his new husky pal even more. Older brother Arthur was just the same at the other side of the kennel rubbing the belly of another dog. For two boys who were usually a bit nervous around dogs, they were absolutely loving their Iceland husky experience.
Disclaimer: TraveLynn Family received a complimentary kennel visit to Snow Dogs as part of our North Iceland itinerary with Hey Iceland. As always, these are my own words. Also, this post contains affiliate links. Should you click to purchase, it is at no additional cost to you, but I receive a small commission.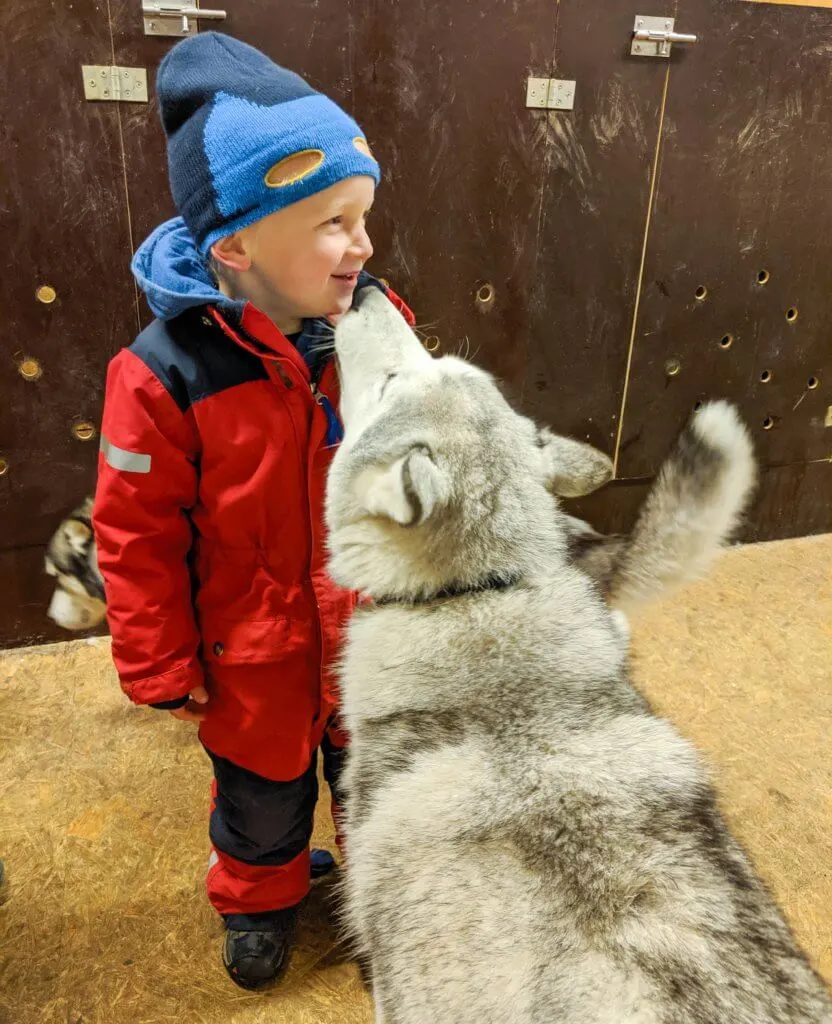 A kennel visit over sledding
Husky sledding is considered one of the top things to do on an Iceland family holiday. However, it's also very expensive. Prices start from IKR 30000 (approximately £190) per adult and IRK 10000 (approximately £60) per child aged 2-12 for a two hour husky sledding tour. That certainly adds up for families!
A kennel visit is a more affordable husky experience at IKR 4500 (approximately £28) per person, and in all honesty, young kids may probably get more out of the hands on kennel visit than sledding. Although do note that the kennel visit is also part of the sledding tour.
Our husky kennel visit
Situated in the middle of nowhere, on a lunar-like landscape dusted in snow, we arrived to Snow Dogs at sunset. We had been in Akureyri earlier that day and Snow Dogs is a one hour drive away.
We were met at the front of the owner's house and led round the side to their basement. Here we were presented with snow suits to keep us warm and protect our clothes from the huskies, as well as a Snow Dogs head scarf that all visitors get to keep as a souvenir.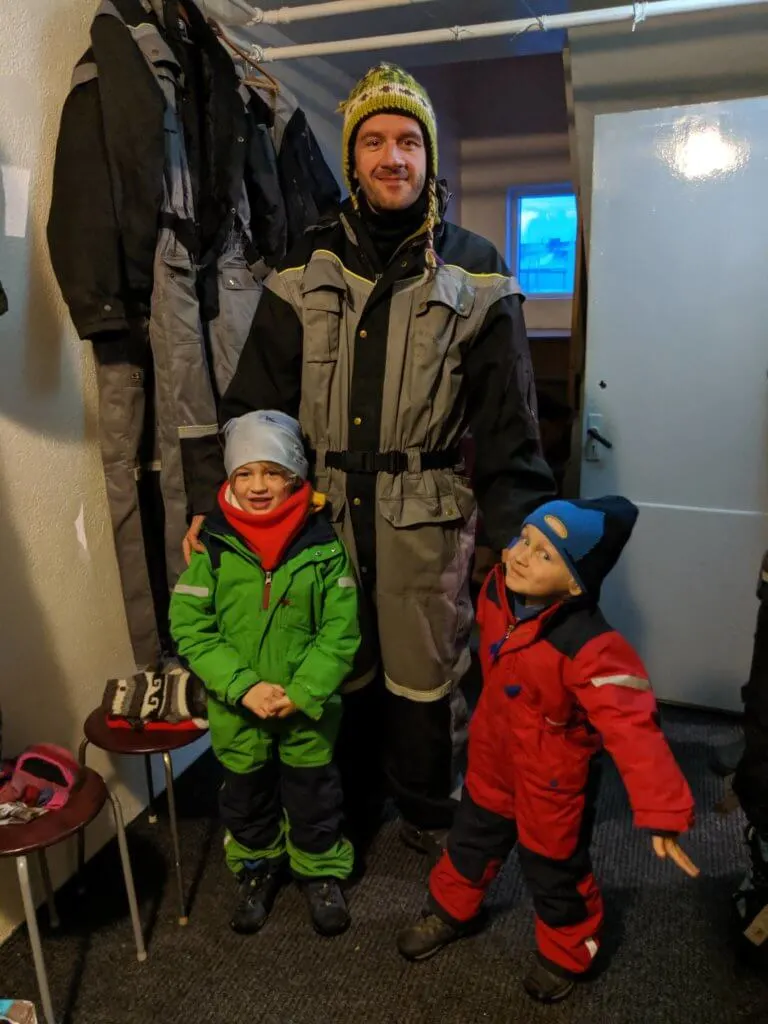 As we walked over to the kennels, the dogs were barking and excitedly leaping in the air. We had timed our visit with their dinner time, and these dogs were hungry!
The dogs were separated into individual kennels with the door locked, and then each one was served their dinner. The boys helped serve up the dog food, changing portions according to age and gender of dog.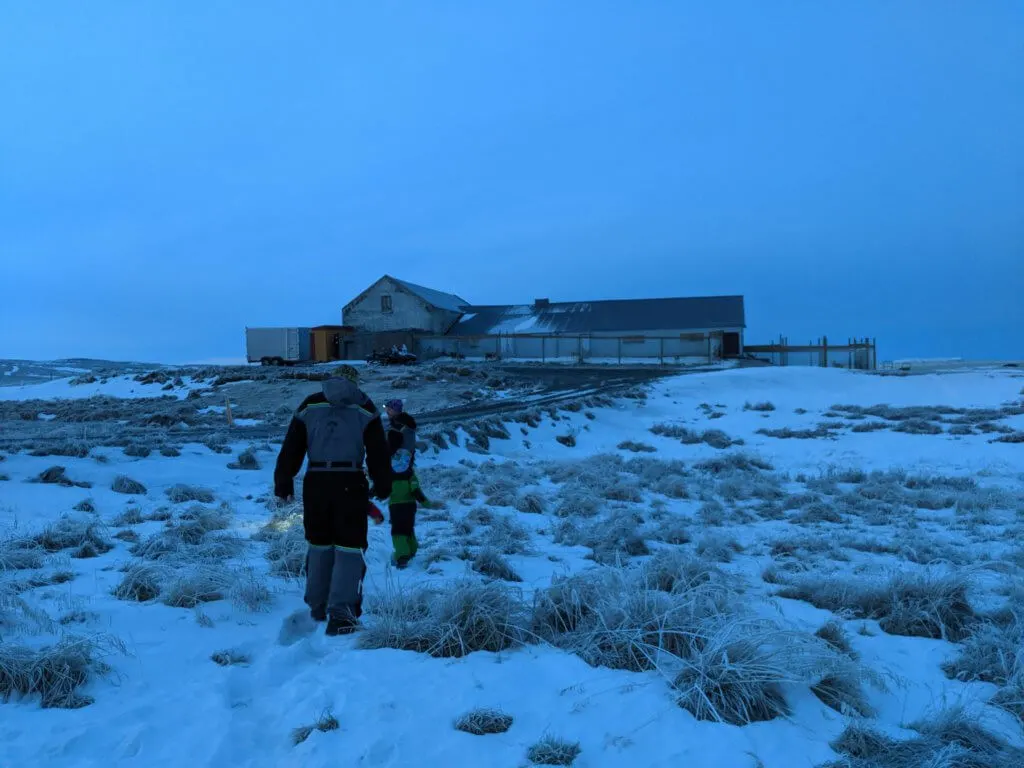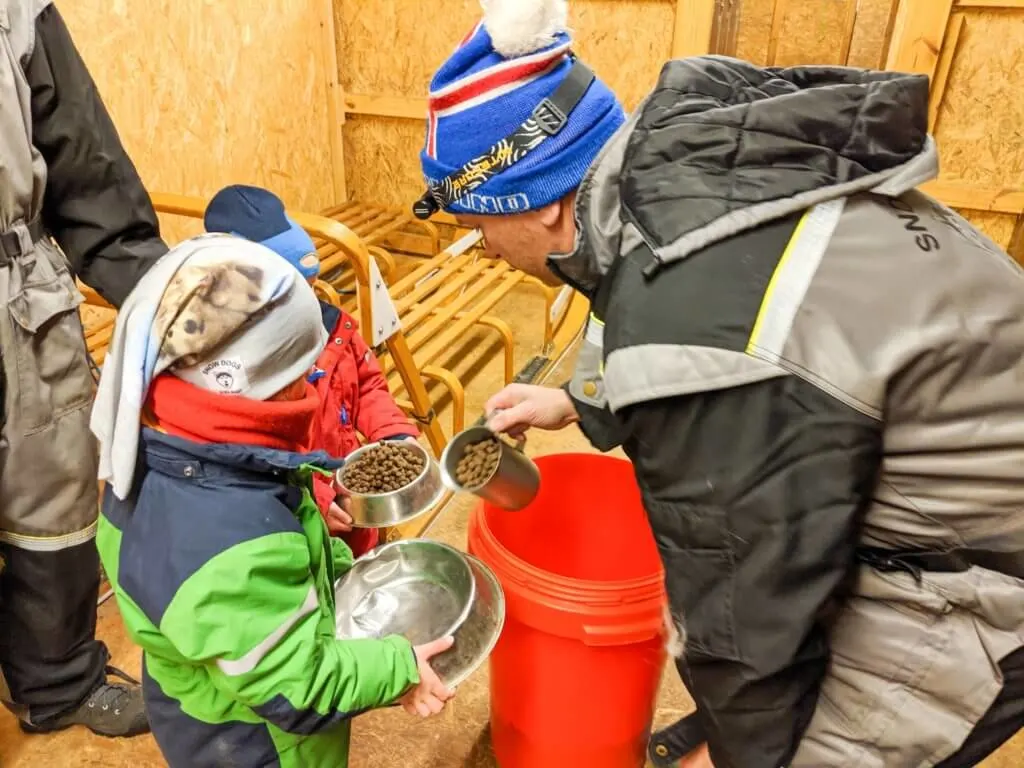 Once all 28 dogs were fed they were much calmer. The teenage dogs were then allowed back out into the main indoor area of the kennel to play with the boys.
The boys were instructed to hold out their hands so the dogs could come over a sniff them, and get to know them. But within minutes there was lots of patting, stroking and licking, and we were all loving the play and attention. These dogs are adorable and so very playful!
Whilst all this was going on, we also learnt all about these husky dogs. They're not native to Iceland, but rather come from Siberia, and it was interesting to hear how they keep warm over the winter months with their thick coats and how they all work together with sledding (going at the pace of the weakest dog).
Back at the basement by the house we got to play with some 4 month old pups. Incredibly cute!
What to wear from your husky experience
Even though protective snow suits are given to you, make sure you dress warmly and take hats and gloves with you. It's best not to wear the gloves when playing with the huskies inside the kennels, but some dogs are kept outside and your fingers will get cold whilst you're waiting for them to be fed.
Do we recommend a husky kennel visit?
Like many activities in Iceland, it is on the pricey side. But its certainly a more affordable option to the husky sledding. Price aside, this was a fantastic husky experience for my boys and they will tell you that it's one of the best things they did on our North Iceland road trip.
I was very impressed with how the owners handled the fact my boys were a little nervous to begin with. He eased them in gently, never rushed them, and it was wonderful to see the smiles on their faces.
I did walk away wishing we had done a husky sledding experience, but in all honesty it's rather pricey and I could see how much my boys had enjoyed the kennel visit. I need to get saving for next time.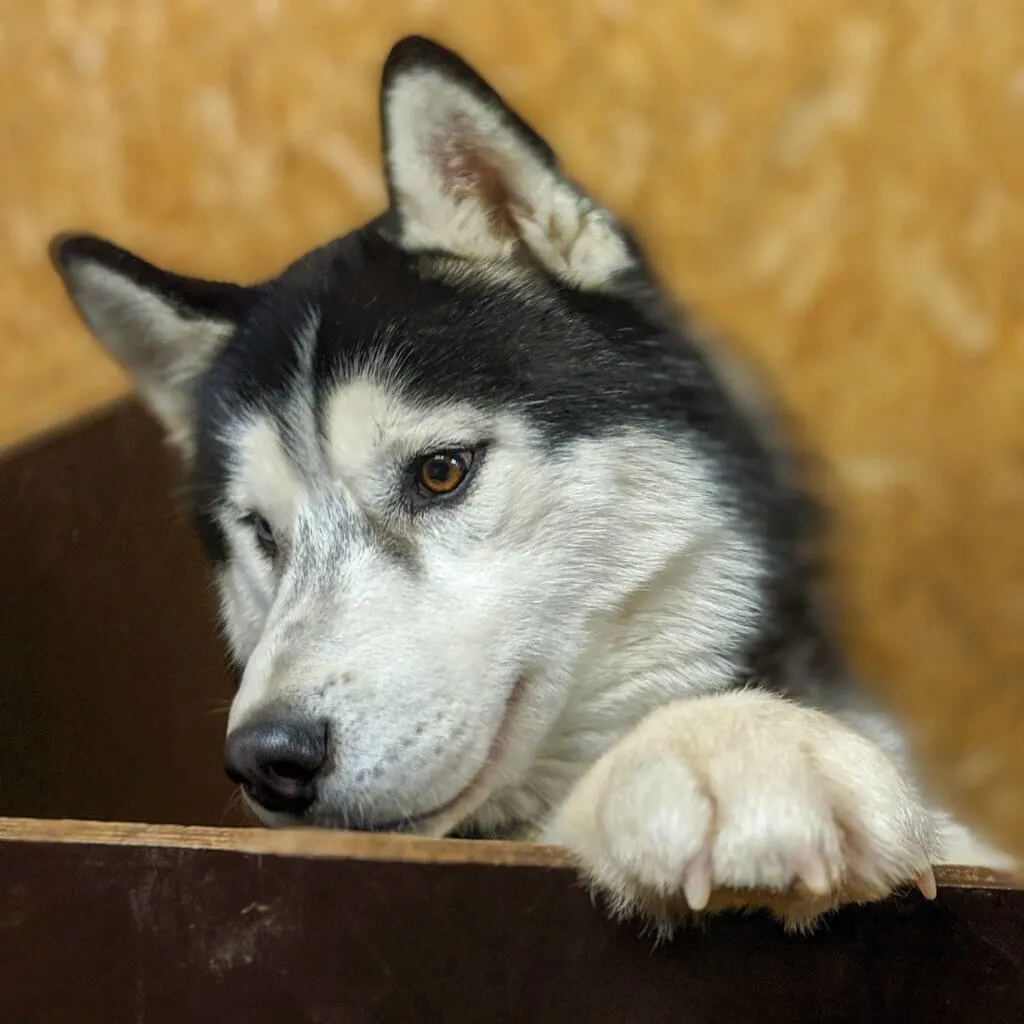 How to book a husky experience
The kennel tour last about 1.5 hours and can be booked through Hey Iceland. Do email them if you have a specific time you would like to visit. For more information, check out the Snow Dogs website.
Where to stay and what to do nearby
We stayed at Stóru-Laugar, which is a half hour drive away. Whilst in the area, make sure you visit the geological sites (including craters, smoking fumeroles, and lava stacks) and perhaps the geothermal spa around Mývatn. There is a road that takes you right around this lake and if you plan to visit the spa as well, allow for a full day. Check out Day 6 of our North Iceland itinerary for more details.
---
You may also like to read:
ICELAND with kids: a self-drive itinerary (5 days)
How to save money on a family trip to Iceland
The BEST things to do in Reykjavik with kids