If you're visiting Húsavík in North Iceland, it's more than likely you are going whale watching. Indeed it's one of the top things to do on an Iceland family holiday. But after a few hours out on the North Icelandic sea, you will probably want to warm up. So why not treat yourself to some warmth and relaxation at Geosea, Húsavík! It's one of the best Blue Lagoon alternatives in Iceland.
Disclaimer: TraveLynn Family received a complimentary visit to Geosea, booked through Hey Iceland, as part of our North Iceland itinerary. In exchange I have provided coverage on our social media and published this honest blog post review. This post also contains affiliates. Should you click to purchase, it is at no additional cost to you, but I receive a small commission.
Iceland has lots of geothermal pools to enjoy but not many can compete with Geosea for its incredible natural setting, which overlooks the open expanse of Skjálfandi Bay across to snow capped mountains and the Artic Circle on the horizon. If you peer very closely over the edge of the cliff, you might even see some of the famous whales also enjoying a swim.
Where does the water come from?
Drilling for hot water here in the mid-20th century revealed water that turned out to be hot seawater, too rich in minerals to be suitable for heating houses. Instead of letting this hot water go to waste, an old cheese barrel was installed for Húsavík residents to enjoy the health benefits of bathing in hot seawater.
The water in the GeoSea sea baths comes from two drillholes. One located by the cheese barrel and the other by Húsavík harbor. There is no need to use any cleaning agents or equipment, as the steady flow of water from the drillholes, between the pools and into the sea ensures that the water stays clean and hygienic.
The pools at Geosea, Húsavík
There are three main pools (one of which doubles-up as a bar area) and we found the temperature in each one to be perfect for our young kids (aged 4 and 6). These were the pools we spent the longest amount of time during our North Iceland road trip, which gives you an idea how much we all enjoyed it.
Having the snow capped mountains as a backdrop was very special and, when the afternoon winds picked up and whipped across the pools, it felt so invigorating to be sat in the open but also at the perfect temperature.
As a special treat, we ordered a beer from the bar (IKR 1000 ~ £6) and watched the kids splash around us, the blend of minerals and geo-thermal water working their therapeutic magic. Water is provided at the bar for free (which our boys enjoyed ordering themselves numerous times). Do keep hydrated though, especially if you're in the water as long as we were.
Can I take kids to Geosea?
Yes you can! Staff were very welcoming to our boys (aged 4 and 6) and were more than happy to serve them their multiple orders of water at the bar. There are no places that the kids can't go, but we did make an effort to keep them away from couples and contain their games to an area away from others.
There are no slides or kids play area, but we took some diving sticks that kept our boys entertained for hours. We also found that they were happy to spend hours in the pool as it's such a lovely warm temperature – just like bath water!
The facilities
The changing rooms are very modern, stylish, and clean. As with all spas in Iceland, you must have a very thorough naked scrub in the shower before getting in to the water. There are only communal showers and dressing areas (separated into male and female), so this is something that most English people (including myself) have to suck up (and in!) and get on with.
There are also steam rooms available for use, again all included in the entrance fee.
There are free lockers accessed by an electric wrist band. This wrist band is also used to total your spending for drinks at the bar, which you settle on exit from the changing rooms.
Once you've finished your soak, head back to reception where you'll find a bar and small restaurant, or the main town of Húsavík is only a two-minute drive away where you can choose between the surprisingly large number of restaurants available.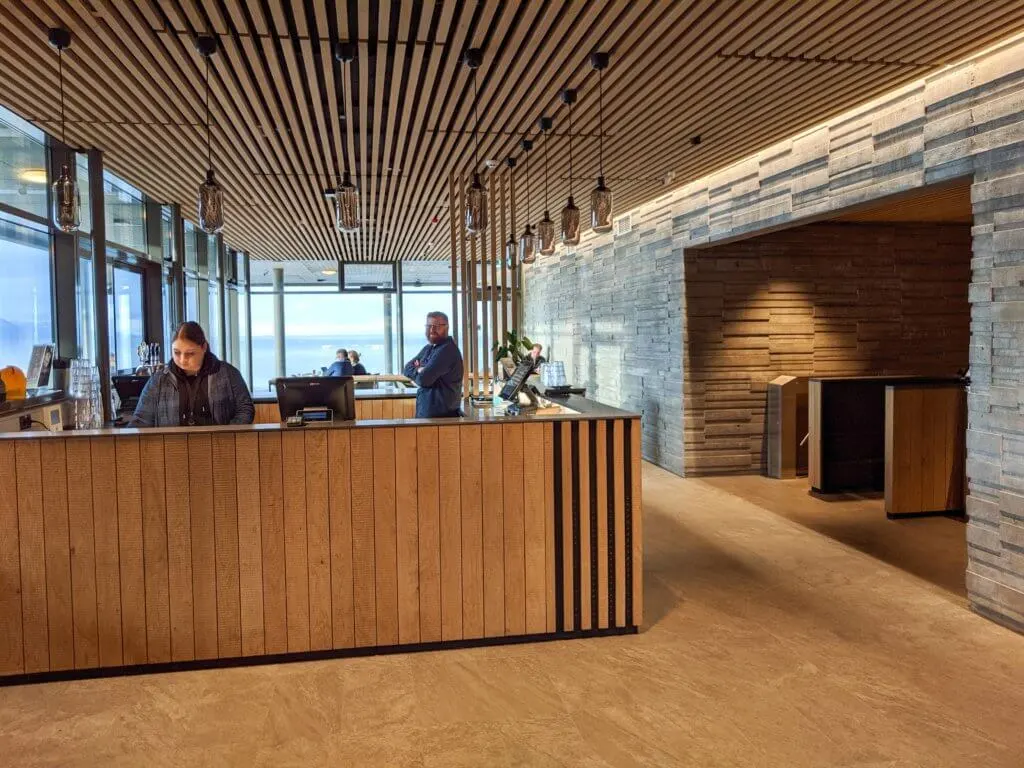 Costs and opening times of Geosea Húsavík
Geosea is open 10am-midnight(!) from May to September and 12pm-10pm at other times. The cost is ISK 4300 for adults, ISK 1800 for children under 16.
What do I need to bring?
Bring your swim suit, towel, and (if you want) a bathrobe. If you forget anything, these can be hired from reception.
Good quality shampoo, conditioner and body wash are provided in the showers, all made with local minerals. There is also a hairdryer in the changing rooms.
We also brought with us some small diving sticks for the boys to play with in the water. There are arm bands if your kids need them. But this isn't the place to bring your inflatable unicorn or doughnut ring.
Do I need to book Geosea?
Guest numbers are limited. Especially at busy times. Booking in advance is therefore recommended. Click here to book.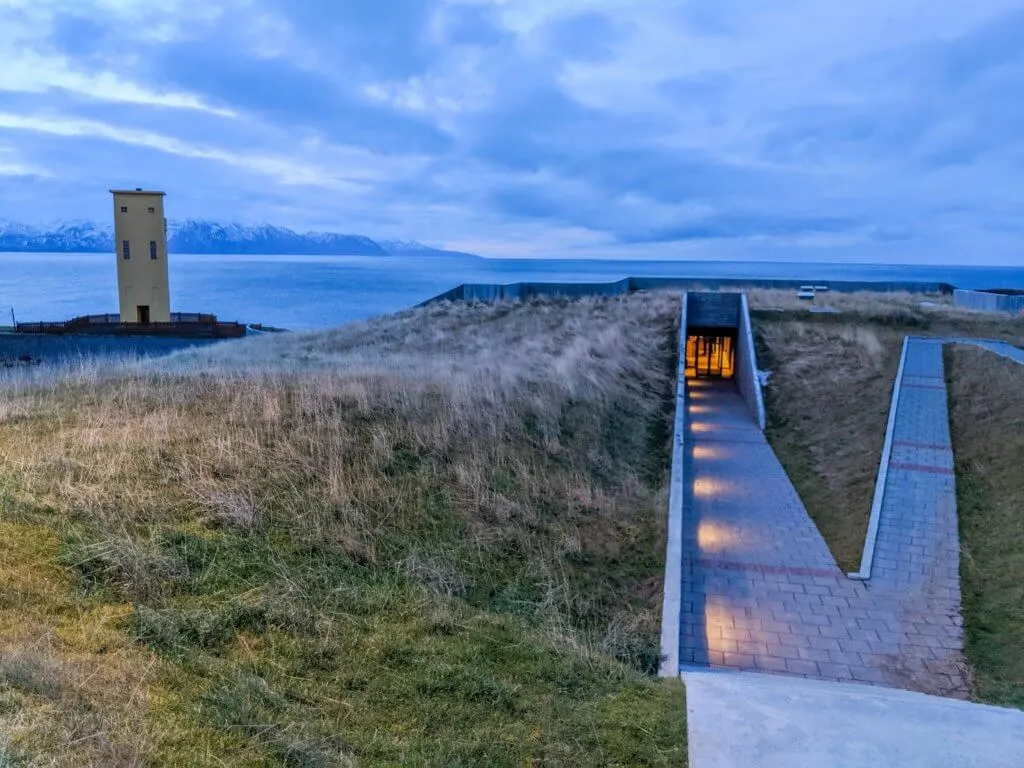 Where to stay and what to do nearby
We didn't stay in Húsavík, but rather a cosy guesthouse Stóru-Laugar, which is a half hour drive away. Whilst in the area, and in addition to a whale watching tour, make sure you visit the huskies at Snow Dogs, as well the geological sites (including craters, smoking fumeroles, and lava stacks) around Mývatn. There is a road that takes you right around this lake. Check out Day 6 of our North Iceland itinerary for more details.
---
You may also like to read:
ICELAND with kids: a self-drive itinerary (5 days)
How to do a family trip to Iceland on a budget
The BEST Blue Lagoon alternatives in Iceland