Hostels are a fantastic option for a budget European city break, but they can be hit and miss for families. We've had some great experiences with YHA in England, but my hostel choice for a recent trip to Madrid didn't quite work out (located in the red light district and ten people sharing a tiny bathroom, need I say more?)
Disclaimer: We were provided four complimentary nights at Hostel Köln in return for coverage on my social media and this honest review. As always, these are all my own words. Also, this post contains affiliate links. If you click to purchase there is no extra cost to you, but I receive a small commission.
So when we find a hostel that works well for families travelling on a budget, I want parents to know about it! Hostel Köln is one of those places and was perfect for our visit to Cologne with kids. In fact, from our experience the hostels are are a very good standard for those travelling Germany with kids.
Click here for Hostel Köln room prices and to book.
It's a 20 minute walk from central station and the cathedral, but you can get here a lot quicker using one of the many trams and buses that zip efficiently across the city, and Neumarkt transport hub is just a two minute walk away.
On arrival, the rocking horse and pile of kids books in reception immediately show that families are welcome here. Plus, they have assigned family rooms!
Our Hostel Köln family room
Our seventh floor family room was basic (which is what you expect from a hostel), but spacious, clean and practical. Two single beds were pushed together to make a double (this is common on the continent, rather than an actual double) and the boys had a bunk bed. Next to each bed is a separate reading lamp and electric socket (European two pin); I really liked this little practical detail.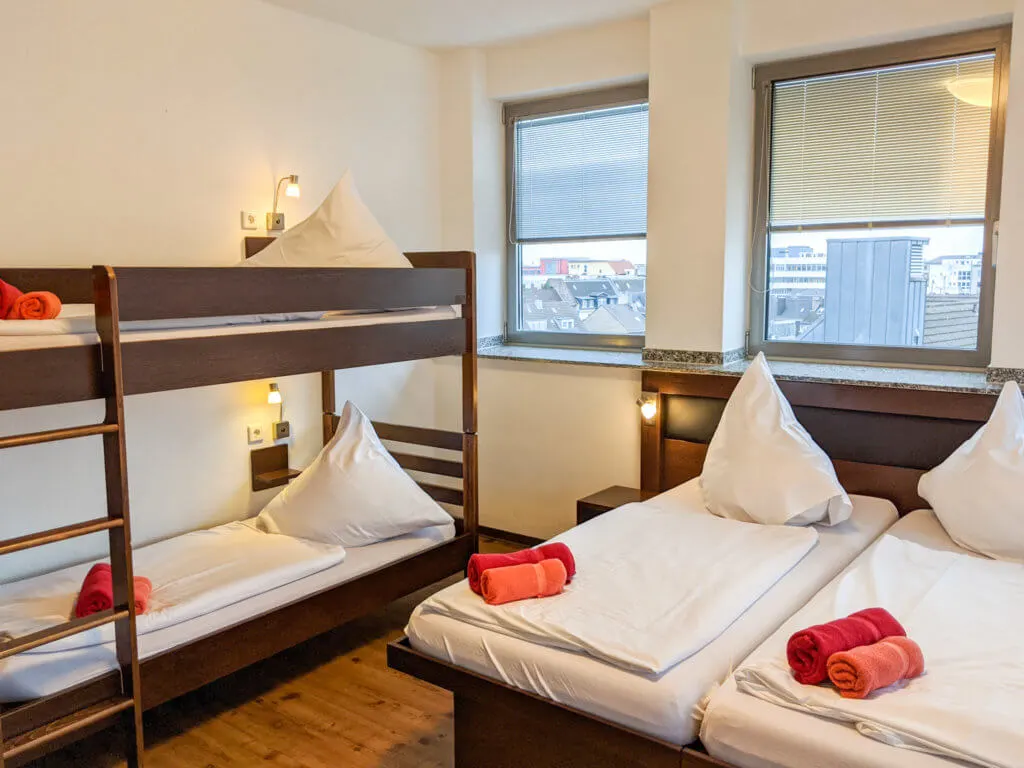 There was also a TV, a small work desk in the corner and the WiFi was excellent. Towels, sheets, and a hairdryer are provided, and there is a private bathroom (shower only).
Large windows overlook the city on two sides, and if we craned our necks and looked to the far right we could spot the spires of Köln Cathedral!
I do have to mention though that the blinds didn't block out all of the city light at night, so bring a sleep mask if you like to sleep in absolute darkness. Plus, even though Hostel Köln is tucked a little away from the main city buzz, don't expect absolute silence from the streets outside. The hostel itself though is very quiet and we had no disturbances from other guests, which one may perhaps expect in a hostel.
Breakfast at Hostel Köln
A good breakfast is served on the fifth floor from 7 am to 11 am weekdays, and 7 am to 12 pm weekends. There is lots of seating space and it's buffet service. Foods served include cereals, breads, meats, cheeses, yogurts, as well as tea and coffee making facilities and juices. Vegans may struggle to have a filling breakfast.
At breakfast, there is an expectation to clear your table once finished. There is a specified area to do this. Staff are very strict as to where you stack various crockery!
There is also a small kids corner in the dining room, perfect for a quiet cuppa after breakfast. The toys are more geared to toddlers, but will keep young kids busy for a while.
A door here leads outside to a rooftop area with views across the city. I imagine this to be a perfect spot for a beer on a warm summers day, although the views were still appreciated on a windy February day.
Final thoughts on Hostel Köln
Whilst it's not right in the heart of the city, it's only a short walk or tram ride away from Köln Cathedral. There are lots of restaurants and bars nearby, including a pizzeria next door. Lidl supermarket is just a two minute walk down the road, which we found very handy for snacks and a picnic dinner.
We found this hostel to be perfect for our Cologne with kids city break and wholeheartedly recommend it to families looking to visit the city on a budget. You may also want to read these other tips for visiting Germany on a budget.
Click here for Hostel Köln room prices and to book.
---
You may also like to read:
Top 10 things to do in Cologne with kids
Alternative European city breaks for families
Visiting Nuremberg, Germany, with kids