Milan is rarely recommended as a top European city break with kids. This is the industrial and fashion capital of Italy; a contrast of ugly congestion and expensive cosmopolitan. But whilst this bustling city lacks the classical picture-postcard appeal of Venice, Rome, or Florence, if you combine a visit with Lago Maggiore, a day trip to Milan with kids is most definitely worthwhile, especially if they're football and science fans!
We visited Milan our two boys (age 7 and 8) during October half term 2022, flying direct into Bergamo airport from Billund (where we had visited for 4 days prior) and returning direct to Manchester (our closest airport to our home in the Peak District).
Initially, we had planned to stay in Milan. But accommodation prices were very expensive. So instead, we found an Airbnb by Lago Maggiore and based ourselves around the beauty of the Lakes, taking a day trip into Milan.
It was a full day, but in all honesty, Milan with kids (depending on their age and interests) is very doable in just a day. The late morning was spent visiting Piazza Duomo and twirling on the bull, then a lunch snack and play at Indro Montanelli Garden. The remainder of the afternoon was spent at the brilliant Science Museum (which closed at 6:30pm at the time of our visit), before heading over to the San Siro! Football matches can start late in Italy, and our match didn't start until 8:45pm. But the incredible atmosphere of the crowd meant the boys had no problem staying up for this. We didn't actually get back to our base by Lago Maggiore until gone 1am. I did say it was a long day!
But if you are short on time, honestly, one day in Milan is enough for families. Read on for our top five things to do in Milan with kids to get the most out of your short visit. I have listed them in the order we recommend you spend your day. Although our friends over at Mini Travellers also recommend you visit the Monumental Cemetery in Milan with kids if you have time, it sounds surprisingly worthwhile!
1. Visit Piazza Duomo
No visit to Milan (with or without kids) is complete without a visit to extravagant Piazza Duomo, right in the centre of the city, with the impressive Gothic Cathedral towering above. Head up to the rooftop of the cathedral for gargoyle spotting, and fantastic views over the city. Arrive early to avoid the queues to the rooftop. There is a separate entrance for the rooftop and to go inside the cathedral. You need to pay an entrance fee for both.
Framing the piazza boundary is Museo del Novecento, which displays around 400 Italian artworks from the twentieth century. This is perhaps worth a visit with older kids, but we decided to give it a miss with our boisterous kids (aged 7 and 8).
2. Twirl on the bull's testicles
Built between 1865 and 1877, and just off Piazza Duomo opposite Museo del Novecento, the Galleria of Vittorio Emanuele II is Italy's oldest active shopping mall. The large arch to the left of the cathedral beckons you in.
In the middle of the Galleria floor (where the two main passageways cross), there is a mosaic Turin bull. It is a local tradition that if you place your right heel on the bull's testicles (that will get the kids giggling!) and spin 3 times without falling, it will bring you good luck. You will notice that there is a hole over the bull's testicles from all the spinning heels over the centuries.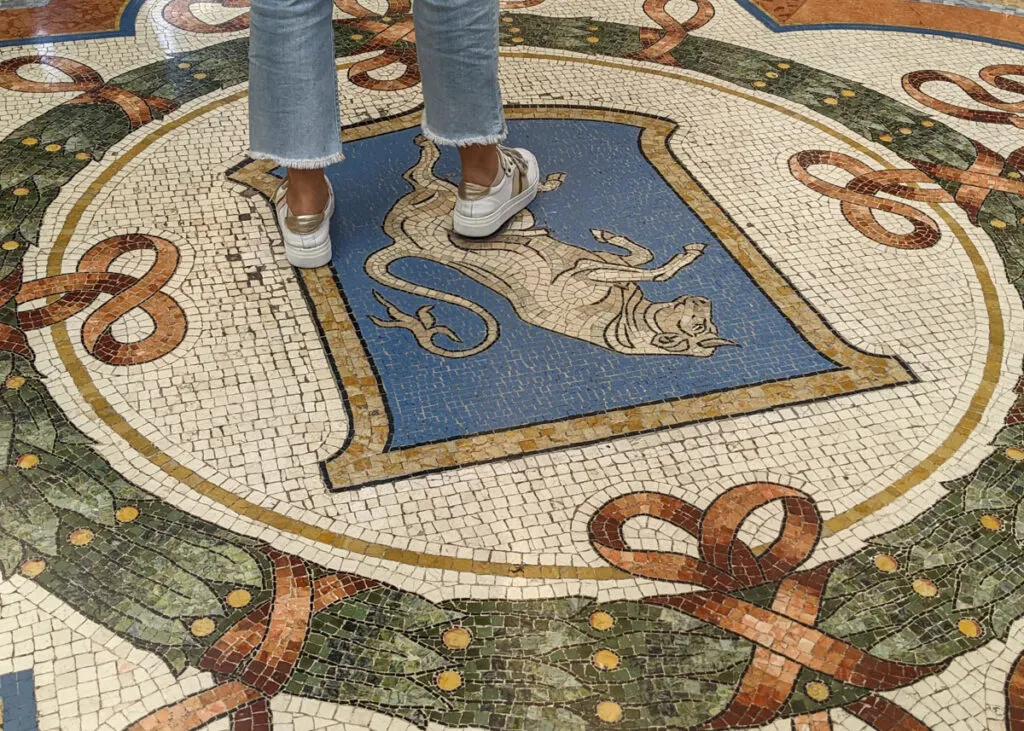 3. Indro Montanelli Garden
From Milan's Galleria and La Scala, it's a 1.5km walk to Indro Montanelli Garden, one of the city's parklands with lots of green space for the kids to run around, as well as a couple of playgrounds (one of which has an adjacent café serving snacks and alcohol).
Click here for the location of the playground next to the bar / café. Click here for the location of the larger playground at the opposite end of the park. There is also a small miniature train ride for little ones in the centre of the park (click here for location).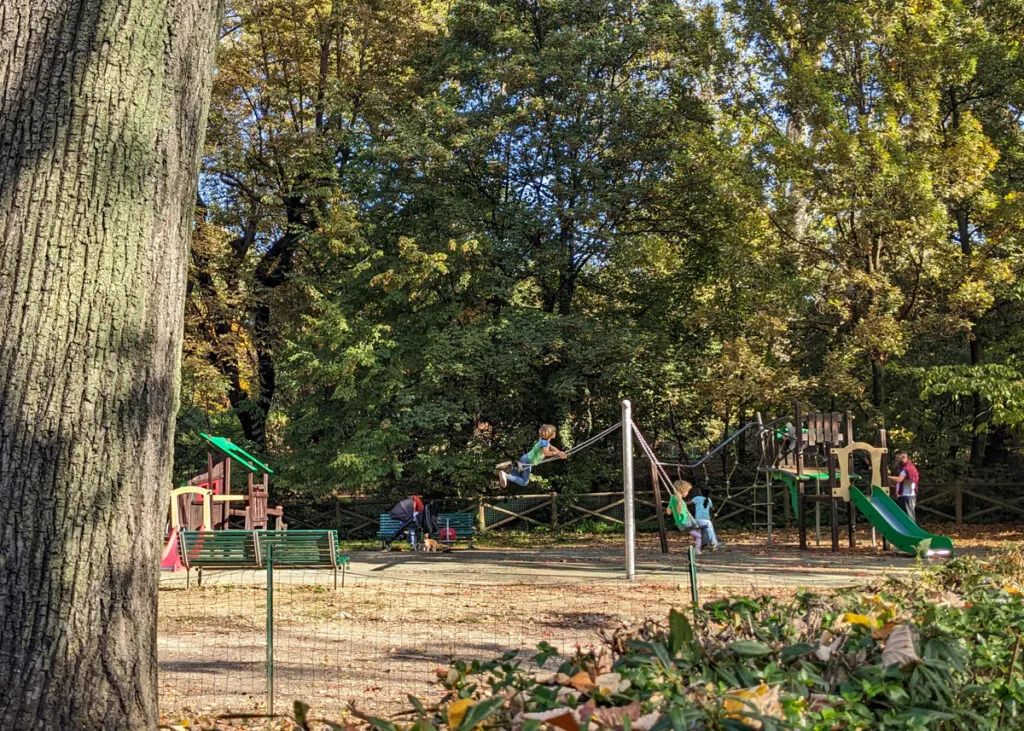 Whilst we used Indro Montanelli Garden more as a place to enjoy the outdoors within the city, if you have time, here you will also find Milan Natural History Museum and a planetarium.
4. Milan's Science Museum
Italy's largest science museum, Museo Nazionale della Scienza e della Tecnologia, is located in Milan and it is good fun for budding scientists. The Leonardo di Vinci and the Space section with lots of interactive displays on the second floor will appeal most to kids.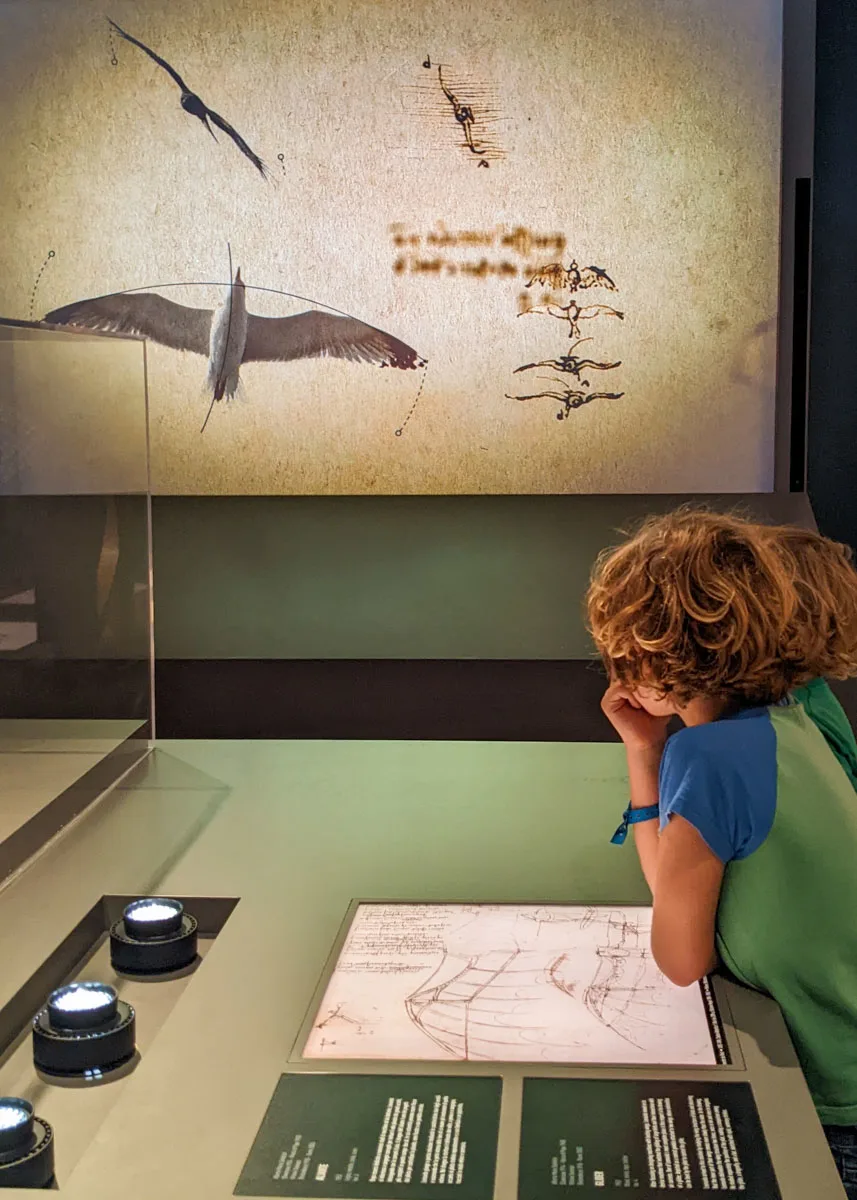 Expect to stay 3+ hours. There are arrows to follow around the museum so you don't miss anything. But be warned, it's huge. There are trains and a true-to-scale ship replica towards the end of the route around the museum that you don't want to miss, and can easily be done if you spend too long in the earlier sections and energy wanes.
This museum isn't as interactive as other science museums we've been to around Europe. The interactivity is mainly around screens, rather than physical games and activities. But due to the breadth of science topics covered throughout Milan's Science Museum, there's something here for everyone.
To get here from Indro Montanelli Garden, hop on the metro at Palestro and take the red number 1 line (Bisceglie) direct to Cardona. Then change to the green number 2 line to Saint Ambrogio. It's then a 350 metre walk to the museum.
5. Watch a football match at the San Siro Stadium
Football fans will be in their element watching a match at the San Siro, the home of Inter Milan and AC Milan, and one of the biggest football stadiums in the world with a seating capacity of over 80,000.
Most matches are generally on a Saturday or Sunday, although sometimes midweek. Be warned that some matches may start as late as 8:45pm, which may be too late for some little ones. Aim to arrive 1.5 hours before kick-off as it can take time to get through the security and ticket check queues (bring ID, driving license is fine).
Prebook your tickets on the Inter Milan website or the AC Milan website, depending on fixtures.
If there isn't a match on during your visit, the next best thing to to do the San Siro Stadium Tour. Tours run from 10am to 6pm, and depend on game or event days. English speaking tours are available on request.
To get from the Science Museum to the San Siro, take the red M1 line from Conciliazione to Lotto. Then change at Lotto and take the lilac M5 line to San Siro. There are two stops for the San Siro. Check where you're seated to work out the best place to get off. Although when leaving the stadium (be warned, it's very busy), head for San Siro Stadio as this is where the line begins and you won't be able to get on at the next stop.
Getting around Milan with kids
Throughout the above suggestion I have detailed how to get from one place to the other. When it's too far to walk, Milan's metro is brilliant. You must buy a ticket and have it validated before you walk through the turnstiles. Kids under 14 are free, and a one day pass for adults is €7.
Click here for Milan's metro map and further information. Google Maps is a fantastic source for working out metro times and the best way to get between places.
There is also a tram service in Milan, but we didn't find a reason to use it.
How we got to Milan
To get to Milan, we drove from our Airbnb on Lago Maggiore and parked at Lampugnano. This is a huge carpark off the motorway and on the M1 metro line into the city. Parking was €2.50 for the day. This car park doesn't feel the safest, and I wouldn't park here in our Mazda Bongo camper or a car that was obviously a tourist car with non-Italian registration plates. We had hired a car from Bergamo airport and so had an Italian registration plate.
Milan also works well and the start or end of a nothern Italy road trip taking in Lake Garda, Venice, Florence, and Genoa as a big loop.
Final thoughts on visiting Milan with kids
I wouldn't recommend visiting Milan with kids as trip in its own. There isn't enough to do for families to fill more than a couple of days at most. A day was fine for us. But if you're visiting the Italian Lakes (especially Lago Maggiore or Lake Como) then it's definitely worth a day trip in; Milan is a fascinating contrast to the beauty and serenity of the lakes.
---
You may also like to read:
Visiting Lago Maggiore with kids
Alternative European city breaks with kids
Best cities in Germany to visit with kids