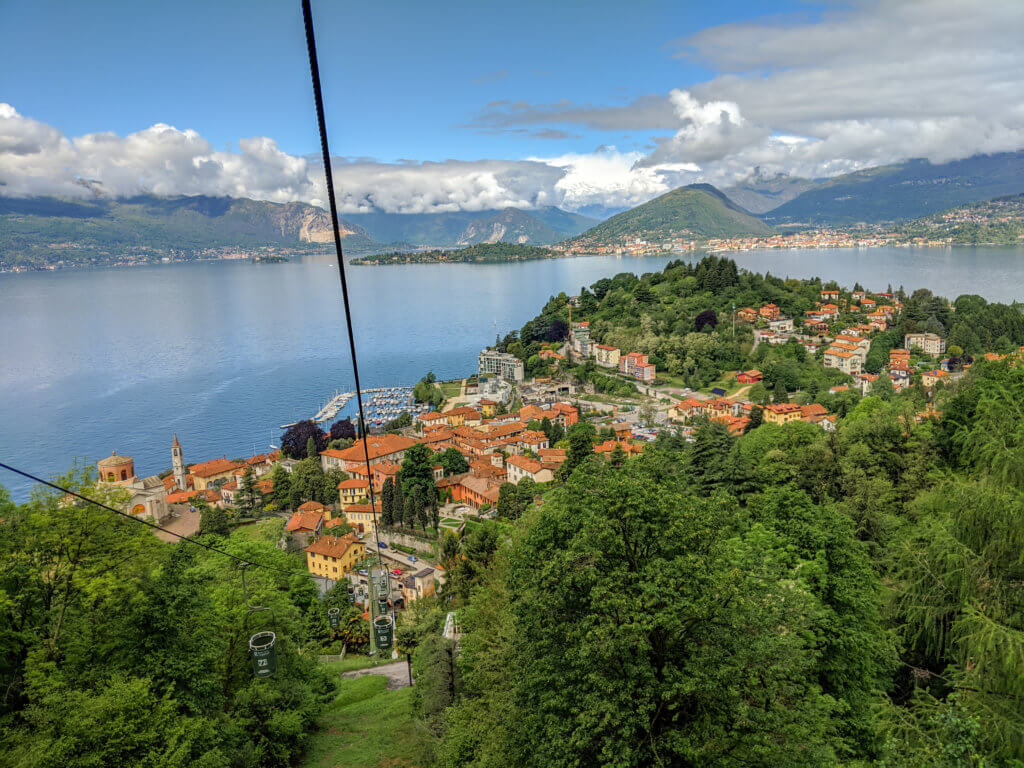 Lago Maggiore with kids, is often overlooked by its better known sisters, Lake Como and Lake Garda. But nestled in the foothills of the Alps straddling the Swiss border just northwest of Milan, lies the glistening waters of Lago Maggiore (or rather Lake Maggiore in English), framed by colourful villages and snow capped mountains. This is a place off the radar for many tourists, but extremely accessible from the UK due to regular cheap flights in to Malpensa (Milan). Spend your days kayaking along its shores, hiking up in the mountains, or if you want to slow the place, find a spot at one of the many lakeside tratottoria's and sit back with a local vino as the kids paddle in the ripples of water.
I was invited on a three night press trip to Lago Maggiore with Bookings for You, staying at Golfo Gabella Lake Resort, with a group of other travel bloggers. The boys weren't with me on this trip, but I was thinking about how much they would love it all the time. So much so, I'm already planning another trip back with them!
It really is the perfect destination in Europe for adventure loving families, and rather than doing the obvious Rome, Florence or Venice, Lago Maggiore with kids should be on your family bucket list for Italy. Here's why I think so, including lots of ideas of things to do in Lake Maggiore with kids:
1. Incredible mountain views
This is the foothills of the Alps after all! On a clear day, the views of the jagged peaks are seriously jaw dropping. One of the easiest ways to appreciate this is by heading up on a Bucket Lift at Laveno (yes, an ACTUAL bucket) – read Mini Travellers review here.
Alternatively, take the Motterone Cable Car from Stresa on the western side for 360° views overlooking seven different lakes. At the top, aside from the views to take in, you will find the Alpine Gardens and a 1200 metre long toboggan. Do note for the toboggan that children under the age of four are not allowed to ride, and children under 100 cm (and over the age of 4) must ride with an adult.
2. Fantastic hiking trails
Grab a map from the local Tourist Office (Ufficio Turistico) and don your hiking boots. Avoid an initial steep ascent with the little ones and drive up in to the mountains, or take a local bus.
We did a lovely walk starting from Chiesa S.Rocco (click here for starting point) towards Lago Delio and back again. If you go all the way to the lake and back it's 7km, but you can stop for cheese tasting along the way and we also passed through a village of stick men at Musignano!
Make sure you check out these important travel tips for Italy. 
Another lovely walk to do in this area is to the tiny village of Monteviasco, which can only be reached by foot or cable car. Take the cable car up (from here) and you can walk back down (you can walk up too if you're so inclined).
On the Western side there are some lovely marked trails starting from Cannobio, or enjoy a gentle stroll (flat, 1 hour) around the wetlands of Fondotoce Nature Reserve.
3. Cycle paths and ferries around Lake Maggiore
It is possible to cycle all around the lake and it's easy going as it's mostly flat. However, if you have young kids on their own bikes, you may want to stick to the footpaths, as the tunnels and main roads can be nerve-wracking with speeding cars.
But you can also take the bikes on the ferries. So a nice day out is to cycle and ferry hop. Both Laveno and Stresa offer nice easy cycle paths along the lake shore suitable for young kids. However, if your kids are confident on the road, it's a lovely cycle from Maccagno to Luino, where you can treat yourselves to a gelato, before boarding the ferry to Cannobio and back to Maccagno.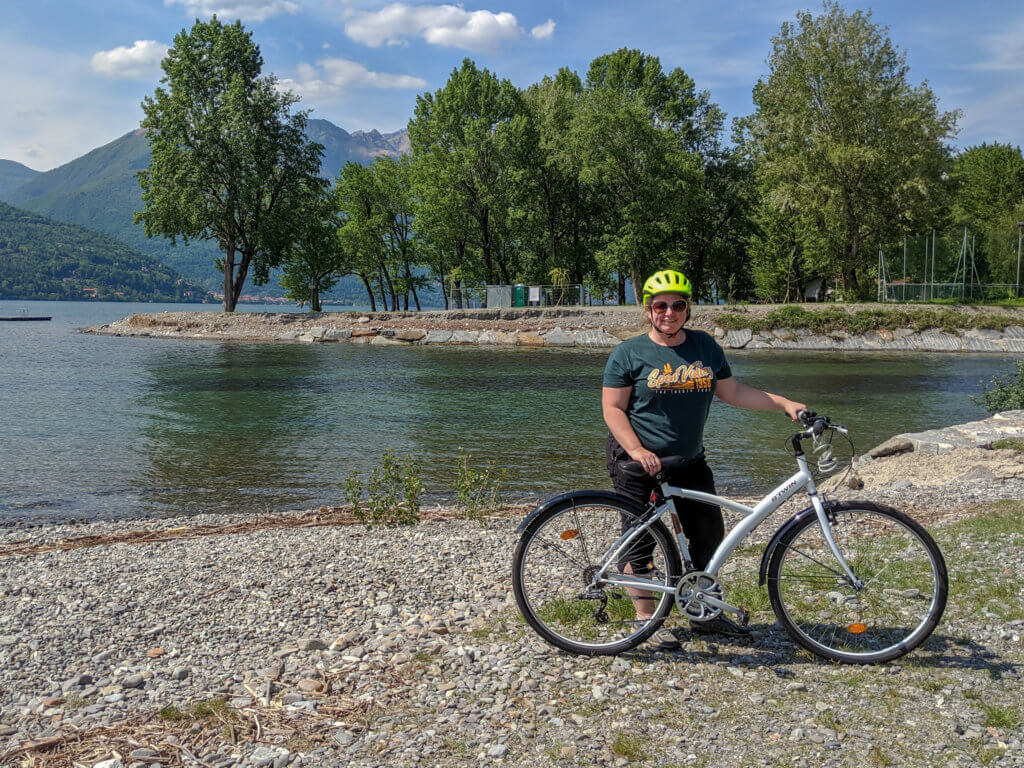 If you need to hire bikes during your stay, there are a number of cycle hire shops dotted around the lake. These can be found in Germignaga, Arona, Stresa, and Ghiffa. The latter also offers scooter and boat rentals. Do call/email ahead to check availability of child bikes.
4. Outdoor adventure parks
There are a few in the region including Parco Aventura in Gordola, and Aquadventure near Stresa. But one of the best is on the Swiss side of the lake at Monte Tamaro. For children 4 year old and up, you can climb their treetops and whizz down the zip wire. There is also a toboggan, a paragliding school, a playground boasting one of the best views of the region, and for the bigger kids aged 9 and up, a big 15 metre jump.
There is also a 1.85 km zipwire at Aurano – Lago Maggiore ZIPline – where you can whizz through the scenery at speeds up to 75 mph. There isn't a minimum age, rather a minimum height of 120 cm.
5. Swim in the lake
The lake is crystal clear and perfect for a dip. There are some lovely beaches along the lake shore that make for good swimming spots and a base for a summer afternoon. Macagno Beach offers lots of shade, a playground, beach bar and toilet facilities. Alternatively head to the beach at Cannobio where you will find two large inflatable aqua parks in the lake.
However, there are lots of tiny beaches dotted all the way round the lake. You can often enjoy the whole beach to yourself if you get the right spot! If it's a warm summer's day, I highly recommend an evening dip in the lake when everyone has gone home.
If you fancy an actual swimming pool though, head to one of the lidos. Locarno Lido at the top of the lake is one of the best. Lots of water slides, an indoor and outdoor pools, and inflatable obstacles courses. Volleyball and table tennis are also on offer.
6. Lots of watersports
The best place to hire watersports equipment is at La Darsena in Pino, near the Swiss border. They offer waterskiing, tubing (when a boat pulls you along on a large cushion and you have to try and stay on!!!), kayaking, paddle boarding, windsurfing etc. They can offer lessons for beginners and have special boards for really young children. There is a beach area for anyone not wanting to take part, as well as a cafe serving snacks and light lunches, and a restaurant serving larger meals. Great place and great value for money.
If you're looking for more ideas of things to do in and around Lake Maggiore with kids, check out
this post
from from Travel Loving Family.
Where to stay on Lake Maggiore with kids
There are some lovely campsites dotted all around Lake Maggiore from simple grassy pitches, to holiday parks with kids clubs and water slides.
But if you're looking for something that offers a bit more comfort after your active days exploring, check out this list of apartments and villas from Bookings for You. These guys are absolute specialists in the region and if you tell them the type of place you're looking for and budget, they will find your perfect holiday home for the exact same price you would pay if you booked directly. They also have a fantastic personal knowledge of the area, and can tell you exactly where to go and suggest some secret gems.
Best time to visit Lake Maggiore
If you are looking for an outdoor family holiday to Lake Maggiore and planning some of the activities mentioned in this post, the best time to visit is between May and October.
Do take into account that this is a mountainous region and there will be the odd rainy day, so pack accordingly. The months of July and August can get very busy, so book ahead. Winters are cold and snow is not uncommon, but prices drop, it's much quieter, and you could incorporate some skiing in to your trip (Passe Forcora is nearby, or if you crave some longer runs, Pila Ski Resort is just a two hour drive away).
---
Disclosure: My visit to Lago Maggiore was part of a press trip with seven other family travel bloggers, arranged by Bookings For You in exchange for coverage on my blog and social media. I paid for my own flights and some expenses. As always, all opinions are my own.
You may also like to read:
Best Châteaux to visit in the Loire with kids
Lanzarote with kids: off the beaten track
35 ALTERNATIVE European city breaks with kids