Feet dangling into the pool, looking over glistening Lake Maggiore backed by jagged mountains… I couldn't help but breathe out a big sigh of satisfaction. Golfo Gabella Lake Resort, Maccagno, is situated in such a beautiful spot. With lake swimming, hiking, cycling and kayaking on the doorstep, it's a fantastic destination for outdoor families, and a great choice if you're looking for self-catering accommodation around Lake Maggiore.
I was invited on a three night press trip to Lake Maggiore with Bookings for You, staying at Golfo Gabella Lake Resort, with a group of seven other travel bloggers. Complimentary accommodation was provided in exchange for honest coverage on my blog and social media.
Self-catering apartments on Lake Maggiore
As a family with young kids, we always prefer self-catering accommodation. It gives us the flexibility to eat as and when we want (ie. breakfast at 6 am when the kids are up) and means we don't have those stressful dinner times trying to keep the kids entertained between courses. We do love a meal out with our boys now and again, but our preference is always to spend our days adventuring and exploring, to then return to a base with facilities to cook for ourselves. Plus, this helps save the pennies for any activities.
Golfo Gabella Lake Resort offers a range of self-catering apartments. Check out this standard apartment tour from Tin Box Traveller:
I stayed in a three-bed standard apartment with partial lake views, with good pals Karen (Mini Travellers) and Carrie (Flying with a Baby). This was a different apartment to the one showed in the video above, although the standard apartments are very similar.
The apartments are clean, fresh and a good size. What it may lack for in character, it gains in practicalities. Fresh linen and towels are provided (although no pool towels), as well as all your cooking facilities, a large fridge freezer, microwave and dishwasher.
Our three-bed apartment consisted of one master bedroom with an ensuite, two twin bedrooms, a bathroom with shower, and a kitchen / lounge / dining area with TV. It sleeps six people in total. There is no bath or washing machine provided in the apartment, but there is a laundry room available on site.
Other self-catering apartments available
Aside from the standard 3 bed apartments where we stayed, there are also standard 1 and 2 bed apartments available in a similar style.
Should you want something a little cosier and with better lake views, you can upgrade to a superior apartment. Or if you want something very special, there is the standard penthouse apartment or the superior four bed apartment. The latter boasts very impressive views over Lake Maggiore from its expansive balcony.
Tips for self-catering at Golfo Gabella
There is a well stocked supermarket just a 3 minute walk away in the village (click here for supermarket location).
There is no tea / coffee / milk provided on arrival, or any snacks. Bring these items with you. You could bring powdered milk for your first cuppa, or pop by a supermarket on the way.
When travelling with my boys and self-catering, I tend to pack some tortelloni to cook on arrival. I know it may seem strange bringing pasta to Italy, but it means we have an easy-to-cook meal on arrival to our destination. Once my boys are fed, we can get on with exploring!
Facilities
The swimming pool overlooking Lake Maggiore is the centrepiece of the resort, and the views are sublime. At the time of writing the children's pool was being renovated, but this should be open in time for summer.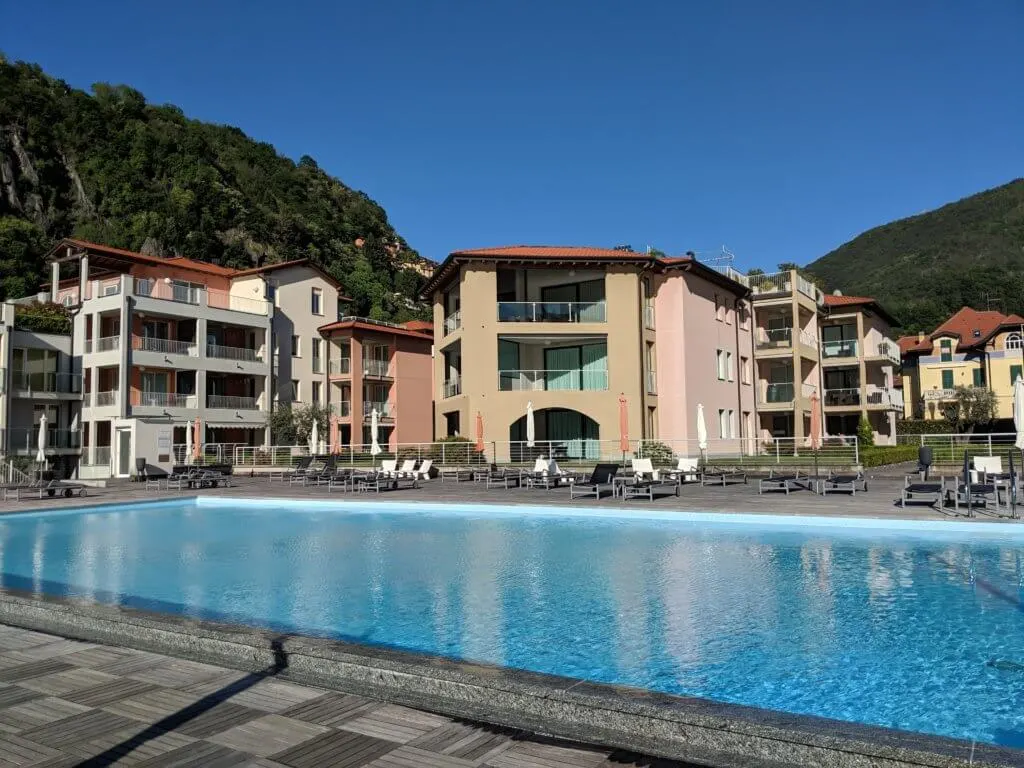 Bike and kayaks are available to hire free of charge on site. There is no minimum age for the kayaks, although young children must be accompanied, and there are no children's bikes available. Should you wish to hire children's bikes, head to Germignaga.
Or perhaps a private motorboat is more your thing? These can be hired for €70 per hour. But if you're one of these people who happen to have your own boat (mine sadly didn't fit in my Flybe luggage limit from Manchester), you can moor directly in front of the resort.
There is an onsite restaurant (Ristorante Pizzeria Acquaduezero) offering both indoor and outdoor seating. Pizzas are, of course, on the menu; which I know will keep my boys happy. You can even make your own pizzas! Book this in advance with Bookings For You. Breakfast is also provided which includes a buffet of breads, cereals, eggs, juices, and cakes(!).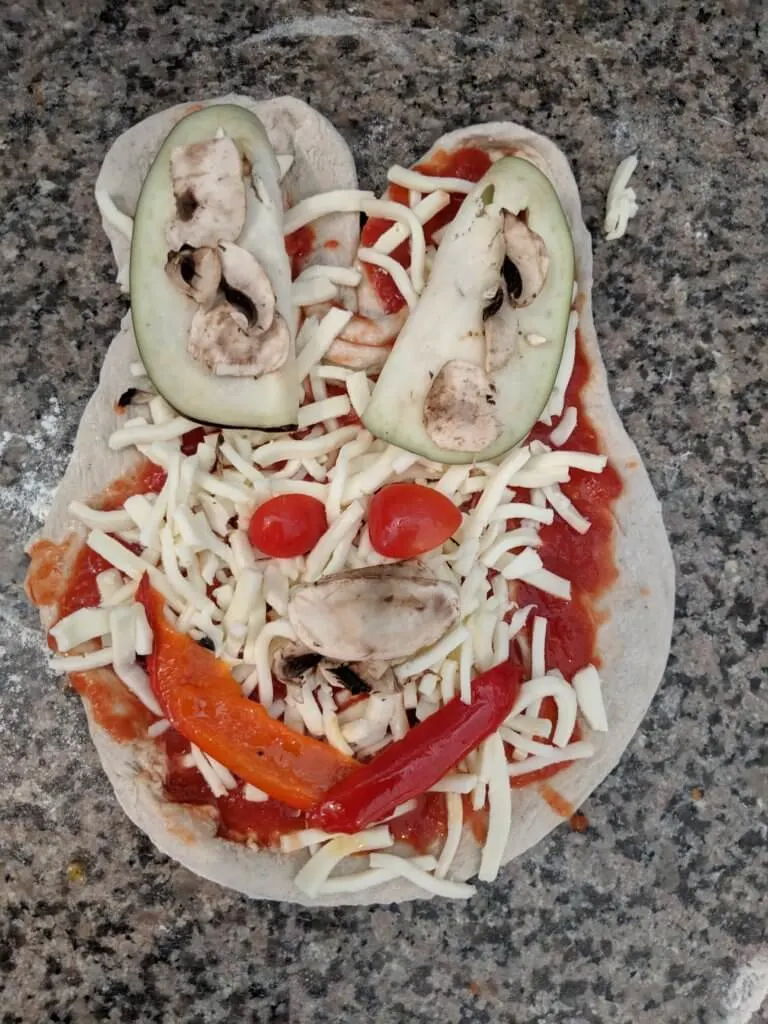 If you are self-driving, there is secure, underground parking at the resort. Each apartment has an allocated parking space. Be warned that these spaces are VERY tight, and it make take a few manoeuvres to park.
What to do in the area
Situated in the village of Maccagno, just a stone's throw away from the Swiss border, there is so much to do in the area. Check out my post on things to do in and around Lake Maggiore for outdoor families or Mini Travellers 10 Things to do near Lake Maggiore with Kids.
In the direct vicinity, you can wander along the beach to the playground or enjoy a dip in the lake. Take the ferry over to Cannobio to explore its pastel-washed alleyways and beach, or take the bus up to Chiesa S.Rocco for a hike to Lago Delio and take in the Alpine views (click here for starting point).
Getting around Lake Maggiore from the Resort
The resort is very well connected by train, ferry, bus and roads. We hired a car from Malpensa Milan airport to drive to the resort, but once we were there, we didn't use the car at all.
The ferry terminal is a 5 minute walk away and connects you to other lakeside towns including Stresa, Cannobio and Laveno, which are all worth a visit. The train can take you in to Switzerland one way and into Milan the other. Both are worth a day trip. Or perhaps take the train to Luino markets for a morning. The bus is a good option if you want to get up into the mountains for hiking and avoid an initial steep ascent.
And don't forget about those bikes and kayaks you can hire from the resort. Both are great ways to explore the area.
Would I recommend Golfo Gabella Lake Resort to families?
For me, what sells this resort above other places around the lake is the location and pool views. I love that Switzerland is so close, the ferry terminal to other lakeside towns is a short walk away, and that the resort is right on the lake shore. The views from for the lakeside swimming pool are picture perfect.
Moreover, self-catering is always a winner for us. The apartments may lack character, but they are practical. And if I were here with my boys, I know that the apartment would really just be a base for our explorations. Although once the kids are tucked up in bed, that apartment balcony with a Prosecco has my name on it!
How to book Golfo Gabella Lake Resort
Now we are normally ones that urge you to book directly with an accommodation and arrange your activities and itinerary independently. However, this is one of those rare occasions when I suggest you DON'T book direct.
Bookings for You has a fantastic knowledge of the area and can book your Golfo Gabella Lake Resort apartment for the exact same price as it would be to book direct. The advantage being that you get the personal touch, and access to their knowledge of secret gems in the area. They can advise on everything from car hire to kayak hire, which restaurants are good for young kids, and answer any weird or wonderful questions you may have to get the best out of your holiday.
And if parents are in need of a date night and don't feel comfortable booking a babysitter, Bookings For You can arrange for a private cook to come to your apartment to prepare and serve you dinner on your private balcony whilst the kids are asleep! On our final evening we experienced the services supreme chef Marco Perocco. Incredible.
If Golfo Gabella Lake Resort isn't for you but you're desperate to visit the area, chat to Bookings for You with your requirements and they'll be able to find that perfect Italian holiday home for you. Carrie from Flying with a Baby also has this great list of Best Places to Stay in Lake Maggiore With Kids.
---
You may also like to read:
Lake Maggiore: the perfect destination for outdoor loving families
Glamping in Lanzarote: A review of our stay at Finca de Arrieta
A family-friendly cottage in the Vendée: L'Ecurie Holiday Home REVIEW