Lying on the beach, with the sun warming my cheeks and the boys digging holes and running around in their underpants, it almost felt like summer. But a step into the Atlantic Ocean for a paddle, quickly reminded me that it was indeed only February. But what glorious weather we had in the Vendée for February half term! We only had one cloudy day, and all the others were warm and sunny, with a couple of days up to 20°C. Wonderful.
Disclaimer: We were invited to stay at L'Ecurie Holiday Home for a one week complimentary stay in return for this honest review and social media coverage. As always, these are all my own words and opinions.
Avoiding half term air fares
Our visit to the Vendée was rather last minute. I had been keeping an eye on flight prices via Skyscanner, but everywhere was just so expensive, quadruple the price of term time. So instead, we decided to take the Dover/Calais ferry (which was £130 return) and drive to the Vendée on the French Atlantic Coast.
We had previously visited the Dordogne and the Loire, but this was somewhere new! Being February, it was too cold to camp or stay in a holiday park (such a Votre Vacances), so we looked for a family friendly cottage in the Vendée. Something quaint and authentic, yet which welcomed families and had something for the kids to do.
So we were absolutely delighted when Annette from Maison Lairoux offered to host us for the week in exchange for this honest review!
Check our our video of our half term holiday in the Vendée with kids.
L'Ecurie Holiday Home at Maison Lairoux
We've stayed in places before which we've called a home-from-home but L'Ecurie Holiday Home at Maison Lairoux might just be the best example we've ever seen. You'll be greeted by the very friendly and sociable owners (Jason and Annette) who you'll always find on hand to answer any questions and generally make you feel as if you're staying at a friend's house.
The cottage is extremely well stocked for families – dishwasher, washing machine, TV, DVD player, open plan dining and living room, two separate bedrooms (one twin room and large one double room, with cot and extra single bed), and a kitchen containing everything (and we mean EVERYTHING) you could ever think of needing during your stay.
There's a log burner in the living room which makes for a very cosy evening in the winter months, whilst you curl up with a good book and glass of Troussepinette (a fruit liqueur and speciality of the region). For those warm days though, step outside to the patio dining area with views over the wetlands (it's also a great bird watching spot).
In the communal areas you'll find an amazing games room containing a pool table, table football, games console, table-tennis, stacks of board games, books, soft toys, beach gear, a costume rack – basically imagine your own toy shop and you're not far off! The rest of the grounds are well-maintained and provide a perfect space for the little ones to explore whilst the adults enjoy a glass of wine overlooking the expansive views (sunsets are great here).
There is also a very tempting-looking pool, which was closed during our visit in February. But we were assured it was THE place to relax on a warm summer's evening. We also enjoyed checking out the herb-garden (help yourself) and there is plenty of space to park your car right outside the front door.
The location
The property is situated in the quaint village of Lairoux; very quiet streets to walk around with virtually no traffic, some mid-range walks on your doorstep and 10 minute drive to the nearby town of Luçon (where you'll find a supermarket and petrol station).
It's the peace and quiet that we enjoyed, especially after some visits to Eurocamp which, whilst we find very fun, can be quite loud with other kids throughout the day and late into the evening. At L'Ecurie Holiday Home though, the only sounds you're likely to hear are birds tweeting and the hourly chimes of the adjacent church bells.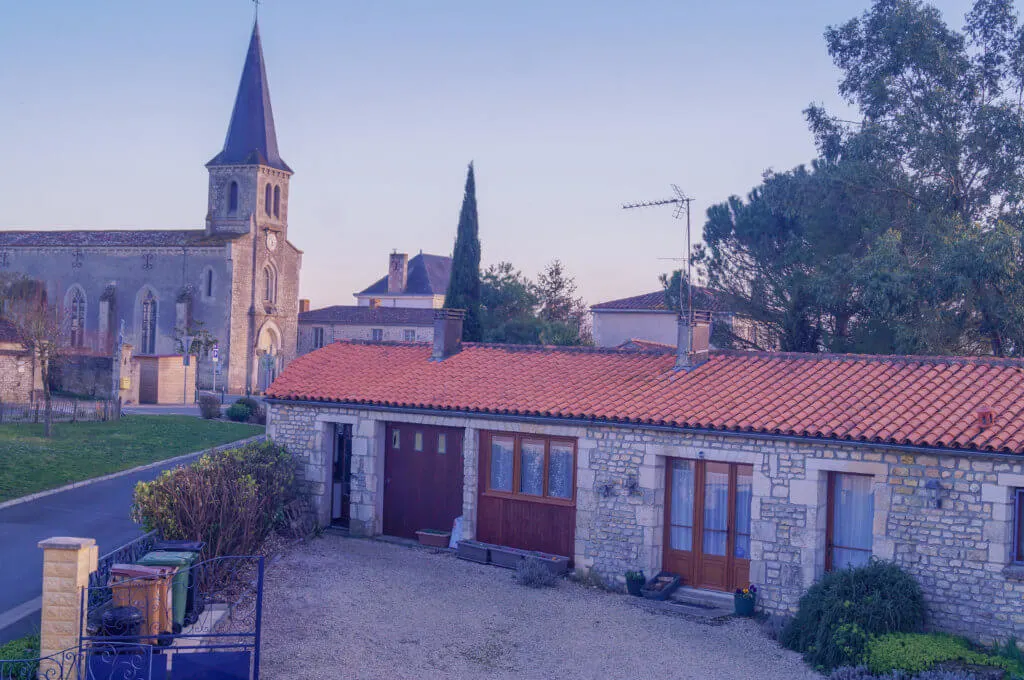 There is no bakery or convenience store in the village, so ensure you stock up in Luçon at the start of the week. Although the nearby village of Beugné l'Abbé has a bakery selling delicious Pain des Patrons and all butter croissants, and is only 4km away.
What to do in the area
There are some fantastic attractions in the Vendée for kids, such as Puy du Fou, O'Gliss Water Park, Indian Forest Adventure Park, Vendée Aquarium, and Le Château des Aventuriers. Bar the aquarium, however, these places don't open until at least April, which meant that we were unable to visit them.
But as our regular readers know, we're not generally ones for theme parks and often prefer to spend our days exploring more natural landscapes. As we were visiting off-season, it meant that we could enjoy the region's fine beaches and stunning walks away from the crowds. The beaches in particular are what the region is known for.
In our cottage, we found a booklet that Annette has put together, detailing their favourite walks and beaches in the area (as well as restaurants and attractions). You really don't need to do any research before your visit, as all you need is in this booklet.
We tried out a few of the walks and beaches suggested. Our favourite walk was Val de Yon, with large boulders to climb over and streams to jump across (park at La Guinguette de Piquet. Our favourite beach was probably La Faute sur Mer, which is conveniently the closest to the cottage, just a 15 minute drive away. La Terrière and Veillon Plage were a close joint second for beaches.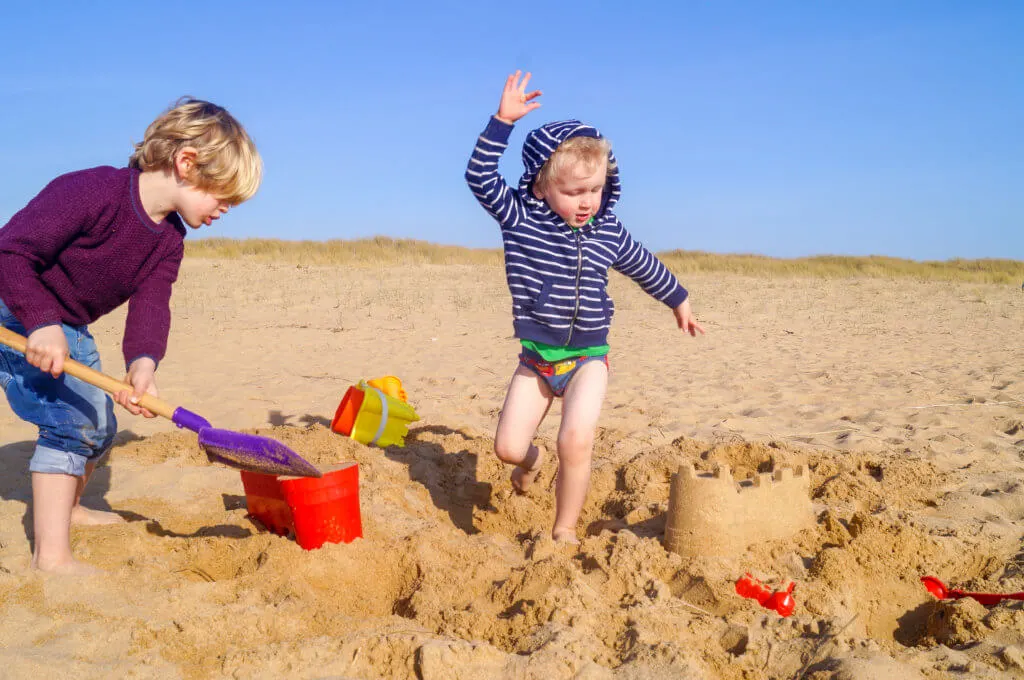 A morning in Luçon is also recommended. My boys absolutely loved exploring the pathways, rocks and waterfalls of Jardin Dumaine. There's also a good playground here. Don't miss a visit to beautiful Luçon Cathedral.
Also, the impressive city of La Rochelle and the trendy island of Île de Ré are only a one hour drive away from the cottage. Allow a day for each.
Getting to the Vendée
There are flights to Nantes and La Rochelle. However, it's also very easy to take either a ferry or the Eurotunnel and drive. We took the ferry from Dover to Calais. It was then a 6.5 drive to Lairoux, plus an extra hour or so for stops along the way. If you take the overnight ferry to St-Malo, it's just a three hour drive to Lairoux.
Driving also means no luggage constraints, and a car to get around on holiday. You really do need a car to best explore the Vendée with kids.
Do we recommend L'Ecurie Holiday Home at Maison Lairoux?
If you're looking for family friendly accommodation in the Vendée that oozes French charm, is in a quiet location, but sociable, and comes with a pool, then I definitely recommend L'Ecurie Holiday Home. We absolutely loved our stay and I particularly appreciated the good insider knowledge that Jason and Annette had of the region.
How to book
Book online at Maison Lairoux. If L'Ecurie Holiday Home is not available, there is also the three-bedroom holiday home, Le Vieux Café, on the same site; equally as beautiful, but has an extra bedroom for larger families or grandparents.
---
You may also want to read:
Best Châteaux to visit in the Loire with kids
Lanzarote with kids: off the beaten track
Places to visit in Europe in Summer to avoid the crowds