We're not usually ones for theme parks. It's just not our thing. The queues, the overpriced food and souvenirs, the rush to tick things off, means that a trip to Disney or Alton Towers is way down our list. We'd rather spend the money on an adventure, doing something different.
TraveLynn Family were offered complimentary flights, accommodation, meals and entry tickets to Puy du Fou in exchange for coverage on my social media and this review. These are all my own words and opinions for visiting Puy du Fou with kids.
But Puy du Fou in the French Vendée, just an hour's drive from Nantes Airport, is something different. It may have won international theme park awards, but I believe to call it a theme park degrades it. There are no amusement rides at Puy du Fou. This is family outdoor theatre at its best, offering an abundance of historical shows with costumes and special effects fit for Hollywood. In between there are immersive experiences where the historical attention to detail is spot on, and it's very good value compared to traditional amusement parks (currently 26€ for children and 36€ for adults), and kids under the age of 5 are free!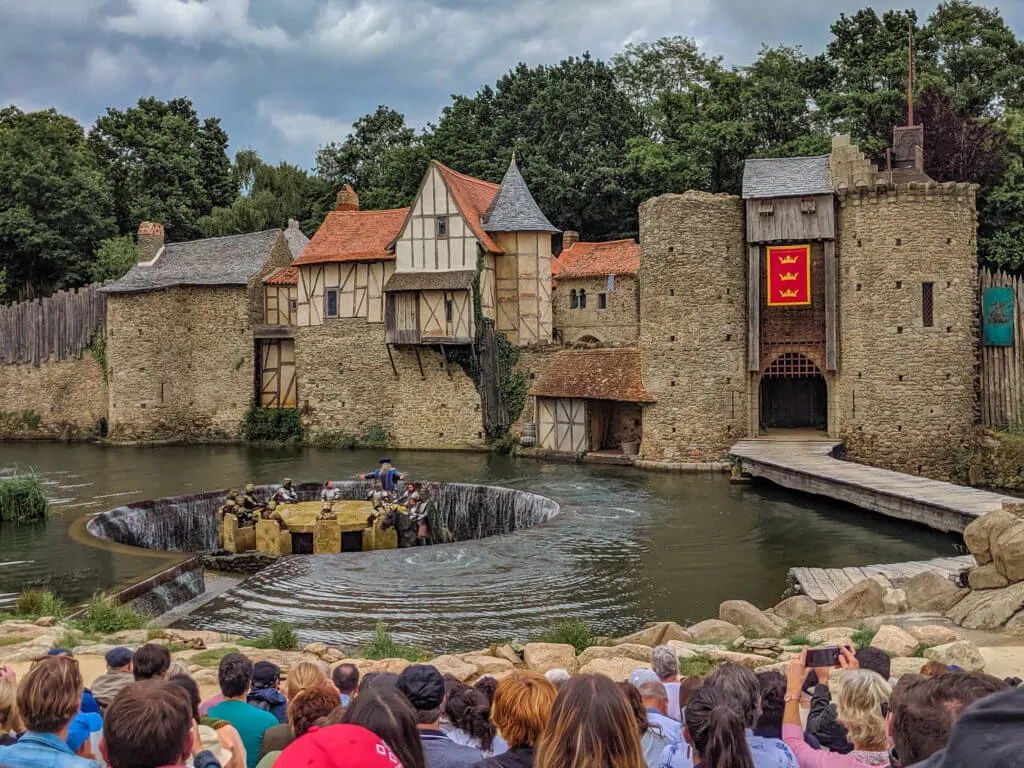 A weekend spent watching epic battles of knights, vikings and musketeers meant that my boys (aged 4 and 5 at the time) were in their element! For me, the magic was in watching their reactions to each stage show. It honestly brought tears to my eyes. Truly magical.
Puy du Fou appeals to all ages, but if you are looking to visit Puy du Fou with kids, especially little ones, here are some essential tips to make your visit easier.
1. Get the Puy du Fou Emotion Pass
This is a fast track pass to skip the large queues and allows you entry ten minutes before a show begins, plus priority seating. For only 15€ per person (kids under 5 are free) I would not visit Puy du Fou without it. The queues for some of the bigger shows are huge, especially in the afternoon, and you need to be queuing 30 minutes prior to opening to guarantee a seat if you don't have an Emotion Pass. Not at all ideal, especially if you're visiting Puy du Fou with a toddler or young kids.
Note that the Emotion Pass cannot be used for Les Chevaliers de la Table Ronde. This is a very popular show and we advise seeing this early in the day when the park is a little quieter.
Buy your tickets online before you go and you save 15% on the main entry fees.
2. Allow for two full days
One day is really not enough time to get the most out of Puy du Fou. It's certainly doable, but will make for a very long day feeling like you have to fit everything in. Two full days (staying three nights) allows you to take your time, thus hopefully avoiding any overtired meltdowns with young kids (and parents!)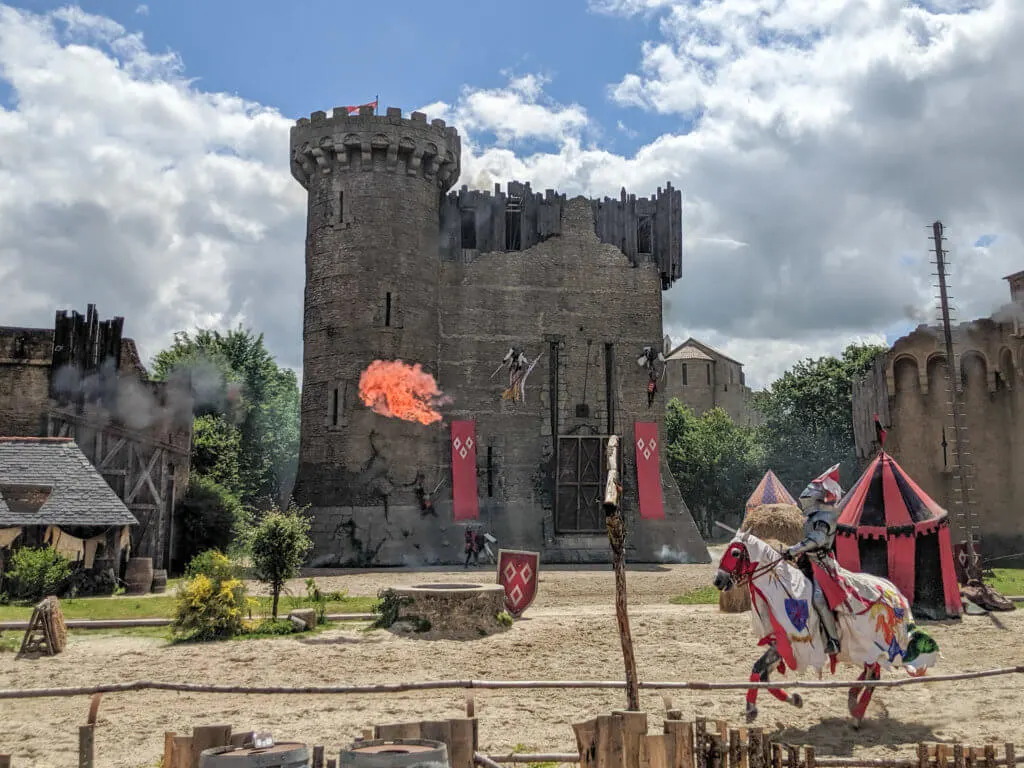 3. Ride the train
It's a good 20 minutes walk (longer with little ones) to get from one end of the park to the other, and there are a fair few distractions along the way. Allow for plenty of time to get between shows.
There's a train that runs every twenty minutes; a good way to get from one end of the park to the other, and then make your way back on foot. It also stops at various points within the park.
It's also worth taking a buggy or camping trolley if visiting Puy du Fou with a toddler or young kids. Although these do need to be left outside the shows. Ensure they're wearing good hiking boots if, like us, you want them to walk.
4. Plan which shows to go to
Before visiting Puy du Fou with kids, I did worry that my kids (especially my lively 4 year old) would struggle to sit still for the shows. I really did not need to worry whatsoever. The shows are only 30 minutes long on average (some shorter) and as every stage show is such a fantastic spectacle with so much going on (viking ships rising up from underneath a lake, castles turning on their axis, not to mention the intricately choreographed stage combats), my boys were utterly and totally engrossed.
However, the sheer over-sensory experiences meant that by his fourth show on the first day, our youngest (4 years old) had crashed; though my 5 year old was still wanting more. Aim to just do 3-4 shows in a day if you're visiting Puy du Fou with young kids, then slot in the immersive shows and period villages in between.
Our favourite shows were
The show times are different every day. Pick up your show schedule and map the night before at your hotel or check the app to plan your day.
What to miss with little ones
There are some experiences that are a little frightening for young kids, including Les Amoureux du Verdun and possibly Le Premier Royaume. Instead, I would definitely recommend Le Monde Imaginaire de la Fontaine and Le Grand Carillon. And I don't recommend watching Le Signe du Triomphe due to the use of wild animals (more on that later).
Cinéscénie, perhaps the best night show in the world, is a spectacle to behold. The sheer scale and special effects alone will blow you away. However, with a 10:30 pm start it was way too late for my boys and is definitely too much after a full day in the main park for little ones. Instead, hubby stayed behind with the boys tucked up in bed, and I went alone. Tickets are booked separately from your main day ticket, and must be booked in advance; it sells out VERY quickly.
5. Talk about the use of wild animals at Puy du Fou
It was not until after booking our trip that I learnt of the use of wild animals at Puy du Fou. I was shocked and saddened to hear this, to the extent I had serious misgivings about visiting Puy du Fou. I had no idea that the use of wild animals for entertainment was still legal in France, but the Le Signe du Triomphe uses lions, a tiger, a hyena and a leopard.
Puy du Fou does some exceptional conservation work for endangered species and their equestrian academy is one of the leading in the world. Animals are indeed very well cared for, but for me it does not sit at all right that wild animals are used in the Gladiator show, and from my understanding they add very little to the story telling.
I spoke to my boys about why I didn't want to go to the Gladiator show and they both agreed. As a family we have spent almost four months overlanding Africa and seeing wild animals in their natural environment, where they should be. My understanding and hope is that Puy du Fou will catch up with the times and remove these animals from the show.
6. Download the app
There is a Puy Du Fou app that list all the show times that day, as well as voice translations for all the shows. There is good free WiFi across the park. Remember to bring headphones for all the family. We love these CozyPhones Kids Headphones as they don't keep slipping off.
7. Allow some playground time
To break up the shows and experiences, allow for some time in the playground. We found this gave everyone a nice 'reset'.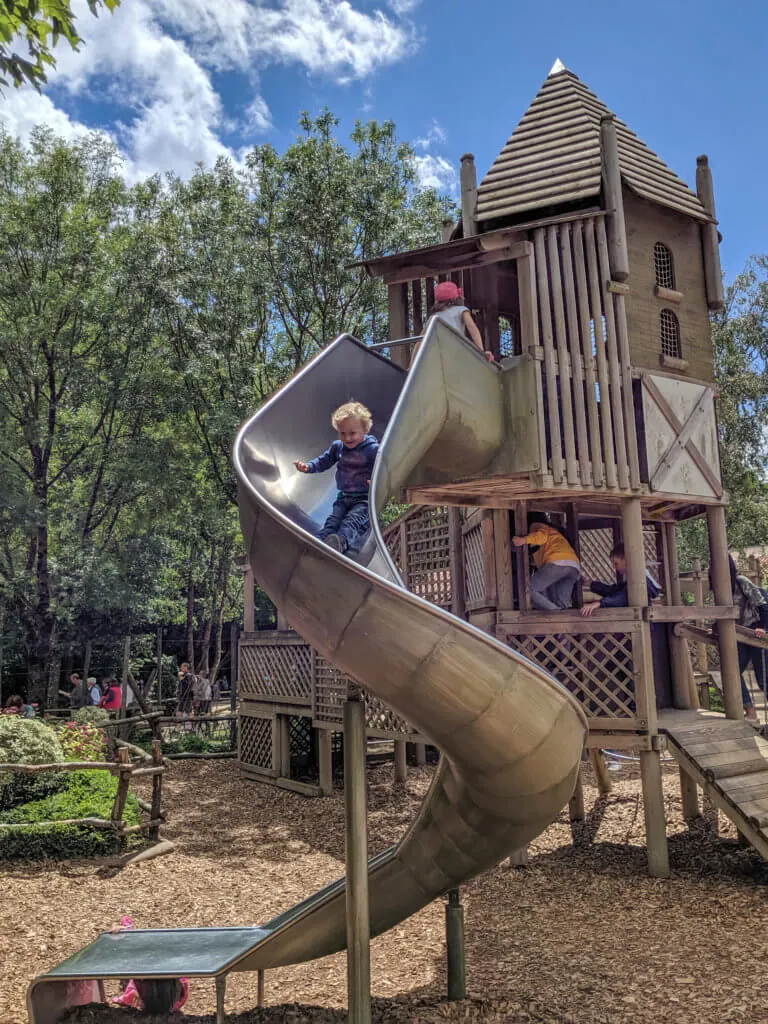 As the playground is situated next to Les Amoureux du Verdun (the WW1 trench experience, not suitable for young kids), us parents took it in turns to visit this whilst the other watched the kids play.
8. Dress to be outside
The majority of shows and experiences are outside and still go on whatever the weather, even torrential rain. Keep an eye on the weather forecast and pack rain jackets in case. We took a rucksack in the park with us to carry jackets and jumpers when not being worn.
In the height of summer it can get very hot, so pack lots of water, sun hats and suncream. There is also a lot of walking, so wear comfortable shoes.
9. Don't fret about meal times
The food offered in the park is very good and reasonably priced. We dined in Le Bistrot in the Le Bourg period village, and were pleasantly surprised at how speedy the service was; very un-French, but perfect for our impatient boys. Menus are in French but staff speak good English and can advise if you have any dietary requirements.
There are a handful of snack stands throughout the park. But if you're organised with your own food, head to one of the parks or gardens for a picnic.
The restaurant at our on site accommodation (Citadelle) provided a buffet service, although it doesn't cater very well for vegetarians and those with more restricted dietary requirements will struggle. Breakfast consists of croissants, fresh breads, fresh juices, a selection of meats and cheese, pancakes, fruits and yogurts. There are strict sittings for meal times, so book ahead.
10. Stay on site
To keep the magic going, there are a range of on site accommodations on offer, with prices currently starting from 61€ per person.
We stayed in the Citadelle, a medieval castle complete with mod cons such as hot running water, electricity and kids TV channels. Staying in bunk beds of a castle was a definite highlight of the weekend for my boys. All rooms have free WiFi, although there are no tea and coffee making facilities. Nearby parking is available and it's a 10 minute walk to the main park entry gates.
If you are touring France in a campervan / motorhome, you can stay overnight in the park for 10€. There are water and electricity points, a toilet block, and fresh bread to purchase in the morning.
Getting to Puy du Fou
We visited Puy du Fou as a weekend break from the UK. We flew in to Nantes Airport on a Friday evening, and returned on a Sunday afternoon. From Nantes airport we hired a car and it's an easy 1 hour drive to Puy du Fou, which is well signposted. When you search for directions on Google Maps (or your in-car GPS) select 'Avoid tolls' as the non-tolled route is just as quick as the tolled route.
If you find yourselves with time to spare near the airport then Trentemoult is only ten minutes from Nantes airport, a lovely village where the villagers have painted and decorated the houses and bars.
Want to spend longer in the region?
The Vendée boasts a very impressive coastline with endless sandy beaches and after a couple of full on days at Puy du Fou with kids, a few chilled beach days may be exactly what you need. We stayed previously in the region at a beautiful family friendly cottage with a pool, and thoroughly recommend L'Ecurie Holiday Home.
---
You may also like to read:
A family-friendly cottage in the Vendée: L'Ecurie Holiday Home REVIEW
Eurocamp in the Dordogne: Camping Le Port des Limeuil REVIEW
Best Châteaux to visit in the Loire Valley with kids