Many travellers to Vietnam take on the typical North to South (Hanoi to Ho Chi Minh) itinerary. To do this justice and to allow for long travel days, you really need at least three weeks, especially if you're travelling Vietnam with kids. So if you're short on time, and want a relaxed pace of travel, choose between either a North or South Vietnam itinerary to focus on.
Disclaimer: This post contains affiliate links. If you click to purchase, it is at no additional cost to you, and I receive a small commission.
The far South of Vietnam incorporates the expansive Mekong Delta. Stilt houses, floating markets, Buddhist temples and a unique way of life have developed in this flat-lying region criss-crossed with rives and streams. But it's also home to one of Asia's most vibrant and economically booming cities – Ho Chi Minh City (HCMC, formerly Saigon); where traditional markets and colonial history sit next to dizzying skyscrapers.
This South Vietnam itinerary begins and ends in bustling HCMC, takes you out to explore the markets and way of life on the Mekong Delta, then to the quirky and little visited temples of Sam Mountain by the Cambodian border, and finishes with lazy days on the tropical shores of Phu Quoc with a cocktail in hand.
Best time of year to visit South Vietnam
The long narrow shape of Vietnam means that the North, Centre and South experience different weather patterns. Check out this month by month break down of weather in Vietnam.
Generally speaking though, the best time of year to visit South Vietnam is from November to March, which marks the hot dry season. However, we visited September / October, and even though it rained most days, these were short sharp downpours that rarely affected our travels, and nicely cooled the air.
South Vietnam 10 day itinerary
I travelled this South Vietnam itinerary with my bestie from Outnumbered Holidays as a mumcation (no kids in tow!) However, I would still recommend this itinerary and the accommodations listed for those travelling Vietnam with kids. There are swimming pools at all the accommodations to cool down after a morning sightseeing, and a the pace of travel is not too fast for families with young kids.
The accommodations recommended below are mid-range, but very affordable as the tourist dollar goes quite far in Vietnam. Buses, taxis, ferries, and planes are used for transportation, and prices included where possible.
Day 1-2 Ho Chi Minh City
Where we stayed: Joviale Hotel
Travel time: 30 mins to 1 hour from airport to District 1
Spend your first day wandering around Old Saigon; past Notre Dame Cathedral, and the Central Post Office, before visiting the War Remnants Museum to learn about the the devastating history of conflict. Finish your stroll at the Jade Emperor Pagoda to light candles and incense and join the local ceremonies. You will have built up an appetite with all this walking, so head over to Ben Thanh Street Food Market.
On day two, visit the Cu Chi Tunnels, where you can walk through and learn about the underground tunnel network used by the Viet Cong in the Vietnam war. To get there, the most cost effective way is to join a tour. As tomorrow is a travel day, spend the evening enjoying a beer in your roof top pool and soak in the night views over the city.
Getting from airport:
Expect to pay USD25 for a taxi from the airport District 1 in Ho Chi Minh City. Taxis are located to the left outside the terminal. They are well signposted. Drivers will use the metre. But we learnt that it was actually worked out to be the same price (and easier) to book this through our accommodation.
Day 3-4 Can Tho
Where we stayed: Can Tho Ecolodge
Travel time: 4 hours
Can Tho is is the hub of the Mekong Delta and a great place to base yourself for the Cai Rang Floating Markets, which are the biggest in the area. Start your tour early (our alarm was set for 5:30am), so as to beat the boatload of tourists and the heat. Take some change with you to purchase coffee and fruits from the floating barges.
We booked a tour through our accommodation to see the floating markets and also the local (land) markets. The latter is very much a local market. Don't expect to find any souvenirs, unless snake meat or frogs intestines are your thing.
Make time to enjoy the beautiful pool and hospitality at Can Tho Ecolodge. You can also hire bikes from here to explore the local village.
How to get to Can Tho from Ho Chi Minh:

Book a Grab taxi from your hotel to Mien Tay Bus Station. Then get the Futa Bus to Can Tho. You can book tickets in advance, but we had no problems purchasing on the day from the ticket office. We had an extremely swish sleeper bus (flat beds, TVs, free WiFi) to drive us the 4 hours to Can Tho.
Day 5 Chau Doc
Where we stayed: Sang Như Ngọc Resort
Travel time: 3 hours
Within touching distance of the Cambodian border, the sleepy town of Chau Doc boasts a fusion of Chinese, Cham and Khmer communities, apparent in the temples, mosques and churches.
Browse the markets, and enjoy a bowl of pho by the river. But the main reason to come here is to visit the fascinating temples and pagodas of nearby Sam Mountain.
The summit affords sweeping views of the Mekong and over in to Cambodia on a clear day. But head over to the Western side of the mountain to explore the beautiful (and in parts wacky) Phước Điền Tự – Hang Pagoda. Follow the steps up to intricate temples, then keep following the signs to be lead through long tunnels and caves in the mountains, each with it's own story to tell. Kids will especially love the monster and snake models hiding in the caves with bright light bulb eyes.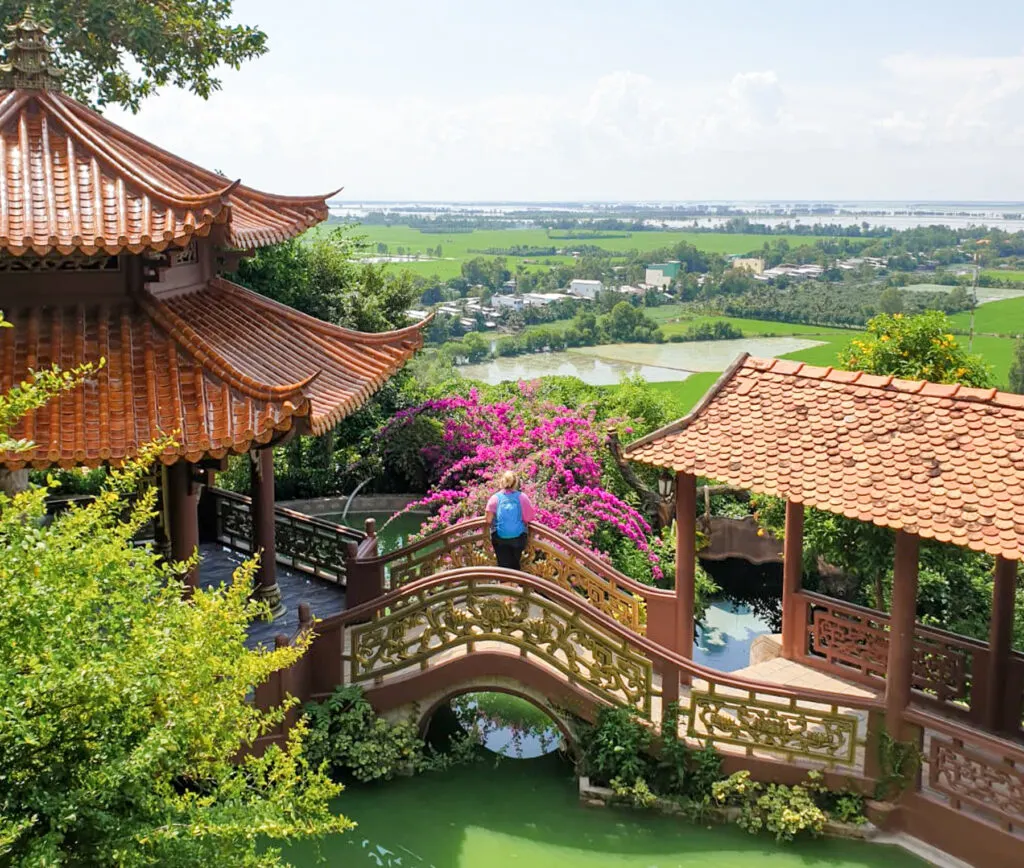 How to get to Chau Doc from Can Tho:
Take a morning Futa Bus from Can Tho bus station to Chau Doc (3 hours). From Chau Doc we organised a taxi to take us to our accommodation via Sam Mountain. Note Sang Như Ngọc Resort is about one hour from Chau Doc. You could stay in the town, but options are very limited and Sang Như Ngọc Resort has a pool and playground (ideal if your travelling Vietnam with kids).
Day 6-9 Phu Quoc
Where we stayed: Green Bay Resort Phu Quoc
Travel time: Allow 6 hours
Slip into a low gear and enjoy some well-deserved lazy days lounging by the pool. When you feel like you need to mix it up a bit, take a dip in the azure waters, or head to the spa.
This is the place to unwind and allow the days to drift by unplanned.
And if a floating breakfast in your private pool sounds like your cup of tea, then check out our review of Green Bay Resort; a luxury resort nestled into the jungle, sympathetic to its surroundings and boasting exceptional service.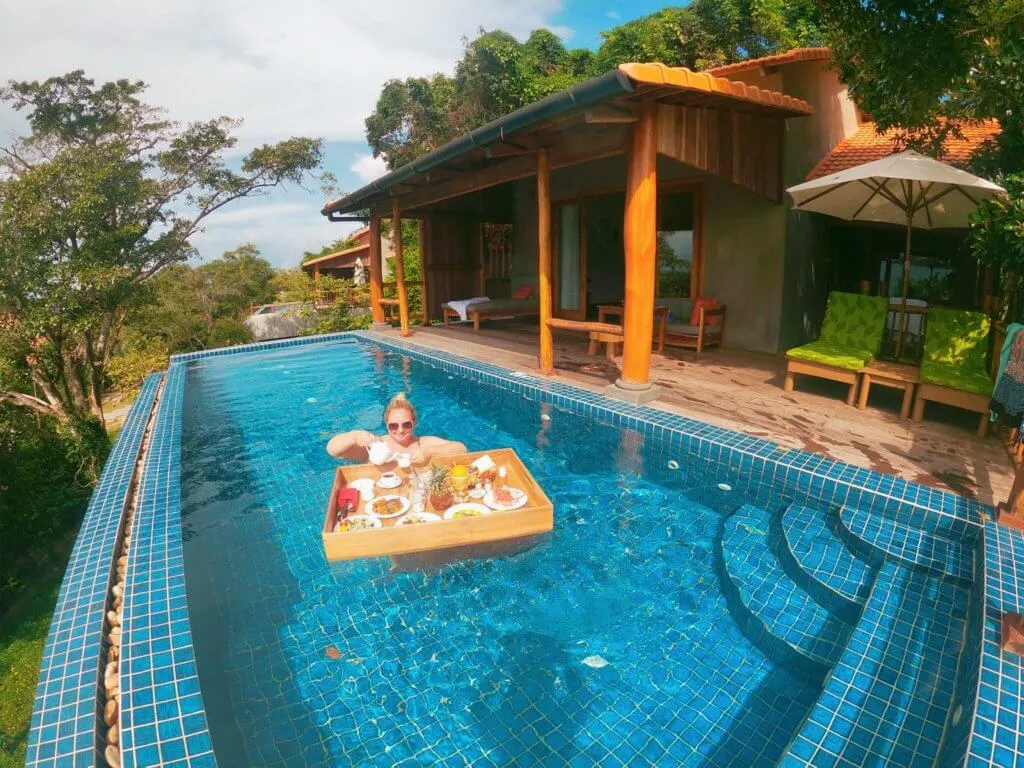 How to get to Phu Quoc from Chau Doc:
As our Chau Doc accommodation was quite far out of town and we wanted to catch an early ferry from Ha Tien to Ph Quoc, we decided to book a private taxi from the hotel to Hat Tien (USD40, 2 hours). There seems to be contrasting information online regarding the ferry times to Phu Quoc. Aim to arrive by 9am and you should have no problems. You can purchase tickets on arrival. We caught a 9:30 am ferry, which arrived to Phu Quoc at 11 am, where we were greeted by the driver from Green Bay Resort.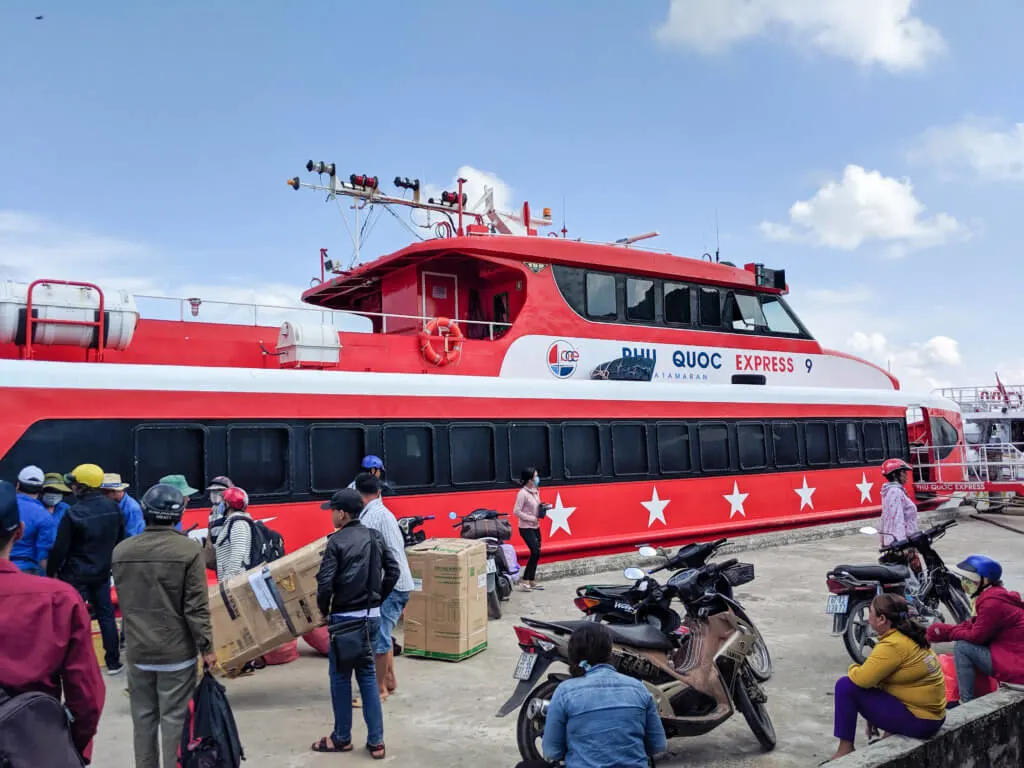 Day 10 Back to Ho Chi Minh
We did look at getting the ferry back to Ha Tien and then the overnight bus back to Ho Chi Minh City. However, even booking 48 hours in advance we found very cheap flights on Skyscanner and realised that it was much easier and cost effective to fly back. There are numerous flight back to Ho Chi Min per day.
---
You may also like to read:
Top things to to in Vietnam with kids
A 'mumcation' in paradise: Green Bay Resort, Phu Quoc REVIEW
An easy Thailand itinerary (10 days)