Your guide to visiting Granada with kids. Please note that prices are subject to change, please always check the attraction websites for up-to-date information before your visit.
The southern Spanish region of Andalucía is an enticing destination for families to to visit. From the beaches of the Costa Del Sol to the sparkling atmosphere of Seville and Malaga, you're never short of options. But perhaps the jewel in the crown sits underneath the snow-capped Sierra Nevada; Granada with kids is a magical European city break, sure to be a place to leave a lasting impression on the whole family.
Disclaimer: This post contains affiliate links. If you click to purchase, it is at no additional cost to you, and I receive a small commission.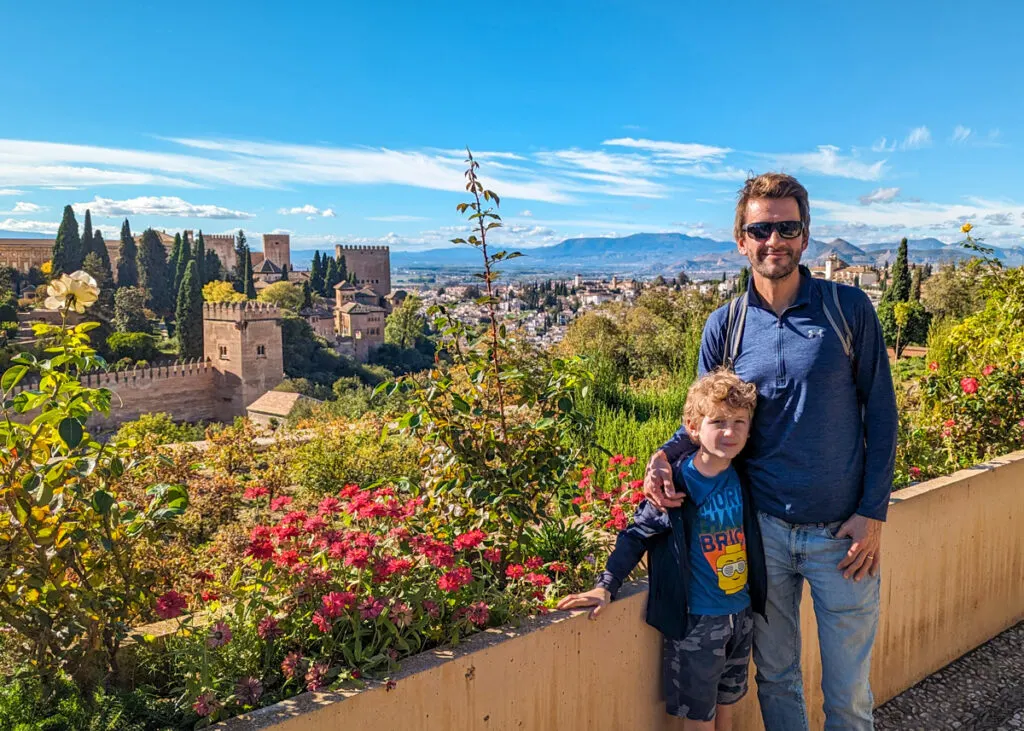 Here we share our 6 day itinerary around Andalucía with kids, taking in Malaga, Granada and Seville, three stunning cities in southern Spain. Includes details on things to do, where to stay, and how to get between cities using public transport.
Visiting Alhambra with kids
You need to book tickets for Alhambra as far in advance as possible, even in the low season (click here to book online). We visited on 1st November, and when I booked tickets a month in advance there were only 12 (yes, twelve) tickets left! And the only booking slot available was 5pm, the last one of the day.
Overlooking the city and the reason everyone comes to visit, the Alhambra is the second busiest tourist destination in Europe and fully deserves its spot towards the top of the rankings. If you're lucky enough to time your visit with a clear day, the views over the surrounding countryside are breath-taking, providing the ideal backdrop to your visit.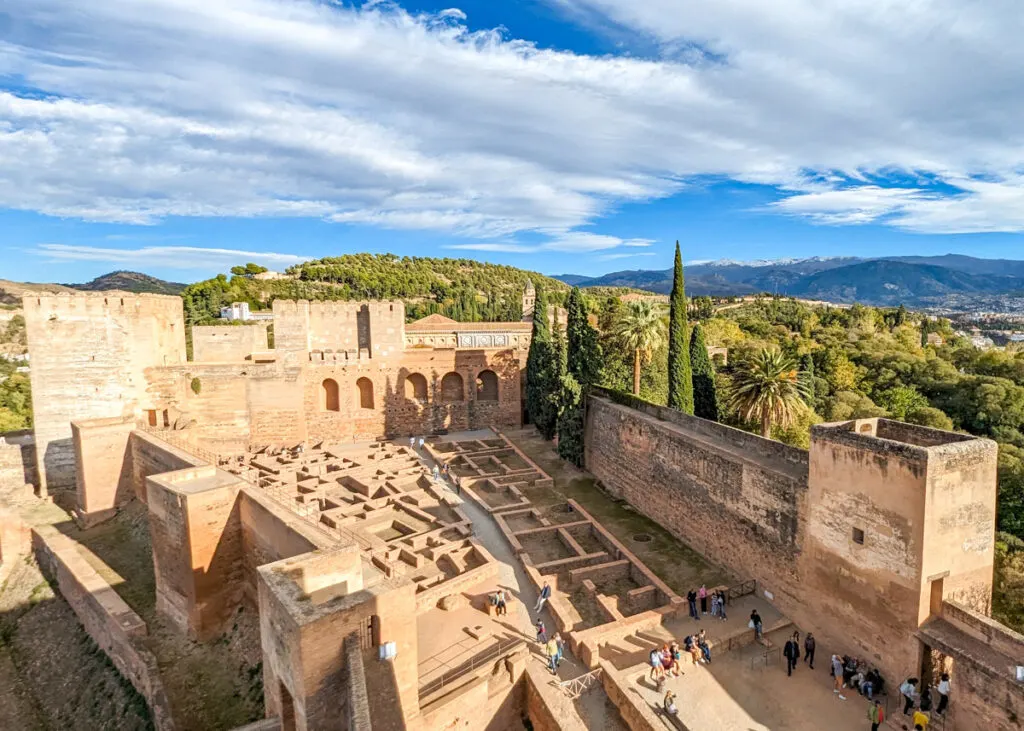 But whatever the weather, the Alhambra is a magical place and one that kids and adults will all enjoy. Whilst dodging the tour groups quickly becomes a challenge, there are plenty of quiet corners to retreat to and soak in the atmosphere. Kids will enjoy climbing the steep steps up to viewpoints and checking out the mesmeric mosaics throughout the site.
The Alhambra is split into several ticketed areas (Nasrid Palaces, Gardens, Generalife and Alacazaba) with an extra charge if you decide to visit Nasrid Palaces (although it's recommended that you do). The Gardens, Generalife and Alacazaba tickets costs €10.61 for adults (under 11's are free). If you want to include the Nasrid Palaces, it's €19.09 (under 11's free) and you'll be given a specific time to visit the Palaces which you must adhere to.
You are free to enter the Alhambra from opening time onwards on the day of your ticket, although make sure you leave time to visit everything if your Nasrid Palaces entry time is towards the end of the day. Also, make sure you remember your passport, you'll need to show it several times and you won't be allowed access without it (kids included and they expected to see the original passport, not a copy).
We loved all aspects of the visit and would recommend getting the general ticket which covers everything, the Nasrid Palaces were beautiful (if crowded) and a perfect way to end the day. Whilst adults could probably spend an entire day at Alhambra, 2.5 hours was more than enough time for our kids.
The Generalife Gardens are a gentle and peaceful introduction, especially as their elevated position give you a chance to get your bearings over the whole site. It's also the best place to take photographs and find some shade on the warm days. The route winds through the gardens and is easy enough to follow. If you find yourself slightly ahead or behind a large tour group, it's a good idea to either hold back or push ahead as they tend to take over the space.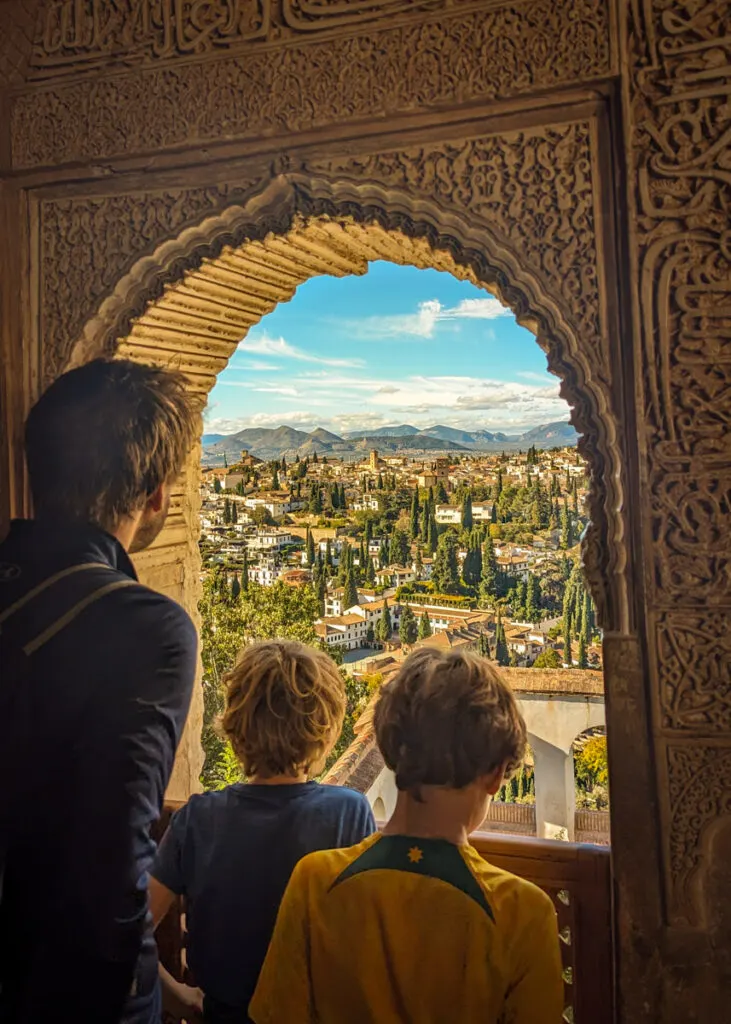 Alcazaba is the fort area and offers several towers to climb (be careful with the steep narrow staircases which only just provide enough space for two people to pass each other). It's close to the Nasrid Palaces so makes for a good visit either before or after your palace timeslot. Remember that you won't be permitted into Nasrid Palaces after your timeslot so it pays to be in the general area in plenty of time.
The Nasrid Palaces are a collection of ornate rooms, walkways and gardens decorated in detailed mosaics. As the numbers are regulated by the timing system, it never gets too busy but some areas can have a conveyor-belt feeling and you'll often find yourself getting in the way of someone's photograph. We visited towards the end of the day (5pm) and felt low on energy towards the end of the visit; make sure you leave some fuel in the tank for this final stretch. It's a reasonable walk back to the exit area where the buses and taxis depart from.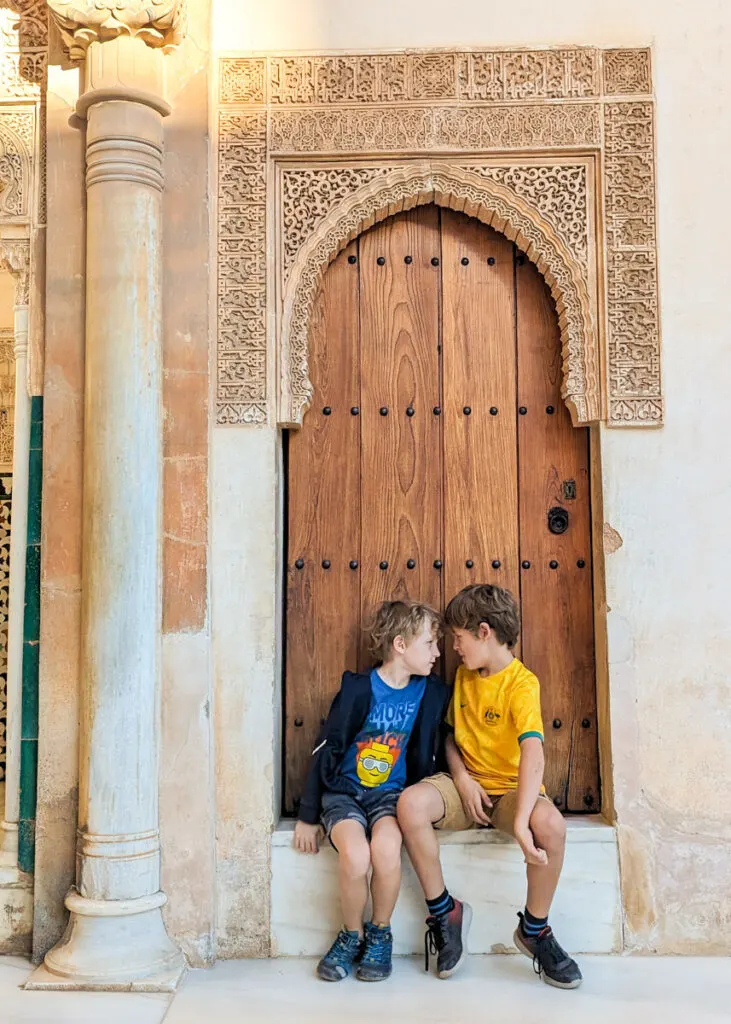 Bring some snacks with you although avoid larger backpacks as you'll be asked to carry it in front of you at times. There are lots of water fountains so don't worry about bringing multiple bottles as you can refill easily (and the water is cold and tastes nice). There are a few shops selling mini-snacks like chocolate bars and biscuits; you're best to bring your own food if you want something healthier and more substantial.
Granada Science Park
Granada's Science Museum, known officially as Parque de las Ciencias, is a fun but slightly frustrating museum to visit. An impressive building from the outside and spacious inside, it has some interesting displays interspersed with less worthwhile areas (our kids found the 'Health and Safety' exhibit less-than thrilling, for example). It's also suffering from a lack of maintenance in places, with many interactive stations either not working or temperamental at best.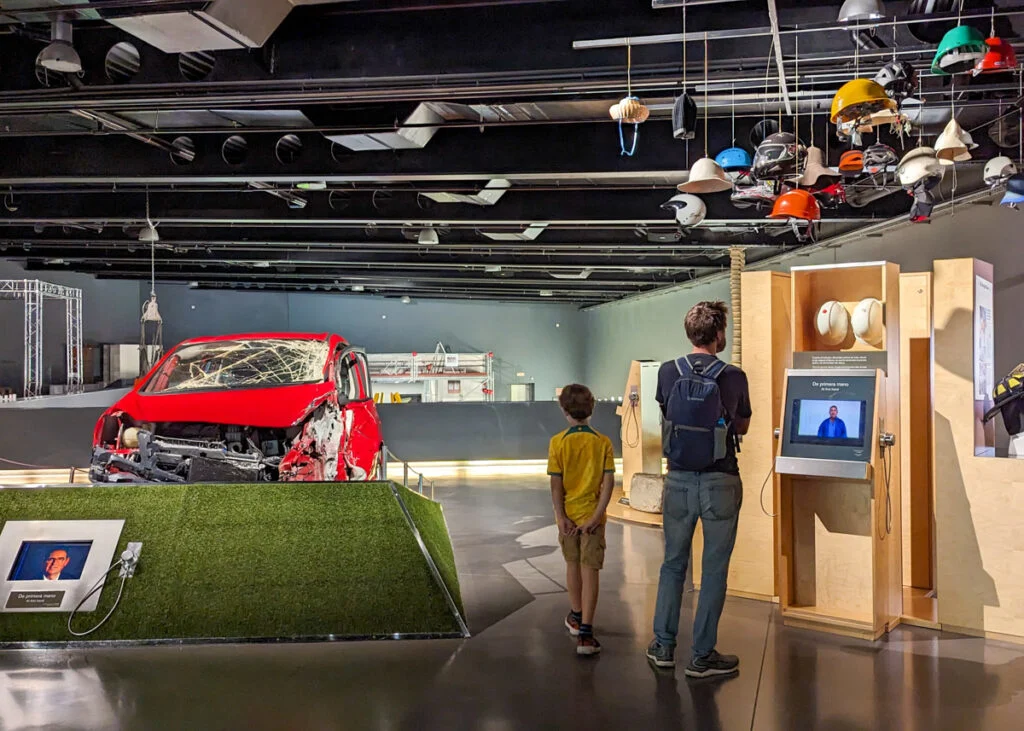 When it works though, it's got a lot to recommend it, including a planetarium, sky tower, and fantastic Biodome which is the best area of the museum with some unusual animals to spot including a sloth, which we found wedged between the wall and floorboards. There's also an aquarium when you first enter with several smaller tanks along the way. There's a separate charge to enter, but it's worth it.
When you've finished exploring inside, make your way outside the main building, where you'll find a play area, café and sky tower. Accessed via the atrium at the lower level, a glass-panelled lift takes you up to the top where we enjoyed the views over the city and across to the snow-capped mountains of Sierra Nevada.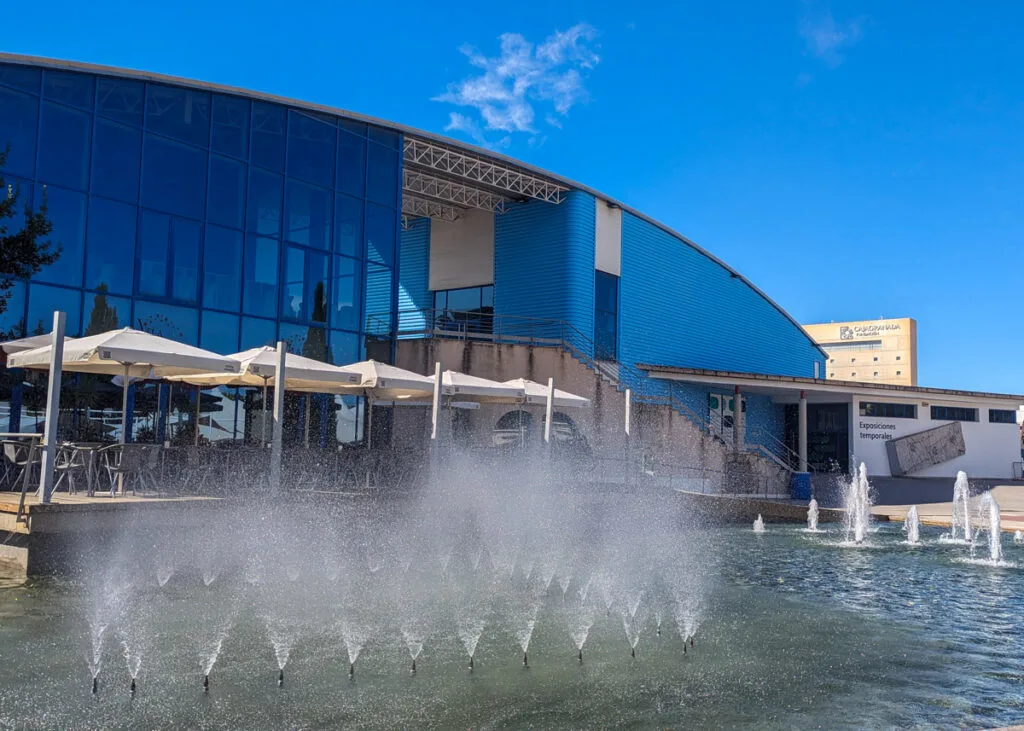 The Science Park is located about 10 minutes drive outside the city centre in a slightly remote location for transport. It's easiest to take a taxi here and then ask someone at reception to call one for you when you're finished; we tried to flag one down and/or find a taxi rank afterwards with no success.
Tickets cost €7 for adults and €6 for children. It costs €11/€9 to include a visit to the BioDome. Note that the museum is closed on Mondays, check the website for details.
Our recommendation for a family-friendly restaurant with a playground
One of the holy-grails of family travel (or it might just be us) is finding a welcoming and friendly restaurant, with a safe playground nearby. Of course, it goes without saying that we love eating together as a family but, if there's a playground within sight and us parents can have a glass of wine without listening to Minecraft strategies, it can feel like a win-win!
We found one such place in Granada Duquesa which had a simple menu, €15 bottles of wine, a lovely waiter and aforementioned playground across the street. There were also heaters and a glimpse of the cathedral's rooftop.
Crucially, it also kept long hours during October when many other restaurants were yet to open (we still had the dining equivalent of jet-lag and wanted to eat at 5:30pm, an early dinner time almost unheard of in Spain).
Where we stayed in Granada with kids
Where we stayed in Granada: Porcel Alixares
Click here to check rates and availability
Accommodation in Granada felt quite expensive when we first started looking, no doubt the year-round popularity of the Alhambra and warmer southern European climate meaning it's always a popular destination. When booking hotels in Granada, your main decision is whether to stay in the city centre and be close to all the action, or stay near the Alhambra and be within easy range of the star attraction.
We decided to stay near the Alhambra and it felt like the correct decision, even though we did need to take a few taxi rides in and out of the city centre. It felt very handy being so near to the Alhambra on the day of our visit, knowing we didn't need to contend with the crowds getting there, and that the hotel was only a short walk after the day's sightseeing. It's a fairly easy 30 minute downhill walk into the city centre, although it does put your knees through a workout.
The Porcel Alixares, with its family rooms, swimming pool and terrace (not open in the off-season) was perfectly positioned for the Alhambra and complimented our visit there well. The mosaics, paintings and atmosphere were fully in keeping with its neighbour. Read our full review here.
Getting to and from Granada
Granada is well located in southern Spain and is connected to the excellent national high-speed train network offering routes to Cordoba, Madrid, Barcelona and beyond. It's also a major hub of the cheaper and efficient bus network operated by Alsa.
You'll usually find that if the destination you're heading to is on the high-speed train line (e.g. Cordoba or Madrid), it'll be much quicker but more expensive to take the train. However, if you're going somewhere served by normal trains (e.g. Malaga), the journey time will be about the same but much cheaper on the bus.
During our 6 day Andalucía with kids itinerary, we always took the bus and had a really good experience.
Granada does have a small regional airport, but it's only served by flights from within Spain. If you are flying, Seville and Malaga have larger airports with many more international flights available.
Getting around Granada with kids
Granada has a small metro/light-rail system which passes close to the city centre via the train station. It can be useful if you're staying outside the centre and your hotel is near a station, but we found it to be of limited use during our visit, mainly because it didn't go anywhere near the Alhambra or our hotel.
The bus network is comprehensive and covers most of the areas you'll visit, including the Alhambra. The single fare was €1.40 per person (same price for children) so it could turn into an expensive option if you were taking several buses per day. Transport cards are available but only tend to become good value if you're staying for a few days and using public transport all the time.
Our preferred method of transport was undoubtedly the city taxis, which are an easy and efficient way to get around. The fares ranged from €5 to €10 for a trip across the city and they were allowed to use some city centre roads which were blocked off for other types of small vehicle. Keep this is mind when checking journey times on Google Maps as it's likely the taxi can take a shortcut to greatly reduce the distance.
Final thoughts on visiting Granada with kids
It'd be worthwhile visiting Granada if you simply used it as a base for the Alhambra but there's so much more to the city than that. With a magnificent backdrop of the Sierra Nevada, pretty city centre, fantastic cathedral, museums and tapas bars, it's got all the ingredients of a memorable city break.
Of course, the Alhambra is the star attraction and lives up to its reputation as one of Europe's must-see sights. If you're able to stay nearby, you'll not only have an easy journey on the day you visit, but also soak in the atmosphere of the place during your stay.
Don't let the potential for crowds put you off, especially if you're able to visit outside of the peak summer season. Sitting in a tapas bar after a day visiting the Alhambra, with the Sierra Nevada as a backdrop, there aren't many better places to be. Especially if the kids like the look of that playground!
---
You may also like to read:
Andalucía with kids: a 6 day itinerary in Southern Spain
MADRID WITH KIDS: things to do, itinerary, and top tips
Visiting Malaga with kids