Your up-to-date guide for a short city break to Málaga with kids
Málaga is well-known as a popular holiday destination for families but the focus is usually on the beaches, resorts and bars. It might be tempting to bypass the city completely and head straight to the beach but you'd be missing out on a wonderful experience, bursting with activities for the whole family.
We visited Málaga as part of our 6 day Andalucía wih kids itinerary and found this to be a charming city, keeping us entertained for a few days.
Disclaimer: This post contains affiliate links. If you click to purchase, it is at no additional cost to you, and I receive a small commission.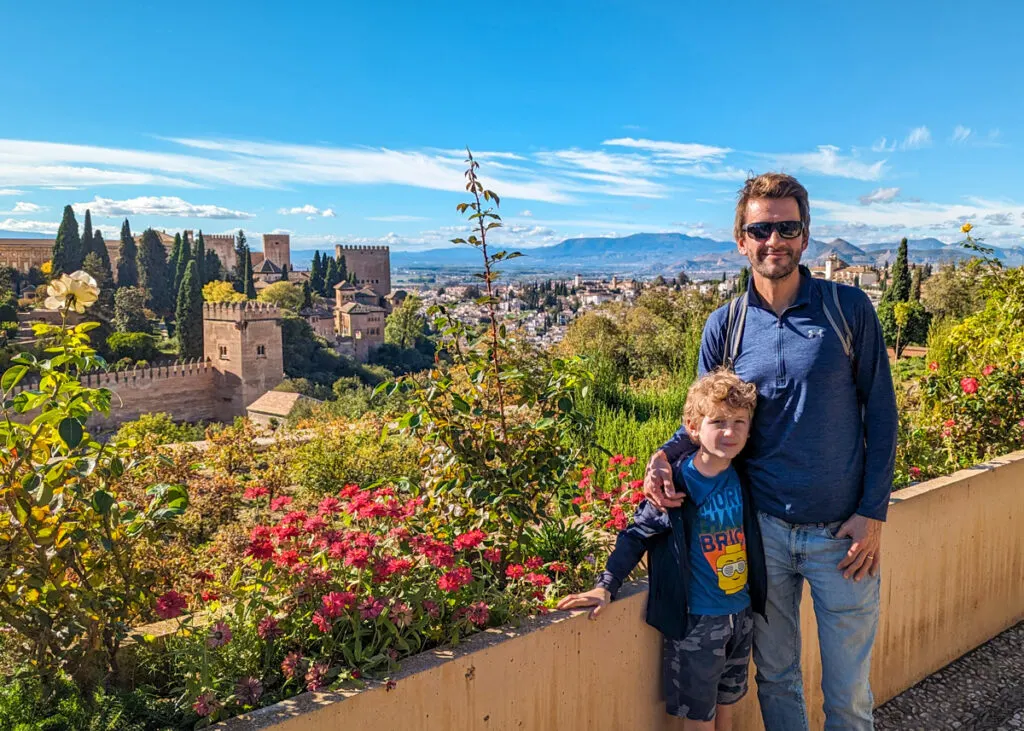 Here we share our 6 day itinerary around Andalucía with kids, taking in Malaga, Granada and Seville, three stunning cities in southern Spain. Includes details on things to do, where to stay, and how to get between cities using public transport.
Is Málaga family friendly?
If you're wondering whether Málaga is good for families, it absolutely is! Considered one of the safest cities in Spain with friendly locals and a stunning climate, you'll find lots to do as a family.
Most of the city's sights are handily located within walking distance of each other in the city centre and there's a decent public transport system, complimented by safe and reliable taxis.
Some of the older streets and alleyways are narrow, busy and cobblestoned so they're not entirely buggy friendly; we'd suggest taking a back carrier rather than buggy if you plan on doing much walking around.
We found lots of places to buy snacks with supermarkets or small cafés seemingly around every corner, and you'll discover plenty of sights and activities to keep the kids entertained.
Coming from the autumnal weather of the UK, we found the southern European climate, with the possibility of eating dinner outside at 8pm, to be a real treat.
Top 10 things to do in Málaga with kids
Málaga is a fascinating city for families to explore, the mixture of historical sights, culture, al-fresco dining, beaches and waterparks means there'll be something for everyone to look forward to.
Most of the Málaga family activities suggested here are in or around the city centre. But there are a few things to do that we wanted to include that are just outside of Málaga .
1. Follow the kid audio guide at the Cathedral
Cathedral's can be a tricky sell sometimes in our family. As parents (or at least one of us), it's about spending time wandering around and soaking in the atmosphere but, understandably, the kids interest levels start to drop eventually.
The Catedral de la Encarnación de Málaga is an ornate and striking building in the heart of the city which offers a rooftop tour and free audio guides. Crucially (and something we'd not seen elsewhere), they offer a kids-only version of the audio tour which steers away from deep and meaningful commentary and instead focuses on the funny history of the building, prompting the kids to think about the grand old building in a new way. It does a far better job than we could in engaging the kids and allowed us parents some time alone, whilst they headed off looking for gargoyles, or counting the number of angels in a painting.
The rooftop tour (extra cost) is also recommended, offering access to the top of the cathedral with its views over the city, mountains and sea.
Book tickets in advance online to skip the queue and head straight in. The rooftop tour is allocated at a specific time so make sure you arrive on time.
Entry to the Cathedral is €8 for adults, plus an extra €4 to visit the roof. Kids under 12 are free.
2. Explore Alcazaba and Gibralfaro Castle
During your rooftop tour at the Cathedral, you might spot a fort perched on the hills in the near distance; this is the Alcazaba, a palatial fort well worth a visit, with the Gibralfaro Castle sat nearby atop the hill of the same name.
The two used are connected by the Coracha wall but this route is no longer accessible, meaning you'll need to exit one to access the other.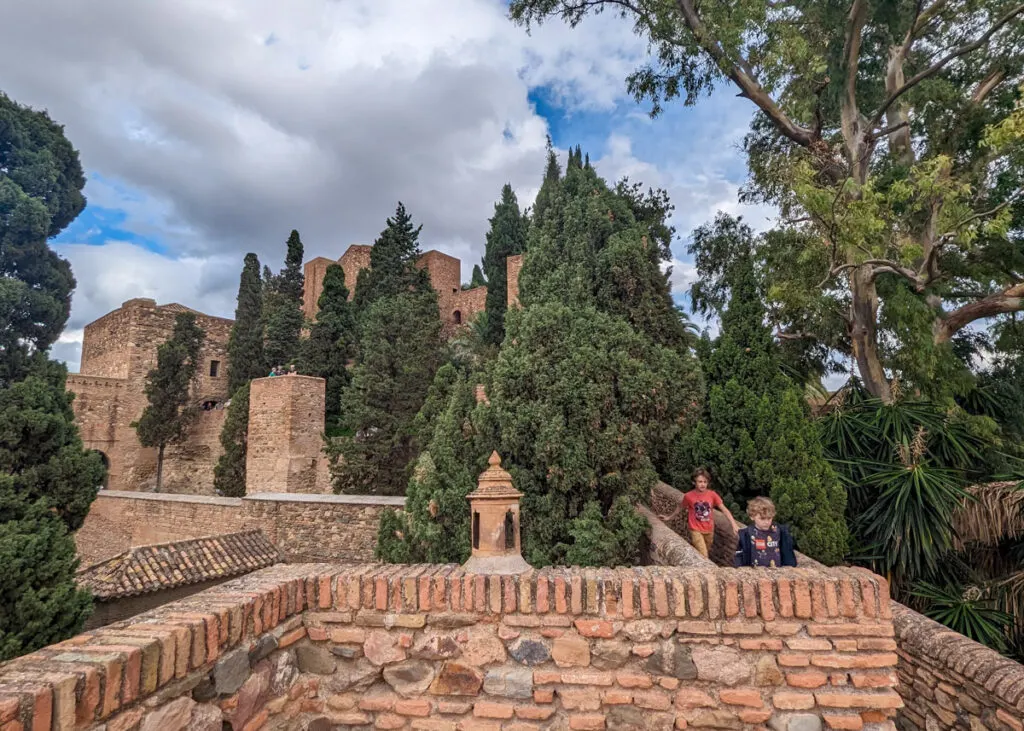 Both sights are fascinating to walk around and explore although do keep a close eye on your kids as there are a few exposed drops without railings or walls. It can quite tricky in places ascending the uneven steps but the effort is worth it as you'll soon have views back across the city. It's easy to see why this spot was chosen as a fort, although would-be invaders probably stopped to take less photographs.
The Castle has a great atmosphere, allowing you to imagine life here in the 15th century when the castle and fort protected the city from numerous sets of invaders. You'll find a mosque, deep well, towers and never-ending nooks and crannies to explore.
Tickets for each attraction are €3.50 for adults, or a combined ticket is €5.50 and allows access to both within 24 hours (handy if you want to split your sightseeing time up into two separate days). Discounted tickets (for children, seniors, students, etc) are €1.50 or €2.50 for a combined ticket.
3. Let off some steam at Málaga Park
Sightseeing is great but sometime kids just need some time to let off steam and hit the playground.
Málaga Park is perfectly located between the historic city centre and port area with a playground, grassy areas, exercise machines, traffic-free tracks, cafes, bars and ice-cream shops.
Our boys aged 10 and 8 loved the play area, it had a good balance of swings, slides and roundabouts to keep them occupied, with enough for younger kids too.
Nearby, you'll find a few bars if you fancy a beer whilst they're playing, otherwise grab a few doughnuts when you all need an energy boost.
4. Check out the huge yachts at the port
Málaga isn't just a playground for kids, you'll also find a few millionaire's toys floating around the port. The port area is full of tapas bars and restaurants, usually open all day long (somewhat of a rarity in Spain) so you can always find somewhere to stop and take in the views.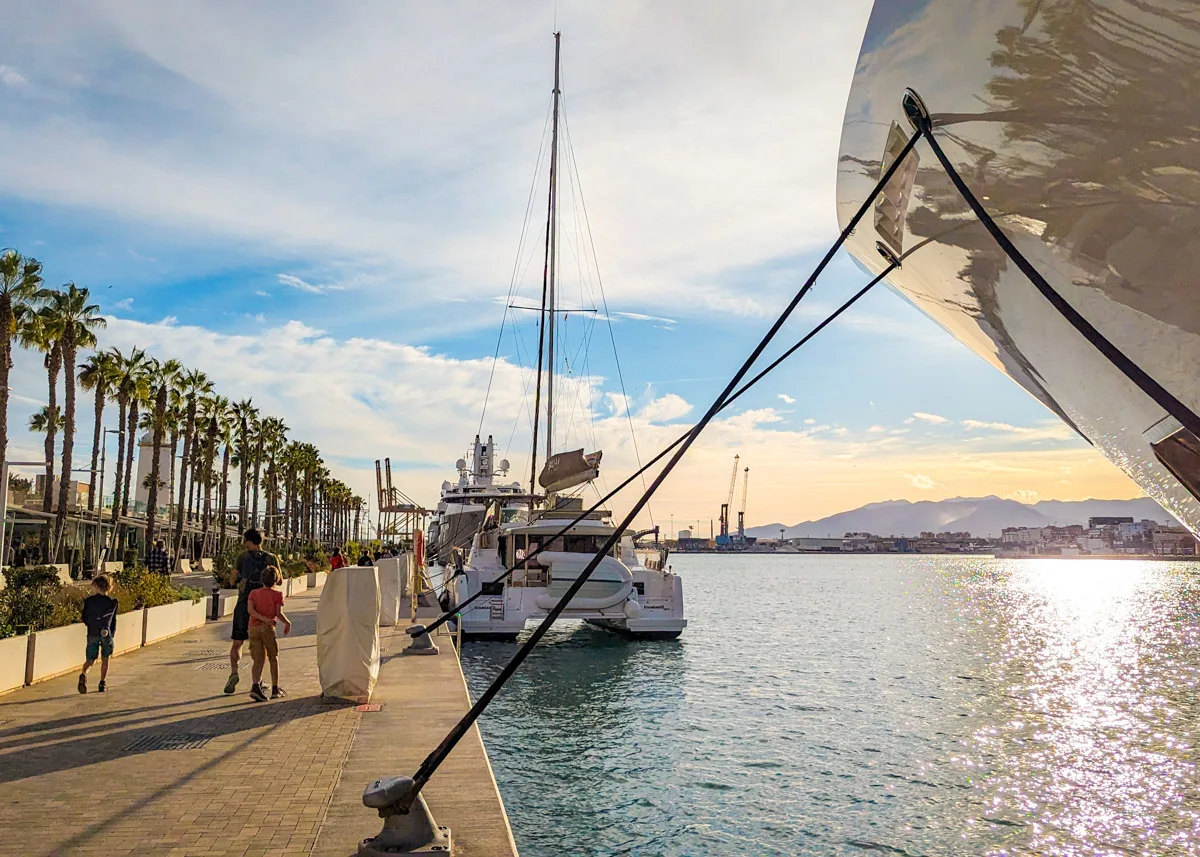 The water stretches off into the distance and you'll be guaranteed one or two super yachts will be berthed nearby. They can sometimes block out the sun and view though, so pick your spot carefully.
5. Play on the beach
A trip to Málaga wouldn't be complete without some time on the beach and, as the city beach is only a few minutes walk from the city centre, it's an easy activity to add to your day. The kids will enjoy skimming stones on the calm sea or playing in the sand. In the summertime, it's a busy and popular place but, out of season, you might have it virtually to yourself.
You can pickup some supplies in the city centre, otherwise there are small stalls selling snacks and beach toys nearby. We even spotted a salesperson wandering along the beach with beers and spirits if you parents fancy a replenishing sundowner.
6. Whizz down the waterslides at Aqualand Torremolinos
Are you enjoying the cultural stuff but just need a day blasting down waterslides and burning off some energy? We've all been in that position and Aqualand Torremolinos is the place to get wet and wild.
Located 15km south of Malaga in the famous beach resort of Torremolinos, you'll find over a dozen waterslides and water activities for the whole family.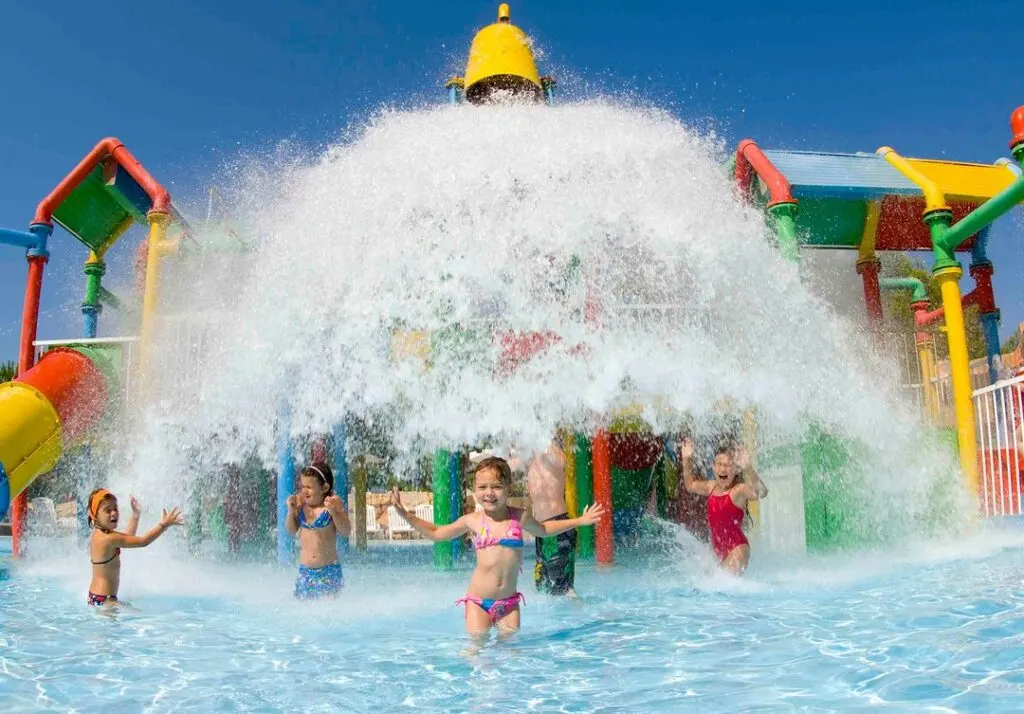 You can either drive here or take a taxi (25 minutes) or catch the train or bus from Malaga to Torremolinos and then make the short walk to the park.
Check opening times on the website as it varies during the off season, keep in mind its a very popular attraction during the peak summer season. Tickets are €34 for over 11's, €26 for 5-10's and €14 for 3-4 year old's but are €2 cheaper if booked in advance online which also allows you to skip the ticket queue on the day.
7. Become an art critic at the Picasso Museum
The weird and wonderful artwork of Málaga's favourite artist is sure to provoke questions and debate amongst your family as you visit.
Split between two different exhibitions (one focusing on Picasso, the other on the artist's he inspired and was inspired by), it's a small and compact museum with little in the way of description and context for the artwork. Unfortunately, the audio tour was for adult's only (there was no kids version and they had to pay €1 extra to get the headset) and bordered more towards pretension that useful information.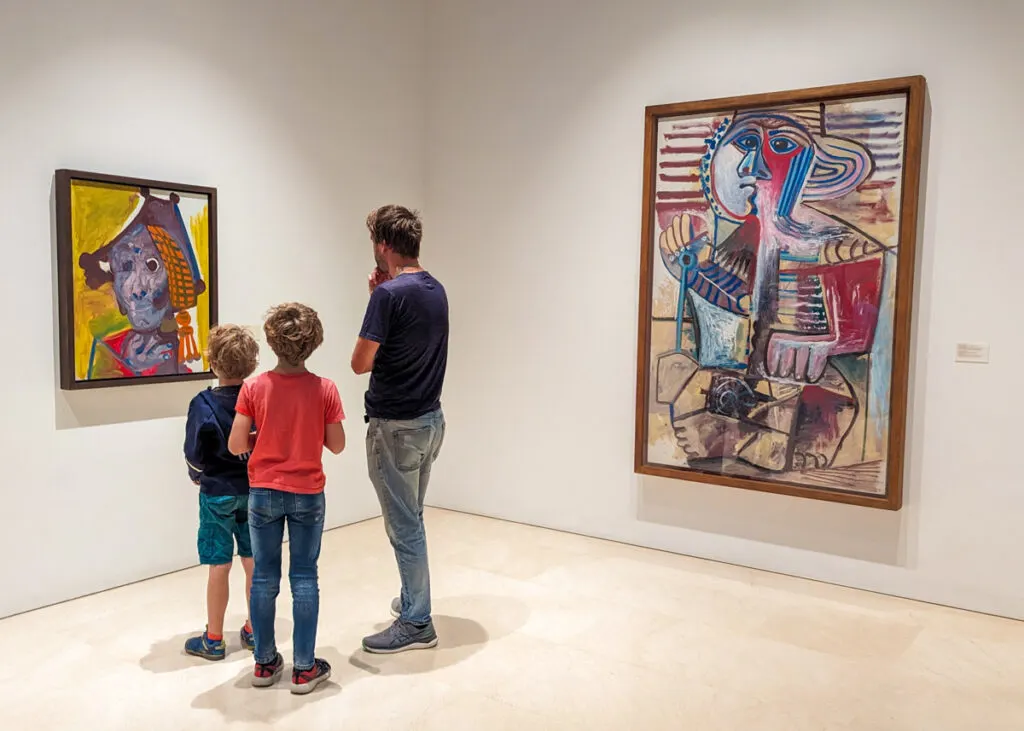 Whilst the museum is limited, it's more likely than other galleries to interest younger children, who are free to provide their own explanations and interpretations of the artwork. In that way, it feels quite accessible and is a fun stop right in the middle of the city centre, but it does get very busy.
If you thought the artwork was wacky, wait until you see the queue, perhaps the worst organised in Europe. Not helped by the narrow ancient streets which form the queuing area, you'll find two 'queues'; one for online, time-allocated tickets and the other for 'on the day' tickets if they become available (there seems to be a one-in one-out system which meant the 'on the day' queue never moves).
Regardless of your timeslot, everyone has to use the same queue and there is zero attempt to organise the chaos or help people get into the right place. You have to resort to walking along the queue asking people which timeslot they're in and then pleading to be allowed in front of them. It's an absolute mess and a recipe for stress and arguments.
The queue is so horrendous, it almost makes the museum itself something to avoid, so have a think beforehand if it's worth the hassle. We were visiting at a quieter time of year, we dread to think what it's like in 40 degrees heat in peak season.
8. Meet the marine life at Selwo Marina
25km south of Málaga, in the town of Benalmádena, is the Selwo Marina. Not just your usual water wildlife park, this is a place which puts more emphasis on education and conservation, rather than entertainment. As a result, it's recommended if you find the traditional SeaWorld-type marinas too focused on making animals perform for humans.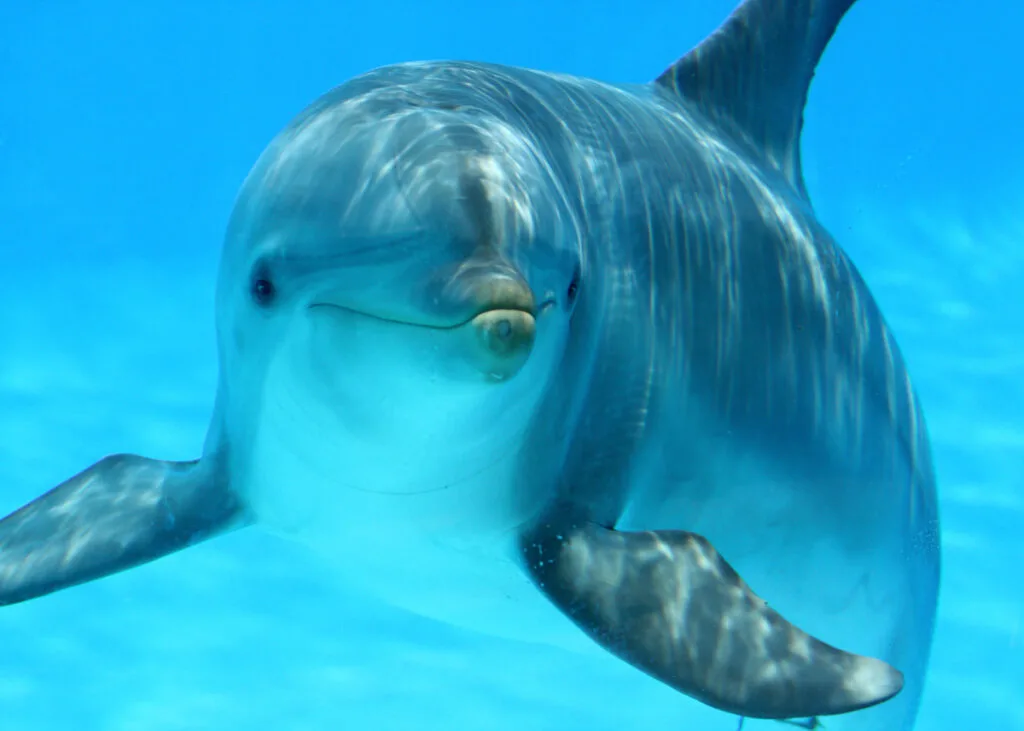 Tickets can be bought in advance online via the website which also gives you a reduction on the walk-up price (€25 for adults and €19 for kids, prices vary slightly depending on which day you visit).
9. Get up close to the animals at Bioparc Fuengirola
Another park focused on the preservation and conservation of animals (this time land rather than sea animals), Bioparc Fuengirola is an informative place to spend an afternoon, just 45 minutes south of Málaga.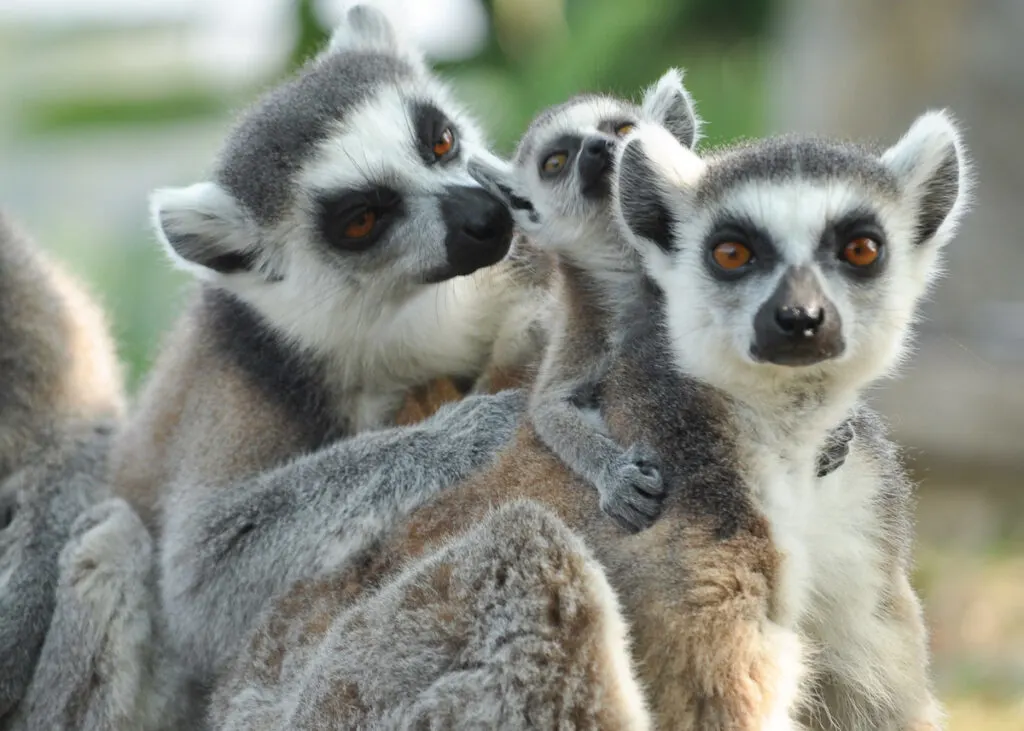 Focusing on endangered wildlife from Asia and Africa, it's a chance to get up close and personal with these rare creatures, whilst also learning about their lives and what we as humans are doing to put them into danger. It's a good balance of education and fun, one that kids and parents are likely to get a lot out of.
Tickets are €23.50 for adults and €17 for children aged 3-9. It's €1 cheaper if you book online in advance.
10. Eat tapas!
Tapas might have been invented as a small snack for adults but it's also the perfect option for kids who aren't quite sure what they fancy. It's a great way to try new foods, helping the kids (and adults) to develop their palate. Prices range from €2 upwards for a small dish and the number of options is huge, often with twenty or more plates for you to try.
It's an extremely sociable way to eat and ideal if you need a quick pitstop to fill up during the day, but don't feel like sitting down to a huge (and expensive) meal.
There are scores of tapas bars around the city, we spent several hours at Cister Catorce and loved it.
How to get from the Málaga airport to the city
There is a direct train from Málaga airport into the city (C1 rail line). It takes 12 minutes and operates every 20 minutes from from 05:42 until 23:00. A single ticket is €1.80 and there are vending machines to purchase (cards accepted). You can also tap-in and tap-out using a contactless card if you prefer.
The direct bus from the airport to the city centre (via the main bus and train station) takes about 30 minutes and costs €4 (payable on board with either cash or credit card). It runs approximately every 25-40 minutes depending on the time of day, and is an easy option. Luggage can be carried for free.
Alternatively, a taxi is the most hassle-free option; it should cost about €25 and there is a €5.50 airport surcharge.
How to get around Málaga with kids
Málaga is a fairly compact city with most of the main sights all within walkable distance of each other. If you're staying in the city centre and only visiting the Cathedral, Picasso Museum, port, etc, you'll probably find you are able to walk everywhere, with the occasional taxi thrown in when you get tired.
Málaga does have a metro system consisting of two lines which is cheap and easy to use but perhaps not applicable for visiting all the places we've listed. Transport cards are available to reduce the cost of each ride, otherwise you can buy single tickets. The same card can be used for multiple people, which makes it a handy option for families. Prices for individual trips range from €0.40 to €1.40 and passes/cards can be bought at the stations. Check the website for more information.
There's a comprehensive local bus network but we've never had much success with using buses as a travelling family, the cost of four tickets and slight confusion as to where you are at any one point makes them tricky to use at times. If you know where you're heading and it seems like a straightforward trip outside of rush hour, it can be an option though.
Where to stay in Málaga for families
READ OUR REVIEW: Picnic Dreams Boutique Hostel
Accommodation is expensive in Andalucía, and Málaga was no exception. We wanted somewhere central with a family room and private bathroom and it wasn't easy to find for less than €80 per night. Picnic Dreams Boutique Hostel was the best place we found and it ticked most of our boxes, with a couple of minor issues with noise.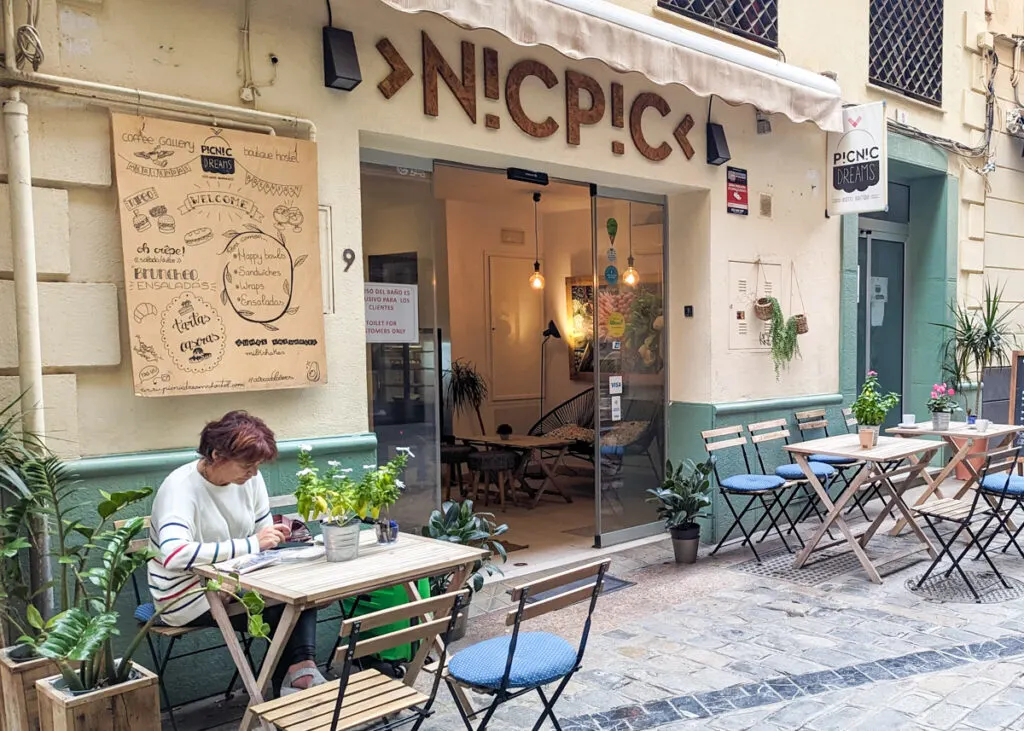 Click here to check rates and availability for Picnic Dreams Boutique Hostel Málaga
It's recommended to stay in the city centre if you can afford it, as it saves on transport costs and allows you to step out of your front door in the morning and get straight into the action. It also let's you pop back during the day if you need naptime and a break from sightseeing.
Final thoughts on visiting Málaga with kids
For so long Málaga wasn't on our travel radar as we incorrectly associated it with summer holidays at the beaches, rather than a cultural city break.
The compact and beautiful city centre packs in many sightseeing options including the kid-friendly cathedral, unique and thought-provoking Picasso museum and ancient Alcazabar. Once you've seen some of the cultural sights, there is still the port and beach to visit, plus the theme-parks and nature parks just outside the city centre. And that's before you've taken a break at a tapas bar with kid-friendly portion sizes and adult-friendly glasses of wine.
With year-round good weather, easy transport connections and a fabulous laid-back Spanish atmosphere, Málaga is the ideal place to take a break and soak up some culture, sun and food as a family.
And if you have a spare day up your sleeve, Granada is only a couple of hours away on the bus. The Alhambra is definitely worth a visit. Check out our guide to visiting Granada with kids.
---
You may also like to read:
Andalucía with kids: a 6 day itinerary in Southern Spain
Picnic Dreams Boutique Hostel Málaga REVIEW
Granada with kids: things to do and top tips