Decent budget accommodation can be difficult to find in Málaga, especially if you're travelling as a family and need a larger room in a central location. Picnic Dreams Boutique Hostel in Málaga manages to combine many of the features we look for as a family and is a rare budget find in a surprisingly expensive city for accommodation.
Málaga was the first stop on our Andalucía with kids trip over October half term. Here we share our review of Picnic Dreams Boutique Hostel, including what we loved and didn't love.
Make sure you check out our Malaga with kids guide if you are visiting as a family and want to get the most out of your visit.
Disclaimer: This post contains affiliate links. If you click to purchase, it is at no additional cost to you, and I receive a small commission.
Click here to check rates and availability for Picnic Dreams Boutique Hostel Málaga
Arriving to Picnic Dreams Boutique Hostel
We arrived quite late (by UK standards but perhaps not so much in Spain) at 9:00pm after a day's travelling from Madrid (Jay and Arthur) and the UK (Jenny and Ezra). It was the first day of our 6 day Andalucía itinerary and we were excited to arrive and sample some tapas and wine.
The hostel is very centrally located, just a few steps away from one of Malaga's main restaurant streets but it still felt relaxing and peaceful. As part of the same establishment, there is a café/bar attached, which also serves as the hostel reception area between the hours of 8am and midnight.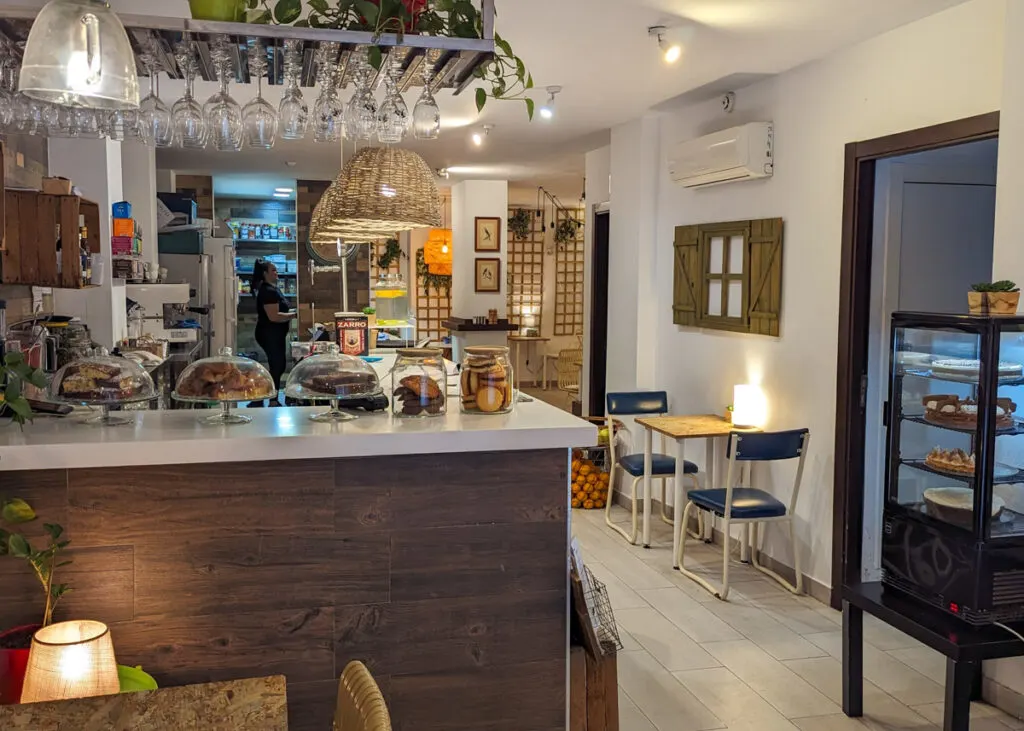 It's quite a trendy place so the reception is cool and efficient, rather than overly friendly. It's a quick check-in process though with the usual passport scans and payment taken. There's no lift so prepare yourselves for a climb up a few flights of stairs.
Our family room at Picnic Dreams
Picnic Dreams has a mixture of dorm room, private rooms with ensuite bathroom, and a family room with a private bathroom down the hallway.
We were in the family room and it just about worked out having the bathroom in a separate room, but it was at the end of the corridor a few metres away, and we needed to remember to take the key each time. Not ideal when you needed to pop to the toilet in the middle of the night, but it was one of the compromises we decided to make to keep within our budget.
The family room was quite small, with only space for a bunk bed (double on bottom, single on top) and another single bed in the corner. A small table, chair, wardrobe and window (overlooking a wall) completed the setup. It was quite basic and not particularly the sort of place you'd want to stay for hours on end, but as a (relatively) cheap base for a couple of nights, it was fine and spotlessly clean.
There was also an A/C, which surprisingly we used overnight, even though it was the end of October and not that warm outside. I can imagine in the summer months this is an absolute necessity.
Free WIFI was included in the room rate but, as we were on the third floor and quite far from reception, the signal was poor and would frequently drop out. When it worked though, the speed was excellent.
Breakfast at Picnic Dreams
Breakfast wasn't included in our room rate but you can pay for breakfast separately in the café downstairs.
It's a pleasant spot to start the day with a good selection of croissants with sweet and savoury fillings, plus tea, coffee and juices. We paid about €30 for a family of four which felt like an expensive but filling start to the day.
If you're looking for a cheaper alternative, there's a Carrefour Express just around the corner from where you can buy croissants, pastries, etc and then eat them on one of the benches in the Place de la Merced.
What we loved about Picnic Dreams Boutique Hostel
The hostel is in a fantastic location and it was a huge plus to simply stroll out from the hostel and, within a few minutes, be at the Picasso Museum, Cathedral, port area, beach and restaurant streets. Travelling with young kids doesn't always lend itself to public transport journeys, especially after a long day of sightseeing, so the location was ideal.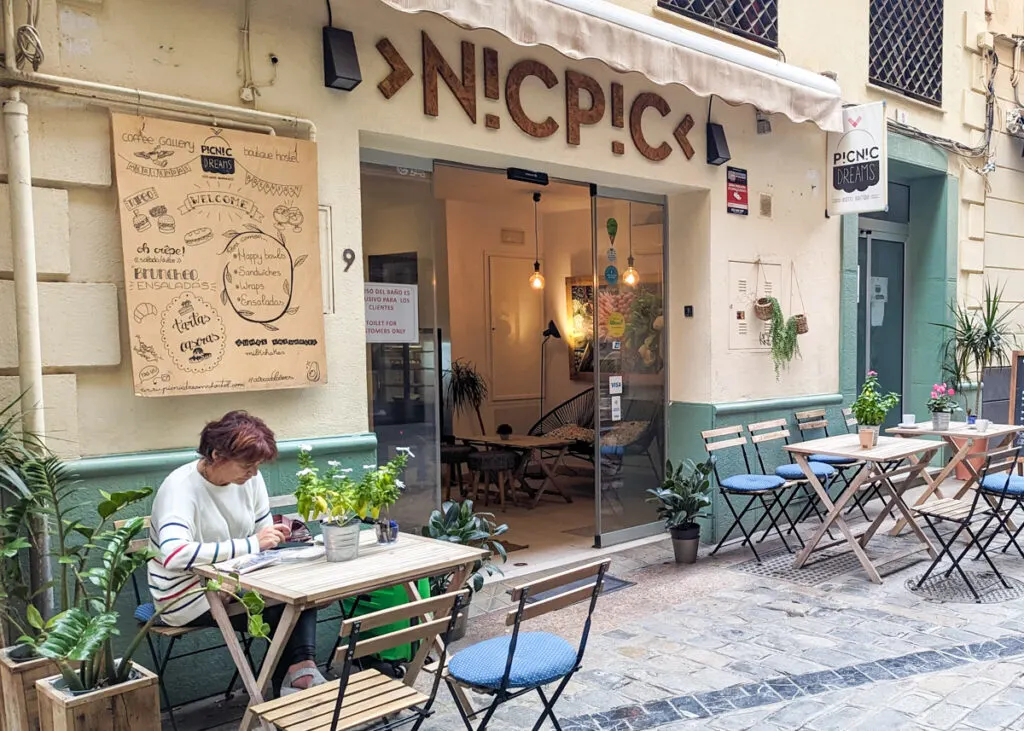 It came as a shock when booking accommodation in Malaga to find just how expensive everything was, so the €175 for two nights counted as quite the bargain. It's unlikely you'll find anywhere cheaper than this in central Malaga if you need a family room and private bathroom.
What we didn't love
The private bathroom down the hallway seemed like a good idea when we booked, but it was actually quite a hassle having to walk along the corridor past several other rooms to reach it, and more importantly to remember the key.
The hostel was quite loud in general, with lots of noise coming from other guests as they came in and out. It was one of those places were you tend to hear every door closing and neighbour coughing. We also had a communal balcony underneath our room which meant noise filtered up to us in the evening.
On the same theme, the bunk bed was super-squeaky every time someone moved.
Final thoughts on Picnic Dreams Boutique Hostel
Whilst €175 might sound expensive for two nights in a hostel, it really was a good deal in Malaga. We found the room quite basic and noisy but, with all the sightseeing we had planned, we didn't spend too long there and it's a fantastic base for the sights around the city.
Click here to check rates and availability for Picnic Dreams Boutique Hostel Málaga
You'll be spoilt for choice with the bars and restaurants nearby, and the short stroll back to the room at the end of evening sure beats a long bus or train journey to a cheaper hotel on the edge of the city.
Make sure you try breakfast one morning as it was very tasty and fairly decent value for the surrounding area. The great location means you have options on the other mornings, especially if you fancy a croissant in the nearby square.
As budget hostels in the city centre go, Picnic Dreams is a solid choice you won't regret making.
---
You may also like to read:
Andalucía with kids: a 6 day itinerary in Southern Spain
Madrid with kids: things to do, itinerary, and top tips
Málaga with kids: top 10 things to do and where to stay