Not a fan of pre-booking sites and attractions? Here's how to enjoy a day in Seville with kids without any fixed plans.
Our time in Seville came at the end of a 6 day Andalucía itinerary, in which we'd already visited Malaga and Granada, so we were keen to slow things down and enjoy the city of Seville at our own pace.
Malaga (with its Picasso museum and cathedral) and Granada (with the Alhambra) had necessitated a fair amount of pre-booking, queueing and tour-group dodging so we really wanted to have a free and easy day with no commitments.
If you find yourself in Seville for a day and want to see the city's sights but still have a relaxing time, check out our suggestions below.
Disclaimer: This post contains affiliate links. If you click to purchase, it is at no additional cost to you, and I receive a small commission.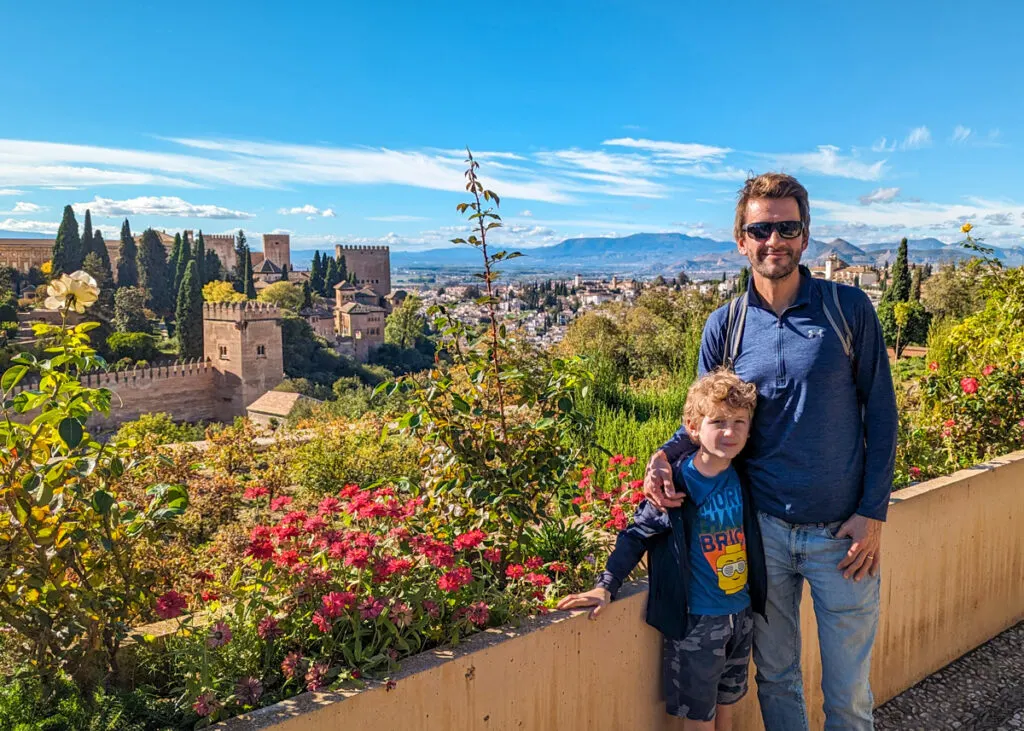 Here we share our 6 day itinerary around Andalucía with kids, taking in Malaga, Granada and Seville, three stunning cities in southern Spain. Includes details on things to do, where to stay, and how to get between cities using public transport.
One day itinerary for Seville with kids
This one day itinerary is designed for the family who don't want to follow a strict schedule during the day, especially not having to pre-book several activities and be tied into specific entrance times. Most of the activities and sights can be visited whenever you choose, although you may decide to pre-book the cathedral if that's of particular interest.
Mostly, the day is about wandering around the city, taking in the free sights, with a liberal sprinkling of tapas (and wine) throughout the day.
Morning
Start as you mean to go on and relax by taking a seat at one of the city's many cafes or restaurants which start serving breakfast from about 8am onwards. With the pleasant climate, it's common for chairs and tables to be placed outside on the pavement, perfect for an impromptu sit-down.
We found one cute place with a simple menu of toasties and tea/coffee for €5. There were about twelve varieties of filling to choose from, including chorizo, cheese, sausage, avocado and tuna. Pick one that you fancy and watch the city come to life around you.
When you've had your fill, take a gentle walk through the ancient, cobbled streets to the Plaza de España, arguably the most iconic and beautiful public square in Spain.
In the busier months, you'll be able to hire rowing boats on the water, but year-round it's a magical place to wander and take in the stunning architecture. You'll find frescos circling the square for each region of Spain, handily laid out alphabetically in a grand display. Climb up the steps and check out buskers playing classical guitar or take a (free) visit to the military museum.
Opposite the square, you'll be able to spot a couple of parks (Parque de Maria Luisa and Jardines des Prado de San Sebastian) which both contain playgrounds, ponds, open space and cafes to enjoy. They're good places to let off some steam if the kids fancy a run around.
Once you've finished at the Plaza, next have a wander around the public areas of Seville University, with its cloisters and ornate walkways. Most areas are reserved for students and University staff, but there's enough open to the public to make it a worthwhile visit. To get here from the Plaza, head north and take the 300 metre walk to the university entrance on Calle San Fernando.
Just across the road (watch out for the cycle-lanes!), you'll find a row of restaurants lining the street with a wide-choice ranging from tapas, Arabic and Italian. It's a lively place and a good chance to sit, rest and recharge your batteries over lunch. We especially like Arabesca although most of the restaurants along here looked great.
Afternoon
After lunch, head towards the Royal Alcázar of Seville, the royal palace dating back to the 10th century with gardens and intricately detailed, tiled walls. If you want to pop in, you'll have needed to bought your tickets online in advance if possible, it costs €13.50 for adults, under 13's are free of charge.
Nearby, you'll find (or smell) the rows and rows of horse-drawn carriages which wait to convey tourists around the cobbled streets. It's very touristy of course, but a good deal of fun. Expect to pay around €45 for a tour.
Just past the horses, you'll see a long queue for the Catedral de Sevilla which contains the tomb of Christopher Colombus. It's an impressive building and well worth a visit, but do keep in mind that it's extremely popular and you'll need to pre-book online to reserve a timeslot. Even with this in place, the queues seemed to be very long and weren't moving along too quickly. Tickets cost from €11 for adults, under 13's are free.
After the cathedral, take the 500 metre walk to the Plaza de Toros bullring, via the cobbled city centre streets. You'll see signposts for the bullring as you get closer.
Whether you agree with the morality of bullfighting, there's no debate that the main bullring in Seville (and one of the most renowned in Spain), the Plaza de Toros, is a beautiful building overlooking the river. The bold white, red and yellow painted façade is striking in the afternoon sun and it's possible to take a tour inside for €10 which includes a visit to the museum. If you are interested, bullfighting still takes place here from around March to September each year and is especially popular during the festival week in April.
After leaving the bullring, head to the riverbank and turn right towards the bridge in the near distance (Puente de Triana). A peaceful, pedestrianised walkway lets the kids run free for a few minutes, although watch out for the cycle-paths again. It's popular with walkers and joggers in the summer months.
When you reach the bridge, cross the river to find yourself in the Triana district which is a less-touristy place to wander around and get a feel of the more 'working-class' area of the city, now popular with artists. Once you've taken a stroll, head back to the river and continue on the opposite bank to the bullring. Who'd blame you if you stopped into one of the many small cafes which line the water, most with excellent views across to the city.
You'll eventually reach another bridge (Puente de San Telmo) which will lead you back to the other side of the river and into the city centre again.
Evening
In the evening, head over to Setas de Sevilla, the striking and unique wooden structure which vaguely resembles six mushrooms emerging from the ground.
Set amongst the ancient cathedral district and historic Seville, it's a quite an unexpected experience. In the evenings, it's lit up in a multi-coloured light display and there are restaurants, museum and a playground underneath. You're able to book tickets (€15) to climb onto the roof and view the Seville skyline at night.
Afterwards, you're in the ideal location for an evening meal, with restaurants and cafes spilling out onto the streets all around you.
We'd recommend a tapas bar, the small servings and reasonable price make for an ideal family-friendly meal, allowing you and the kids to try out as many small dishes as you fancy. It's a good chance to develop everyone's palate, and the plates tend to start from around €2.50. Wine is optional for the parents but highly recommended.
Seville FC – a must for football fans
Seville is home to one of Spain's most successful football teams (Sevilla FC), alongside a slightly less-successful team (Real Betis). Spanish crowds are known as some of the most passionate in the world and a visit to one of the matches is highly-recommended if it coincides with your visit.
Tickets for Sevilla FC are usually fairly easy to buy in advance via the official website, although it's a lot harder to get them when Seville are playing one of the larger Spanish teams like Barcelona or Real Madrid. Derby matches against Real Betis are also very popular and especially passionate. Ticket prices range from €50 to €90 and the website lets you check out the view from your seat before you purchase.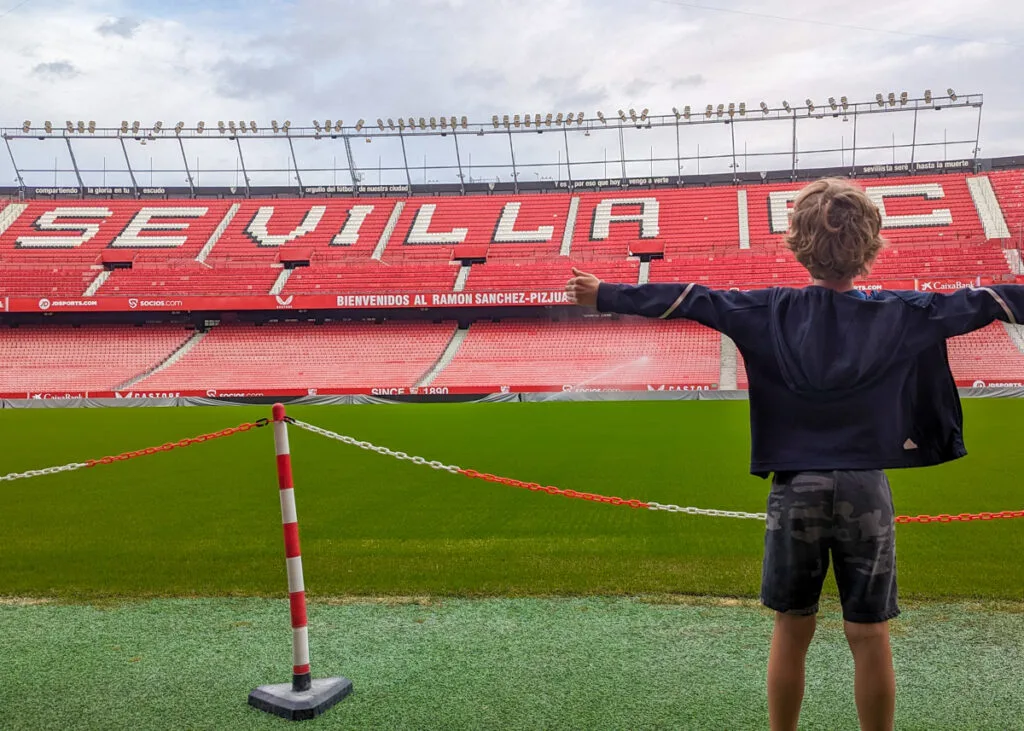 If you can't get to a game, the second best option is to take the Sevilla FC stadium tour, which runs from Thursday to Sunday (closed on matchdays) and costs €12 for adults, €10 for children, under 5's are free. Book your tickets directly with the official website.
It's an excellent stadium tour, giving you the chance to visit the museum, trophy room, dressing rooms, pitch side, media centre, and executive seats. You're free to take the tour at your own pace as it's not guided, which we actually preferred, enabling us to go back and re-do some of it, especially the dressing room.
Where we stayed in Seville with kids
Where we stayed in Malaga: Hotel Novotel Sevilla
Click here to check rates and availability
As elsewhere in southern Spain, accommodation was very expensive, especially when we tried to find somewhere central with a family room. In the end, we were happy to find the Novotel Sevilla, handily located right next to the Sevilla FC stadium. There's also a mall next door, which was useful for picking up snacks from the attached Carrefour.
We liked the familiarity of a Novotel chain hotel, and we knew what to expect before we arrived. Check out our full review for more information.
How to get around Seville with kids
The Seville metro is efficient but quite limited, with only one line although there are plans to expand. If you find you're there for a few days, and your hotel is near a station, consider buying a travel pass and use the buses or metro to get around. Otherwise, a single ticket is €1.35.
As we were only there for a day or two, we found it so much easier to use the city taxis to get around. Fares were usually less than €10 and the drivers were friendly, knew where they were going, and always used the meter. For a family of four, it's the best way to travel and not much more expensive than four metro tickets.
Final thoughts on visiting Seville with kids
As this was the final stop on our 6 day Andalusian itinerary, we wanted somewhere easy and family-friendly which wouldn't require too much pre-booking or effort. Seville certainly scored highly in this regard; we found the city relaxed and fascinating, with enough to keep us occupied and entertained for the time we were there.
The historic central area is full of tapas bars, restaurants, churches, ancient buildings and museums. The sporting history of the city make for interesting excursions, and you're never short of cobbled streets to explore, especially in the neighbourhood of Triana.
With excellent transport connections from within Spain and the rest of Europe, Seville is the perfect place for a city break with kids.
---
You may also like to read:
Andalucía with kids: a 6 day itinerary in Southern Spain
Granada with kids: things to do and top tips
Visiting Malaga with kids