We're all for quirky and unexpected hotel experiences but sometimes it's nice to fall back to the familiar. Novotel Sevilla, located next to the Sevilla FC football stadium, is a modern, comfortable business-style hotel which provides excellent accommodation, instantly recognisable from its sister hotels throughout the world.
As we found elsewhere in Andalucía, during our 6 day trip, accommodation in this part of southern Spain is expensive, so we were pleased to find a good deal at such a familiar place.
Heading to Seville with the family? Check out our guide to Seville with kids, which includes a relaxed one day itinerary for you to get the most out of a short visit.
Disclaimer: This post contains affiliate links. If you click to purchase, it is at no additional cost to you, and I receive a small commission.
Click here to check rates and availability for Novotel Sevilla
Arriving to Novotel Sevilla
The Novotel Sevilla is part of the same complex as the Nervión Plaza and Sevilla FC football stadium (Ramon Sanchez-Pizjuan Stadium) so it's well served by a metro station and numerous city buses.
However, if you're a family arriving from the bus or train station, it's recommended to simply jump in a taxi rather than using public transport. The cost of four public transport tickets for our family of four worked out about the same as a taxi, much easier when you have luggage and a bus would have required us to make multiple connections.
The reception area is on the first floor (accessible via a lift or stairs) and it's a very stylish welcome, with a trendy bar and café, all with soft lighting and funky artwork. No reception desk here, instead just a couple of chairs and tables with a friendly and professional approach to check-in. As elsewhere in Spain, you'll have been prompted to check-in online before arrival which is worth doing to save time.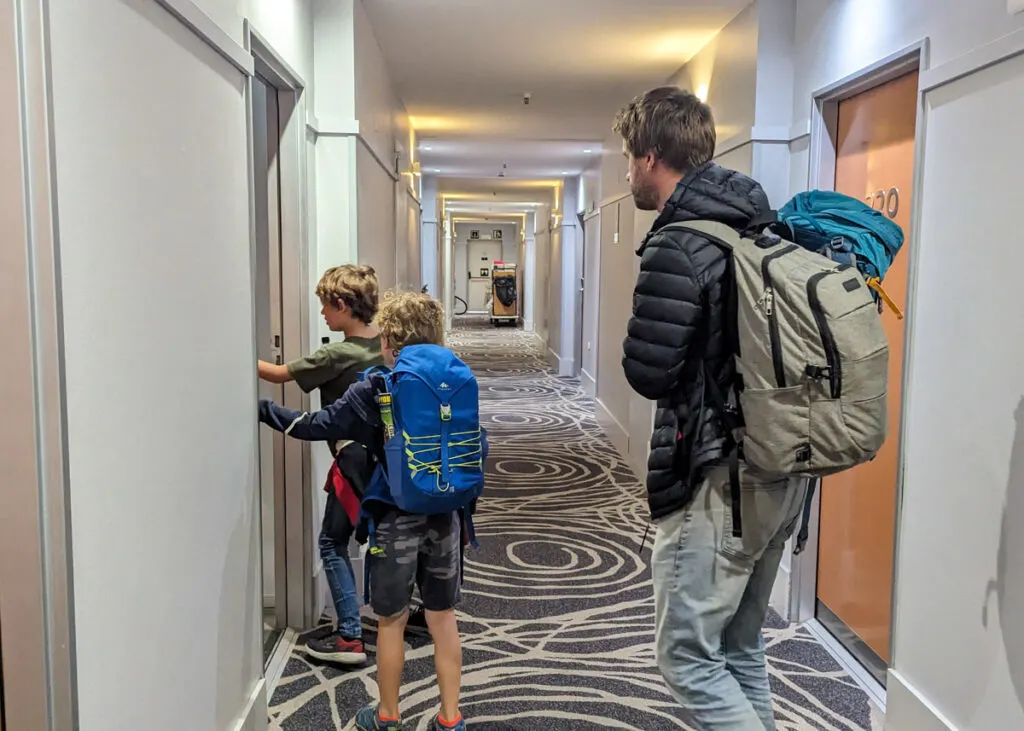 Our family room at Novotel Sevilla
We've stayed in so many of these type of hotels (they're very similar to Premier Inn and we've also stayed at similar brands in both Hamburg and Nuremburg), so we knew what to expect.
Everything was spotlessly clean and the room contained a safe, AC, ensuite bathroom, kettle, fridge and widescreen TV. The tea and coffee making facilities were very much appreciated by us parents, as this had been missing from the the previous accommodations on this Andalucía trip (Alixares Hotel Granada and Picnic Dreams Boutique Hostel).
We'd booked a family room which had a large double-bed plus a double sofa-bed which was folded up into a comfy sofa during the day. We had originally thought that they had forgotten to make the sofa bed up for us, until the kind lady on reception explained that all we had to do was pull the bed out and that pillows were in the wardrobe. It was handy having the extra space and seating area during the day.
Hotel facilities
On the rooftop (eighth floor), you'll find a swimming pool and roof terrace with views over the city. As we were travelling in low season, the pool and terrace were closed but they'd make for a great sunset spot or place to avoid the summer heat, which can easily surpass 40 degrees in July and August.
There is also a gym and restaurant onsite, although we didn't get the chance to try them ourselves.
What we loved about Novotel Sevilla
We took the Sevilla FC stadium tour during our stay, so the location of the Novotel directly opposite was a bonus. The Nervión Plaza is one minute's walk away which is useful, with its supermarkets, fast-food chains and other shops.
Seville city centre is a pleasant and simple 25 minute walk from the hotel.
We've found when we're travelling with kids, the familiarity of a well-known hotel chain can sometimes be welcome, it's nice to know what to expect and have a fairly high-level of certainty that everything will go to plan.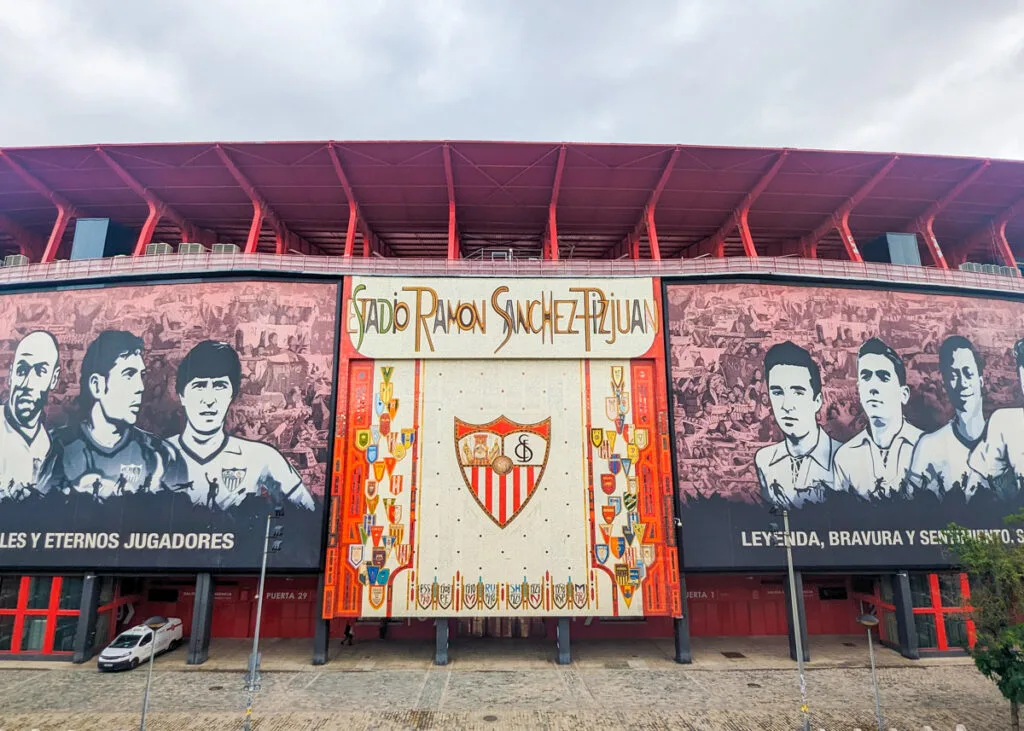 What we didn't love
It's difficult to think of much we didn't love, perhaps the roof terrace could have been open to guests even in the low season with the pool closed, but it's understandable why they close it from November onwards.
Final thoughts on Novotel Sevilla
We'd never want to exclusively stay in hotel chains when travelling as you undoubtedly miss out on some of the local experience but, as an occasional stay, chain hotels like the Novotel can be a real treat.
We paid €243 for the two nights which is quite expensive by many standards but was about the cheapest we could find in central Seville at this time of year (and cheaper than any hostel in the city). We were happy to pay slightly more for the location and standard of hotel, it was great to be able to walk into the city centre without relying on public transport or taxis.
Click here to check rates and availability for Novotel Sevilla
At the Novotel Sevilla, you'll know what to expect before you swipe the key card; comfy beds, power-showers, widescreen TV, all in a room you'll find familiar and friendly.
---
You may also like to read:
Andalucía with kids: a 6 day itinerary in Southern Spain
MADRID WITH KIDS: things to do, itinerary, and top tips
Málaga with kids: top 10 things to do and where to stay