In a country with a reputation for great beaches, it takes a lot for a stretch of sand to stand out. But the mere mention of the name Arugam Bay sends people's imaginations into overdrive. Pristine beaches, great surfing and a relaxed vibe are supposed to await you on the East Coast. But does the reality match the myth and how does it suit a travelling family? Well we believe to be one of the best beaches in Sri Lanka for families. Check out our Sri Lanka with kids itinerary.
Disclaimer: TraveLynn Family was kindly hosted by Elephant Road Resort. However the opinions and words are all our own, based on our own experiences. Also, this post contains affiliate links. Should you click to purchase, it is at no extra cost to you, but I receive a small commission.
First impressions of Arugam Bay seem to confirm the guidebook hype; the crescent-shaped bay creeps into view as you cross a bridge, the low-lying rice-paddies provide the perfect foreground to take in the scene. It feels like paradise but some of the gloss begins to fade as you hit the main road. It's not that the town has anything immediately wrong with it, the main road has all the creature comforts you'd ever need and there are enough restaurants, surf shops and hotels to choose from.
It just has a sense that, as beautiful as it is, everyone else is well and truly in on the secret and you could be in any one of a hundred other beach resorts in SE Asia. Which is fair enough, Arugam Bay is no longer a secret backpacker hideaway and one should never complain about the tourists when you are a tourist etc.
We arrived on a Saturday and it was BUSY BUSY BUSY. Not just with foreign tourists but hundreds of Sri Lankans enjoying some leisure time at the beach. It was so crowded in the sea that we found it almost impossible to locate three feet of shoreline to call our own and the sideways angle of the strong waves meant the boys couldn't be left alone to just paddle. After twenty minutes we left the beach defeated, headed to a generic restaurant and ordered a pizza. Don't believe the hype.
But, as soon as we left the restaurant, the tide began to turn and another side of Arugam Bay appeared. We headed over to our accommodation (the beautiful Elephant Road Resort) and immediately sensed a different atmosphere as we crossed the wooden footbridge over a little stream.
Elephant Road Resort
Miki the owner, has created an oasis away from the hustle and bustle of the main street, a resort more in keeping with the vibe the area apparently had ten years ago. Elephant Road Resort is super-chilled and relaxed, but not isolated: the town is still only a two-minute tuk-tuk ride away but you are safely ensconced from the fireworks, bars, music and general busyness of the main strip.
We stayed for three nights and all the other guests we met during our visit were families. Older kids were keen for surfing lessons from the guru, Miki, whilst younger kids (including ours) just enjoyed the space to explore.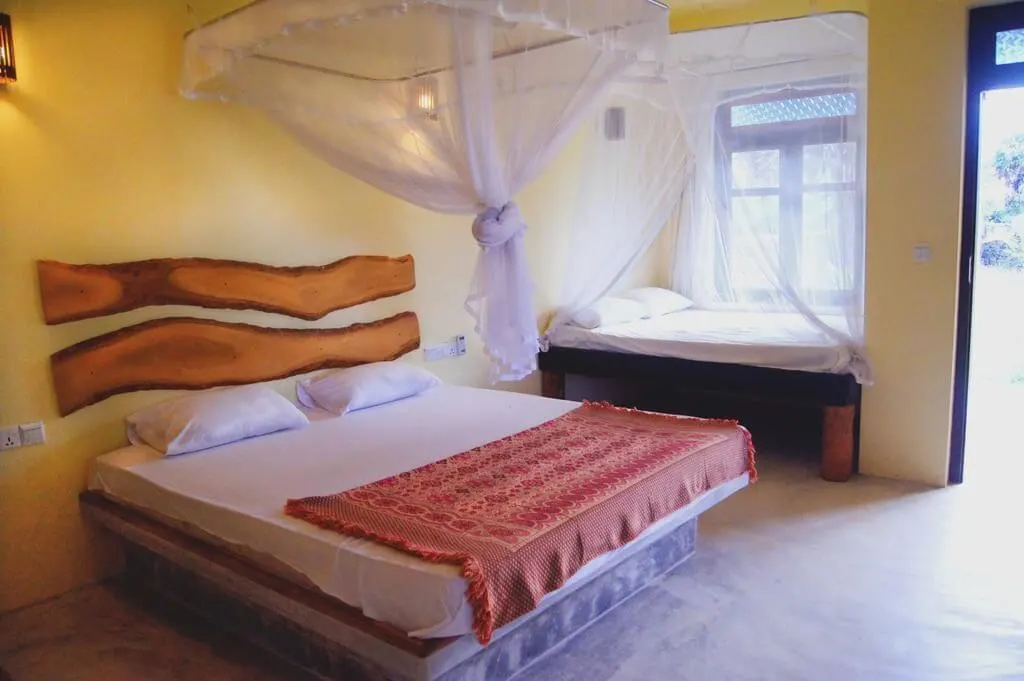 The resort is laid out around a central sandy courtyard, perfect for the boys to run around and dig holes. There are four deluxe family rooms to choose from, all providing en-suite bathrooms, air-conditioning and two double beds (perfect for families). There is also a lovely outdoor space to relax, with hammock and hanging double bed.
As with so many coastal places in Sri Lanka, the original resort was destroyed by the 2004 Tsunami, a single wall the only thing left standing after that awful day. But, starting from that single wall, Miki has created a haven for travellers who want something different to the usual beach resort hotels and backpacker hostels. The communal nature of the layout means you feel part of a small community, led by the chilled-out surfer Miki who seems to care passionately not only about his guests but also about the wider Arugam Bay community and his place within it.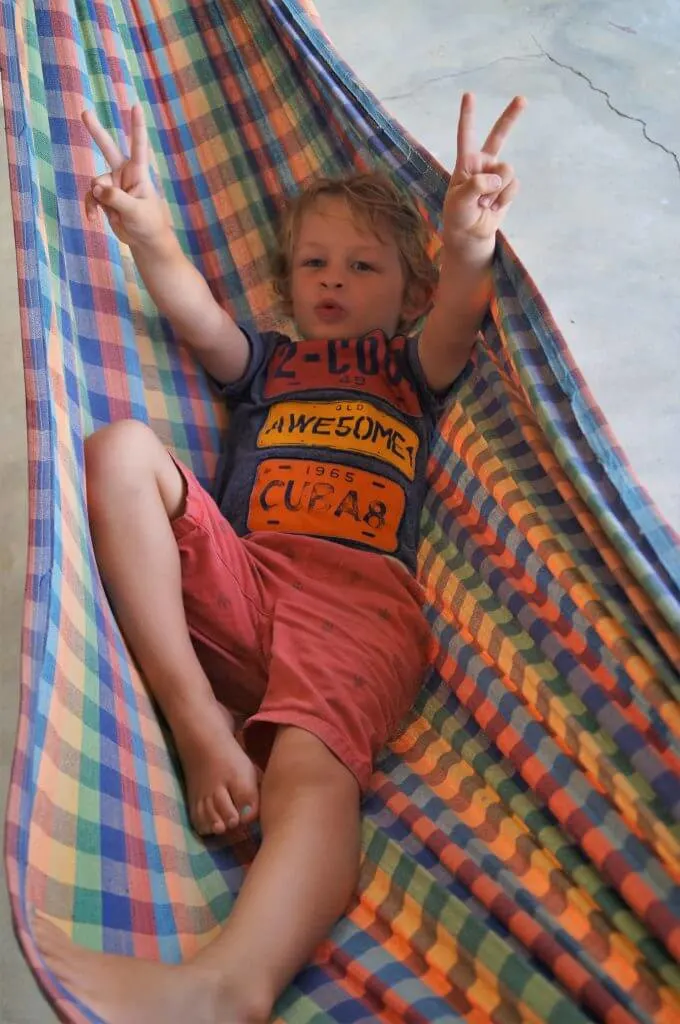 The food at Elephant Road resort was healthy and tasty. Us parents particularly enjoyed the Israeli breakfast served in the communal dining area, whereas the boys were all about the pancakes. Miki also puts on a set menu dinner in the evenings if there is enough demand and you will enjoy the most beautiful mixture of Sri Lankan and Israeli meals, surrounded by your fellow guests all enjoying the easy-going atmosphere.
Make sure you pop to see the lovely 'Aunti' who lives next door, right by the foot bridge. The boys loved meeting her chickens and Mums (and Dads!) can purchase some coconut oil to protect your locks from all that surf.
Where to go
As mentioned, Miki has been around these parts for many years and knows the area like the back of his hand. He was able to point us in the direction of some absolutely stunning beaches, just a ten minute tuk-tuk ride away, down a bumpy, sandy path. Finally, we saw what all the fuss was about – pristine, quiet beaches with small shacks serving cold drinks and noodles. We were in heaven. Our routine was set for the next few days; mornings playing at the beach and afternoons napping in the hammock or hanging-bed back at Elephant Road.
The beaches we enjoyed were Peanut Farm Beach and Elephant Rock Beach. They were both beautiful, but our favourite was probably the latter with a seemingly endless stretch of sand and (relatively) easy water to play in. Although wear sturdy shoes to climb over the rock to get to the beach. As with all the beaches around Arugam Bay, parents will need to supervise children in the water as the waves are big and the current strong. There's a reason why it's such a popular surfing hang out! Plus, there is very little shade, so it may be worthwhile taking along a baby beach tent.
Tragically, only three weeks after we left, a British tourist was attacked by a crocodile in the lagoon near the Elephant Rock beach and died (read the BBC article here). We had waded through the lagoon ourselves (although not in the exact spot as the poor man) and had no idea there were crocodiles lurking – lots of other people were in the lagoon. Another attack is of course incredibly unlikely, but do keep this terrible incident in mind if you visit.
On our final afternoon we were dropped off at Crocodile Rock (another 15 minute tuk-tuk) and took a slow walk along a windswept shoreline to reach the actual rock. A very gentle climb led us to the top where we were greeted by the most perfect vantage point for the approaching sunset. Take care of the little ones as the rock drops off quickly at the edge, although there are plenty of places to sit and watch the sky change colour; the low-lying rice fields providing the perfect canvas for this amazing sight.
Getting around
Tuk-tuks are everywhere and easily the best way of getting around. Tuk-tuks around Arugam Bay itself are LRK200, whereas to get to the nearby beaches is LRK1500 return (this includes a 2-3 hour waiting time).
Getting to Arugam Bay
Arugam Bay is not on the train network. We opted for a tuk-tuk to take us there from Udawalawe NP for LRK7500 (4.5 hours). For a much faster ride and a little bit more money you can get a car. You can book either a car or a tuk-tuk from your previous accomodation. As you can see from our Sri Lanka Itinerary with kids, we visited Ella after Arugam Bay (check out these things to do in Ella with kids). Miki at Elephant Road Resort organised us a tuk-tuk for LRK2000 (4 hours). A car would be much quicker (3 hours). However, do keep in mind that there are a lot of hairpin beds as you ascend to Ella. The open sides of a tuk-tuk may make it an easier journey for the whole family.
Do we recommend Arugam Bay for young kids?
Absolutely! Just ensure you get your accommodation right. Elephant Road Resort was the perfect family-friendly base for our Arugam Bay stay. Close enough to the main tourist drag to stock up on milk, nappies and snacks, or to pop for some fried noodles or pizza, but nicely tucked away from the bustling party scene. Jump in a tuk-tuk to reach nearby beaches and find your own slice of paradise. Bliss.
---
You may also wish to read:
Why Sri Lanka is fantastic for young kids
Sri Lanka Itinerary with young kids
Udawalawe NP with young kids: meeting elephants in the Sri Lankan wilderness