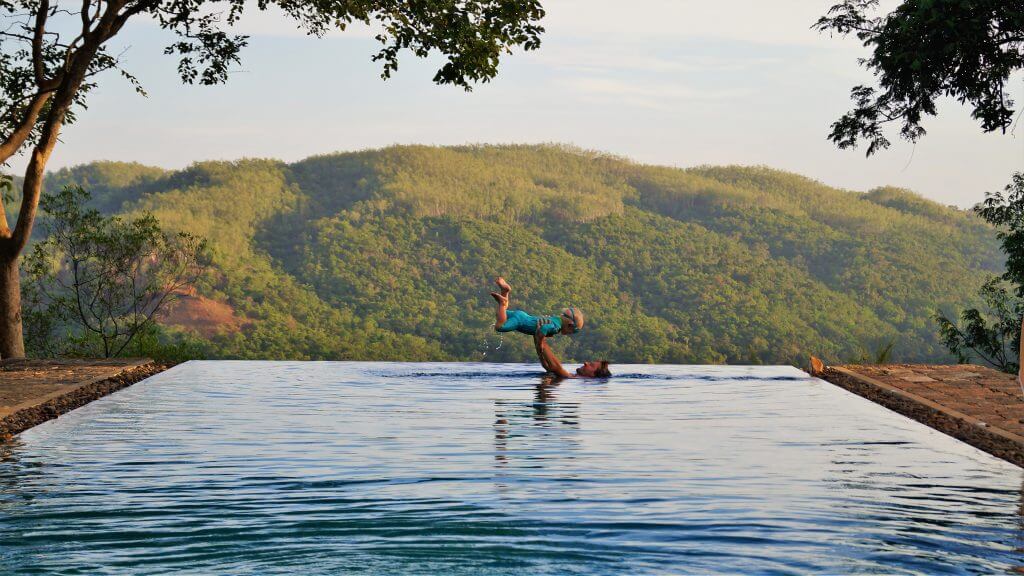 Sri Lanka is a very easy destination for families to travel around independently and on a budget. Check out our Sri Lanka itinerary with kids. But if you've been roughing it for a few too many days, and done one too many hair pin bends in a tuk-tuk, it may be time to treat yourselves to one of the best family resorts in Sri Lanka.
The following have been hand picked by myself and some fellow family travel bloggers, and all these accommodations welcome kids with open arms.
Living Heritage Koslanda
(Jenny from TraveLynn Family, follow on instagram)
Click here to find out more and book.
Nestled deep in the Sri Lankan Hill Country, set amongst 80 acres of pristine jungle and tea plantations lies the most perfect slice of paradise – Living Heritage Koslanda. This is where you find absolute tranquillity in outstanding stylish luxury, but where staff warmly welcome kids of all ages.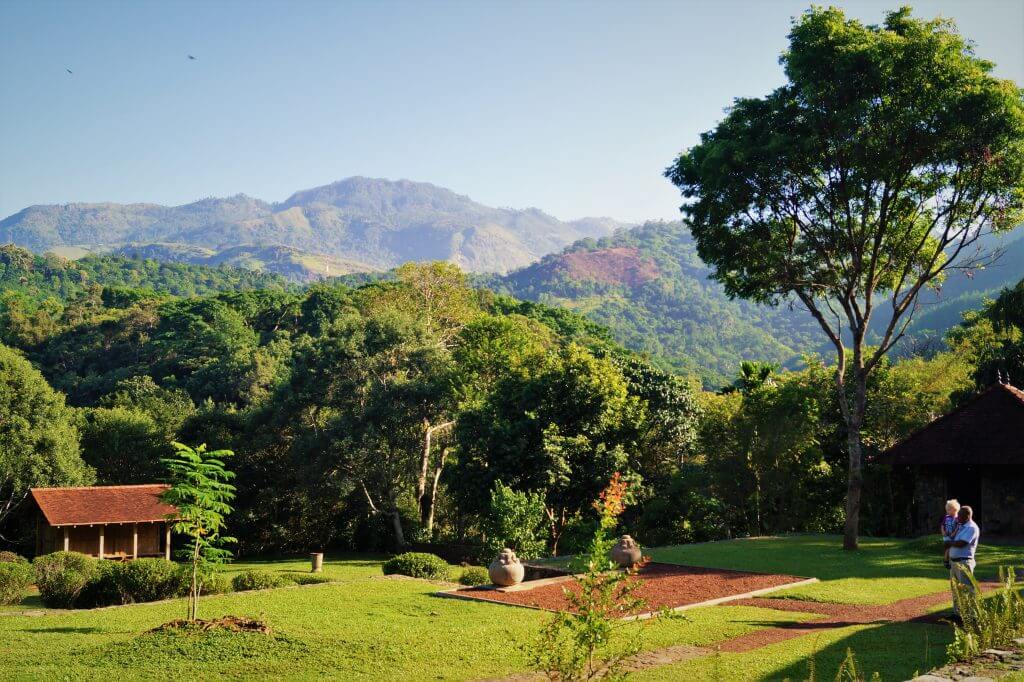 Choose from one of only four luxury villas, sympathetically designed to fit the magical setting, equipped with an outdoor plunge pool decorated with flower petals, a spacious open air living area centred around an ornamental light-well, an elegant double bedroom boasting high A-frame beams, and an outside seating area to while the hours away as you watch the clouds drift over the distant mountains.
Our boys loved splashing in the infinity pool and all the green open space to run. Meeting the resident cow and playing croquet was a big hit. But the highlight was walking down to the private waterfall to enjoy a dip.
The Grand Hotel Nuwara Eliya
(Aleney from Boy Eats World, follow on instagram)
Click here to find out more and book.
The Grand Hotel is a sumptuous confection of a hotel tucked away in the misty hills of Nuwara Eliya, a region often referred to as 'Little England' due to its red telephone boxes, colonial buildings and rose gardens. The hotel itself is a remnant of British colonial rule and while it is unquestionably glam and sophisticated, it's also exceptionally kid friendly with a tennis court, kids' play area for littlies, billiards and snooker for older kids and plenty of grassy space to run around!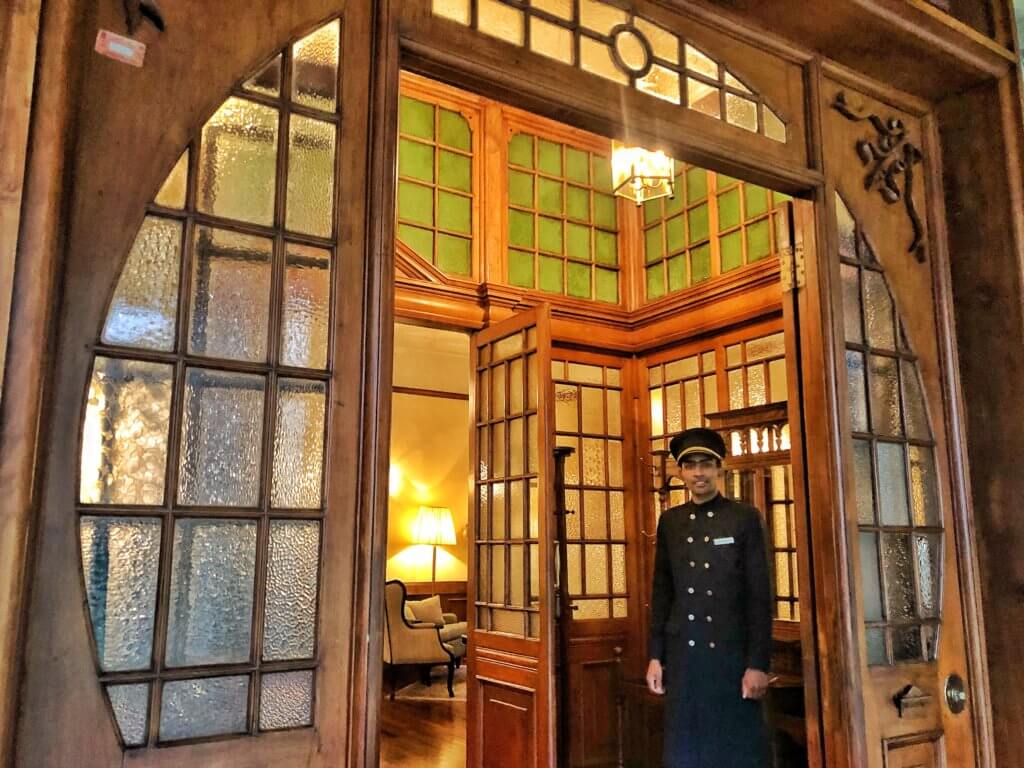 Their afternoon tea is a must, with elegantly attired waiters delivering towers of pretty sandwiches, jam and cream-laden scones and dainty cakes, with perfectly brewed tea or milkshakes and sodas for the kids.
It's the perfect base for visiting the town's pretty colonial buildings, gorgeous Gregory Lake and for exploring Sri Lanka's famous highland tea country and its many tea plantations.
Amaya Signature Kandalama Dambulla
(Aleney from Boy Eats World, follow on instagram)
Click here to find out more and book.
Located on the edge of the lovely Kandalama Lake in Dambulla, the stunning Signature by Amaya is the perfect place to revive after taking the hike up to Sigiriya's sky high rock fortress. Between the warm welcome, the super cool dude whose only job appears to be waving a stick to keep the birds away from our (incredible) breakfasts, the tranquillity of its lakeside location and the luxury of our private garden villa, this place proved the very definition of family friendly.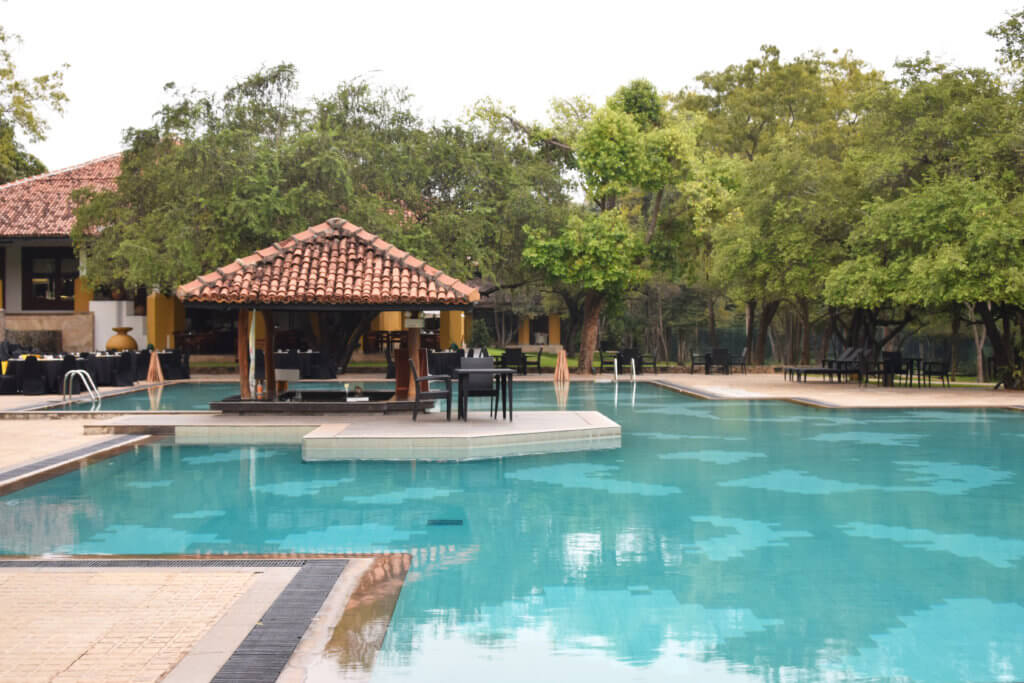 Add jungle clad treehouses, a playground, locals hitting six on the resort's own cricket pitch, Ayurvedic massages, a stunning infinity pool, table tennis, board games, cycling, and random cows strolling by, and we could have happily stayed a week.
Turyaa, Kalutara
(Sharon from Dive Into Malaysia, follow on instagram)
Click here to find out more and book.
If you are looking for a convenient and relaxing family resort in Sri Lanka, go to The Sands! Located just south of Colombo and on a train line, you can easily get here via public transport or take a taxi from the airport. It's also not far from Galle so there are tons of day trip options.
The Sands is located right on the beach and you can splash here or enjoy the huge pool. There are lots of shallow sections making it great for little ones. There is an activity program the whole family can enjoy including evening shows. Our kids loved the fire dancing. Other facilities include a gym, day spa, table tennis, games, a library and even a night club.
The best part for families, however, is that there are family suites. We stayed in a two bedrooms, two bathrooms, two balconies and a living area suite which gave us plenty of space for everyone.
Royal Retreat Sigiriya
(Emma from Wanderlust And Wet Wipes, follow on instagram)
Click here to find out more and book.
When we were touring Sri Lanka we were mostly in hotels so I was delighted to find a resort that offered tented accommodation.
Royal Retreat Sigiriya is a hotel that also has amazing glamping tents. You check-in at the main hotel and are then driven to the tents. I must admit, I hadn't realised we would be travelling so far to get there: the drive took us onto a narrow road… to a dirt track… and into a forest!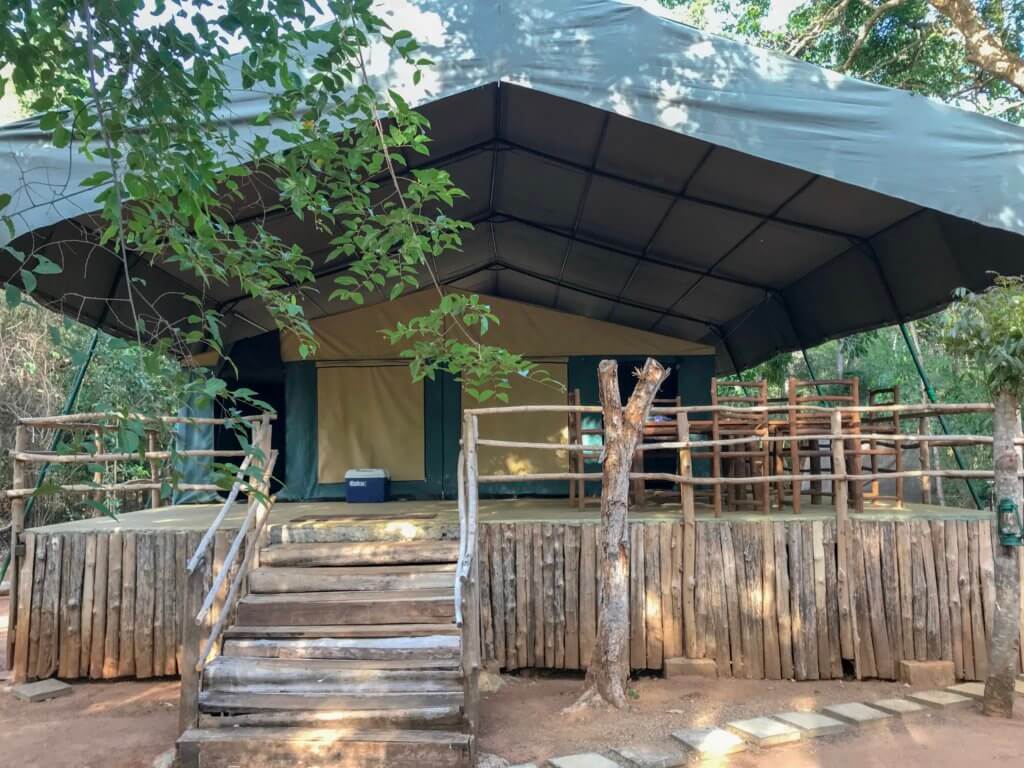 On arrival we were greeted by our very own "staff" – a chef who cooked an enormous dinner for us and 2 other guys who helped him. One of them stayed on-site over night before being joined by the other 2 the next morning to make us an equally massive breakfast.
We only had a week in Sri Lanka so I was disappointed to only get one night in our tent in Sigiriya!
I will be adding to this post overtime. So if you've stayed at a fantastic family resort in Sri Lanka that's not mentioned here, do let me know!
---
Disclaimer: This post contains affiliate links. Should you click to purchase, it is at no additional cost to you. But I receive a small commission. 
You may also like to read:
Sri Lanka itinerary with young kids
Best beaches in Sri Lanka for kids
Udawalawe NP with young kids: meeting elephants in the Sri Lankan wilderness