Colourful Kochi perches happily on the Keralan coast; a city of two sides separated by a stretch of water busy with tiny fishing boats and huge container ships. Ernakulam (to the east) is the urban district, complete with luxury apartment blocks, transport links and a thriving container port. On the western side sits Fort Kochi, showcasing a rich colonial history with quiet lanes and a relaxed, friendly atmosphere; a contrast to the chaotic, bustling main cities you may have experienced elsewhere in India.
When you visit Fort Kochi you'll be following in the footsteps of the Chinese, Portuguese, Dutch and British empire builders who all left their mark on the city; the resulting fusion is captivating. In the space of a few square miles you'll see fisherman working Chinese fishing nets, Kathakali performances, fine hotels in restored heritage buildings and vibrant street art by local students keeping the history alive. Kids will love the contrasting elements and there's enough to keep them engaged for at least a couple of days.
Here are our top five things to do in Kochi with kids:
1. Take the ferry from Ernakulam to Fort Kochi
You'll probably arrive in Ernakulam and stay in Fort Kochi and there are lots of transport options between the two: auto-rickshaw, taxi or bus direct to your hotel. However, for just Rs4 per person (under 5s free), we'd recommend the fifteen minute ferry crossing. Admittedly the ferry needs a lick of paint and you will wonder how it doesn't sink, but the kids will love it. There are even freighters and navy ships to spot en-route. Our boys were in their element.
2. Wander around Fort Kochi
The main sites are conveniently contained in a relatively small area, making it all accessible for little legs; especially with frequent stops for mango juice. Start at the Chinese Fishing nets and watch the fishermen heave in the big nets and sort through their catch. Just behind the fishing nets is a playground which is a little worse for wear and, as we visited in monsoon season, full of muddy puddles. Peppa Pig may have taught our boys to appreciate mud, but we managed to avoid splashing around this time.
Then take a wander along the quiet, colourful Princess Street and Burgher Street, perhaps popping into a chic cafe, before some reflective time at St Francis Church. Be sure to check out the cool street art along the way. Walk back towards the Chinese Fishing nets via the Beach Walkway, alongside Mahatma Ghandi Beach. This isn't a beach for sandcastles and swimming but it's always a treat in India to find an open pedestrianised walkway to allow the kids to run freely. Plus, there are more boats to spot!
3. Watch a Kathakali performance
Kathakali is one of the oldest forms of theatre in the world, conceived around the same time Shakespeare was writing his plays. The elaborate costumes, bright makeup, large movements and exaggerated facial expressions make it a perfect theatre experience for young kids. The performance at Greenix Village is an hour long and the best bit is the last 20 minutes which culminates in a big argument and a knife to the throat (don't worry, it's not gory at all, but something to bare in mind as parents). If you turn up early, you can even watch the performers putting on their makeup. Just don't turn up too early (as we did), as your little ones may not appreciate the intricacies of makeup application for a full hour. You need to save some of their 'quiet time' quota for the actual performance. Bring drinks and snacks for the kids during the show.
(Performances at the Greenix Village are Rs350, free for children. Start time is 6pm. You can watch the performers apply their makeup from 5pm. Kerala Kathakali Centre is another place to watch a performance.)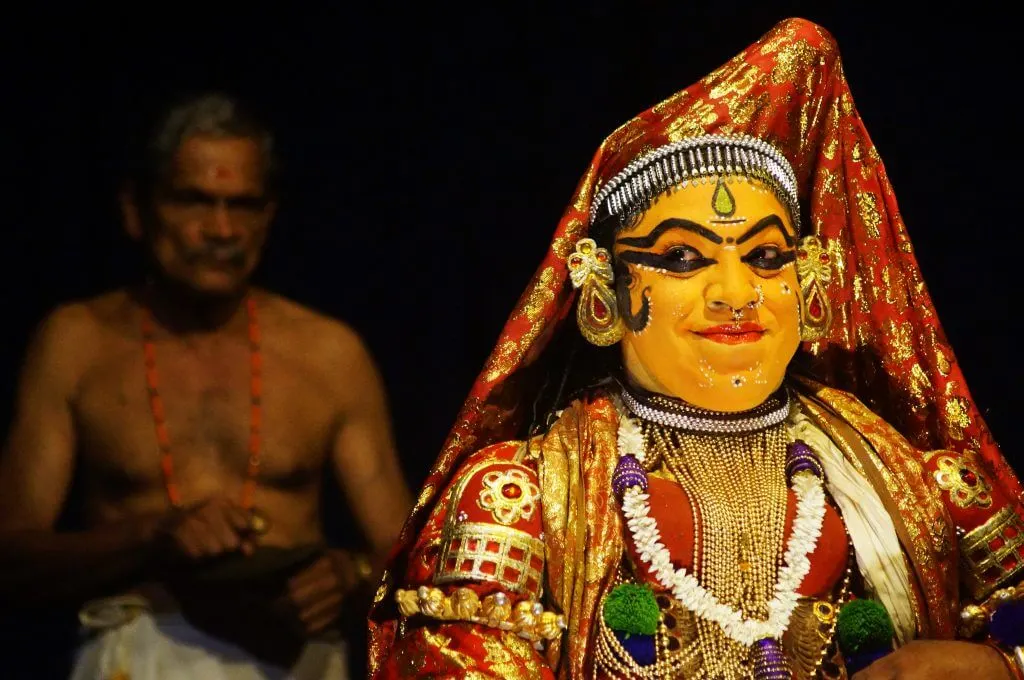 4. Drive an auto around the sites in Mattancherry and Jewish Town
And by 'drive an auto' we mean – get driven around by your kids! Our hotel (Ayana Fort Kochi) introduced us to a fantastic auto driver who took us around the sites of Mattancherry and Jewish Town (15 minute ride from Fort Kochi), and allowed the boys to sit on his lap and 'drive' between the sites. It's actually a great tactic to keep the kids engaged amongst all the history! Visit Mattancherry Palace (built by the Portuguese and renovated by the Dutch), Paradesi Synagogue, Jain Temple (non-Hindus aren't allowed inside after some local boys got up to some unspecified naughtiness with some European girls a while ago) and the Spice Markets.
(Mattancherry Palace is open 9am-5pm Sat-Thurs, Pardesi Synagogue is open 10am-1pm and 3pm-5pm Sun-Thurs, closed Jewish holidays).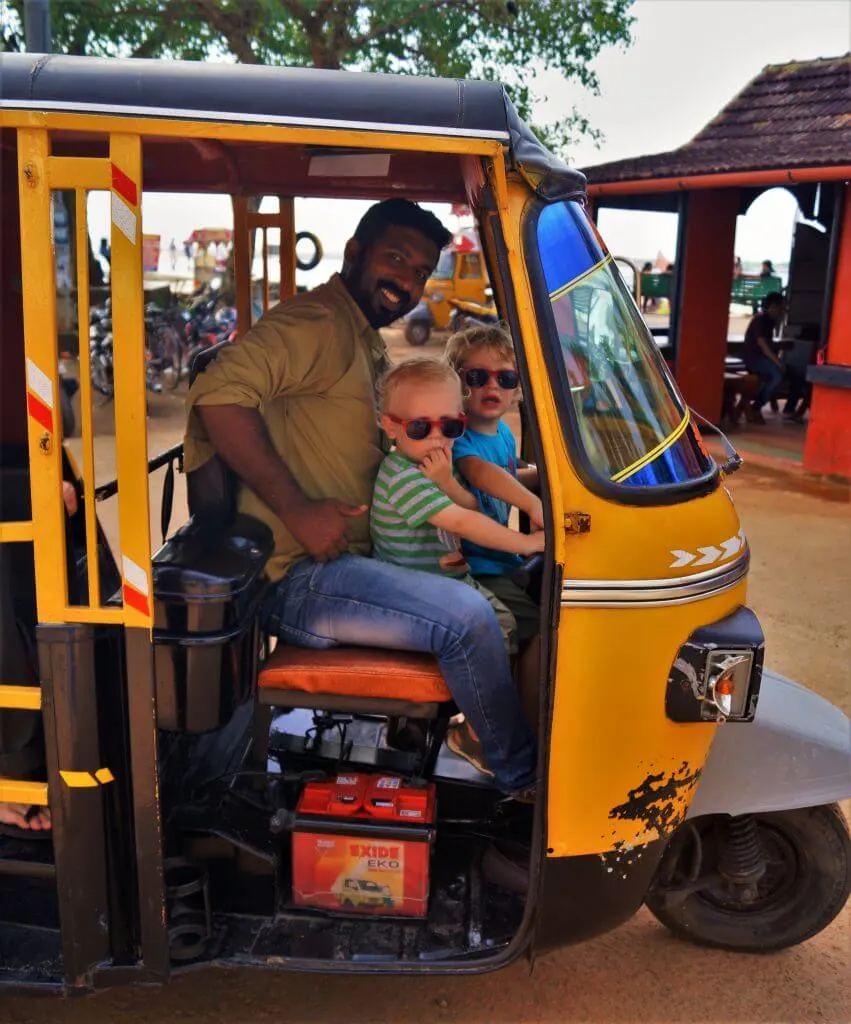 5. Stay in a heritage hotel or guesthouse
If there is one place in India that you should splurge a little on your accommodation, it's Fort Kochi. There are many beautiful heritage buildings which have been renovated into impressive hotels and guesthouses, offering a high standard of service at an affordable rate. Plus, many of these places have a pool, which the kids will love! We were invited to stay at the magnificent Ayana Fort Kochi, which was situated in the former Court House. The staff are fantastic with young kids and our boys particularly loved the fluffy muffins fresh from the onsite bakery in the mornings and jumping in to the roof top pool. Plus, we swear Ayana Fort Kochi has the comfiest beds in all of India! Read our full review of this fantastic hotel here.
Getting to Kochi
There is an international airport in Kochi servicing the Gulf States, Sri Lanka, the Maldives, Malaysia and Singapore. There are also direct domestic flights from the main Indian cities (including Bangalore, Chennai, Delhi and Mumbai).
However, as regular readers will know, we do love the sleeper train! There are three trains per day from Bangalore, including the overnight sleeper leaving Bangalore at 8:12pm and arriving Eranakulam Town the following morning at 7:30am. There are also trains south to/from Trivandrum and north to/from Calicut, Kannur and even New Delhi! Check the IRCTC website for up-to-date train times. There are two stations in Ernakulum; Ernakulum Junction and Ernakulum Town. When you arrive at either station, walk past the auto drivers pleading for your custom and head straight for the pre-paid auto stand. An auto to the ferry terminal to Fort Kochi will cost you Rs50-80, depending on which station you arrive at.
---
If you're looking for more reading on travelling Kochi with kids, check out 5 Lost Together. For a more extensive insight into travels with kids in Kerala, check out Wanderlust and Wetwipes.
To read more about travelling India with young kids, head to our India page.
The India Lonely Planet is an excellent guide to purchase for further research.
You may also like to read:
Pondicherry with kids
India with kids: top 10 things to do
Mysore with kids: top 5 things to do