What a lovely surprise this little coastal town was. Whilst there is no mistaking you're still in India, every now and then a little bit of the past will appear from around a corner, transporting you to a quaint French village, complete with patisseries, colourful colonial architecture and beautiful churches. There are some lovely things to do in Pondicherry for kids and it's a wonderfully family-friendly city.
Pondicherry (which has recently changed it's name to Puducherry, but locals refer to it as 'Pondy') has a relaxed pace, which you'll immediately notice (and appreciate) if arriving from one of India's larger cities. The old traveller in you may want to stroll along the shady tree-lined streets of the French quarter, pop into a café for a latte and catch up on your travel journal…
But as parents, you know that's not going to cut it with the kids. So instead, here are our top 5 things to do in Pondicherry with kids:
1. Temples and Churches
One thing we love about travelling with our boys is the many opportunities it provides to expose them to different religions and cultures, all the time discussing the differences and similarities we see. As a fascinating contrast to the temples you'll visit in India, take a trip to Our Lady of the Immaculate Conception Cathedral; elegantly designed in the Portuguese style. Then take the short walk through the Tamil Quarter to the Sri Manakual Vinayagar Temple, featuring its star attraction, Lakshmi the elephant, who has been blessing visitors and worshippers since 1997.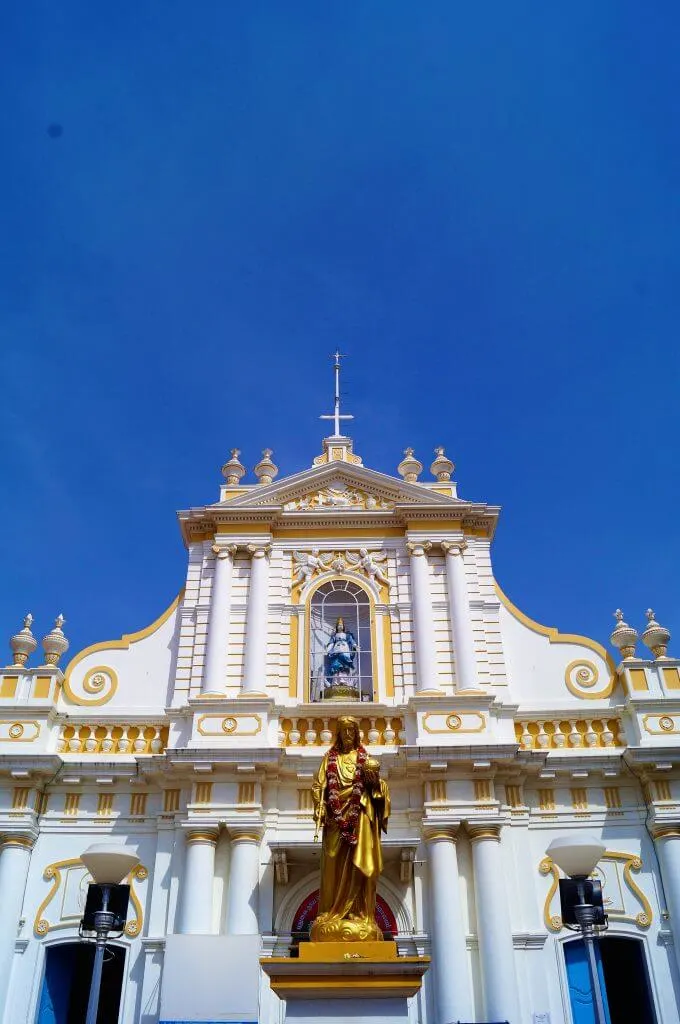 2. Stroll along the seafront
The large boulders on the shoreline mean the sea at Pondy isn't suitable for swimming but it's still a great place to let the kids run free and throw stones into the crashing waves. Beach Rd/Goubert Avenue, which runs parallel to the seafront, is closed every evening from 6pm, when it springs to life with seemingly all of Pondy's residents taking a romantic evening stroll in the cool evening air.
3. Bharathi Park
This central park boast two playgrounds. Admittedly they need a lick of paint and some TLC, but the kids probably won't notice; they'll be too busy running, sliding and playing with local kids to care.
4. Enjoy the French food
If you've been on the road (or railways!) for a while, treat the family to some familiar foods. Our boys devoured the pain au chocolat at Baker Street and particularly enjoyed the freshly cooked woodfire pizzas at the little pizza restaurant down St Louis Street.
5. Paradise Beach
Flag down an auto and take the 25 minute ride to Paradise Beach, south of town (Rs600 return). Here you'll find brightly painted working fishing boats dotted along the beach and precariously built shacks serving fresh seafood. Walk along the shoreline to the left for a quieter stretch of sand, although you'll soon have a group of 'observers' join you. This is not the place to top up your tan in that skimpy bikini, but the kids will love splashing in the waves and the sea breeze is a welcome treat if you're visiting in the summer months.
Getting to Pondicherry
Pondicherry is easily accessible by train. There are daily trains every evening from Chennai (4 hours 15 minutes) and an overnight train from Bangalore (Yesvantpur Junction, 9.5 hours) four times per week (Mon, Tues, Fri and Sat). You can connect at Villupuram Junction for many more services. Check the IRCTC website for up-to-date train times.
Your accommodation may be walkable from the station (Pondy isn't that big). However, with two young kids and backpacks, we prefer to get an auto. No auto in Pondicherry uses a meter but it seems to be an unwritten rule that all fares within the town will be Rs50 or Rs60. If it's evening, add on Rs20.
Best place to stay in Pondicherry with family
We stayed at the extremely welcoming La Maison Radha. Ravi, Sumathi and their son live on the ground floor and rent out four other rooms on the upper floors. Each themed room has a colourful work of art painted on the walls and comes with aircon and private bathroom with reliable hot water. We stayed in the 'Birds' room which also has a kitchen area and living room. There is one double bed, but additional beds can be provided on request.
Ravi and his wife go out of their way to help you in any way they can (they even had toys for the boys to play with!) and they are quick to respond on email should you have any questions before your visit. A tasty breakfast can be provided at additional cost, plus there is a communal kitchen with a fridge for storing milk and free WIFI throughout. You'll also find a splendid rooftop terrace which affords wonderful view across Pondicherry to the Sacred Heart Basillica.
---
The India Lonely Planet is an excellent guide to purchase for further research.
Sale
You may also like to read:
India with kids: top 10 things to do
Mysore with kids: top 5 things to do
Bangalore with kids