If you're looking looking for the best beach for families in Goa, Agonda gets our vote.
Goa, that long slither of paradise on the West coast of India, where weary travellers flock to restore their energy tanks alongside package holiday makers and bronzed yogis. Here the vibe is laid back and free, alcohol is cheap and days are spent lounging on the silky sand until the sky is set aflame by the setting sun sinking behind the distant ocean.
But where is best beach in Goa to visit as a family? We recommend Agonda with kids.
READ: Best beaches in Goa for kids
With my Mum visiting us from the UK (we were living in Bangalore at the time) we wanted to keep it chilled and easy, especially after her experiencing the bewildering conflagration of noise and motion of our home city; quite a disconcerting assault on the senses for first timer to India.
We had visited Arambol over New Years Eve, but it had become more touristy and developed since our last visit five years ago, and we were looking for something ultra-laid back. So we were delighted when we were invited to stay at Sea Star Resort, Agonda Beach.
Unfortunately Jay stayed behind in Bangalore this time as he had to work. So with my Mum (Nana) and the two boys (aged 2 and 4), we caught an AirAsia flight direct from Bangalore to Goa, mid-January.
Agonda Beach
Situated in South Goa, Agonda Beach is a golden crescent of powder soft sand, dotted with colourful fishing boats and patrolled by meandering cows that congregate in the same spot for sunset every day.
Wooden huts hide amongst the swaying palm trees and a handful of sun loungers beckon for travellers to lay down and meditate to the sound of crashing waves dancing up the shoreline.
This is a far cry from the concrete jungles and party beaches elsewhere in Goa. This is where you embrace a rustic lifestyle and slower pace; although you will still easily find WiFi and Western Food.
The warm sea is great for little ones. It can get a little rough when the tide is in due to the profile of the beach. But once the tide is out, gentle rolling waves ripple along a shallow gradient.
Seastar lent the boys a boogie board each and this kept them entertained no end! Plus they also lent us a parasol to provide some shade for sand play with Nana.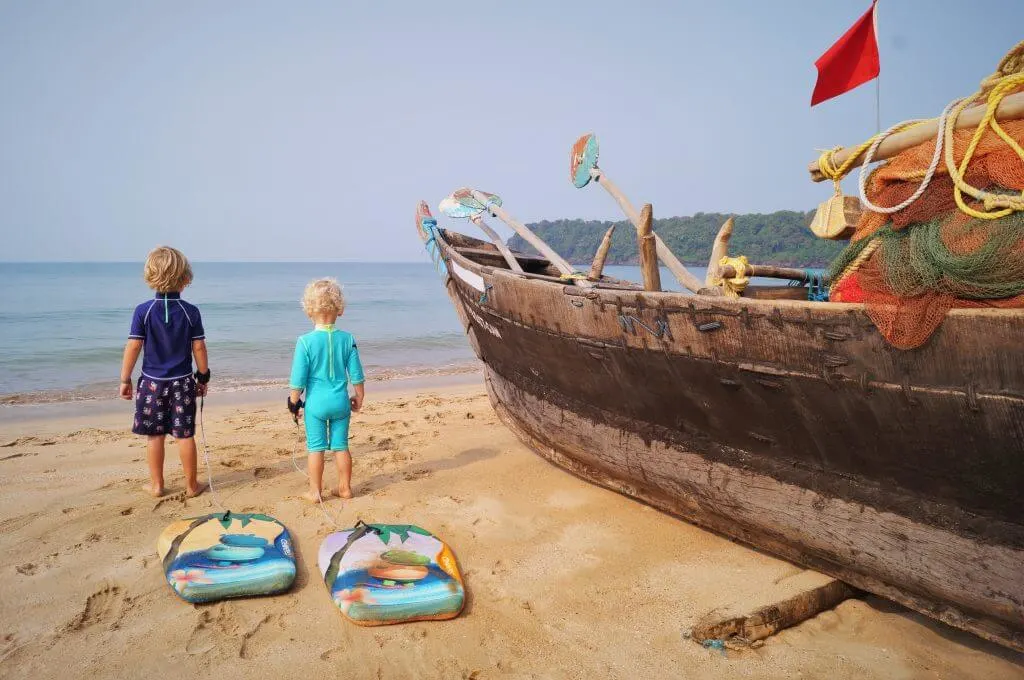 If you feel the urge to peel yourself away from the beach, you can book a powered fishing boat to see dolphins out at sea. And on dark nights, the endangered Ridley turtles come on to the beach to nest. As a result, this is a very quiet beach and not the place to come to party.
Seastar Resort
Towards the northern end of the beach, sheltering under the palm trees, are a collection of basic wooden huts that form Sea Star Resort. There are a few one-bed sea-facing huts, and a couple built on stilts for an elevated sea view. However, we were allocated a two-bed hut (meaning Nana had a separate room) with adjoining bathroom, which sat back behind the restaurant along a little sandy strip. This set up would also work well for a family, as the kids could go in one room and the parents in another.
The four-poster beds are HUGE, very comfy and draped with a mosquito net. There is electricity, a ceiling fan in each room (it actually gets quite cool in the evening) and reliable hot water shower. There is no kettle, but we pack a small thermos flask and fill it with hot water from the restaurant kitchen to heat milk. Huts are cleaned daily and fresh towels are provided.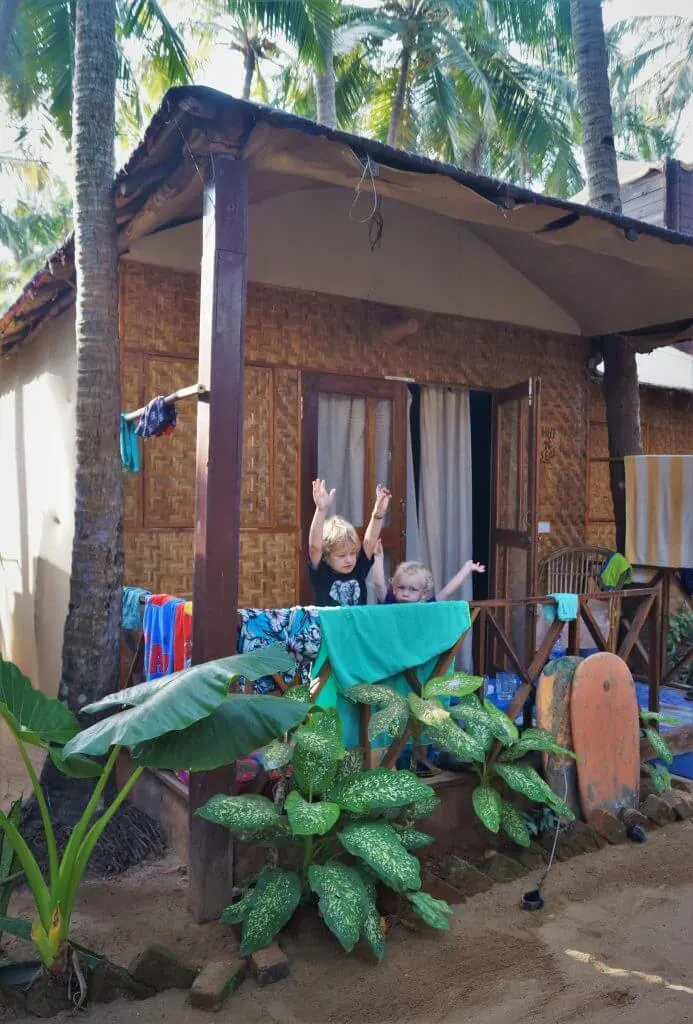 A little veranda, with a chair and floor mattress, invites parents (and grandparents!) to relax with a beer once the kids are asleep. But the real treat is falling asleep and waking up to the sound of the ocean. Bliss.
The two-bed huts are not available to book online, so email Seastar directly and please let them know you found out about them from TraveLynn Family!
Eating
Seastar restaurant sits back from the beach and is beautifully lit at night. We found all staff to be very friendly and accommodating to our boys, who became obsessed with chef's selection of pancakes (banana and nutella were the clear favourite!)
If you fancy a change of scenery, there are a string of restaurants along the fringe of palm trees. All restaurants share a similar menu offering typical Indian and Western dishes. We particularly enjoyed the steamed veg momos and butter naan with hummus dip from Sonho Restaurant.
Tips for visiting
Pack lots of mosquito repellent and coils, and a high-factor suncream. Also consider taking a thermos flask as there is no kettle provided in the hut.
The best time to visit is between November and February. Bare in mind that it gets very busy over Christmas and New Year, so book ahead.
Getting there
The easiest way to get from the airport to Agonda beach is via taxi. You can arrange this through Seastar.
You can also get a taxi from Magaon Railway Station if arriving by train.
---
The India Lonely Planet is an excellent guide to purchase for further research.
Sale
You may also like to read:
Visiting the Taj Mahal with kids
Kochi with kids: top 5 things to do
Twelve tips for travelling India with young kids