The palm-fringed beaches of Goa are an eclectic mix catering to the raver, the yogi, the package sun-seeker and everything in between. So it can be a bit tricky finding which part of Goa is best for family. Especially if visiting Goa with kids under the age of 6.
Disclaimer: This post contains affiliate links. If you click to purchase, it is at no additional cost to you, and I receive a small commission.
After a year living in India, we decided that our favourite beach to visit in Goa with kids is Agonda; a quiet, sandy stretch with a gentle surf perfect for boogie boarding. However, we didn't manage to get to all the beaches of Goa. So I asked some top family travel bloggers who have also visited the region to also share their best beaches in Goa for family travel. These suggestions also include some of the best family beach resorts in Goa, and those beaches in Goa suitable for a baby and toddler. READ: Things to do in Goa with kids, away from the beach
Do bear in mind that the best time of year for a family holiday to Goa is November to February. Outside of these months, many but the large resorts close down, and the majority of beach huts are dismantled due to the monsoons. An alternative would be the Andaman Islands (Havelock Island is a popular choice) which has a longer season (October to May).
Agonda
(Jenny from TraveLynn Family)
Where to stay: Sea Star Resort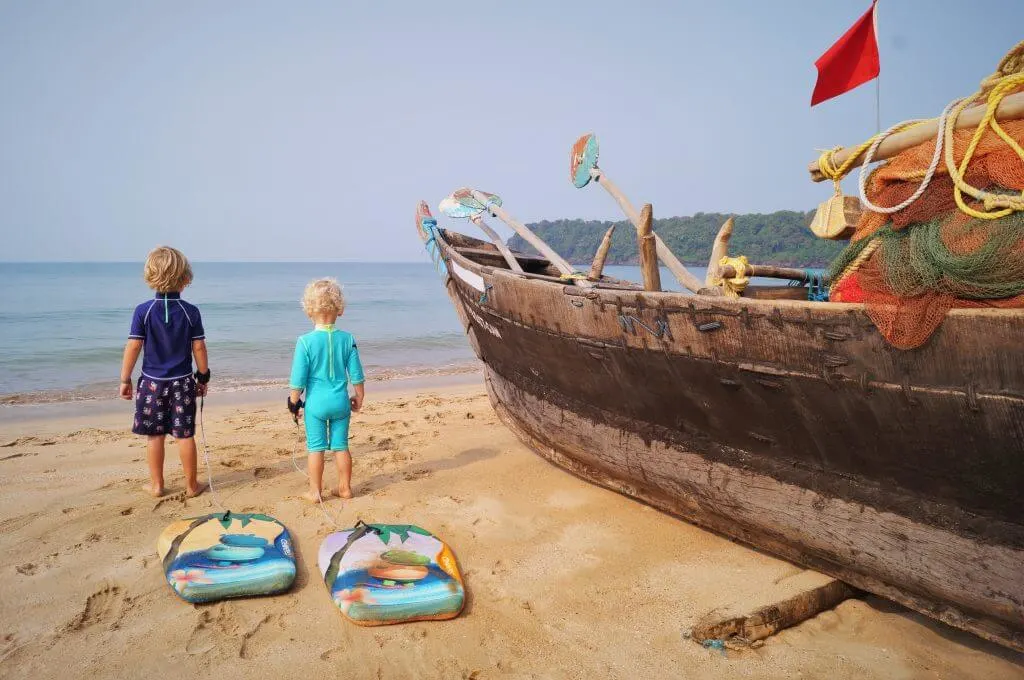 Situated in South Goa, Agonda Beach is a golden crescent of powder soft sand, dotted with colourful fishing boats and patrolled by meandering cows that congregate in the same spot for sunset every day. It's a quiet beach, offering simple accommodation, and the sea has just the right amount of gentle surf for a good boogie-board session (Sea Star Resort where we stayed, lent the boys theirs). There are also a handful of restaurants serving kid-friendly food (pancakes, omelettes, chips). But the best thing is that these restaurants are right on the beach, so you can enjoy a Kingfisher whilst your little ones play in the sand. And if you fancy peeling yourselves away from the sand, you can take a fishing boat out to see the dolphins.
Ashwem beach
(Rosalind from Research Roam Repeat)
Where to stay: Yab Yum Resort*
*Note that Yab Yum Resort no longer allows children under 3 🙁
Seemingly endless yellow sand coupled with shallow, calm waters makes Ashwem beach in North Goa the perfect spot for a family beach getaway in India. Whilst there are several accomodation options to choose from, the beach is not overloaded with too many hotels or other lodgings making the beach relatively quiet and peaceful. During our time there in November, by sunset we had the whole place to ourselves. Bliss.
Perhaps what made our visit to this area so special was the incredibly family friendly Yab Yum Resort. Staying in one of their thatched eco pods set within two acres of lush palm groves was the perfect antidote to busy life in London (although our then 15 month old rather preferred the look of the white cottages also on offer and kept pointing at them asking to go home)!! We cannot recommend this accommodation highly enough to those with young children. The little paddling pools (in the shade) scattered amongst the pods were perfect for cooling off during the heat of the day; the hammock outside our pod was enjoyed by all the family; and meals could be taken either in the laid back restaurant overlooking the beach or served at a table directly outside your pod- ideal for parents of sleeping little ones! Whilst in area, perhaps visit a spice garden of Goa.
Palolem
(Aimie from A Bird in Bangalore)
Where to stay: The Art Resort
We love Palolem. It's arc of golden sands, gentle sloping beach perfect for little ones to safely paddle in. At night Palolem twinkles as the restaurants set up on the beach, serving fresh seafood, washed down with a sundowner or three!
The Art Resort is our fave place to stay with its spotlessly clean beachside huts, and relaxed family friendly vibe. It's fun to wander up to the north end of the beach and take a trip in a gondola boat to explore the inlets, spotting birds and watching the sea eagles being fed. A trip out to watch the dolphins is also fab. We do love a bit of adventure but sometimes it's nice to put your feet up and relax – Palolem is the place to do it!
Patnem
(Georgina from up4amission)
Where to stay: The Palm Trees Resort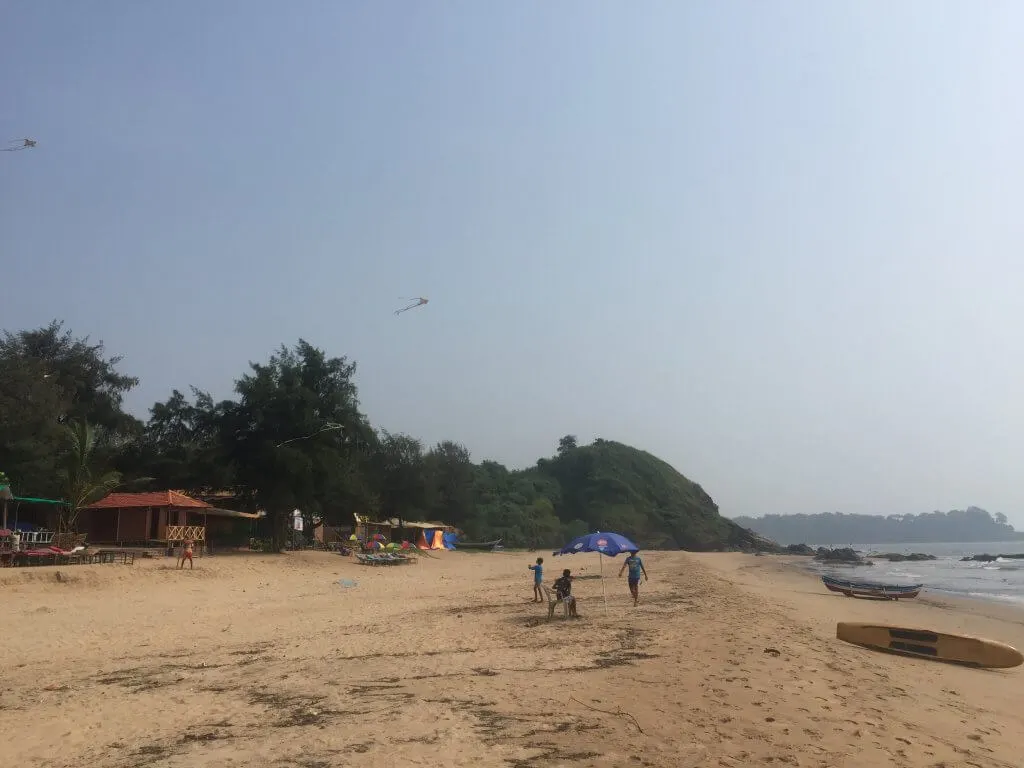 We've been to Patnem several times, it's our favourite of the Goan beaches. It is the most southerly beach in Goa, just south of the busier Palolem. The season doesn't kick off until late October in Patnem, after they have rebuilt the beach huts following the monsoon. It's a great mix of really chilled and not busy, with enough restaurants to keep you from getting bored. There are a few shops along the main beach road (though for an ATM you have to go to nearby Chaudi/Canacona). We loved Patnem Chai shop, it does the best Chai and delicious samosas and banana bread, and is super cheap. The beach is huge, lots of sand for the kids to run around and play in. The current can be a little strong, but our kids loved just splashing around near the beach. You can arrange a dolphin watching tour directly with a boat owner on the beach, near to the beach road. We found that there aren't nearly as many hawkers as in other Goan beaches. There are a few yoga centres here if you need some quiet me time away from the kids!
Candolim
(Resa from Raising Little Nomads)
Where to stay: Santana Beach Resort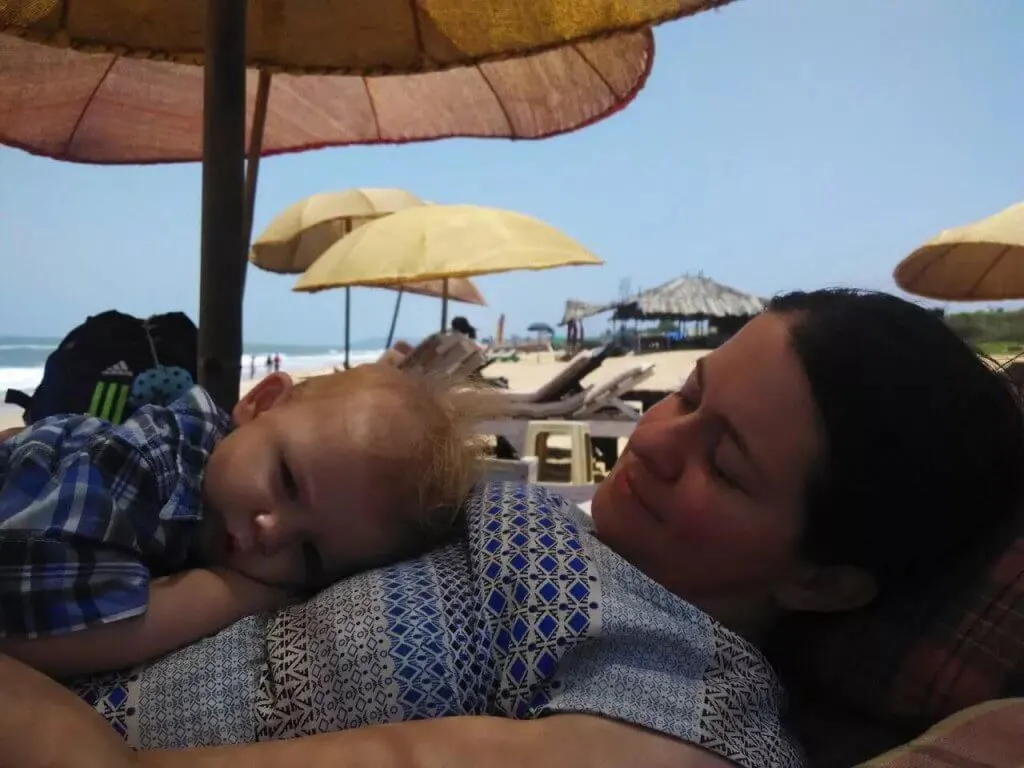 Our family visited Candolim Beach in May, which is the hottest month, in both 2014 and 2016. Not all of the beach shacks and touristy shops were still open. The sand was pretty hot to walk on but it was amazing to sit under the shade of a beach hut with our toes in the sand, the sea breeze keeping us cool and our then 2 year old playing with shovels and buckets at our feet while baby napped on a chair. The water gets pretty rough, but with small kids they were only at the water's edge at sunset when it was cooler. This pretty clean, not at all crowded beach, was perfect for a week of relaxing.
There is one main street running through Candolim; Fort Aguada Road. It has pretty much everything you will need (beach toys, breakfast before heading to the beach, clothing, and even has a sidewalk our toddler loved having the freedom to walk on without being worried about cars or cows or two wheelers!) Candolim also has good coffee (Vivenda Kafeis is amazing!), a favourite restaurant of ours (Fishermans Cove, pronounced Fisherman's Cuv), a fort to explore and a good grocery store. Other popular North Goan beaches, Baga and Calingute, are less than 5 km away on this road.
---
Do you agree with our list of best beaches in Goa for families? Let me know if you have any to add!
To read more about travelling India with young kids, head to our India page.
The India Lonely Planet is an excellent guide to purchase for further research.
You may also like to read:
Things to do in Goa with kids, away from the beach
Travelling India with young kids – is it worth it?
Our Northern India itinerary with kids