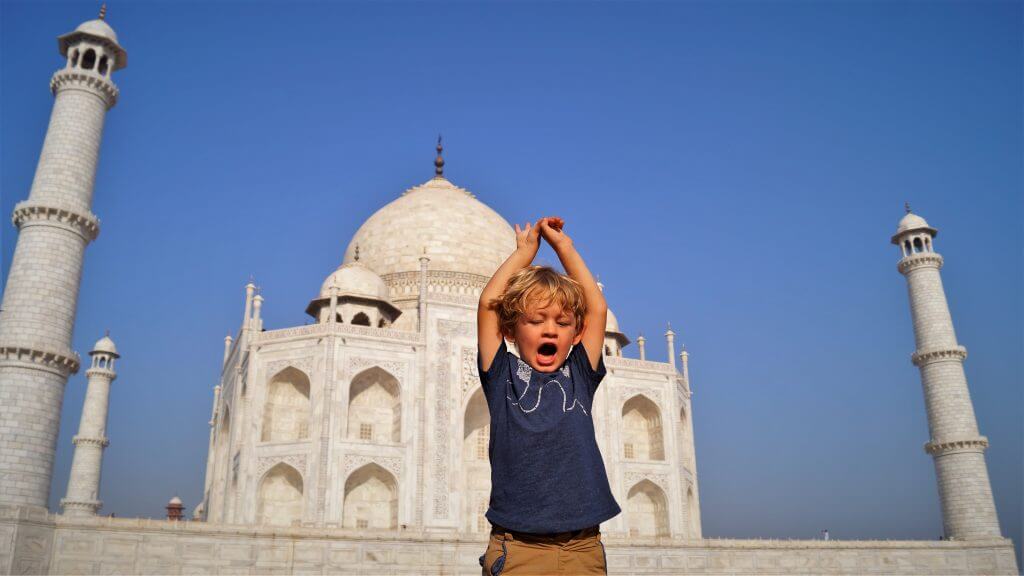 The Taj Mahal requires no introduction. There have been countless writers before me who better describe its beauty and allure. It is one of perhaps only a handful of places in the world which is instantly recognisable and features on almost everyone's bucket list, and a must do if visiting India.
But how do you go about visiting the Taj Mahal with kids? Or visiting the Taj Mahal with a toddler? Is there much to do at the Taj Mahal for kids?
As we were living in India and despite our boys being so young at the time (aged 2 and 3), we considered it criminal not to visit. We had shown them photos of the Taj Mahal and seen it on an episode of Go Jetters, but unlike for adults, it holds no preconceived ideas of grandeur and personal reflection. Kids this age won't especially care why or who it was built for and are certainly unlikely to marvel at the architectural intricacies. So you need to be well prepared and plan to ensure they appreciate the visit and give you at least some time to enjoy this magical place yourself. READ – India with kids: Top 10 things to do
Best time to visit the Taj Mahal for kids
Travelling India with young kids can be challenging at the best of times. Ease daily parental struggles and respect the seasons. Temperatures in Agra can sore above 40 degrees. Very uncomfortable. Avoid visiting during the intense summer heat and monsoon rains between the months of May and August. November to February is peak season and it can get incredibly overcrowded. The best months to visit are the shoulder seasons of March/April and September/October.
Doors open at sunrise; although don't expect to have the place to yourself, everyone else is now in on the trick to get there early. But the early start beats the heat and provides the best light for those once-in-a-lifetime photos. We didn't do it ourselves, but you might find it a good idea arriving about twenty minutes after sunrise – once they opened the gates, the queue started to move quite quickly.
Please note that the Taj Mahal is CLOSED ON FRIDAYS for general viewing.
You can also view the Taj for five nights around the Full Moon. Buy tickets a day in advance in person from the Archaeological Survey of India office.
Getting to the Taj Mahal
There are only two gates open for sunrise – East and West. The Southern Gate opens at 8am. We did some prior research and apparently the East Gate is popular with tour groups and it is a bit of trek from the ticket window to the entrance, so we opted for the West Gate. Your car or auto will drop you just a 260 metre walk away (see map below).
Tickets at the Taj Mahal for kids
Purchase your tickets from the Ticket Window to the left, before joining the queues. There are separate windows (and prices) for domestic and foreign tourists. Foreign adults are Rs1000, domestic adults are Rs530 and children under the age of 15 are FREE. You will be provided with water and shoe covers, which look like shower caps (for use in the mausoleum).
Security
Men and women have to queue separately to go through security, so arrange to meet inside. The usual obvious items such as firearms, knives, cigarettes, matches and lighters are not allowed. Tripods, battery packs and electrical goods (except cameras) are also prohibited.
But the worst prohibited item for parents with young kids is FOOD! With an early start for sunrise, it's unlikely you will have had time for breakfast. We expected our visit to last about two hours, so I hid some cookies at the bottom of my bag. Unfortunately they didn't get past the rigorous security checks and were confiscated. MI6 hiding skills are required here parents! There are no shops or kiosks once through the gates.
Getting the perfect family picture 
You are going to want to get 'the shot' of the family in front of the Taj Mahal. Yes, it's a cliche, yes there are a thousand other people trying to the same thing, and yes your kids won't appreciate the significance of the moment, but you have to get it done. It'll be one of the photos you look at again and again over the years so follow these tips if you can.
Don't stop as soon as you get in; the best shots are further along near the 'Princess Diana' seat. If you've arrived early, the plinth won't be too crowded yet (trust us, when you leave in a couple of hours, it'll be a throng of selfie-taking people, fighting for space). Wait your turn, but don't let anyone push in front of you – people tend to be quite good about keeping out of the way within reason. If possible, find another family and offer to take their photo if they take yours. Ask them to take as many shots as they can, in the hope that one of them will have everyone smiling/not blinking/not fighting. We didn't really manage it too well as the boys were going through an 'episode', but we got a funny one of them wrestling, and a couple of acceptable shots where at least 75% of us looked human.
In some ways, maybe that's for the best as it captured us as we were at that moment – we'll have plenty of time for perfectly posed photos in the future.
If you want to capture the completely crowd-free shot from the South, then arrive 45 minutes before sunrise so you're at the front of the queue. You then have to run to the spot as soon as you're in to beat the throngs behind you. Personally this seems like way to much effort if you have kids.
So here's our tip. If you walk ahead to the mausoleum and walk up the slope to the right hand side, there will barely be any tourists about. It's not the classic 'front on' shot of the Taj, but with the sun behind your selected photographer, the colours will be intense and you can take your time getting that family photo (although the boys are still pulling funny faces in ours!)
Exploring around the Taj Mahal
Once the pressure is off for that perfect shot, head around the back to the Western side of the mausoleum. Here you'll find some nice shade to cool off and space for the kids to run. Us parents then took it in turns to marvel at the architecture, walk around the mausoleum and take it all in, whilst the other told stories to the boys about the Taj, pointed out monkeys and squirrels, and refereed the the continuing wrestling match.
Take your time walking back through the gardens, ideally through the trees in the shade, taking frequent stops to look back and take it all in.
Selfie requests
We have heard of some families with fair-coloured children being hassled for selfies at the Taj to the detriment of their visit. This can happen, so be prepared. We did have a number of requests, but no more than we do anywhere else in India. In fact I think we receive more when we visit our local park (Lalbagh) in Bangalore. Maybe we were just lucky.
However, as always, take direction from your children. If they are happy to oblige that's fine. If they are not, or seem distressed, be polite but firm and say no. They may still take photos as you walk away, but try to ignore.
Breakfast near the Taj Mahal
As the heat of the day intensifies, it's likely that everyone will be feeling rather hungry (especially if you couldn't get your snacks past security!) If you walk out of the South Gate you will find a plethora of roof top restaurants amongst the alleyways with superb rooftop views back to the Taj. Menu-wise, they're all much-of-a-muchness. So take your pick, and enjoy those views with your eggs and chai.
Was it worth taking the kids to see the Taj Mahal?
Absolutely! If only to bring out the photo of them wrestling in front of the Taj on their 18th birthdays. We're firm believers that even if they don't remember their visit to this iconic site, it still leaves some kind of imprint on them. They will smile at these photos in years to come and it will spark memories and feelings of their time in India.
Nevertheless, as we walked out of the South Gate that day, our youngest said, "Bye-bye beautiful Taj Mahal" and when they now see photos on TV, adverts or the internet, they get excited, point to the photo and say, "Taj Mahal! We've been there!"
Where we stayed
We scored a fantastic deal on booking.com at the DoubleTree by Hilton Agra; just £40 per night! As our boys are still little, we could all comfortably share the huge double bed and enjoy all the luxury and service you expect from a Hilton hotel. There is also a rooftop infinity pool to cool off!
They even allowed us a late check out of 3pm, meaning we could enjoy a long nap after our visit to the Taj. We then popped to visit Agra Fort before we caught our the Gatimaan Express, the fastest train in India, to Delhi. You may like to read . READ: Our Northern India itinerary with young kids
Agra Fort
Arguably, our boys enjoyed their time more at Agra Fort. With darkened corridors, mysterious doors and secret rooms to explore, we armed them with a Peppa Pig book to use as a pretend treasure map and imaginations were sparked. Agra Fort is one of the finest forts in all of India, with it's massive red-sandstone structure and harrowing tale. This is where Shah Jahan, who built the Taj Mahal for his wife, was imprisoned by his son when he seized power in 1658. With views over the river Yumana back to his masterpiece, this is where he spent his last days. It's a fascinating place and very worthy of a visit.
[Entry is Rs500 per adult if you show your Taj Mahal ticket, saving Rs50. Children under the age of 15 are free.]
Other things to do in Agra
The majority of people only visit Agra for a day or two, to see the Taj and perhaps Agra Fort. In fact we met a young family on our train to Delhi who had visited the Taj as a day trip from Delhi! However, we are all for promoting slow travel, especially when travelling with young kids. If you have more time in Agra, these are all worth a visit; Itumad-ud-Daulah (nicknamed Baby Taj), Kinari Bazaar (for some shopping) and Mehtab Bagh (a lovely park with gardens and more special views of the Taj). Also check out this list of more things to do in India.
---
Have you visited the Taj Mahal with young kids? I'd love to hear your experiences of the Taj Mahal for kids!
To read more about travelling India with young kids, head to our India page.
Where would we be without our trusted Lonely Planet.
You may also like to read:
Our Northern India itinerary with young kids
Travelling India with young kids – is it worth it?
Best beaches in Goa for kids