Have you considered visiting Rishikesh with kids? Nestled in the foothills of the Himalaya lies the sacred town of Rishikesh, a place where a sense of mystique flows from the River Ganga and where thousands of pilgrims gather to cleanse in its magical waters. The numerous ashrams north of town draw in those hippy backpackers looking for spiritual enlightenment through yoga and meditation classes.
Disclaimer: This post contains affiliate links. Should you click on a link to purchase, it is at no extra cost to you, but I receive a small commission.
There is admittedly a trendy vibe around town and many travellers conform to the unwritten uniform rules: headband, beads and flowing trousers (which personally I love!) Once a state of ultimate relaxation has been achieved, many turn to white-water rafting, bungee jumping or Himalayan treks to get the blood pumping again.
Doesn't quite sound a suitable destination for young kids, does it?
So it may surprise you to read that for our boys, aged 2 and 3, Rishikesh was their favourite stop on Our North India Itinerary. Why? Well there was sand to play in, water to splash in, monkeys to feed, colourful people to meet, a fire ceremony to watch, and chocolate milkshake and banana pancakes served at almost every restaurant. There
So if you're wondering what things to do in Rishikesh with family, read on for our top 5 suggestions! As well as activities for kids in Rishikesh, we also chat about how to get around Rishikesh with kids where we stayed.
Here are our top 5 things to do in Rishikesh with kids:
1. Play on the banks of the River Ganges
Take an auto to Laxman Jula and cross over the wobbly bridge (avoiding the motorbikes, monkeys and cows). Once across, follow the road to the right for about 200m (browsing the shops as much as you can with young kids in tow) and take one of the narrow passageways down to Manmouji Ghat. Here you will find tactile white sand perfect for sandcastles and steps to stand on for a paddle and splash.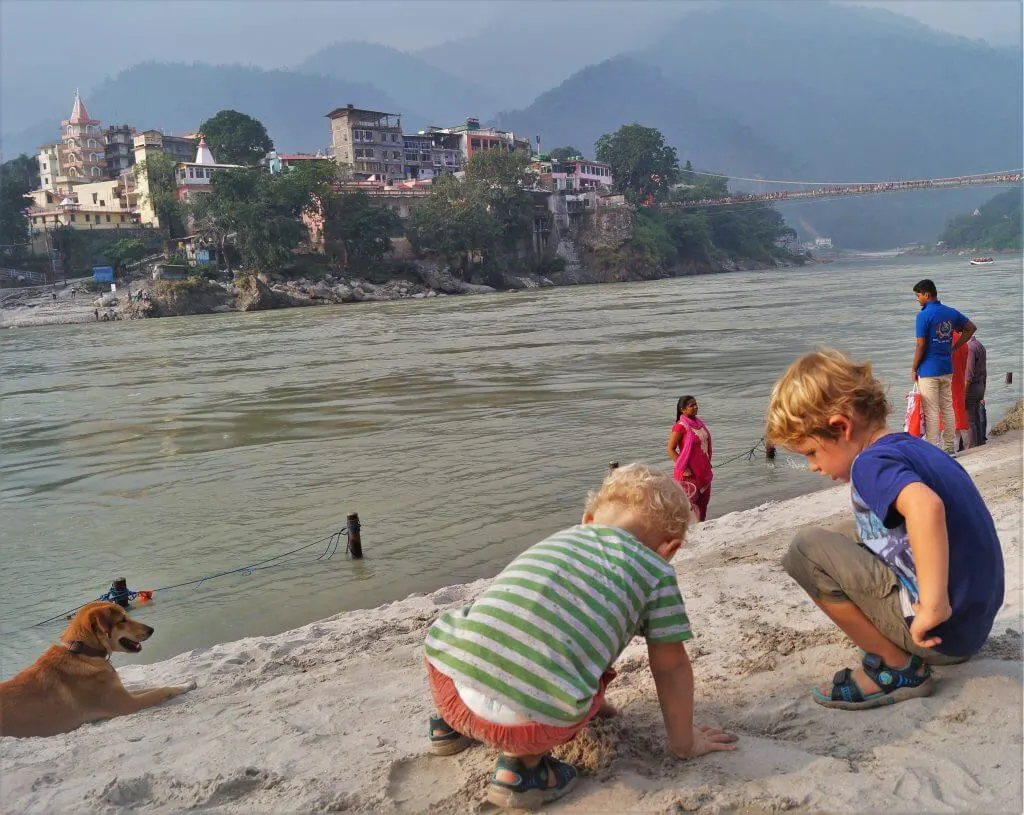 You will also see worshippers bathing in the River Ganges, performing their own individual ceremonies alongside local kids having a playful swim. They will urge you to join them. This may be an unwise choice for young kids due to the fast flowing current and questionable cleanliness, but if Mum or Dad feel the urge – go for it!
There is also a good sandy beach a Gange Beach, just 300m East of Ram Jhula.
2. Watch the Ganga Aarti (river worship ceremony)
Witnessing first-hand the noise, mystique and colour of a Ganga ceremony, and the incredible levels of devotion shown by the pilgrims, is breath-taking.
There is a raw energy that radiates from the hopeful worshippers and our boys loved the theatre of it all; they found the choreography of flames fascinating and clapped along to the fervent chanting mantras.
To watch the ceremony with young kids, I suggest going to the ghats to the left of the ferry crossing at Ram Jhula (click here for Google Map point). It is one of the few quiet spots, where you can sit on the ghats with a clear view, without vying for space.
Once the ceremony ends, light a candle in a wreath of flowers, place it in the river, and watch your prayer join the chatter of flickering flames and drift downstream.
4. Take the boat across the River Ganges and enjoy a chocolate milkshake
There is a regular small boat which takes you across the Ganges for a nominal fee (kids are free). Click here for location of ferry crossing.
Once across, climb the ghats towards Tip Top Restaurant. Here you'll find breezy views across the Ganges from the high vantage point. There are Indian, Italian and Israeli dishes on offer. Our boys loved their pancakes and chocolate milkshake.
4. Temple hopping
On the southern side of the river, you'll stumble across many ashrams and temples. Some offer quiet contemplation, whilst others are a noisy celebration with banging drums and fervent chanting.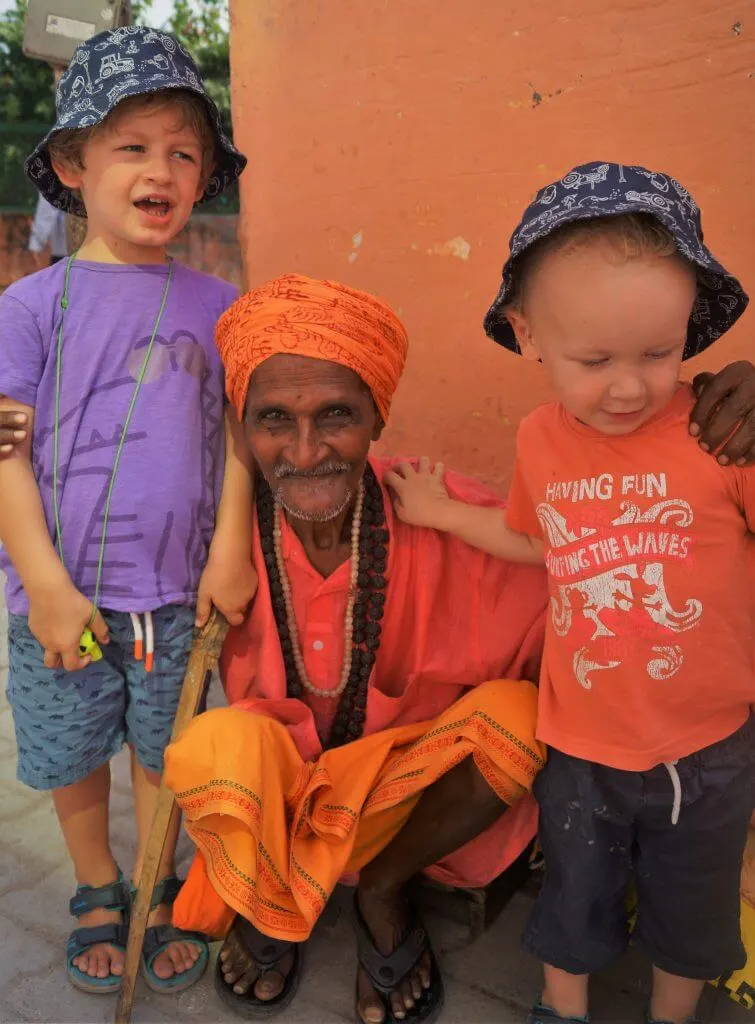 In between you'll stumble across Hindu monks dressed in bright orange, meandering cows (our boys enjoyed feeding them bananas), and colourful market stalls.
5. Visit Haridwar
An hour auto ride downstream of Rishikesh lies Haridwar (meaning 'Gateway to the Lord') . It is believed that Amrit, the elixir of immortality, accidentally spilled here, and it is therefore argued that the city of Haridwar holds more importance to Hindus than Rishikesh.
This is where intrepid families are rewarded with a more authentic experience as tourists seem few and far between. Rise early to beat the crowds and take the cable car (looks like a big bucket) up to Mansa Devi Temple, which celebrates the folk goddess of snakes. The cable car opens at 7am from April to October and 8am at all other times of the year. Shuffle along shoulder-to-shoulder with devout pilgrims desperate for a glimpse of the sacred shrines.
Spend an afternoon temple hopping along the ghats and if you're still around by sunset catch another Ganga ceremony. Hari Ki Pauri is the most popular place, however, we enjoyed an intimate ceremony adjacent to Ganga Temple with just a handful of worshippers and one priest performing the evening ritual.
Getting there and around
There are direct trains from Delhi. Check the IRCTC website for up-to-date train times. However, with only three slow trains daily, you may find it better to get to Haridwar and then take an auto on to the centre Rishikesh.
For some reason, you then have to change to a different auto to take you to your hotel. There are also direct buses from Delhi if you fancy more of an adventure.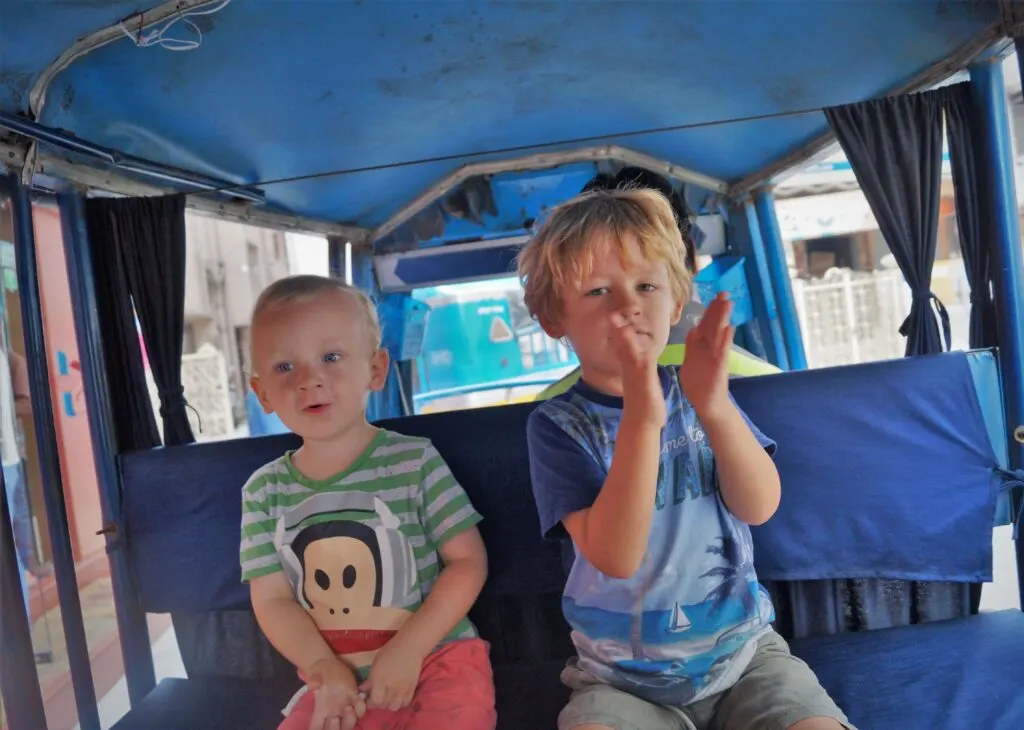 There are no metered autos in Rishikesh and there seems to be a cartel in operation. Very short distances seemed relatively pricey; although in the grand scheme of things, this is only a couple of quid!
Also to get out of Laxman Jhula you have to take a taxi (no autos will stop for you). Prices for taxis are non-negotiable and printed on a big board.
Where to stay
Ideally you want to stay in the more picturesque, less hectic, north of town. We stayed at Hill Top Swiss Cottage.
There are great views over the valley and it's nicely tucked away from the hustle and bustle. Autos wait at the bottom of the hill; although be warned that they are a bit pricier than your standard auto.
Rooms are spacious, but basic and could be cleaner, and there is an onsite restaurant with a fantastic range of food serving a good range of western and Indian dishes, although bear in mind with your little ones that service is painfully slow.
---
The India Lonely Planet is an excellent guide to purchase for further research.
Sale
You may also like to read:
North India itinerary with young kids
Visiting the Taj Mahal with young kids
Visiting Hampi with kids