There was a time that we used to avoid the larger family campsites in France, favouring smaller and quieter places. But over the years, we've learned that these bigger sites offer a fantastic change of pace for longer term travel, and our boys are at an age (7 and 8) where they get a lot out of them; there are loads of other kids to meet and play with, a super fun kids club, and hours of fun in the swimming pool complex. Plus, we can allow them some independence on these sites by going to the onsite shop or playground together, without us parents.
Camping Sandaya provided a complimentary stay at Camping Sandaya Séquoia Parc in return for this review and social media coverage. As always, these are all my own words and opinions, and I write reviews that are 100% honest.
Camping Sandaya Séquoia Parc on the Atlantic coast of France, just south of La Rochelle, is one of these larger sites, and we had a brilliant week camping here at the end of the 2022 summer season in our Bongo campervan. The facilities are excellent, with one of the best swimming pool complexes we've seen at a French campsite, superb play areas, a brilliant Kids Club, and an onsite petting farm.
Our stay was also the end of 5 months of full time travel for us, where we had spent 4 months living and travelling around Morocco, and we had popped over to France for the last 3 weeks of the summer holidays, where we visited the Loire, Dordogne, and finally at Camping Sandaya Séquoia Parc. This wonderful family campsite is just what we needed at the end of our adventures as us parents could relax while the boys ran off to play with new friends made on site.
Arriving to Camping Sandaya Séquoia Parc
It's not the most striking scenery as you approach Camping Sandaya Séquoia Parc. In fact, it's rather flat and uninspiring. However, I knew that this meant that there were bound to be some good cycle tracks leading to some hidden gems to explore, so I wasn't too worried. Plus, with the promise of all there is to do onsite at Camping Sandaya Séquoia Parc, would I even be able to get the boys away from the parc to explore?
Making our way up the grand driveway of Camping Sandaya Séquoia Parc feels like you're staying at a hotel resort rather than a campsite. Indeed, the reception area to check in is on par with some hotels we've stayed at in the past. Camping Sandaya Séquoia Parc is a 5* camping site after all.
Check in was very quick and straight-forward. We arrived on a Friday, which probably helped. Saturdays often seem to be the big moving-campsite-day in France, so we try to avoid that day.
The camping area and camping facilities
Even though this is a large site, which means late night entertainment in the main area (not really our thing), we were tucked away from the main throng and our pitch was beautifully lush, private, and very large. There did seem to be a range of pitch sizes around the parc, and we definitely had one of the larger ones.
The trees demarcating our pitch were impressively tall, and provided good options to tie up our hammock (which has become a bit of a Bongo essential for us), plus much-needed shade.
All pitches come with direct water access, and EHU. The pristine wash block was a one minute walk away; very handy.
If you don't want to camp, or don't have your own camping gear, you can rent a chalet for your stay, which includes kitchen, bathroom, and bedrooms.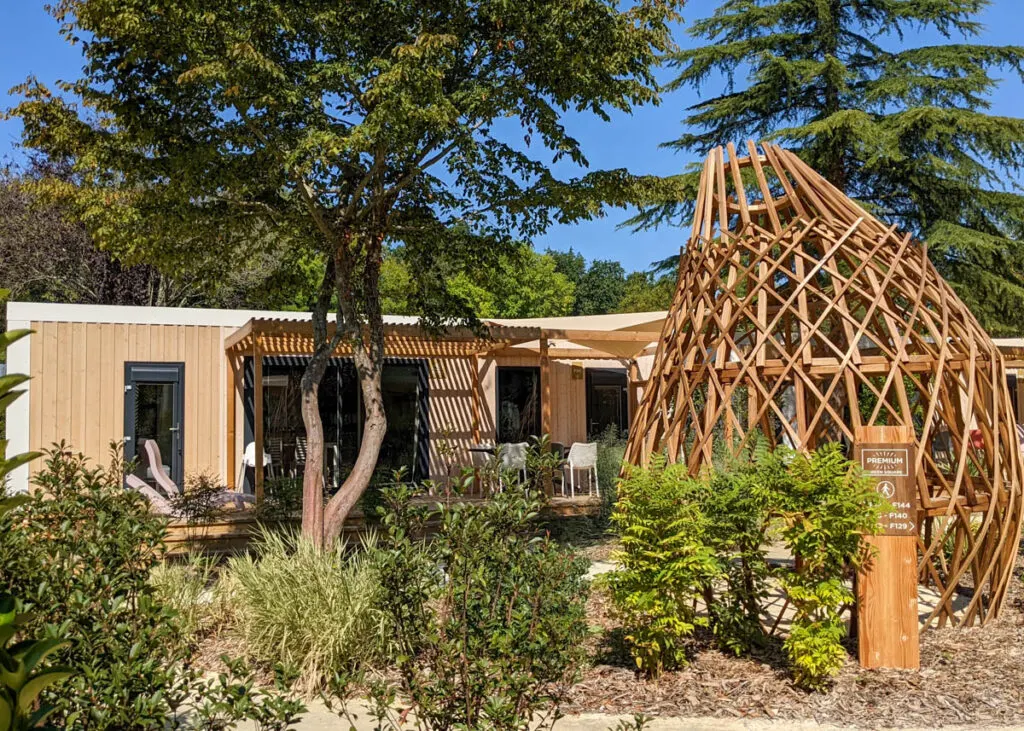 The swimming pool
The swimming pool complex at Camping Sandaya Séquoia Parc is honestly one of the best we've seen at any family campsite in France; and we've been to a lot. There is so much variety for all ages: a lager toddler pool, lazy river, two larger pools both with slides feeding into them, and a large under cover area for adults and kids under 10, which includes a jacuzzi.
There are plentiful sunbeds around the pool. In the high season it can be tricky finding a couple spare, but we never went without. Plus, the pool has a policy of not allowing guests to save sunbeds with a towel, so if you can't find one, a lifeguard will help you out.
There is also a pool bar in the centre, overlooking the main pools, serving ice-creams, crepes, and soft drinks. Please note that even though it's called a 'bar', no alcohol is served here (which is a tad disappointing, but probably a very good idea as it's a swimming complex for families). Also note, that this pool bar is only open in July and August. In fact, we found it closed just a couple of days before the month of August finished, despite the parc still being rather busy.
The play areas
The play areas dotted around Camping Sandaya Séquoia Parc are absolutely superb. Our boys tended to gravitate to the one by the petting farm as this not only has a fantastic wooden adventure play construction, but also a zip wire, and huge bouncy castle. The ground here is all fine sand, and there are a couple of picnic benches for parents to sit and watch their kids.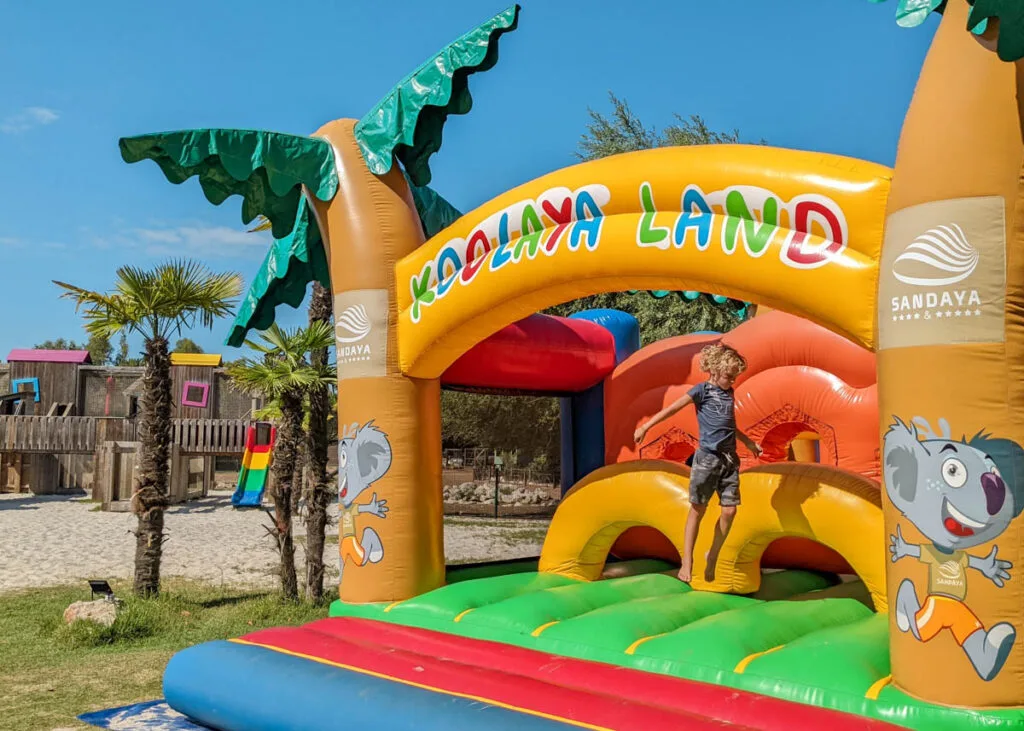 The Kids Club
I know that Kids Club isn't for everyone, but our boys have always loved Kids Clubs on French campsites, and when you travel long term like us, well us parents very much enjoy them too!
We've noticed that the boys don't tend to enjoy the Kids Clubs at smaller sites as much as they used to, as they are often too tame for them, and predominantly younger kids attending. But at larger sites like Camping Sandaya Séquoia Parc, the Kids Clubs are more established and there is a larger mix of kids and activities.
At Camping Sandaya Séquoia Parc, there are two 2.5 hour sessions per day (one in the morning and one in the afternoon) provided free of charge with your camping fees. You book the kids in using an app, and away they go!
The Kids Club at Camping Sandaya Séquoia Parc is very well organised and the boys had a brilliant time. It's a great way for your kids to make new friends to meet up with at the playground later.
The petting farm
As if the swimming complex, playgrounds, and Kids Club weren't enough, there is also a petting farm onsite. This will especially appeal to younger children who can meet the pigs, goats, sheep, donkeys and other farm animals who live at Camping Sandaya Séquoia Parc.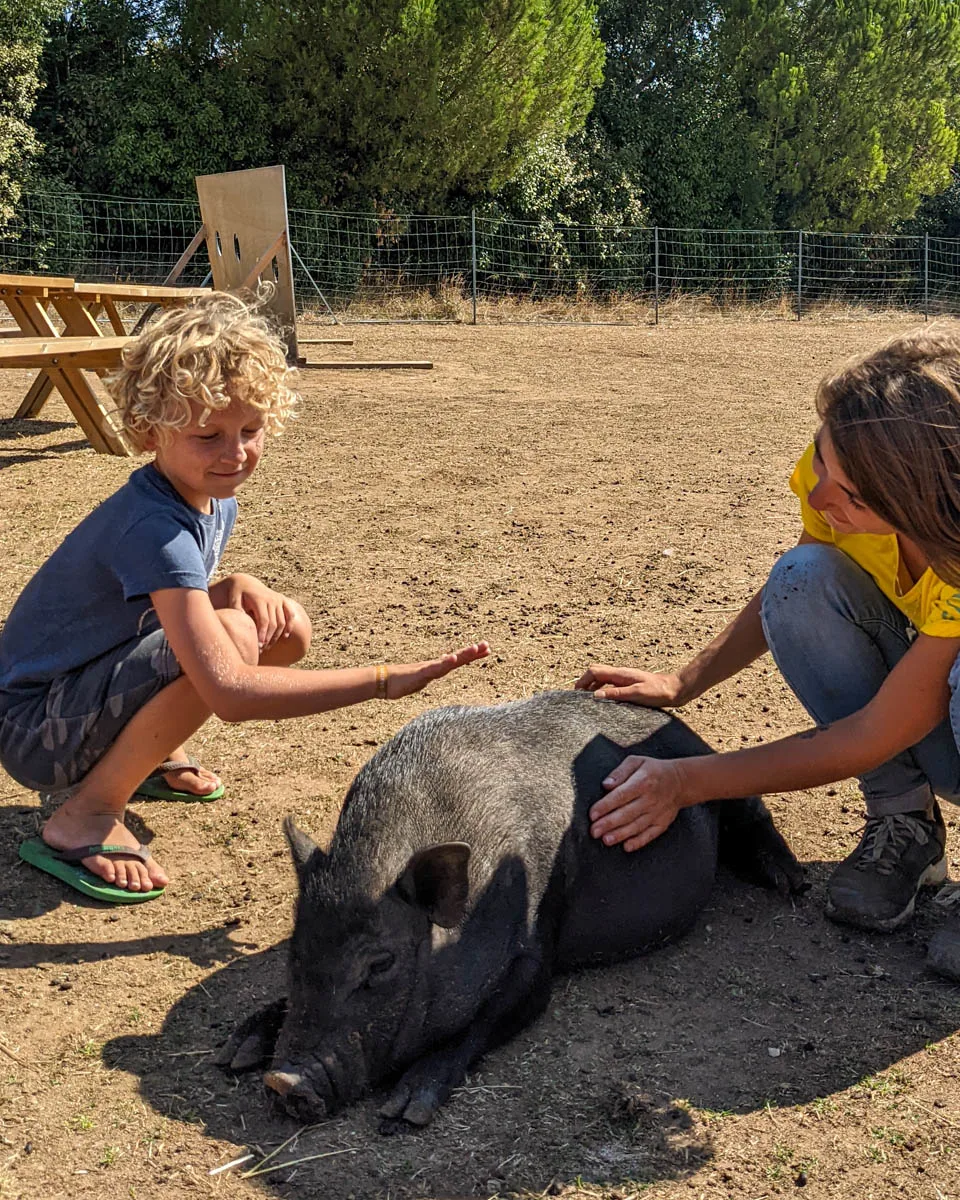 Food shopping and eating
The onsite shop is excellently stocked. You can even find camping equipment here. No need to pre-order your breads and croissants the day before here, just turn up in the morning and buy what you need.
There's a huge Intermarche supermarket in the nearby town of Marennes (5 mins drive away) if you want to do a big shop, or needing more variety.
There is also a lovely restaurant onsite, but make sure you pre-book your table. The menu is very limited for vegetarians, and even more so for vegans. The pizza takeaway is brilliant, and the bar also serves crepes, waffles, and ice-creams.
WIFI
You need to pay for the WIFI onsite, but it is excellent. 4G is also available via your phone.
Things to note at Camping Sandaya Séquoia Parc
Whilst the facilities are superb at Camping Sandaya Séquoia Parc, I do need to mention a big negative – the mossies.
They were horrendous. Honestly, we've never experienced them so bad anywhere else in France. So stock up on the repellent before you visit and cover up in the evenings. We spoke to a couple of families who mentioned that the mossies would put them off visiting this parc again. Such a shame.
Also, do note that the parc limits many of their facilities outside of July and August. In fact, we found they changed to out-of-season times just before the end of August, despite French schools not returning until 1st September. The pool bar was completely shut, the main bar is closed until 6pm, the pool closed earlier, the onsite shop wasn't as well stocked, and some of the wash blocks are even closed (even if your in a nearby pitch). Just something to bare in mind if you visit right at the end of the season, or out of season. But the advantage of out of season is that the parc is much quieter.
Things to do nearby
Camping Sandaya Séquoia Parc does feel like it's out in the sticks; there is no village or beach within walking distance. You either need to go out in your car, or cycle.
Our regular readers know that we love taking our bikes with us to France, and we were pleased to find some great cycle tracks through the saltmarshes to local villages and beaches from Camping Sandaya Séquoia Parc. However, please note that there is no direct cycle track from the campsite. You have to cross a very busy road and do a little road cycling. This may make some parents of young kids a little nervous.
Pick up a cycle map from reception to follow a lovely route past the old town of Marennes, where you can climb up the church tower for fantastic views, and then on to the lagoon beach for a play in the sand and swim. You can also cycle a little further to the sea-side town of Ronce-Les-Bains, which had lots of eating options.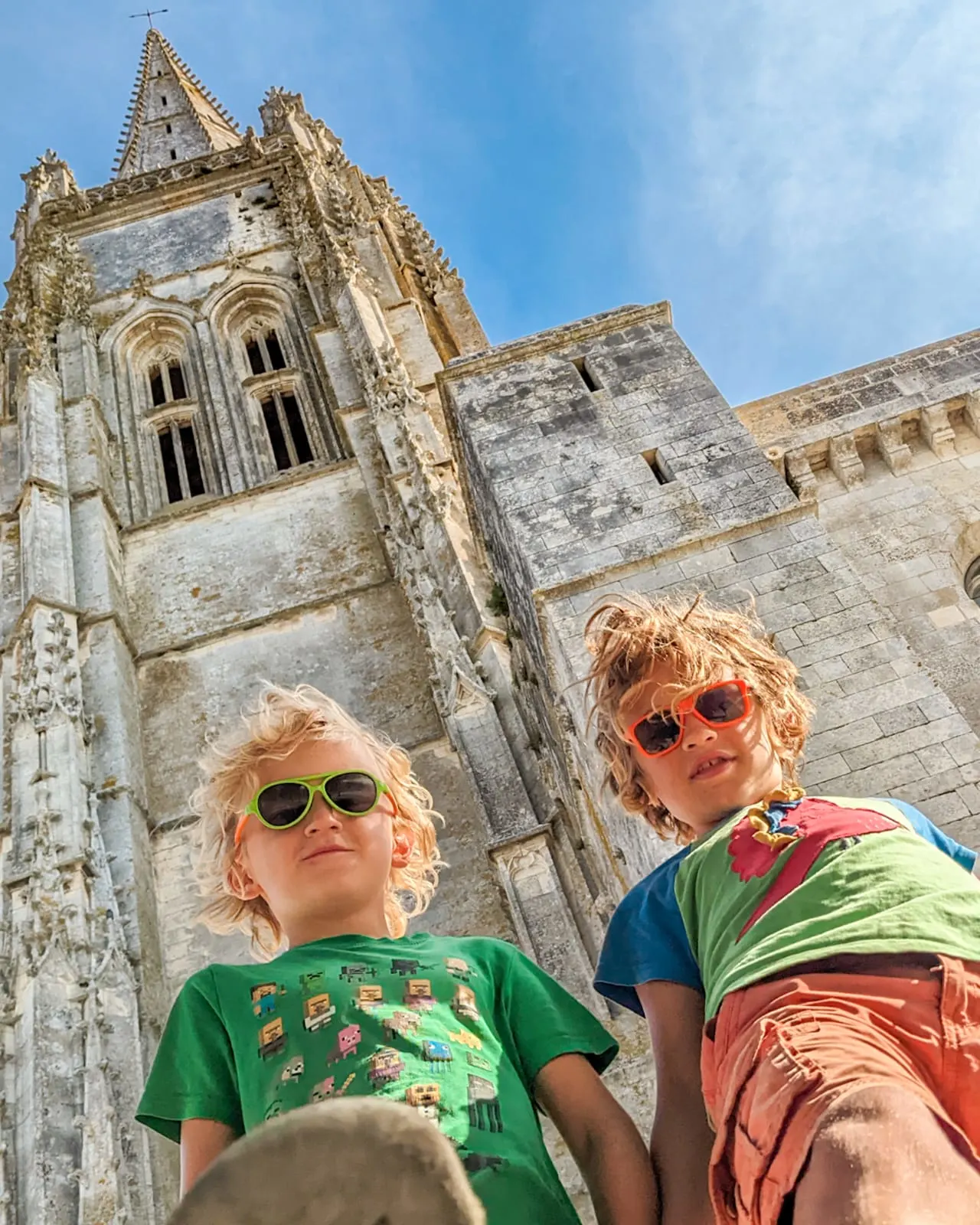 We also recommend visiting Île D'oléron, which is just a 15 minutes drive from the campsite. This island is much more understated that its nearby swankier sister, Île de Ré. Highlights include: the colourful artisan huts and oyster bars of Le Château d'Oléron, Citadelle de Le Château-d'Oléron, Phare de Chassiron (lighthouse), and Plage des Huttes. Île D'oléron is also a superb place for cycling with so many traffic-free cycle tracks criss-crossing the island, although we left the bikes behind and drove in the Bongo between places (it's a 45 minute drive from one end of the island to the other).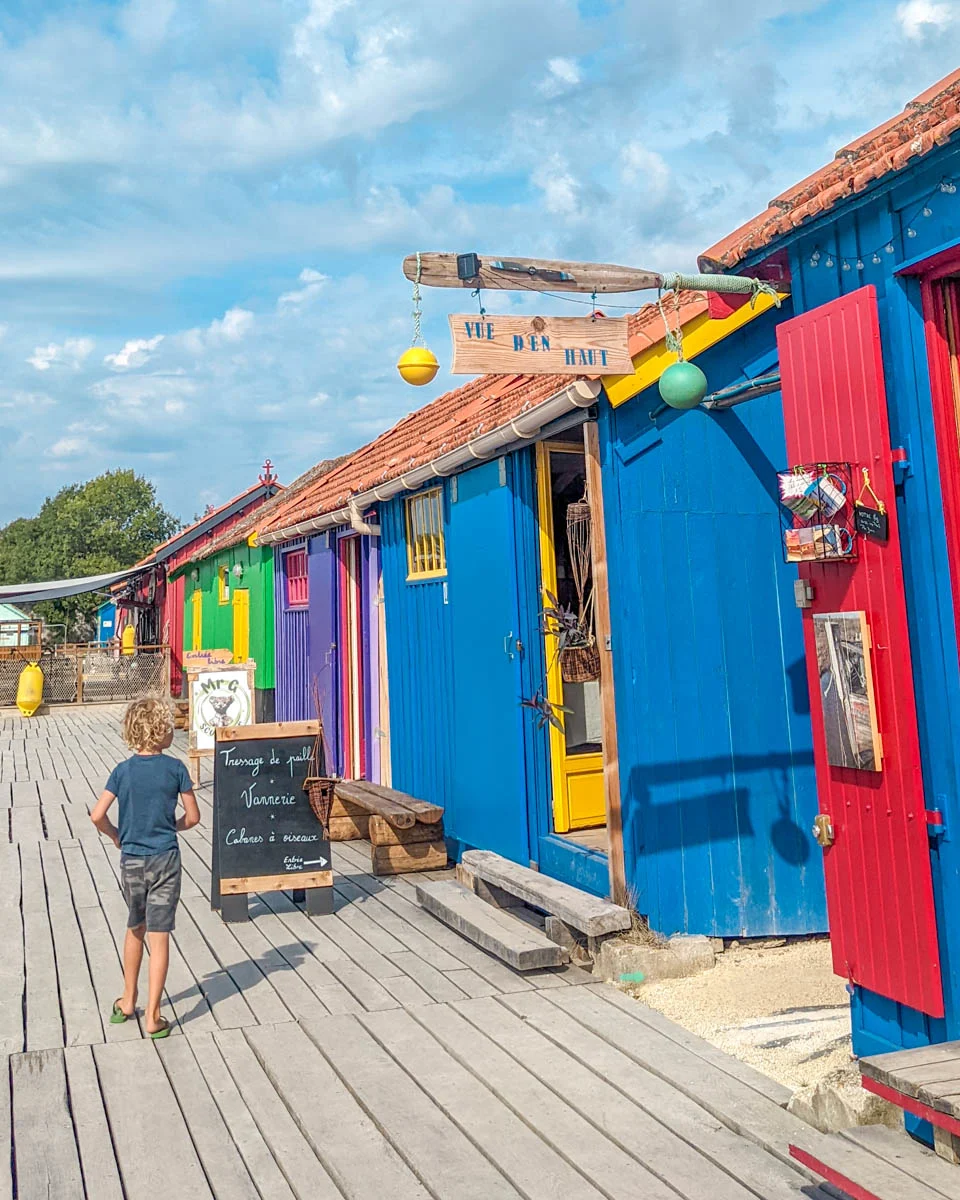 Other places worth visiting include:
The treetop course and adventure fun at Chateau Gataudière
La Rochelle (1 hour drive away)
Île de Ré (1 hour drive away)
Final thoughts on Camping Sandaya Séquoia Parc
Camping Sandaya Séquoia Parc is a fantastic parc to keep the kids entertained with minimal effort from the parents, allowing you to relax and perhaps even read a book (or two). Our boys say it's one of the best campsites in France that they've been too, and this is down to the superb play areas, the swimming pool, and super fun kids club. Happy kids, happy parents, right?
However, it's not the prettiest region of France; the landscape is flat and dotted with salt marshes, and it's a bit of an effort to get to a big sweeping beach, and you do need to be prepared for the mossies. But, there's still charm in the local villages and gems to explore. One of my favourite days was cycling from the campsite to the church at Marennes, onto Ronce-les-Bain for lunch, and then stopping back in Marennes for a swim in the lagoon (a 35km bike ride in total). It's also a good base for exploring Île D'oléron, and if you love shellfish, you'll be in heaven.
---
You may also like to read:
Best family campsites in France
Family camping at d'Oléron
All about our Mazda Bongo camper