I swear it was the 50th time they'd been down the slide this afternoon. I wish I could bottle their energy, and then feed it to them when they need to get their shoes on and out the door in the morning…
Disclaimer: This post contains affiliate links. If you click to purchase, it is at no additional cost to you, and I receive a small commission.
The swimming pool at Camping Domaine d'Oléron was a huge hit with our boys, and they will tell you that it was the best swimming pool out of all the France family campsites we had visited so far on our summer road trip through France and Spain. The playground is also not your standard playground and will keep your little ones entertained for hours. Indeed it is the swimming pool and playground that really make this campsite.
READ: Essential tips for camping in France
There are also Canvas and Eurocamp accommodations on site, so it's very popular with British tourists, and does somewhat lack a French flavour. But if you can tear your kids away from the waterslides, there are whitewashed villages to meander and Atlanitic beaches that feel tropical on a summers day.
Our camping pitch
We absolutely loved our pitch. The photos on the Camp & Caravanning Site really don't do it justice as the sites look open and lack shade. Indeed, there are parts of the campsite like this, but we had a lovely shady pitch near to reception and just by the main ablution block (so the kids were able to walk to the toilet on their own). We also appreciated the high hedges on three sides of the pitch that offered some privacy.
Do note that there is no toilet paper in the ablution blocks. Don't get caught out on arrival and come prepared!
This is a small site and as all the roads are all tarred, the kids were able to get around and do loops on their scooters.
The only shame was the tourist music most nights that either came from the restaurant on site, or one of the neighbouring campsites (there are four campsites all next to each other). This would generally finish around 11:30pm. If the music had been better, we wouldn't have been so bothered.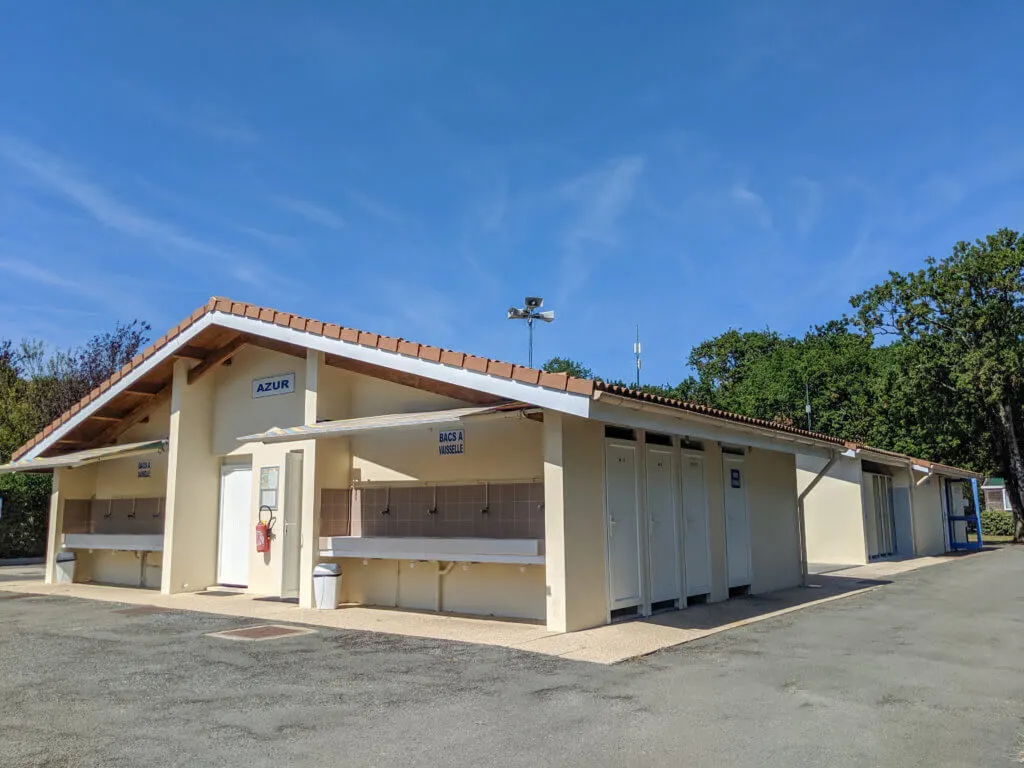 Onsite facilities for kids
The big hit for our boys was the swimming pool. In fact it was their favourite campsite pool on our summer road trip through France and Spain. Even though the campsite is relatively small, there is a fantastic interactive toddler pool with a lighthouse and science water play, waterslides, and a big heated pool.
The playground was also the best on our summer road trip, with a low ropes course, football court, and a bouncy ropes area with balls. This area stays lively until 10pm, so it can be difficult to get the kids away for an 'early' bed time. There was also a deflated bouncy castle here. Not sure what happened for it to be deflated, but our boys were gutted it wasn't working.
There is also a kids' club on site, although this never seemed to run to time. There is an allocated kids craft session on for younger kids for two hours, two days per week. Although the one activity provided only lasts for 30 minutes, so don't expect your kids to be entertained for a full two hours. This isn't the place to come if you rely on a kids' club for some parent down time. But with the playground, swimming pool, and fantastic beaches nearby, there is more than enough to occupy them.
Dining at Camping Domaine d'Oléron
If you wish to dine at the on site restaurant, ensure you book a table in advance (ideally the day before). Service was slow on the one time we visited as they were rather under-staffed, and unfortunately the food was disappointing (especially for vegetarians). However, you're pretty safe with pizzas and crêpes, which are made to order. There's a separate kids' menu.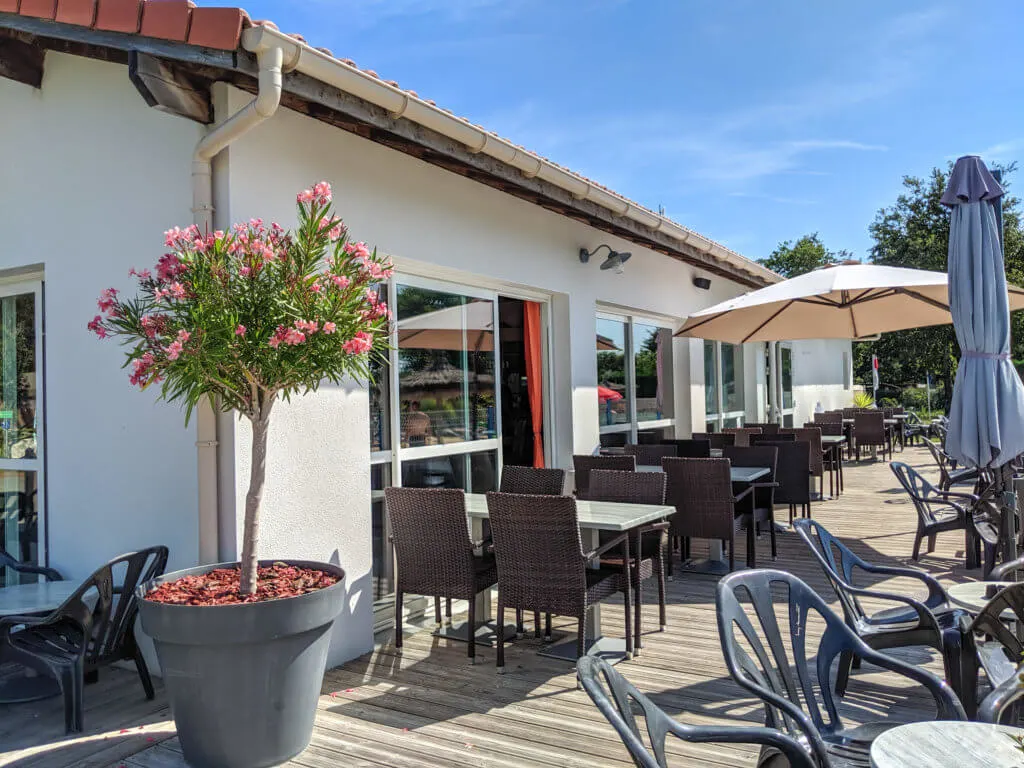 The music at the restaurant also seemed to favour 'Grandad Rock', which was a shame as we would have preferred something with more of a local vibe. There are live music nights during July and August, which starts from 9:30pm.
We were reliably recommended the pizzeria here as an alternative, though we didn't eat there ourselves.
The restaurant also doubles as the on site shop. The shop is very limited considering the size of the site (basically a shelf), but you can buy essentials such as milk, croissants, breads, drinks, and toilet paper at an inflated price (as mentioned before, there is no toilet paper in the toilets!) Stock up from the mainland before you arrive, or head to Carrfour Contact, just an 8 minute drive away.
WiFi at Camping Domaine d'Oléron
Internet access on our phones was rather patchy. There is WiFi available on site for a fee.
Things to do on Île d'Oléron with kids
Often overshadowed by it's glitzier sister further north (Île de Ré), Île d'Oléron has a more laid back, understated vibe with it's white-washed bungalows and low-key beaches. Cycle-ways criss-cross the island (pick up a map from your accommodation or tourist information office), but there is also ample parking should you choose to drive around (the island is 30km long after all). It does get busy in the summer months, and an early start is encouraged, especially if heading to the light house or visiting villages on market days.
The light house (Phare de Chassiron) at the far tip of the island is a must do. You can climb to the top for superb views across the Atlantic and back across the island. Entry for the viewing point only is €3 per adult (kids under 6 are free). The gardens and viewpoints around the base are a good place to scooter around for kids, and our boys enjoyed playing on the rocks down on the beach to the north of the light house.
The villages across the island don't really offer much to do unless it's market day, but they are pleasant to stroll or cycle around and to pick up an ice-cream. Take a visit to La Cotiniere around 3:30 when the daily catch is unloaded, or feast on oysters at Saint-Trojan.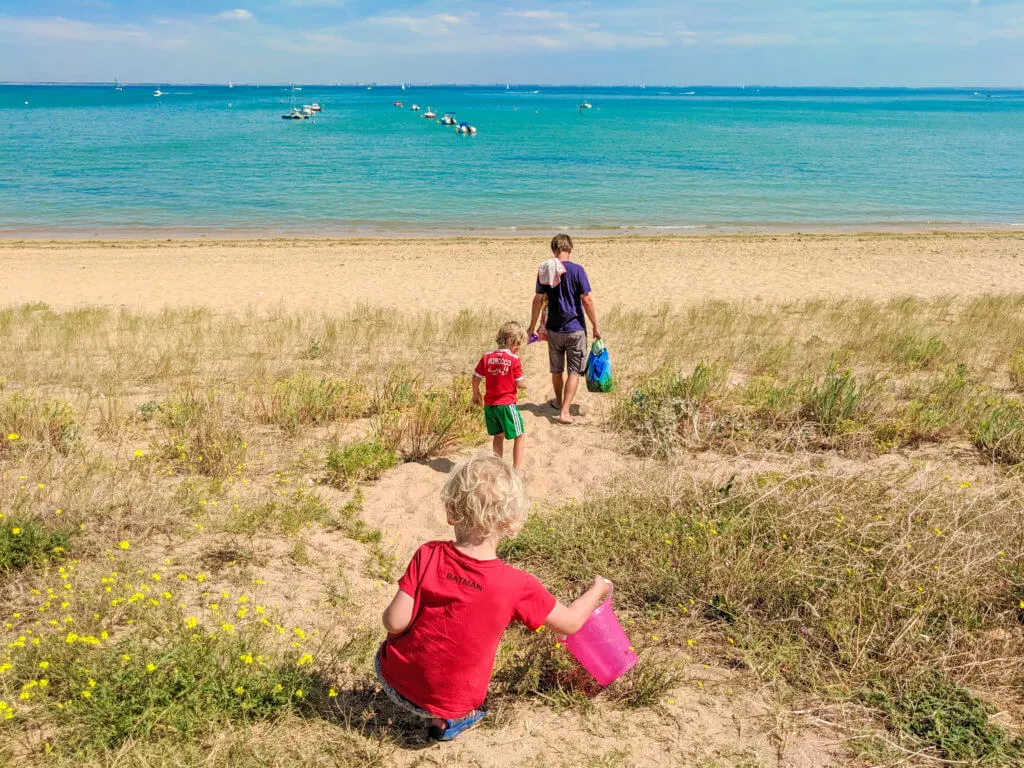 But if you're travelling to Île d'Oléron with kids, it is likely that you will want some beach time. The beaches to the north east offer views across to the mainland and Île de Ré. Here the water is shallow and calm, perfect for little ones, although there was some seaweed when we visited and the water a little murky. On the other side of the island, the waves are a little stronger, but the beaches boast a tropical vibe in the summer months with clear turqoise water and long stretches of sun drenched sand.
---
You may also like to read:
Unique France road trip itinerary for a summer camping with kids
A family-friendly cottage in the Vendée: L'Ecurie Holiday Home REVIEW
Camping Lou P'tit Poun REVIEW: family camping near Bayonne, France