We've stayed at fair few Sandaya sites over the years, and Sandaya Le Grand Dague, in the heart of the rolling Dodorgne hills, is one of the smallest we've experienced, yet still has the expected 5* facilities.
Although, whilst it may look to be a central Dordogne location, just outside of Périgueux, Sandaya Le Grand Dague isn't actually very well situated for all there is to do in the Dordogne with kids, as most attractions are generally situated around the River Dordogne and River Vézère, so you ideally need a car if you would like to explore a bit.
Disclaimer: This Sandaya Camping Le Col Vert review is not sponsored in any way by Sandaya. We paid for the week-long stay ourselves and this is our honest review.
Indeed, Sandaya Le Grand Dague is rather out in the sticks, and aside from a 10km cycle track to Périgueux (where you will need to negotiate a steep hill back up to the campsite) there is little immediately on the doorstep of the campsite to explore.
Sandaya Le Grand Dague is one of those campsites to pitch up for a few days and relax on site. The swimming pool complex is excellent, and kids will have a fantastic time at the twice-daily Mini Club. Pitches are also large, shady and private, allowing for some downtime.
But if you're looking for a family campsite to more easily explore the Dordogne, I would suggest camping at either Le Moulin de Paulhiac Campsite or Le Port de Limeuil Campsite.
We visited Sandaya Le Grand Dague in the last week of the summer holidays in August, which included a couple of September days. It was unseasonably chilly with an autumnal feel, but it also had that typical end-of-season vibe we've become accustomed to at family campsites in France for this week. Typically on the last day, temperatures were back up to 30°C.
Our pitch
As we have a Mazda Bongo campervan, we always book a pitch at French campsites, rather than a static home or safari tent, which Sandaya also offer.
Spacious, shady, and flat, with high hedges providing privacy, the pitch was perfect. Plus, there was a tree handily-situated tree to hang our hammock, completing our set up.
Pitches come with EHU and water tap as standard.
Our pitch was a very short stroll to the washblock and close to the main area, which includes the onsite shop, swimming pool, restaurant etc. Being a smaller Sandaya site, it's never too much of a walk to get anywhere on site.
The facilities at Le Grand Dague
Despite being a smaller Sandaya site, there are all the 5* facilities you would except. However, the playgrounds were rather disappointing for our boys (aged 8 and 9 at the time).
The swimming pool
The swimming pool complex is fantastic, considering the size of the site. Indeed, it is significantly better that the swimming pool complex at the Sandaya site we visited before this one, Camping Le Col Vert, which is one of the largest French campsites we've ever stayed at, although that one is situated on the shores of a beautiful lake and a short bike ride to one of the most stunning stretches of beach in the world.
But seeing that there is no lake, beach, or even river close to Sandaya Le Grand Dague, a good swimming pool complex is needed to keep the whole family cool on those hot days in the Dordogne. There's a large heated pool, a toddler splash area, two other swimming pools, and four slides.
For the largest slide, which is a long and wide water shoot, you need to have an inflatable ring (other inflatables are not permitted). If you don't have one, they are available from the onsite shop for around €12.
There is also a bouncy castle in the swimming pool complex. This is only accessible inside the swimming pool complex, which means that it's only open when the swimming pool complex is open.
The playgrounds
Rather than one big mega-playground as with other Sandaya sites, there are smaller playgrounds dotted around the campsite at Le Grand Dague.
The larger playground (although still very small) has a zipline and climbing frame, with lots of sand also for play, but it's no way near as good as the playgrounds we've become accustomed to at other Sandaya sites. Indeed, our boys were rather disappointed and only spent about 30 mins in our entire week at the playground.
If you have younger kids (under 6) they would perhaps enjoy the playgrounds more.
There is also a small softplay, handily placed next to the bar. Our boys actually spent more time at this one.
Kids Club
Our boys only tried kids club for one day and they really enjoyed it. As it was the last day in August, and therefore the last day of kids club for the summer, there wasn't too much organised and they just played games in both morning and afternoon session.
Staff speak English, but we often find that English families don't tend to use the kids clubs and our boys were the only English-speaking kids there.
As with other Sandaya campsites, kids are split into three age groups (5-7, 8-12, teens), which means that activities are always age appropriate. There's a 10-12 morning session as well as a 3-5 afternoon session.
Pre-book your kid's place on the Sandaya app. In the peak season, you will want to do this a week in advance. The kids club sessions are free.
WIFI
There is a charge to use the Sandaya WIFI, starting at €5 per day.
Instead, we use a SMARTY sim for EU data, as our UK phone plan only allows 5GB of EU data (which goes quite quickly when you work as a blogger). We had 4G+ at our pitch and it was excellent; good enough for Jay to be on calls whilst I was simultaneously uploading photos. As with most campsites, connection seems to slow in the evenings when more people are trying to access the internet.
Dining at Le Grand Dague
If you would like to dine at the onsite restaurant, make sure you pre-book a table at reception at least a day in advance. At the time of writing, the restaurant was not accepting walk ins.
The restaurant menu is rather limited, especially for vegetarians, and vegans would struggle. But the service is good and it's a very relaxed, family-friendly experience.
You can also order from the snack bar, which serves a better range and better quality of pizza, which we enjoyed on our final night to save on cooking and washing up (we had a very early start and a long drive for the Dunkirk-Dover crossing the next day). However, we had to wait 40 minutes in the queue just to order and then a 20 minute wait.
The campsite shop
The onsite shop is well stocked for holiday basics such as breads, beer and inflatables. Although be warned, prices are heavily inflated here, more so than we've seen at other campsites in France.
You don't need to pre-order your breads and can just purchase on the morning.
We always do a big shop at a supermarket before arriving to a campsite, so we're all set up for the week. The onsite shop was then very handy to pick up essentials throughout the week, meaning we didn't need to to a supermarket shop again.
The washblock
Our nearby washblock was clean, spacious, and we never had to queue. There are separate loos for little people and in the family shower rooms there's even a shorter shower for little people too.
Cycle tracks from Le Grand Dague
As a family we love to pitch up for a week in our Bongo camper and use the bikes to explore the surrounding area.
There's a fantastic traffic-free cycle track very close to the campsite that will take you into the heart of nearby Périgueux. However, it's an exceptionally steep hill down to the cycle track, which then needs to be tackled on return to the campsite. We whizzed down the road (or rather the boys did and I lagged behind with both breaks squeezed tightly) and to return to the campsite, we took a back-route up through the trees and pushed the bikes (ask at reception for details of this route).
Our kids actually managed it with no problems. You just need to be wary of the 1km pushing a bike uphill at the end of your cycling adventure. For those with younger kids (6 and under) it may not be so straightforward.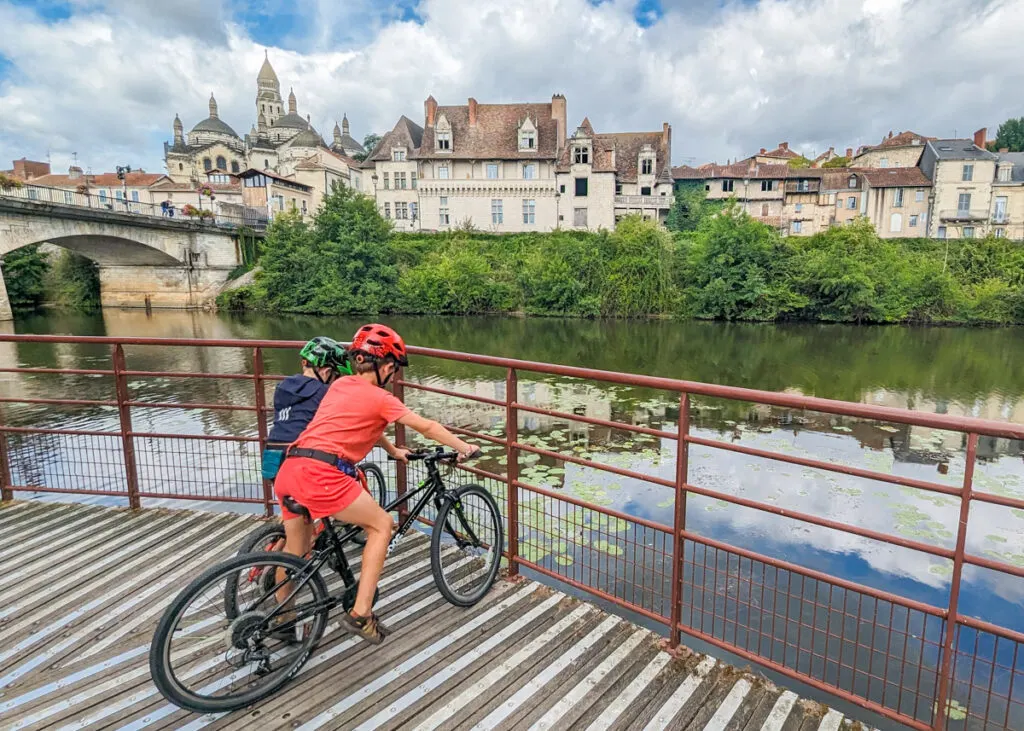 It's a 10km cycle from the campsite to Périgueux. You can lock your bikes up right next to Périgueux Cathedral, with its unusual domes and turrets; it's very worthwhile going in for a look around.
Just outside the cathedral is a handful of bars and restaurants, including a sushi and tapas bar. We enjoyed a round of croque-monsiuers at Brasserie Le Puy St Front, which we very much recommend for families. Down the lane on the corner, there is a superb ice-cream shop for desert, Le Glacier de Périgueux.
Final thoughts on Sandaya Le Grand Dague
We had a very relaxed week at Sandaya Le Grand Dague. Aside from a day trip cycle to nearby Périgueux, we spent our time mostly onsite.
We had been travelling for over three months (we had spent ten weeks in Southeast Asia) and it was our last week before returning to normality. So we made the most of unstructured days with no routine, which was bliss.
If you're looking to wind down and relax, with no pressures of exploring, then Sandaya Le Grand Dague is perfect. But if this is perhaps your first visit to the Dordogne with kids and you want to experience as much as possible, you're better off staying at a campsite closer to either the River Dordogne and River Vézère, and we would recommend either Le Moulin de Paulhiac Campsite or Le Port de Limeuil Campsite. For this reason, Sandaya Le Grand Dague doesn't make it onto our list of the best campsites in France for families.
---
You may also like to read:
Best family campsites in France
Things to do in the Dordogne with kids
Paris with kids: a perfectly unplanned day