Do malaria free safaris exist? And will my experience be as as good as visiting the big parks?
Malaria is a concern for any traveller to Africa. Whilst this can be fixed to some extent by taking antimalarials, understandably not everyone is happy with taking them. This is particularly the case for people who believe they will suffer from their side effects, or those travelling Africa with young kids, pregnant women, and anyone that's unable to take anti-malarial medication.
Disclaimer: This post contains affiliate links. If you click to purchase, it is at no additional cost to you, and I receive a small commission.
I am not a medical professional, but I do not recommend travelling in to a malaria zone without taking antimalarials. You can check the malaria zones for all African countries on the Fit For Travel website (used by NHS staff). Malaria is a serious tropical disease spread by mosquitoes. If it isn't diagnosed and treated promptly, it can be fatal.
We traversed African in Land Rover for 101 days when our boys were 2 and 4 years old. All family members took antimalarials. The boys took smaller doses than us and we crushed the tablets up and mixed them in with a chocolate spread, served on a biscuit. They had no idea they were taking them and suffered no side effects whatsoever. We also took necessary precautions including:
However, even if you strictly adhere to these precautions, there is no 100% guarantee that you will avoid malaria.
Thankfully there are a handful of excellent malaria free safaris in Africa, found mainly in Southern Africa.
Is Kruger malaria free?
Kruger National Park is one of Africa's largest game reserves and with easy driving, excellent accommodation, and an abundance of wildlife, it's top of everyone's list for a holiday in South Africa.
Unfortunately Kruger National Park is not malaria free. It is in the high-risk malaria zone, with the highest risk highest risk period between November and April (the end of the summer rainy season). And as of late September 2017, there has been an increase in the amount of malaria diagnoses in Kruger National Park.
However, there are many locals to Kruger, including the majority of expats, who do not take antimalarials and just take other precautions (such as wearing repellent, wearing long sleeved tops and long trousers, etc.). The malaria risk at Kruger is also much lower in the drier months, particularly August.
This is not something I personally would feel comfortable doing, especially with young kids, but I just want to make sure you have all the information to make your own decision.
How about Etosha National Park in Namibia?
Etosha National Park is another big safari park in Southern Africa, and is our favourite African safari with kids. Those vast open dry plains dotted with watering holes make, and the abundance of wildlife, allow for very easy game viewing.
There appears to be on-going online debate as to the risk of malaria, and technically, Etosha is in the high risk zone on the malaria map. However, the general consensus would seem to agree that although using some form of repellent is always wise, the winter months are entirely malaria-free. After all, malaria mosquitoes need water to breed, and you certainly won't see much water around during Etosha's bone dry winters.
You may want to read our popular post – Kruger vs Etosha: which is best?
The African safari parks that are low to no malaria risk
Low to no risk areas on the Fit For Travel website are those areas where antimalarials are not usually advised.
Both Kruger and Etosha are right on the edge of the high risk malaria zone, and although there is belief that both parks have malaria free months, they are not entirely low risk malaria safari parks, despite being the most popular safari destinations in Southern Africa.
The below safari parks are those that are in low to no risk malaria areas according to the Fit For Travel website. Although do check the website as this is always subject to change. These malaria free safaris have all been suggested by fellow travel bloggers who have visited these parks and are also suitable for visiting with young kids (after all, this blog is all about adventure family travel!) Check our guide to doing an African safari with kids.
---
Malaria free safari South Africa
South Africa is the most popular country for malaria free safaris. Here are some top suggestions experienced first hand from fellow travel bloggers.
Addo Elephant National Park
Jacquie from Flashpacking Family
Located 60 km north of Port Elizabeth in South Africa's Eastern Cape, Addo Elephant National Park is firmly in the non-malarial area of South Africa.
It started out in 1931 as an elephant sanctuary to protect the dwindling elephant population. Today it is home to the Big 5 as well as over 600 elephants and is the third-largest national park in the country. If you want to see elephants, you are all but guaranteed a sighting. The lions, on the other hand, are much more elusive and we didn't manage to spot any on our visit.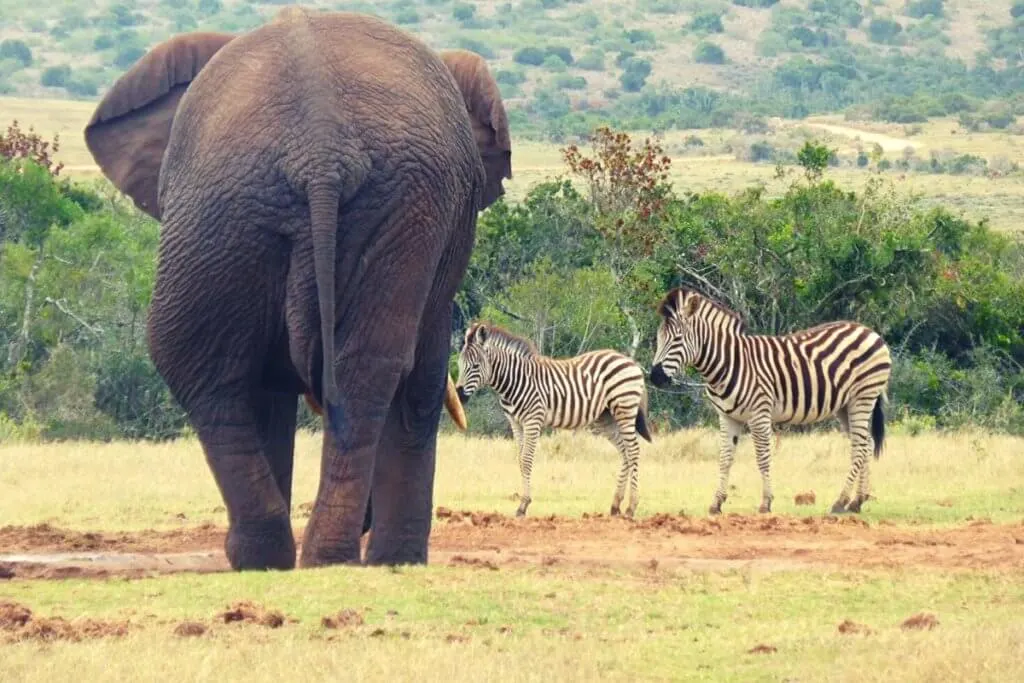 Addo is a great choice for families because you can self-drive making for a very budget-friendly safari and there are no age restrictions if you have little ones. The roads are a mix of tarmac and gravel. The gravel roads are good and accessible with a standard 2WD but if there have been heavy rains, you might want to double-check road conditions with the park before going.
If you would rather not self-drive, you can arrange guided safaris with SanParks but these must be booked well in advance. The benefit of a guided tour over a self-drive safari is that you might have a slightly better chance of seeing certain animals, but sightings still can't be guaranteed.
There are plenty of accommodation options inside the park ranging from camping to upmarket guest houses so there is something for everyone.
Pilanesberg National Park
Sabine from The Travelling Chilli
Pilanesberg National Park is located 2 hours drive north of Johannesburg. It's perfect for a day trip from either Johannesburg or Pretoria or a multiday safari while staying over in or outside the park.
The advantage in going to Pilanesberg instead of the world famous Kruger National Park is that the area is malaria free, which makes it perfect to visit as a family with young children.
Pilanesberg NP is also great for self driving. Part of the road network is tarred and the rest is reasonably good sand roads.
The park is located in the crater of an extinct volcano, making the scenery just impressive. While game driving, you can go up the various hills around the park to get an impression of the size of the park and to take in some of the most amazing views.
It is a 'Big Five' game park, but most other large wildlife can also be seen. With many waterholes and bird hides, it's great for watching bird life too. Also, these bird hides are a great stopover to take a small break from driving and make it more interesting for children.
The park itself has various types of accommodation, from camping to chalets and resorts.
Kgalagadi Transfontier Park
Cristina from Travel For Wildlife
The Kgalagadi Transfontier Park in South Africa is a great safari destination for families, especially if you are interested in seeing big predators like lions and cheetahs. We actually believe this is the best place in Africa to see these two iconic species.
While there are no age limits for children to visit the park, take note that if you visit the Kgalagadi with kids younger than 12 you won't be able to stay at the wilderness camps because these are unfenced. Predators like lions, leopards, and hyenas patrol these camps every day and it is not safe for young children. You can, however, stay at the three main restcamps, Twee Rivieren, Nossob, and Mata Mata, which are surrounded by a perimeter fence. Here you can either camp or stay in the chalets.
Also, the Kgalagadi is outside the malaria zone so you can visit this park without worrying about you or your kids having to take antimalarial drugs.
While you don't need to have a 4×4 to visit the park, we recommend a high clearance vehicle as the roads can get a bit sandy and difficult to navigate in smaller cars. Also, a high clearance car will help you get a better view of those sleepy lions.
We encourage parents to be extra vigilant as snakes and scorpions are sometimes seen in the main restcamps.
Hluhluwe iMfolozi Park
Rai from A Rai of Light
Established in 1895, the 96,000 hectare Hluhluwe iMfolozi Park is the oldest National Park in South Africa. Found in Northern KwaZulu-Natal, just north of Richards Bay, it is a convenient and accessible safari destination that is also classified as malaria-free for most part of the year. Transmission in these areas is more-or-less confined to the rainy summer months.
The hilly terrain hosts the Big 5, as well as elusive species such as cheetah and wild dog. With emphasis on protecting the wildlife and respecting the people and animals that live in these places, it is considered as a stronghold for species such as the elephant and rhino. Although game drives are on offer, self-drives are a good option as the roads are well maintained.
Imfolozi Game Reserve accommodation consists of various self-catering units, tented camps and luxury safari lodges. This Zululand ecosystem is one of the most bio-diverse wild lands, with much of it declared a World Heritage Site, helping to preserve this as true wildlife sanctuary and one of the best places to witness a true African sunset.
Mthethomusha Game Reserve
Chloe & Michael from NOMAD AND IN LOVE
Situated on the border of the Kruger National Park, Mthethomusha Game Reserve truly has it all. You can find the big five (Lion, Leopard, Elephant, Rhino and Buffalo), as well as a large variety of birds, antelope and flora in this beautiful reserve; pretty much everything that Kruger has as the two game reserves are only separated by a fence that does little to stop certain animals from crossing over from time to time.
It's a great alternative to Kruger if you're looking for a more private experience and also has the low malaria risk. Think of it as a boutique hotel with the same amenities as a large and popular hotel, but without the crowds.
Nestled deep in the Methethomusha Nature Reserve you'll discover Bongani Mountain Lodge, the only accommodation on the reserve. It's a combination of luxury, nature, seclusion and adventure; truly one of a kind. Animals are allowed to roam throughout the vicinity of the lodge adding to the natural authenticity of your stay.
The reserve is situated on eastern side of Mpumalanga, which is a short 4.5 hour self-drive from Johannesburg. Very manageable if you've just landed in South Africa for the first time. The roads to the reserve are generally in excellent condition, but there is a 7 kilometre section of gravel road leading to the lodge's Welcome Centre that requires a slow and steady driving style. Even though this section may feel seemingly long, you'll be constantly reassured by the Lodge's clear signposts that you're edging closer and closer to this hidden gem. Although an SUV would be the preferred method of transport, a conventional sedan does the job too, albeit more slowly. And that's where your driving duties end. You'll be shuttled from the Welcome Centre to the lodge by means of a safari vehicle which takes approximately half an hour. Thereafter, all safaris are arranged by the lodge and are offered twice a day (morning and evening) or by special arrangement.
Amakhala Game Reserve
Ivan from Mind the Travel
Situated on the Eastern Cape of South Africa, malaria-free Amakhala Game Reserve is roughly a one hour drive outside of Port Elizabeth's national airport.
The game reserve is a conservation area of 7,500 hectares providing stunning sweeping landscapes combined with incredible wildlife including rhino, lion, elephant, cheetah, buffalo, giraffe, black wildebeest, zebra, and over 16 antelope species. Once the surrounding areas were cleared from farms the lands that occupy the game reserve today have been consolidated and returned to their natural bushveld state.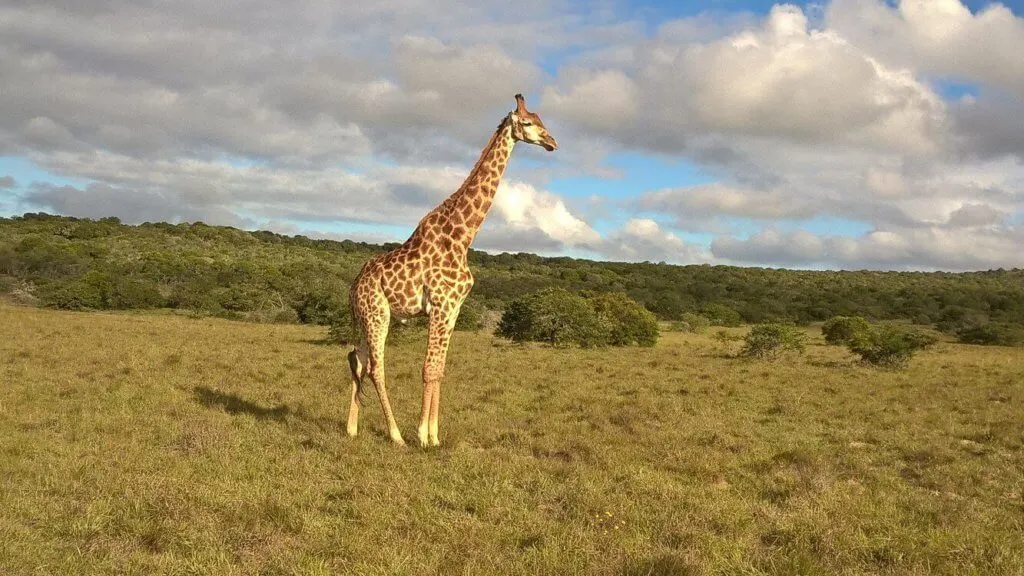 It's one of the most family-friendly safaris in South Africa that offers spectacular game viewing. Families can explore the 18,000 acres of pristine wilderness and take-in amazing wildlife sightings with all of the members of the Big 5 on offer – lion, buffalo, elephant, rhino, and leopard. While the reserve lies within driving distance of Cape Town and the Garden Route, nothing can beat an extremely rewarding open-air safari tour with a qualified guide.
Amakhala Reserve offers an upscale safari experience for their guests with several accommodations on-site – ranging from country houses, luxury lodges to tented camps. Furthermore, Amakhala has 11 kid-friendly lodges and resorts spread over the territory that are designed to make safaris fun for everyone, including kids.
Mapungubwe National Park
De Wet and Jin from Musuem of Wonder
Stunning Mapungubwe National Park is the perfect self-drive safari destination for families who would like to explore this amazing part of South Africa. With a wide variety of wildlife (4 of the big 5), otherworldly sandstone outcrops, open savannah landscapes dotted with gigantic baobab trees and the Unesco Lost City of Mapungubwe, this national park offers you an unparalleled combination of wildlife and history. Like most other parks in South Africa, there is no age limit for visitors on a self-drive safari.
A stay in Mapungubwe is as much about the wildlife experience as it is about Ancient Mapungubwe. Remains of the city discovered here prove that this abandoned civilization was the most advanced in Sub-Saharan Africa, and traded as far away as India and China. A guided walk with a game ranger to the top of the ancient citadel is a must. Unfortunately you must be six years old to go on this walk, but there is also a museum and interpretive centre open to everyone where you can learn more about this lost civilization.
Mapungubwe is situated in Limpopo province at the confluence of the Limpopo and Sashe rivers, which mark the northern border of South Africa. At several viewpoints you can overlook the Limpopo river into neighboring Botswana and Zimbabwe. Roads throughout the park are in excellent condition and are suitable for a sedan car. There is also a designated 4×4 route for off road enthusiasts.
The incredible, unfenced Leokwe camp consists of self-catering chalets which are fully equipped for a comfortable stay. The best is the large braai (bbq) facilities on your private veranda and the open air showers. Camping is also possible at two separate campsites in the park.
There is a very low risk of malaria in the rainy months from September to May. But you don't want to go to Mapungubwe during this time anyway, as summers here are brutally hot.
Gondwana Game Reserve
Jill from Jetset Journeys
Just four hours' drive from Cape Town, Gondwana Game Reserve is the only major safari that's right on the Garden Route, and is malaria-free year-round.
Set on 11,000 hectares (26,000 acres) of fynbos, Gondwana Game Reserve is a wonderful safari introduction for first-timers, and a fascinating stop off on the Garden Route. Allow two to three days if you can, but if you arrive by lunchtime and leave at lunch the next day, you could squeeze in two game drives (evening and morning) even with just a one-night stay.
While it's smaller than most of South Africa's national wildlife parks, it still has the Big Five and all the major predators. You're highly likely to see elephants, zebras, springbok and lions, plus possibly rhinos, hippos, leopards and more, depending on how many days you stay. In fact, because Gondwana is relatively compact – but still large enough to sustain a proper safari eco-system (most 'safaris' close to Cape Town are glorified zoos) – you have a pretty high chance of seeing most animals you'd have an interest in.
As is common with most private game reserves, self-drive isn't allowed, so you'll be going out on ranger drives in the early morning and late afternoon, leaving the middle of the day for relaxing and just gazing out at the scenery or splashing around your lodge's private infinity pool. Don't be surprised if you're doing a backstroke and look up to see a giraffe peering down at you.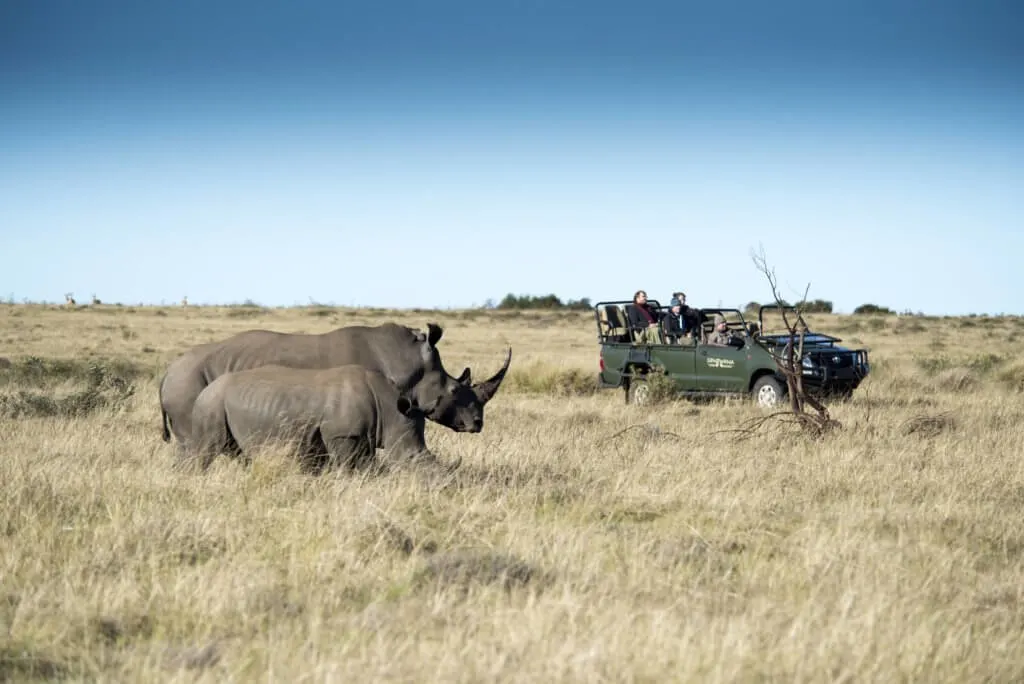 Children aged 6-12 get discounted rates, and can join in fun education game rives, ranger experiences aimed at them, and special activities. They can also join you on the game drives.
Kids under the age of 6 stay for free – hurrah! – but they cannot come on the standard game drives. If you need babysitting while the adults are doing the game drives, the reserve offers this at less than US$10 per hour, or you can pay $180 for a private game drive for your entire family, including children of any age.
The accommodation is much more luxurious than in most national parks, and families are booked into the spacious thatched-roof Bush Villas . The standard of food is high, with children's menus available, but the Bush Villas also have large kitchens, so you can make your own meals for the children, if you prefer.
---
And something a little different…
Loisaba Conservancy, Kenya
Jennifer & Tim from Luxe Adventure Traveler
A little known safari destination, Loisaba Conservancy is found in Northern Kenya's Laikipia plateau and matches the Masai Mara with the sheer number of animals – all without the crowds. With year round resident wildlife that includes Kenya's second largest elephant population, cheetah, African dogs and four of Africa's Big Five, Loisaba Conservancy is one of East Africa's best safari destinations.
What's particularly special, though, are the animals present that are found in few other places in Africa. Known as Kenya's Northern Five, the Grevy's zebra, Reticulated giraffe, beisa oryx, blue Somali ostrich and the gerenuk are all on the endangered species list and found in Loisaba Conservancy.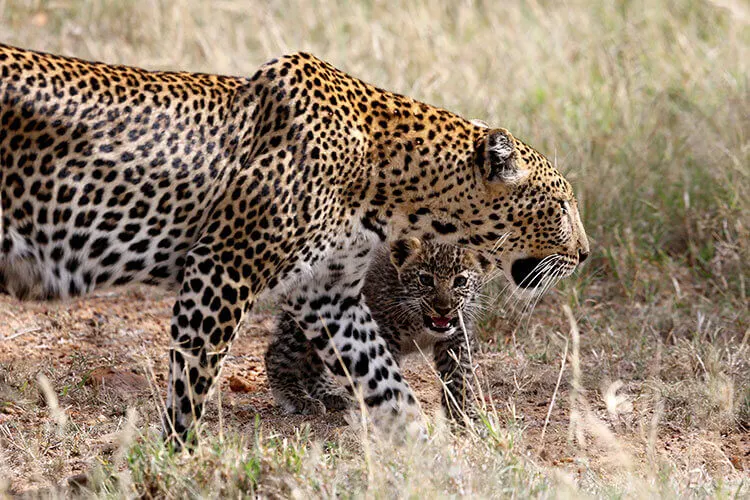 As a land trust conservancy, Loisaba Conservancy has partnered with Elewana Collection to offer accommodation options within the park. A total of just 24 individual accommodations spread across Elewana Collection's three camps located within the 57,000 acre park means crowds are kept at bay.
Families are welcome, and kids under the age of 12 are even free of charge at the 8-tent Loisaba Lodo Springs camp where the spacious fixed-wall luxury tents easily fit a family. Safari experiences are all-inclusive, including the guide and game drives, with Elewana Collection's Game Package.
Located just above the equator and at an elevation of 4000 feet (1219 meters), Loisaba Conservancy is malaria free. That, along with the lack of other nuisance bugs like the tsetse fly, makes safari game drives very comfortable. There's also the possibility to do walking safaris, horseback riding, camel safaris like the Samburu people traditionally use for transport and even an educational experience with Loisaba Conservancy's anti-poaching dog team and their handlers.
---
The Lonely Planet Africa, and the Tracks4Africa Africa Southern Traveller's Atlas were invaluable throughout our travels.
You may also want to read:
Kruger vs Etosha – which is best?
The TRUTH about doing an African safari with kids
Medical kit list for travelling Africa