I'll be honest, I was a little nervous about trekking in Nepal with kids, or more exactly the 5 day trek to Poon Hill with kids. Our boys were just 2 and 4 years old, and aside from the odd afternoon stroll in the parks in Bangalore or short walks in the Peak District, UK, we weren't at that hardcore hiking level quite yet. Plus, my fitness really wasn't what it used to be and how would we all cope with the cold and altitude?
Click here to read our Nepal itinerary with kids

The jagged untouched peaks of the Himalayas hold a powerful allure over us. We had previously explored the Everest region (pre-kids), and although the trek to Base Camp was ridiculously hard work, being in the presence of mighty 8000 metre peaks towering above us as we walked between teahouses is one of the most incredible feelings. But is trekking the Himalayas with kids a step to far for a family holiday?
We had heard about other parents who had successfully been trekking in Nepal with kids with the help of porters who carry them in dokos (baskets). The 5 day circular Poon Hill trek (often completed in 4 days without kids) is a lower altitude trek (climbing to a maximum height of 3210m at Poon Hill), yet efforts are still rewarded with an incredible panoramic view of the Annapurna range. So although we had to be wary of altitude, it would be very unlikely to cause any serious problems.
So with a bucket load of unfounded confidence we found some cheap flights with the notoriously unreliable Nepal Airlines, ordered some thermals from the UK, and set ourselves the challenge of hiking to Poon Hill with kids. Make sure your kids have the right footwear. Check out this guide: The BEST children's walking boots.
The porters
Through Drift Expeditions Nepal we arranged two porters (Lok and Ramesh) to carry the boys in dokos (see photo). However, these guys were so much more than porters. They were nannies, guides, waiters and motivators. When the boys wanted to walk, they walked. And when the boys got tired, into the doko they went. Often the boys would swap between the doko and walking every two minutes, but neither Lok nor Ramesh ever batted an eyelid. When we stopped for a break, Lok would often find them a game to play. We kept our clothing in compression sacks that were used as cushions in the dokos, and the porters' bags were used as a seat.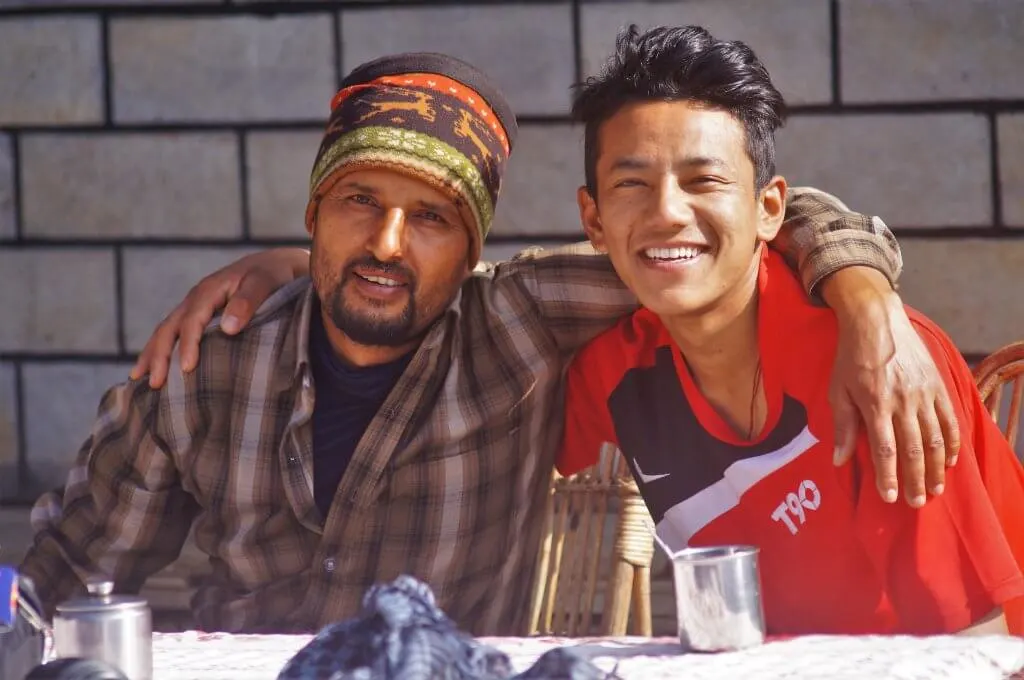 Trekking in Nepal with kids: The route
The classic Ghorephani/Poon Hill trek, considered one of the best treks in Asia, follows a clockwise circuit over 4 or 5 days. This involves a VERY steep ascent on Day 2, climbing 3500 steps straight up hill over 7 hours (feel the burn!), and then waking very early to reach the summit of Poon Hill in time for sunrise on Day 3.
However, if you follow the route the other way round (anti-clockwise) the ascent is more gradual over three days. This allows you all to better acclimatise to the altitude, arriving at the summit of Poon Hill on day 4. Although this does mean you have a very steep descent on Day 5, which certainly tests your thighs on the final day.
Day 1 – Kimche (1640m) to Ghandruk (1940m)
Lok and Ramesh met us at Mount View Pokhara before a jeep arrived to take us to Kimche. On the way we stopped to pick up the dokos and head straps so the porters could carry the boys. The majority of hikers take a taxi to Nayapul and hike along the track to Kimche. However, with 4 adults, 2 children and 2 dokos, we couldn't all fit into a taxi. Plus, at the time of travel (February) the track was very dry and all the passing cars create a cloud of dust. So we decided to take a jeep to Kimche (costing Rs5000) and get a head start on our trek.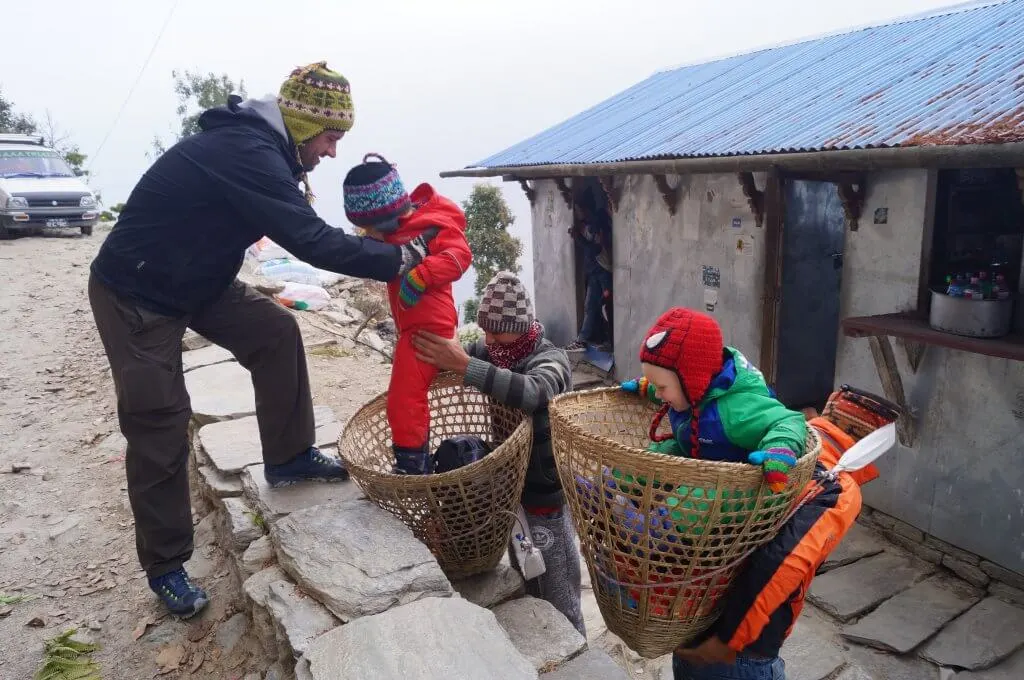 From Kimche, it was a steep one hour climb to Ghandruk where we would stay for the night. I was surprised how breathless I was already getting! Despite this and for altitude sake, we had to resist the temptation to continue hiking when we arrived at 1:30pm; it was a long time to keep the boys entertained until bed time!
Day 2 – Ghandruk (1940m) to Tadapani (2630m)
There were 'only' three hours of hiking today, so we wanted to spread it out with lots of breaks so as not to arrive to the teahouse too early. We had learnt our lesson from yesterday! It was a steady climb uphill, with a couple of very steep sections. However, all day we were in cloud; even once we arrived a Tadopani. We felt that our hiking efforts were not being rewarded with those mountain vistas we were so desperate to see. We couldn't help but feel disheartened when we fell asleep that night. It didn't help that it was bitterly cold and we had to sleep with thermals and hats under two layers of duvet.
Day 3 – Tadapani (2630m) to Ghorepani (2860m)
We woke before sunrise as our youngest was demanding milk. I looked outside and the clouds had cleared to the most amazing crystal clear view. Being able to see the mountains as we hiked today certainly lifted spirits and distracted from tired legs.
Today's hiking would take an average hiker 4 hours. But with our slower pace and allowing lots of stops for snacks and play, it actually took us closer to 8 hours. Much of today was a continued steady climb with a few descents to break it up. The path actually reached a height of 3200 metres (almost the same height at Poon Hill), before a steep descent to Ghorepani where we would sleep for the night.
Day 4 – Ghorepani (2860m) to Poon Hill (3210m) to Banthani (2250m)
We decided against the idea of Poon Hill at sunrise. With the cold, early start we believed it would be too much for the boys. But as we went down to breakfast at a respectable 7:30am, I noticed the clouds rolling in from valley below. We therefore decided to hold on breakfast, get wrapped up and start the climb then and there up to Poon Hill.
It was a steep 50 minute climb to the top, although it felt much longer with all the steps. But as I rounded the final corner, slowly dragging each foot in front of the other, I saw my two boys ahead racing up the final steps to the summit. I was bursting with pride and couldn't help shed a tear.
This moment is what the trek was all about and if felt truly wonderful. The advantage of not getting up for sunrise was that we pretty much had the summit to ourselves. We could have stayed playing and admiring the views for hours, but after 45 minutes we realised we had to start making our way down as there was still a long way to go.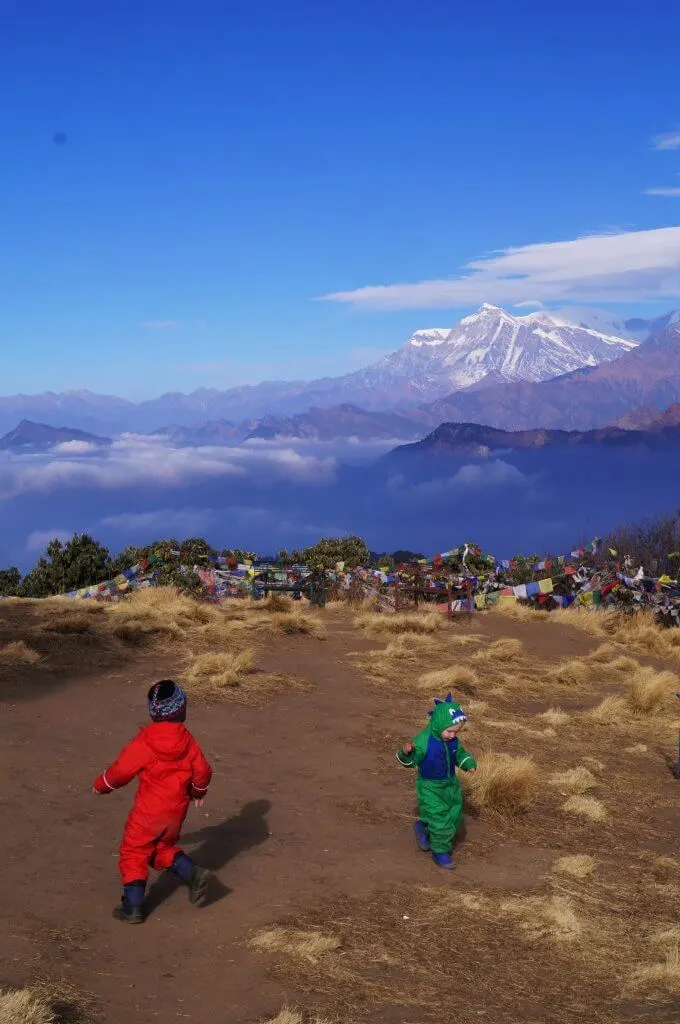 After breakfast back at the teahouse and packing up our belongings, we were on our way back downhill, quickly descending into the clouds below. I kept looking behind to Poon Hill and couldn't believe how high we had climbed. As the boys slept in the dokos, we were able to get to Nyangthani in an hour. From there it was an hour and a half to Banthani. We had planned to go further down to Ulleri, but everyone seemed very tired and we decided to stop for the day.
Day 5 – Banthani (2250m) to Tikhedunga (1525m)
The legs were feeling rather wobbly today and we were ready to get down from the mountains. It was a steep descent, especially between Ulleri and Tikhedunga, although we were grateful that there was no more climbing. That is until we reached the bridge across the river at the bottom of the valley after 2.5hours of trekking only to see yet another steep uphill section awaiting us. It was only 20 minutes though and it wasn't long until we were back in a jeep for the 2.5 hour drive back to Pokhara.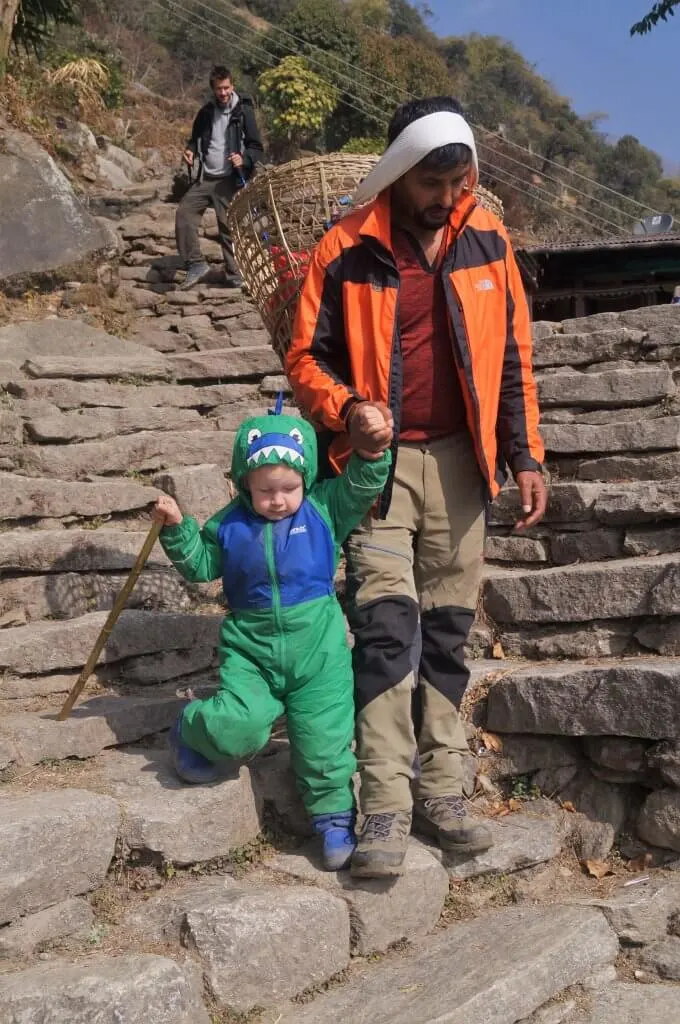 The teahouses
Considering how remote we were, accommodation whilst trekking in Nepal with kids was surprisingly comfortable, albeit rather cold. A teahouse is just like a guesthouse and they are dotted all along the trek. You are never more than a couple of hours away from a teahouse and they are therefore good places to aim to for a rest/snack stop throughout the trekking day.
Each teahouse has a communal dining room, serving hot food, with a fire to dry your clothes and warm up alongside fellow trekkers. Private rooms are available (sometimes with an attached bathroom). Bedding is included, so there is no need for sleeping bag. You are able to recharge your electrical items at teahouses (sometimes for a small fee) and many even have WiFi (although this felt slightly wrong to us and we decided to disconnect for the entire time on our trek).
Prices were generally between Rs400 and Rs700. We took the lead from our porters and stayed wherever they suggested. It is expected that you eat in the restaurant of your teahouse; you may as well though as the menu is pretty much identical everywhere.
Food
Fresh fruit is hard to come by and, unlike us parents, our boys weren't too keen on the local vegetarian Dhal Baat. However, we could get boiled eggs, finger chips (fries) and plain noodles at every teahouse. We also took a supply of Mars Bars and sweets from Pokhara. A good hiker's diet 😉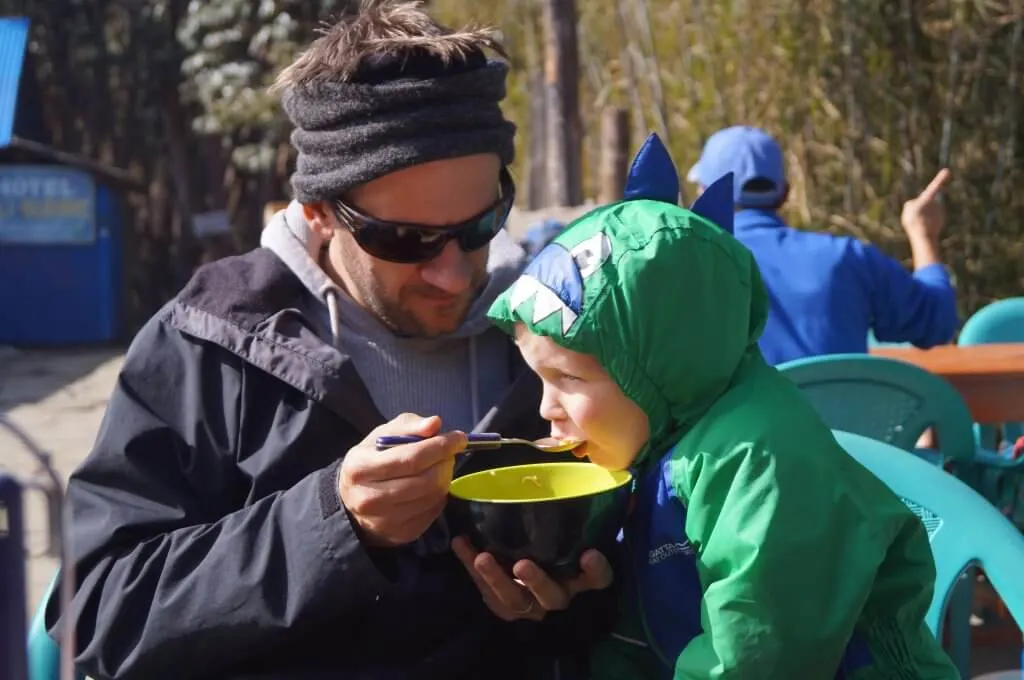 For environmental reasons, bottled water is not available in the mountains. However, you can refill your drinking bottle at every teahouse with filtered water.
Coping with altitude
As a small section of this trek takes you above 3000m, you do need to consider the effect of altitude. In young children, the signs are tiredness, whinging and loss of appetite; which admittedly may be difficult to distinguish between a standard day! Our advice is to take it very slowly. Allow for regular snack and rest stops for them to play. You know your own children, if they don't seem right, then descend. In the photo below, our boys are at 3200m and happily playing; this is probably the best indicator of how they are coping with altitude.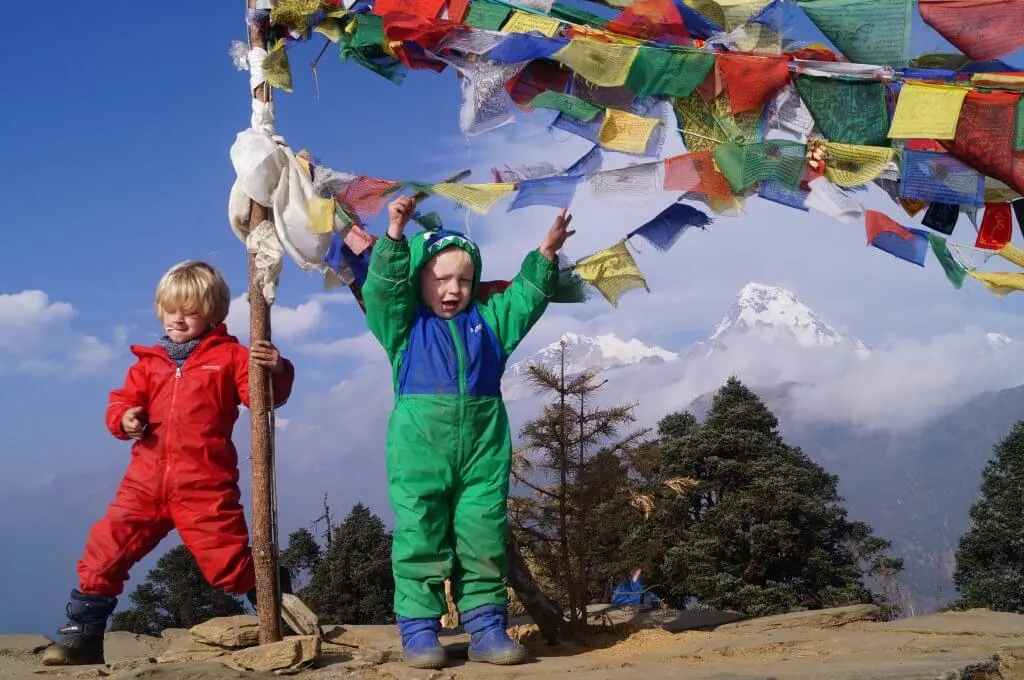 Keeping the kids entertained
Our porters, Lok and Ramesh, were absolutely wonderful at keeping the boys entertained on the trek. If the boys wanted to walk, the porters would walk alongside, ensuring they didn't fall down (or up) any steps. There was always something to keep them entertained at a teahouse during the day; whether it be meeting local children, watching locals work or playing with kittens.
Parenting at the end of a day's trekking could sometimes be hard work. Whilst other hikers had their feet up by the fire reading a good book, we were still parenting. We therefore found it beneficial to lengthen the trekking day with lots of play and snack breaks, meaning we would arrive at our overnight teahouse for around 4pm. After some dinner we would then let the boys choose a film to watch on their Amazon Fire Tablets in front of the fire.
Documents and fees
All trekkers (children under 10 not included) need to register their trek by obtaining a TIMS card (USD20 per person). You can do this in Pokhara, or your porter/guide can arrange this for you. Ensure you take with you two passport sized photos, as well as copies of your passports and visas.
You also need to purchase a permit for trekking in the Annapurna region (Annapurna Conservation Area Project, USD30 per person). Again, this is not required for children under the age of 10.
Fitness
Fitness is not really an issue for the kids as they can jump into the doko when they get tired. However, it is beneficial if they are happy walking some distances to burn off some of their energy. Otherwise they will be full of beans when you arrive at the tea house. Indeed, we often found parenting after a day of trekking harder than actually trekking itself!
Dokos can carry children up to about the age of 6. We met a school of 8 and 9 year olds walking the entire trek unaided!
For parents, I very much recommend doing some sort of training before the hike. However, anyone with a moderate level of fitness will be able to do the hike. Just take it slow (and allow time for the kids to play).
What to pack
It perhaps goes without saying, but you need to pack light. We put clothing inside compression sacks, which were used as cushions in the dokos. We then carried one bag with snacks, water, medical kit and a few other essentials. You don't need to pack sleeping bags as duvets and bedding are provided. Here's our kit list:
Light trekking boots. Make sure your kids have the right footwear and check out this guide for The BEST children's walking boots.
Parents wore warm jacket, T-shirt, fleece, hiking trousers, hiking socks.
Kids wore all-in-one snow suit, T-shirt, jumper, tracksuit bottoms, thermal socks.
Thermals for evening (top and bottom)
1 spare change of clothes per person (trousers, T-shirt, underwear and hiking socks)
Hats and gloves (bought in Kathmandu and Pokhara)
2x water bottles (you cannot buy bottled water in the mountains, but you can get filtered water refills at all teahouses)
Map (can buy in Kathmandu or Pokhara)
Thermos flask and powdered milk (our 2yo only takes his milk hot!) To keep water in the thermos hot, we covered it with hiking socks and kept it close to us under the duvet at night.
Hiking poles (bought in Pokhara for Rs1000 per pair)
Knee supports (for adults)
Medical kit (including Calpol, plasters, ibuprofen, immodium, lip salve, sunblock, Savlon, tweezers, scissors and bandages)
Sunglasses
Toiletries (tooth brushes, small tootpaste, small roll-on deodorant)
Wet wipes
Toilet paper (relatively expensive to buy in the mountains)
Nappies (our 2yo was not potty trained at night and nowhere sells them)
Snacks (we stocked up on Mars bars, lollies and sweets in Pokhara. You can buy in the mountains, but it will be more expensive).
Small box of LEGO
CAMERA!
Best time of year for trekking Nepal with kids
We visited early February and it was bitterly cold, especially at night. As it was low season, teahouses were able to give us spare duvets to double up and we slept in thermals, jumpers and hats. We also found our views obscured by cloud in the lower altitude. But after Tadopani on Day 3, our efforts were rewarded with the most spectacular views.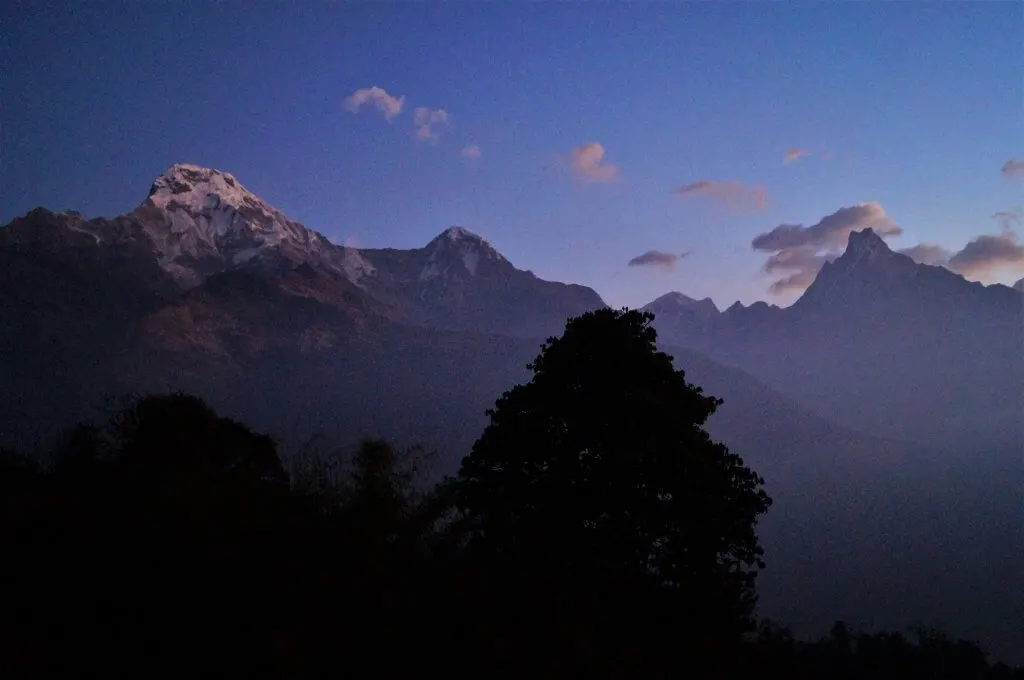 The best time is actually October to November, when the passing of the monsoon season (June to September) brings crystal clear skies and the weather is still comfortably warm. Generally speaking though, it is advisable to plan your visit with the dry season (October to May).
Getting to and from the start of the Poon Hill trek
Ideally you need to base yourself in Pokhara before the trek. We took a bus from Kathmandu (Rs700, 7 hours) to Pokhara. After our trek and refresh at The Pavillions, we travelled to Chitwan by bus (Rs400, 5 hours) for our safari in Chitwan National Park. Be warned the condition of roads in Nepal is extremely poor. Distances are actually not that far (Kathmandu to Pokhara is only 200km), but prepare yourselves for hours upon hours winding around hairpin bends and bouncing over pot holes. Buses also stop every 1.5 hours, which is actually very handy when travelling with little ones. There are toilets and at these stops, snacks and fruit are available for purchase.
Accommodation in Pokhara
Pre-trek: Hotel Mount View
Centrally located with spectacular views to the Himalayas, Mount View Pokhara is great spot to base yourselves before your trek. Rooms are practical and spacious, with good heating and a small balcony. We had a family room consisting of one double and one single bed, plus an ensuite bathroom with bath and overhead shower. Staff are ever so friendly and a good hot breakfast is included. It's just a short 2 minute walk to restaurants, ATM and hiking shops (to stock up on last minute items), and 4 minutes to Phewa Lake.
You can leave your luggage safely at the hotel whilst away on your trek.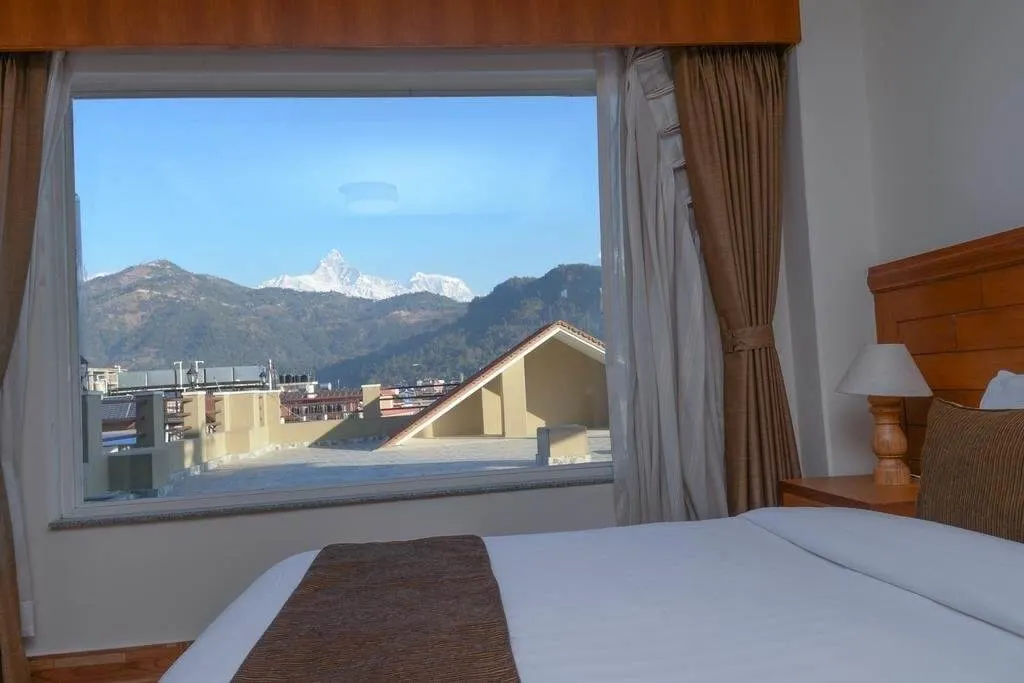 Post-trek: The Pavillions Himalayas
After 5 days trekking the mountains, we felt we deserved some luxury and were absolutely delighted to be invited by The Pavilions Himalayas to stay with them for a couple of nights in their exquisite Pavilions Chalet.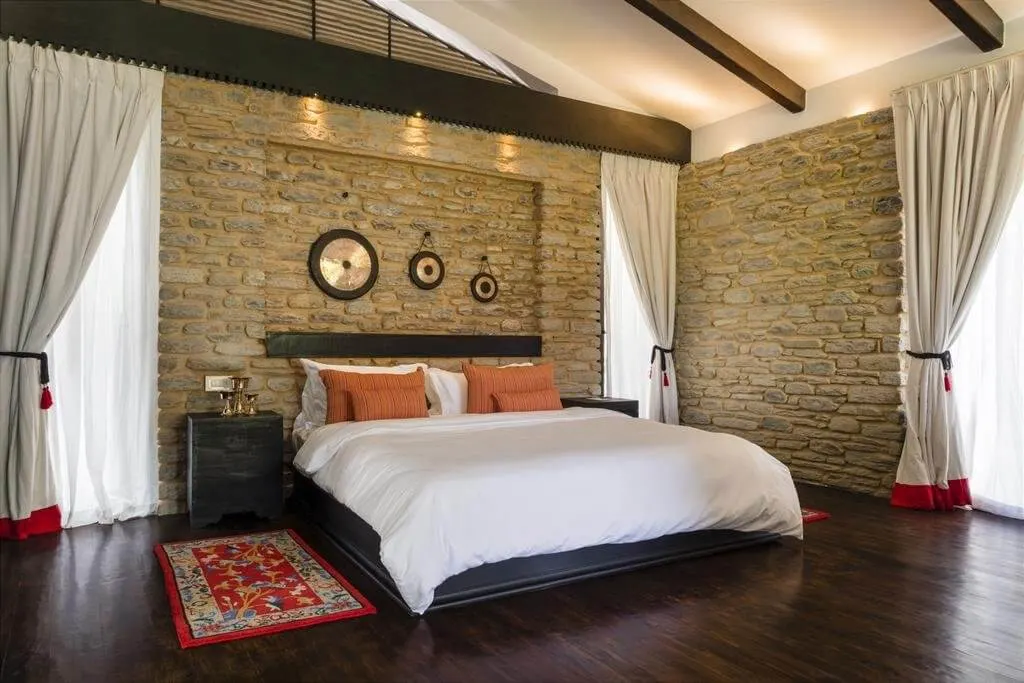 Split across two levels with a double bed on the top floor and two singles for the boys on the lower floor, the Chalet was traditional in design, yet with all modern comforts. The deep spa bath was just what the doctor ordered to sooth my aching limbs, but the boys particularly loved the changing coloured lights under the water. Wrapped in soft towels and dressing gowns we huddled on the beds to watch some kids' cartoons with the fire blazing in front of us, and treated ourselves to room service. A just reward.
There is a swimming pool on site, but it was rather too cold for a dip (it's not heated). However, the boys loved exploring the grounds to see the range of vegetables growing, watch the fish in the pond and meet the baby goats. This is a place to embrace a day of doing nothing much at all, which is just what we all needed. With impeccable service and a tranquil environment, this is the perfect place to stay post trek.
To get to The Pavillions, you need to negoiate a taxi from the centre of Pokhara. We paid Rs1000. The resort is located 2 miles out of town along a dusty, pot-holed road and through a small river.
---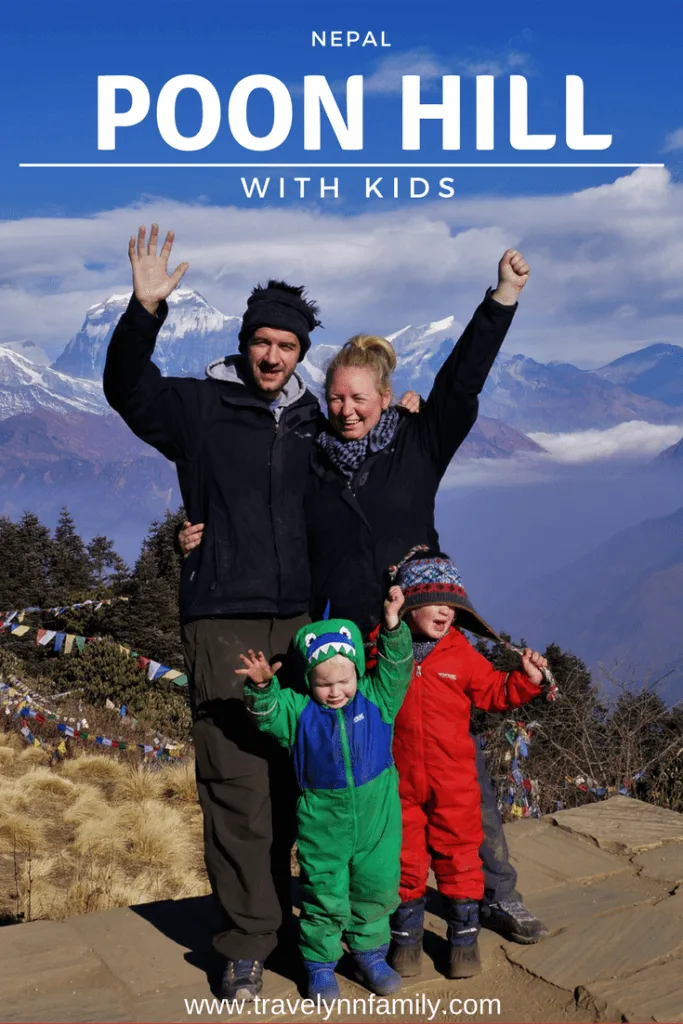 You may also like to read:
Kathmandu with kids: top 8 things to do
Sri Lanka itinerary with young kids
Nepal with kids: a 16 day itinerary