Precarious high-rises crammed in a dust bowl, ravaged by the catastrophic earthquake of 2015, with scooters, trishaws and ancient buses clogging its arteries, Kathmandu can be a confronting place. But this bustling city, watched over by the all seeing Eyes of Buddah from the stupas set high on the hills, is brimming with colour and energy, and simply fascinating to explore.
Kathmandu is the gateway to one of the most magical and visually stunning countries on the planet, and if you're looking to visit its soaring Himalayas, you will no doubt spend some time in Kathmandu.
Kathmandu isn't a city that's obviously set up for kids. There are no interactive museums, play areas are few and far between, and there are almost no green spaces to run free. However, we spent a few days exploring the city with our two young boys (aged 2 and 4) as part of our 16 day trip to Nepal last year, before venturing to Pokhara to take on our 5 day trek to Poon Hill. From gouging on momos and shopping for Spiderman hats in Thamel, chasing monkeys around temples, and riding around in a trishaw, our boys had a wonderful time.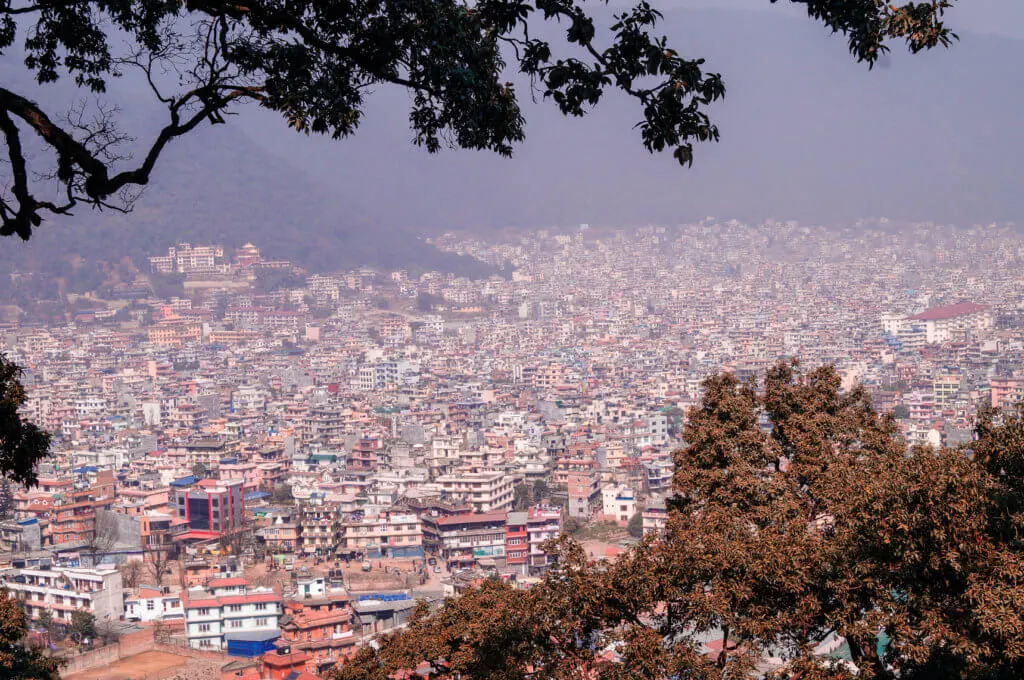 These are our top things to do in Kathmandu with kids.
1. Shopping and eating in Thamel
Thamel is the main tourist district bursting with trekking shops and decorated with prayer flags. There are a couple of streets closed off to cars, although motorbikes will still wizz past, so hold on tight to your little ones. Stock up on an last minute hiking gear if you're heading up to the mountains. An essential hiking item for our 2 year old was a woolly Spiderman hat. This is also a good place to purchase hiking poles. However, bear in mind that much of the products on sale are of North Fake branding.
Once you're all shopped out, head to a rooftop restaurant. There are always kid-friendly items on the menus, such as pizza, fries, pancakes, and ice-cream. Although our boys took a liking to momos, washed down with a hot chocolate.
2. Learn about the devastating effect of earthquakes at Durbar Square
There are three Durbar Squares (royal squares) in the Kathmandu Valley, with the Kathmandu Durbar Square being most central for visitors to the city. Seven of the historic buildings within the square were destroyed in the 2015 earthquake, and all others were damaged in some way. Due to bureaucracy, restoration is a long process and relies heavily on the entry fee of tourists (1000 Rupees). We were surprised to see so much rubble still laying about and walls precariously held up with rotten wooden poles.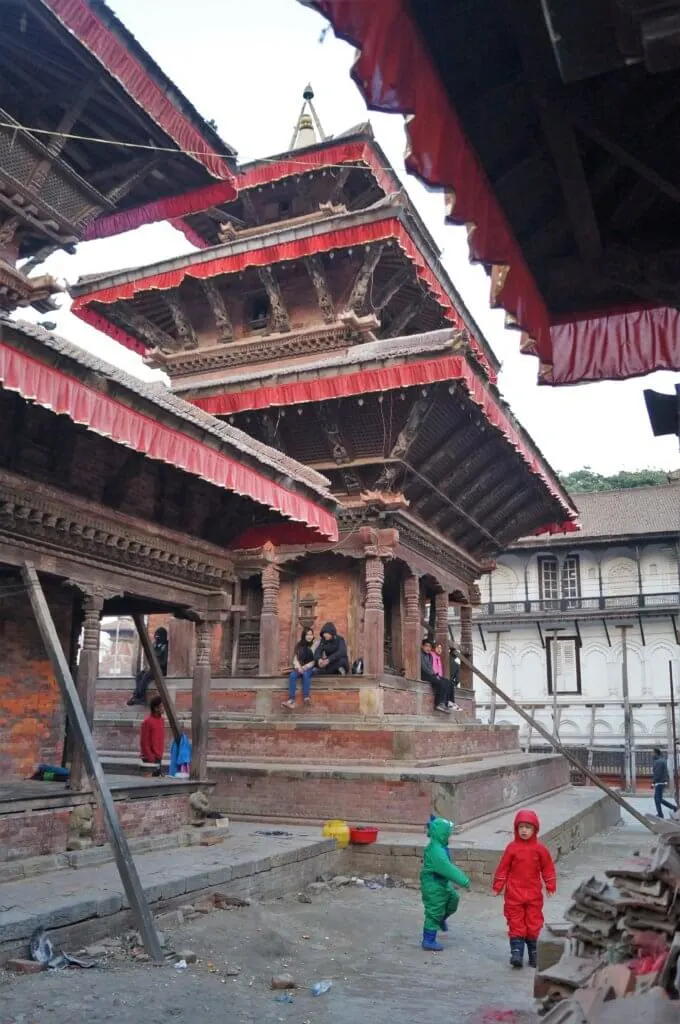 3. Ride a trishaw
I had to put aside my privileged guilt when the boys excitably agreed with the trishaw driver to take us back to the hotel (er… who's paying kids?) With four of us crammed on to a small 2-person seat, I was surprise that the trishaw didn't tip backwards from the sheer weight of us (I really shouldn't have had that last plate of momos), our driver, or rather cyclist, painfully pushed away on his pedals with a smile on his face for winning our custom. It was an uncomfortable ride, but the boys absolutely loved it. And certainly saved us a battle through the chaotic streets to get back to the hotel.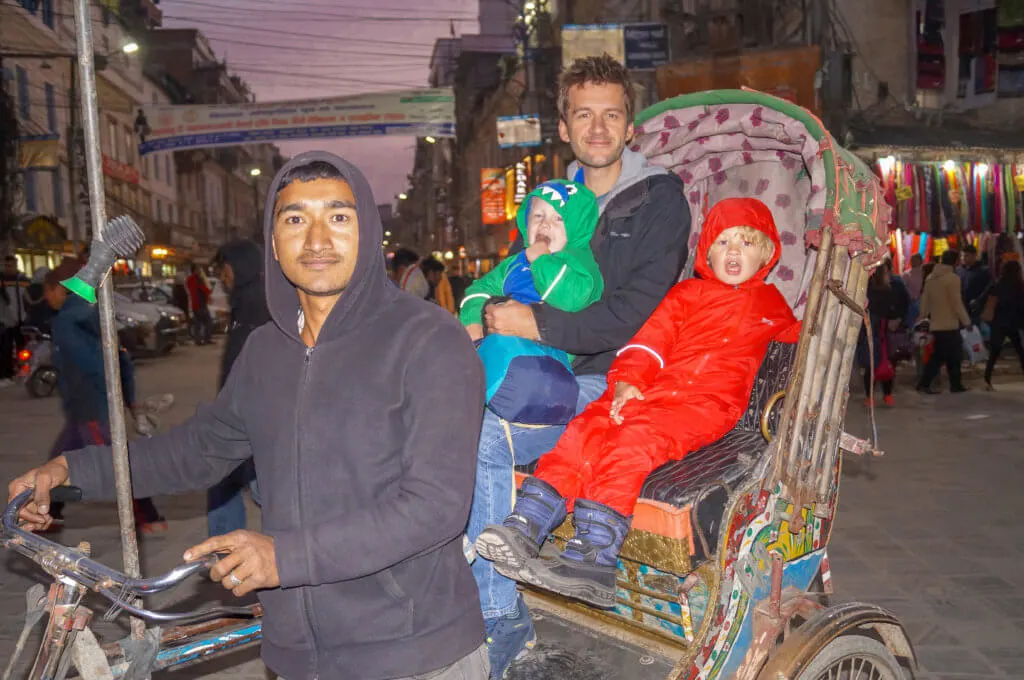 4. Have a run around at The Garden of Dreams
The Garden of Dreams is the only place in downtown Kathmandu where parents can relax on a patch of grass and allow their little ones to run around. There are even mats and cushions laid out for use, and you're allowed to bring in your own drinks and picnic. An oasis within the chaos of Thamel, its manicured lawns, ponds and flora-arched walkways are a lovely place to spend the afternoon; although expect share the lawn with a few canoodling locals (it's apparently the best place in town to bring a date). Entrance is 200 rupees for foreigners.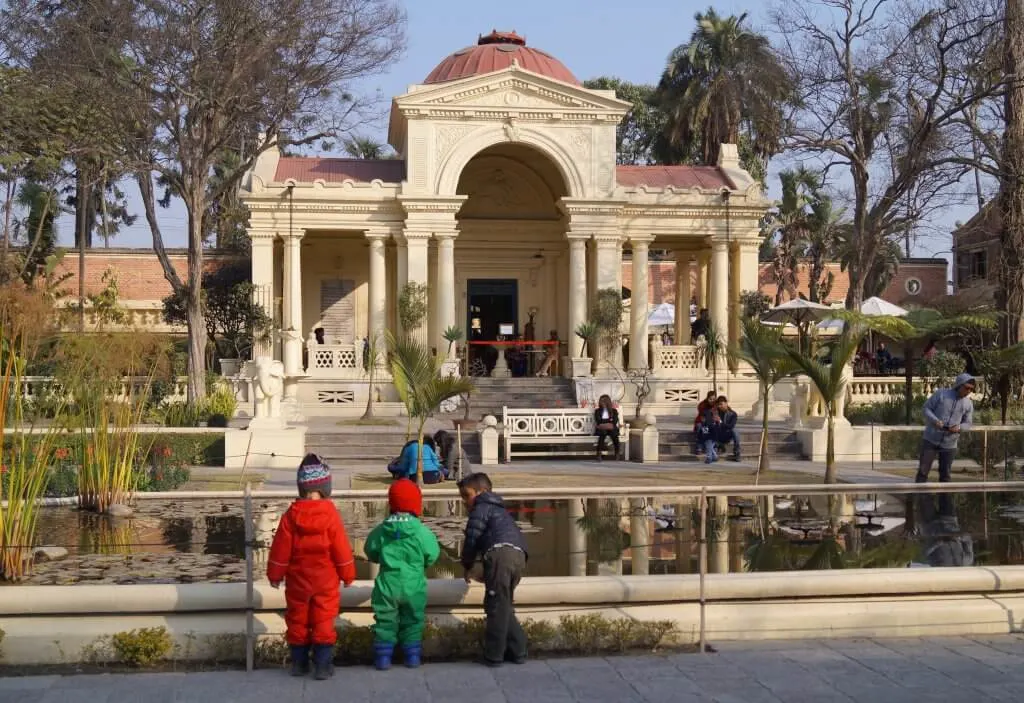 5.Marvel the stupas and watch the monkeys at Swayambhunath
Teeming with territorial monkeys (hence it's alternative name 'Monkey Temple'), Swayambhunath, this is a magical place to explore with prayer wheels to spin, shines to marvel, butter candles to light, music to dance to, and spiritual ceremonies to witness. There is something going on everywhere you look and it's utterly mesmerising. It's a 5 minute taxi ride from Thamel, where you will be dropped off at the bottom of the hill. It's then a walk up the hill (or another taxi ride) to the the impressive white dome of the main stupa.
6. Explore the medieval city of Bhaktapur
The ancient city of Bhaktapur makes for an easy day trip from Kathmandu, only 12km from the centre. Only a few buildings were destroyed during the earthquake, and traffic is considerably reduced in comparison to downtown Kathmandu, so it makes for a more relaxing stroll with little ones. Wander the ornate temples, grand squares, local handicraft stalls, and watch the potters at aptly named Potters Square. There are also local cafes if you're feeling peckish. Foreigners need to pay a fee at the main entrance (1500 rupees, kids are free).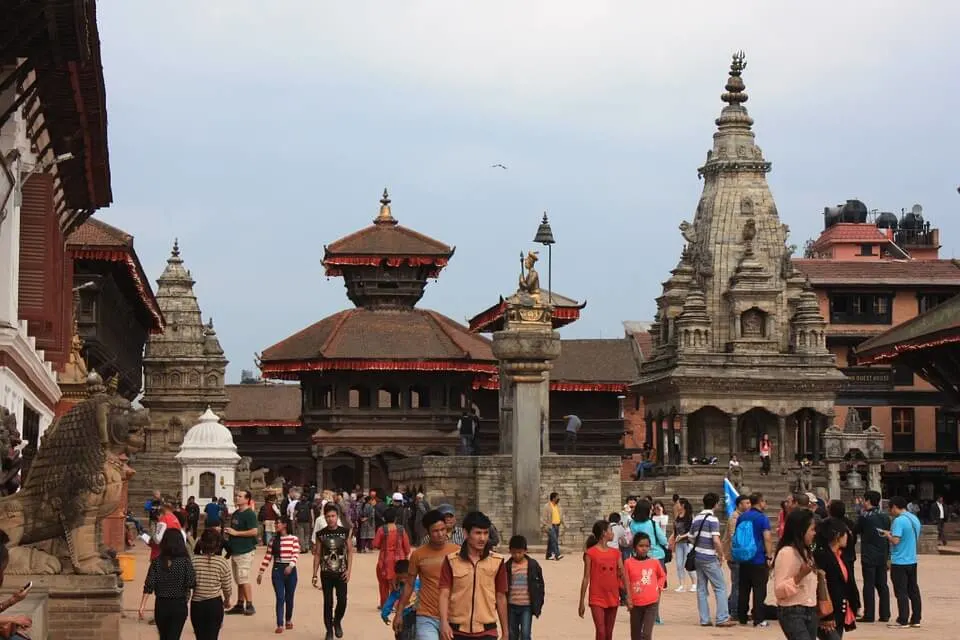 7. Whoopee Land Water & Amusement Park
Whoopee Land is just a 30 minute taxi ride south of the city. There are lots of rides at the Amusement Park for little ones – swing on a pirate ship or spin in a tea cup – and thrill rides for those that enjoy getting their stomach in a knot. There are slides galore at the Water Park, including a splash play area for little ones, although the water quality is questionable. And don't miss out on the life-sized dinosaurs at the Live Raptors exhibit. Visit the website for opening times and ticket prices.
Fairground rides can also be found at Kathmandu Funpark, in central Kathmandu.
8. Chandragiri Hills
Take the 9 minute cable car up through the clouds to the spectacular views from Chandragiri Hilltop station. At the summit, there is a viewing tower, a fantastic (and clean!) playground, a small toy shop, pony rides and restaurants. To get to the cable car, you will need to take a taxi (approximately 1 hour). Check the website for opening times and prices.
Where to stay in Kathmandu with kids
We stayed at Hotel Yambu. Wonderfully friendly staff and family rooms available. Great location too and makes for a good budget option! However, there are A LOT of steep steps to get up to the rooms on the high floor and layers of clothing are required for breakfast as the dining area is open.
If you're looking from something more mid-range, I suggest Oasis Kathmandu Hotel. Or if you're looking for a bit of luxury, try the Hyatt Regency Kathmandu, who I'm reliably informed does a fantastic Sunday brunch too.
---
You may also like to read:
Trekking Poon Hill with kids
Nepal with kids: our 16 day itinerary
Travelling India with kids – is it worth it?