Our personal recommendations of Lake Malawi camping sites for both overlanders and general campers.
No visit to Malawi is complete without visiting Lake Malawi, also known as Lake Nyasa. Located between Malawi, Mozambique and Tanzania, this is the 'inland sea' of the otherwise land-locked Malawi and stretches along the length of most of the country. Its calming sandy shores dotted with fishing villages offer weary travellers a place to kick back and relax.
We first visited Lake Malawi back in 2001 on a summer break from university. We took our tent and camping gear, and made our way around the country using public transport. It was interesting to see that little had changed when returning in 2018 with our kids on our overlanding adventures around Africa.
You can read our self-drive Malawi itinerary here.
Sale
For overlanders and those backpacking Malawi on a budget and camping, there are some fantastic Lake Malawi camping sites. This list of the best Lake Malawi camping sites starts in the south and works up the coast.
To bear in mind…
Stock up on food before you arrive at these campsites, as there is little in the way of shops (although you will be able to buy eggs and bread from the local village, or purchase meals on site).
All these sites, bar Domwe Island, offer electricity to campers.
Bilharzia, an infection caused by a parasitic worm, is present in the water. Even if you choose not to swim, the water used in showers is likely to be drawn from the lake. Do as the locals (who can afford it) do, and pick up bilharzia medication from the pharmacy.
The waters to the south of the lake are nicer for swimming than the north. The landscape becomes more picturesque as you head north, but the beaches have a lot of reeds and aren't as clean.
1. Nkhudzi Lodge
Camping at Nkhudzi Lodge feels more like camping in someone's garden than an actual campsite. But the lovely owners will run you an electrical line down from their house and give you the key to use the bathroom behind the restaurant.
We camped under a big shady tree (our roof tents only just fitted underneath), which sits above the beach. Steps take you down to the sandy beach.
There is a small pool and a good restaurant (although book your food in early). If you plan on cooking for yourselves, stock up in Zomba. You will find limited items in Monkey Bay.
2. Chembe Eagles Nest
We only stayed three nights at Chembe Eagles Nest, but ran out of food and wished we'd stayed longer. The camping area is to the side of the impressive reception and dining area and enjoys beach front views.
The camping area has its own wash-up area and braai facilities, and it feels private from the main accommodation area. However, the bathroom facilities are a little walk away and share the communal ones at the entrance. Climb up to the top of the large rock for stunning views over the lake. It was our little breakfast spot. We also recommend the onsite restaurant. The fish is excellent.
Here the lake is perfect for swimming – nice temperature, clean and calm. But an absolute must is to do the two hour sunset catamaran cruise.
There is also camping in this area at Fat Monkeys. However, this is geared more to backpackers.
3. Domwe Island
Domwe Island is the largest uninhabited island in Lake Malawi, with a circumference of 11km. It is separated from the mainland by the narrow Ilala Gap. It's a great spot for a kayak or snorkel.
Unfortunately if you're overlanding with roof tents, you need to leave your vehicle on the mainland. But if you have your own tent, that you can carry with you, you can set yourself up on of the wooden decks with a thatch roof. Otherwise, there are tents you can hire.
It's a very beautiful spot, but there is no electricity and nowhere to purchase food (although food can be prepared for you if you book ahead). Take a boat or kayak to the island. Contact Kayak Africa to book and have a read of Mini Travellers' review of Domwe Island; it was one of their favourite stays on Lake Malawi.
4. Sunbird Livingstonia Beach Hotel
If you're looking for Senga Bay camping, you can't go wrong with Sunbird Livingstonia Beach Hotel which offers camping on a grassy lawn right next to the beach. Campers can also use the hotel pool.
This very secure campsite offers individual power points, hot showers, and a fantastic bar/restaurant with great views. Plus, the ablution block is spotless. Keep an eye out for the baboons though, they have been known to steal food and even unzip tents!
Do note that Senga Bay is a popular weekend spot for Lilongwe locals and expats and is much quieter during the week. WiFi is available for a fee.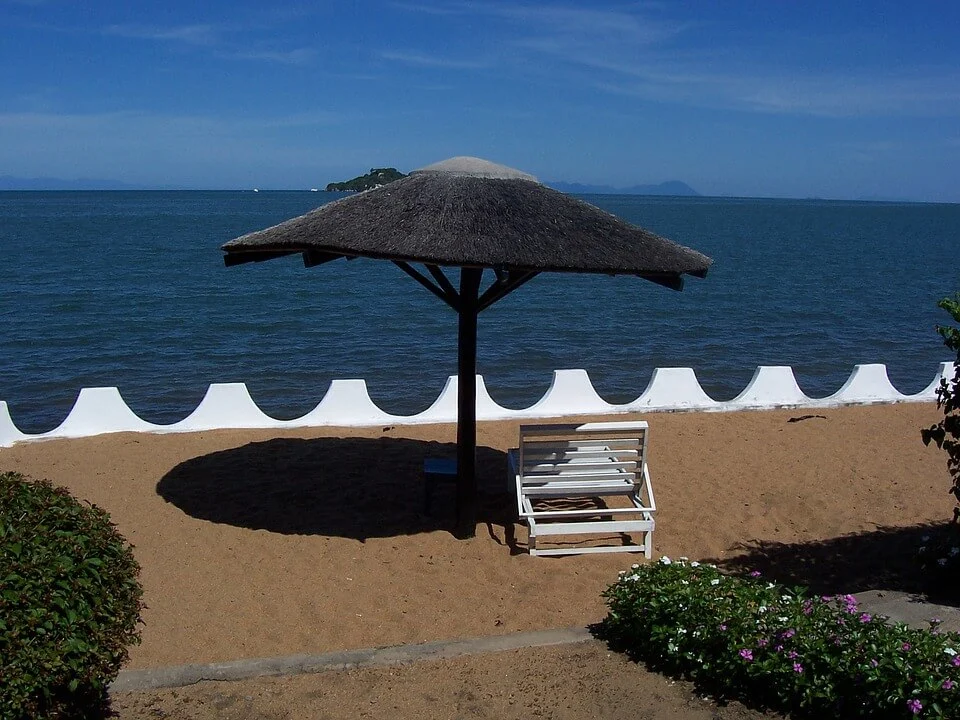 5. Fish Eagle Bay Lodge
About 10k south of Nkhotakota is eco-friendly Fish Eagle Bay Lodge. Here all power is sourced from solar panels on site, and solar pumps are also used to pump water from the onsite well. It's another beautiful spot right on the beach, clear of reeds.
The best camping pitch is right on the beach where there is a gazebo, power, a water point, braai and lights. This is only suitable for 4×4 vehicles and only one site is available. It's worth calling ahead to check availability (+265 8888 53962).
Otherwise, there are eight campsites (suitable for 2WD) near to the basic ablution block for $5 per person per day.
There is also a bar and restaurant on site serving excellent fish.
6. Ngala Beach Lodge
At Ngala Beach Lodge there is a well-maintained, grassy and shady campsite adjacent to the beach. If you require electricity an electrical extension can be arranged for you for a nominal fee. The ablution block is spotless and the hot showers lovely.
As well as a private beach, there is a small pool on site and a bar/restaurant serving good food. Try and time your visit for Pizza Wednesday night, when the clay pizza oven is fired up. WiFi is also available.
Activities can be booked at the lodge including a trip to the local Hot Springs, Unaka Lagoon, a cultural village tour, snorkelling and horse riding.
7. Makuzi Beach Lodge
The campsite at Makuzi is for those looking for a peaceful location. Set on a grassy area, the campsite overlooks the beach and there are two small gazebos plus a BBQ area to use. The shared ablutions have hot water and there is a power point to serve the four pitches.
There is a bar and restaurant on site, and dinner can be served on the beach. Snorkel and kayak gear is available at a fee for campers (free for those staying in the chalet).
This is an exceptionally beautiful location and it's likely that you will want to stay longer than anticipated, so if you're self-catering stock up on food before arrival.
8. Chintheche Inn
Chintheche Inn was the fist place we arrived where the beach was full of reeds. It therefore didn't feel conducive to swimming. But here the lake opens out and it feel more like a sea and there is a swimming pool on site should you fancy a dip.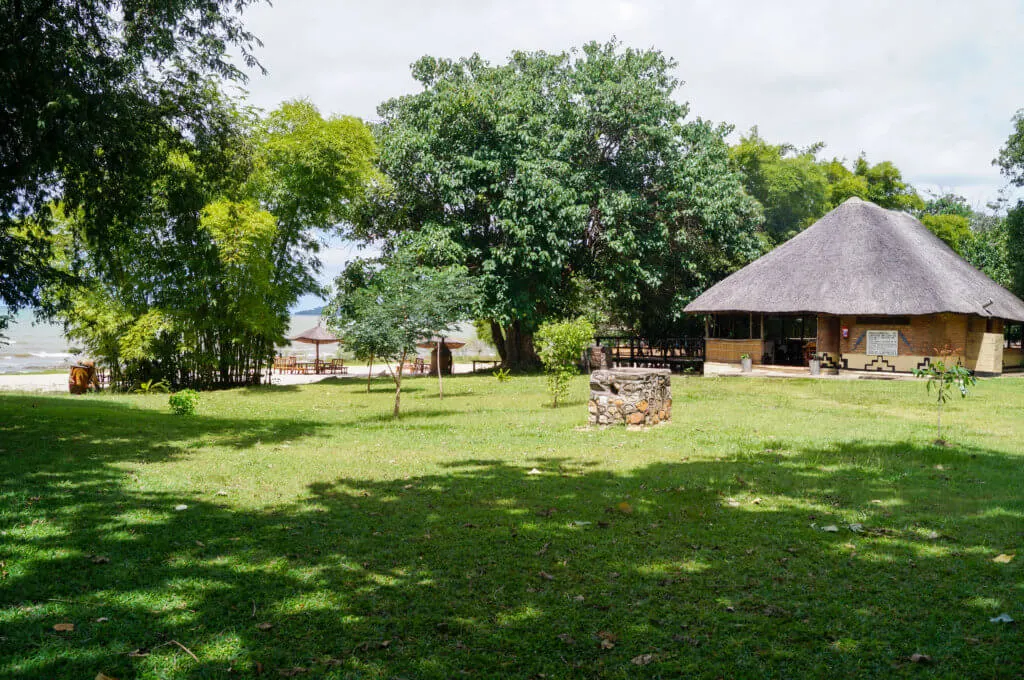 The camping area overlooks the beach from a grassy area. Ablutions are clean and braiis are available for use.
There is also a small playground and the large expanse of grass is beautifully manicured. Unfortunately staff aren't the most welcoming.
9. Chitimba Camp
Chitimba Camp was our last stop on our recent overlanding trip through Malawi, before heading in to Tanzania. A lovely Dutch couple run this camp and it's a beautiful location backed by lush mountains. The beach by the lake isn't the cleanest and there are lots of reeds, but the campsite is set away from the shoreline and has a clear sandy pitch to kick a ball around.
Electricity is available and the ablution block has hot water. There is also a bar and restaurant on site.
The only downside is that it's popular with overlanding tour groups and they tend to take over the site.
A good day trip from this Chitimba Camp is to head up to the old Scottish colonial town of Livingstonia. However, we were visiting just after the wet season and the road up the mountain was impossible in our Land Rover. Alternatively, you can take a public pick up vehicle up the mountain (just be patient as it won't leave until 'full'), or pay a for a private 4WD (USD60) organised through Chitimba Camp, or you can walk the 20km round trip (we thought that a bit much with a 2 and 4 year old).
---
Sale
You may also like to read:
Your essential first aid kit for Africa travel with kids
Africa packing list: the ultimate packing list for overlanding Africa
The TRUTH about doing an African safari with kids