Chinteche Inn sits on the northern shores of Lake Malawi, making it a handy stopover as you head either up or down the country. For us (as part of our overlanding trip around Southern Africa) it was an ambitious (i.e. long) drive from Cape Maclear as we headed towards Tanzania, but well worth the effort.
Disclaimer: Our stay at Chintheche Inn was complimentary in return for this blog post. However, these are all my own words and opinions.
You'll find it about 45 minutes south of Nkhata Bay, tucked down a bouncy road (call ahead to check on the condition of the road if you're coming in the rainy season). If you are planning to camp, make sure you stock up before you arrive as once you leave the main road, there aren't really any other places to buy food or drinks.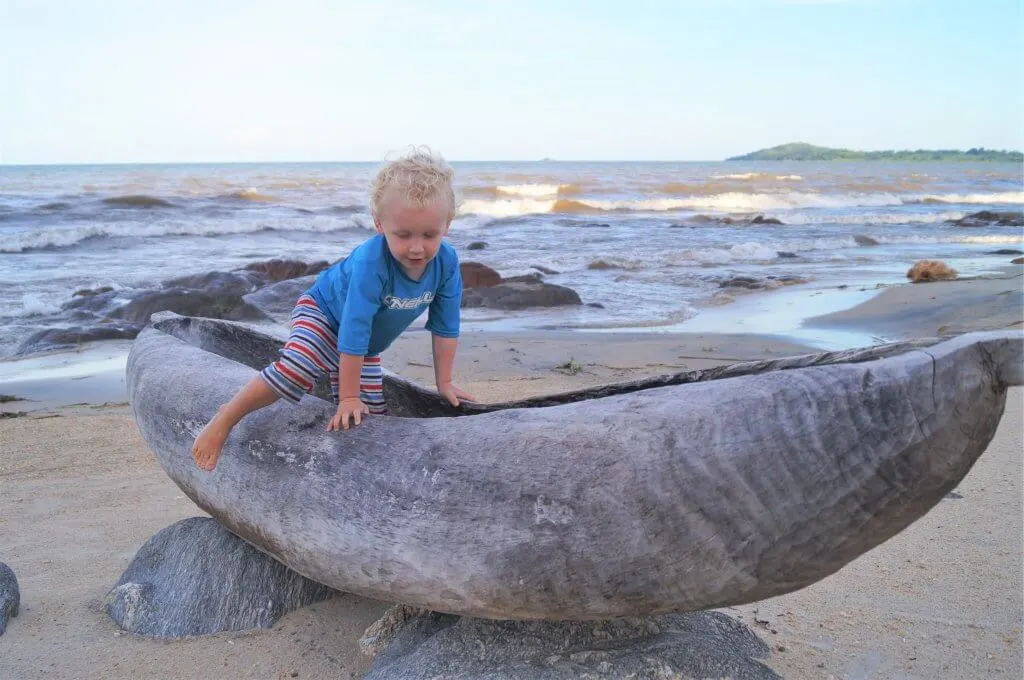 Camping or cottages
You'll find several accommodation options here, including a very attractive campsite (complete with its own bar, TV room, kitchens and clean bathrooms), and several cottages with en-suite bathroom and outside seating areas overlooking the lake. I would say that the campsite is one of the best campsites on Lake Malawi.
We were invited to stay in the family chalet which has a separate twin room for the boys to share, and a double room for the parents; a great little setup for families. All rooms come with fans and mosquito nets and we especially enjoyed the bags of popcorn and greeting card waiting for us on arrival!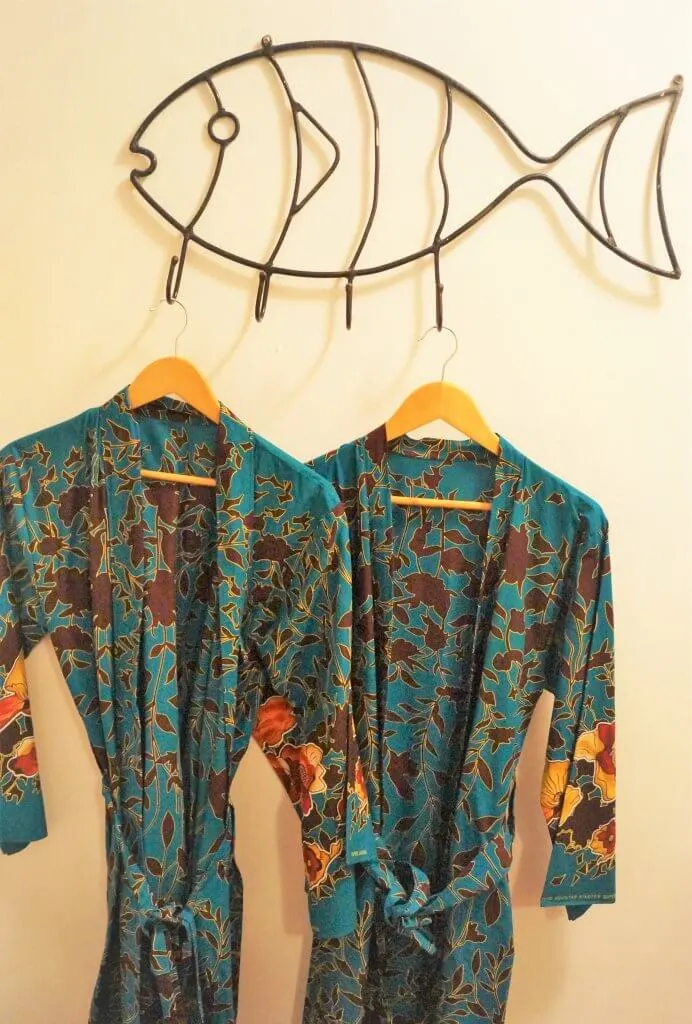 Facilities
There are plenty of facilities for the kids to enjoy including a raised swimming pool (its shallowest depth of 0.95m), a small outside play area, volleyball court, mini beach-soccer pitch and lots of beautiful lawn to play on.
Whilst there is a pristine strip of sandy beach, we didn't find this stretch of the lake particularly inviting for swimming (certainly not in comparison to Cape Maclear and other points south); the water was a lot rougher than we expected and there were rocks and reeds along most of the shoreline. We still were able to splash around but not in quite as much carefree comfort as we'd hoped.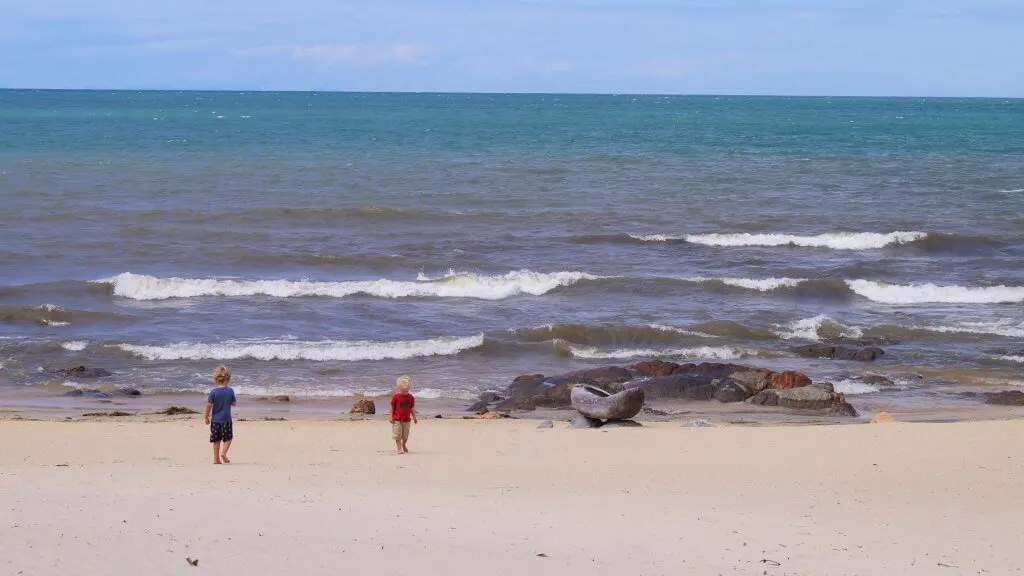 Eating
There is a restaurant with a simple but tasty menu offering the usual things you'll have seen around Malawi (fish, curries, burgers, pancakes, etc) and we ate outside on the grass overlooking the lake which was lovely – it meant to the boys could run around in-between mouthfuls whilst we tucked into our food.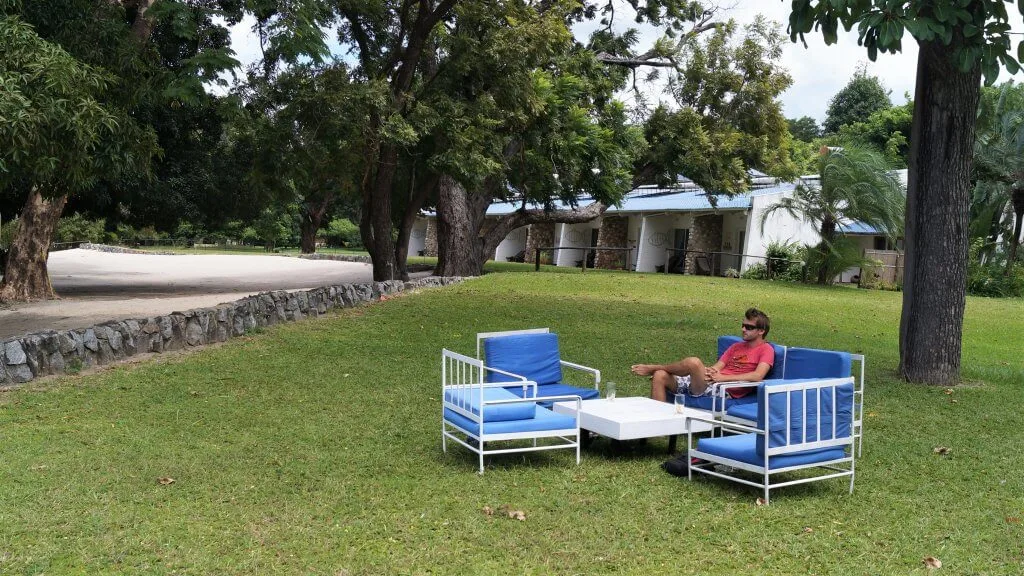 Bedtime
In the evenings, once the boys had gone to bed we were able to sit out on the patio, relax on the comfy chairs and listen to the waves crash onto the beach – certainly a lovely spot to spend a couple of your precious Malawian days.
---
Where would we be without our trusted Lonely Planet? The Zambia, Mozambique, Malawi combined Lonely Planet guide was invaluable to our overland travel planning.
Alternatively, if you are only focusing on Malawi, you may prefer this Bradt guide.
You may also like to read:
Game Haven Lodge REVIEW
Mozambique itinerary with kids
Zomba Forest Zodge REVIEW
For more posts on Africa, head to our AFRICA page.