It was our third full day at Camping de Vaubarlet and we still had no plans to leave the boundary of the campsite. This was a rarity for us. We generally have our days mapped out with exploring and adventuring a new area. But not this time. Without realising it, we had all very quickly slipped into relaxation mode; lazy mornings followed by chilled afternoons that flowed with the surroundings, and a later bed time for the boys who fell straight to sleep when their heads hit the pillow. The perfect start to our France road trip itinerary.
Disclaimer: This post contains affiliate links. If you click to purchase, it is at no additional cost to you, and I receive a small commission.
Camping Vaubarlet is a small campsite nestled in a verdant valley of the French Auvergne, 1.5 hours south west of Lyon. Tall pines trees offer welcome shade from the midday summer sun, and alongside the campsite flows a gentle stream, shallow and safe for little ones to wade in. Summer days can be very hot, but the temperature drops at night time, so pack warm sleeping bags. It's an incredibly beautiful location, suited to nature-loving families looking for a quieter site, and is very popular with Dutch families. It's one of our favourite family campsites in France.
Our pitch at Camping Vaubarlet
The view from our tent porch offered a large grassy area, leading down to a stream, backed by a dense forest rising up the hillside. The playground in view meant that we could keep an eye on the boys from the comfort of our tent, and the open space allowed them the sense of freedom to run and explore. Book in advance to get one of these pitches by the stream.
This is also where the static safari tents are located, so you know it's a good spot! Note that this area is for tents only. If you are travelling France in a motorhome or campervan, then you will be allocated a pitch further back from the river.
Pitches elsewhere on the site are shady and standard in size. The only difference is they lack the view and space.
Each site comes with an electric hook up point, although if you are happy to be without electricity, you can camp under the trees right next to the stream.
Our pitch was just a short walk (30 metres) from the ablution block, which is always handy with little ones, and meant that our boys could walk to the toilets on their own (they're 4 and 5 years old). Showers, toilets and wash facilities are clean and well kept.
Facilities for families
The highlight for my boys was wading and playing in the stream. Bring fishing gear if you fancy catching fish for dinner. The river bed is made up of rocks, and can be tricky to walk in, but these keen sandals worked perfectly for this.
Next to the restaurant you will find the swimming pools (there's a separate baby pool), and bouncy castle. The swimming pool is small and there are no slides, but this is to be expected of a smaller campsite and one of the reasons we picked it. It's the best place to be on a hot summer's day. There is no lifeguard on duty, so watch you children at all times. This also goes for the bouncy castle.
Make sure you try the pizzas from the restaurant. They're made fresh to order in the pizza oven. Delicious.
There is also a well run kids' club on site (Lenny Club), with morning afternoon and evening activities. This is held in Dutch, as this is such a popular campsite with Dutch families. But the few times our boys joined in, the staff were very welcoming and were able to explain the activities in English.
The campsite shop
Next to the restaurant there is a small shop with very limited stock. Better to stock up at the Intermarche supermarket just an 8 minute drive away. If it's a Sunday (when most shops are shut), head to Carrefour Market 12 mins away. Both are situated on the other side of Sainte-Sigolène but if you're short on cereal or need a bottle of wine, you should be able to find these in the campsite shop.
Order your fresh breads and croissants at the campsite shop the night before by writing your order on the sheet hanging from the door. Warm croissants are the best way to start the day!
WiFi at Camping Vaubarlet
We were unable to get any internet signal on our phones. There is good WiFi on site at the restaurant. But away from the main area, the signal is weak and we were sometimes unable to connect to it from our pitch.
What to do in and around Vaubarlet
The campsite is in the depths of the forest and there are no nearby villages within walking distance, although there is a lovely walk through the forest trails that you can follow (pick up a map from reception). You will need a car to get anywhere and no public transport passes by. This is very much a campsite to get away from it all.
About 50 minutes drive away is Le Puy en Velay; a beautiful medieval town with narrow alleyways. During the Summer, there is a free light show each evening with images projected on to the historical buildings of the old town.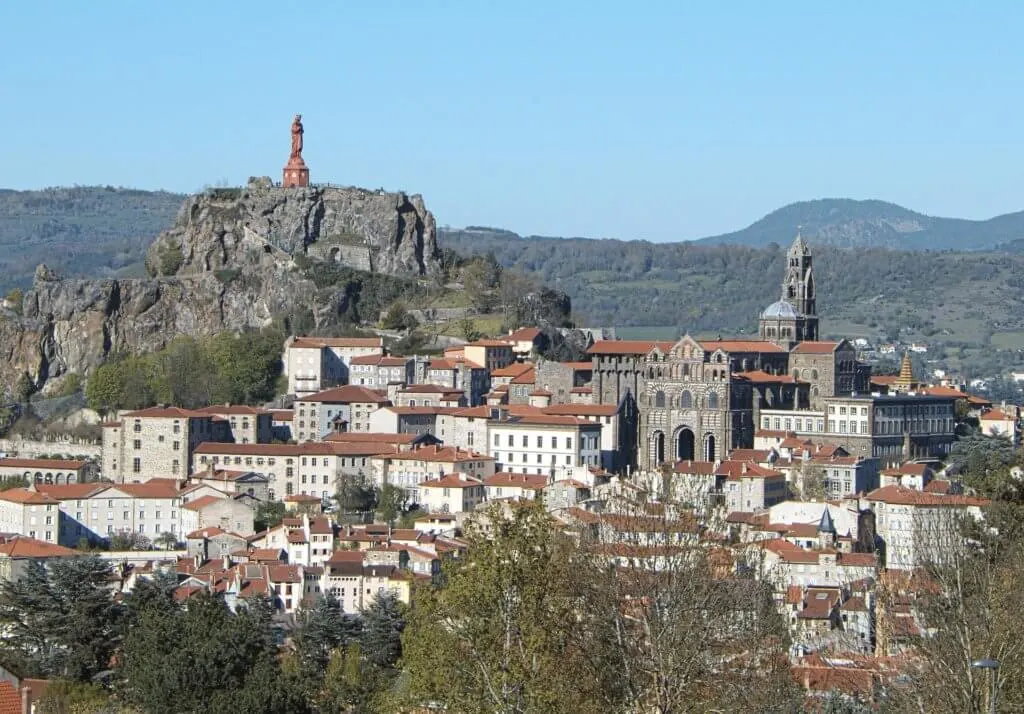 Another good day out is a cycle or stroll along the Via Fluvia. No vehicles are permitted on this road, which connects pretty villages through the region. Worthwhile stops are Grazac to climb to the top of the church spire, and Yssingeaux for the markets on a Thursday morning.
There is also kayaking, horse-riding and high rope courses in the region if you fancy being more active. However, the campsite is so beautiful and relaxed, with lots to keep little ones entertained, that you may find that you have barely left the campsite by the end of your stay. Which is exactly what happened to us.
---
You may also like to read:
Unique France road trip itinerary for a summer camping with kids
Eurocamp in the Dordogne: Camping Le Port des Limeuil REVIEW
Best Châteaux to visit in the Loire Valley with kids