'Ooo that's cold' I remark to anyone within earshot. I then count to three and brace myself, submerging my shoulders under the water with a keen breaststroke. Ten seconds later…. 'Oh it's fine, you just have to get used to it'.
It's the same conversation every time I step into a European outdoor swimming pool. Unless we're in Iceland. Oh they're toasty warm!
Splash About gifted the boys each a UV Sun & Sea Suit in Shark Orange in return for this honest review. As always, all opinions are my own.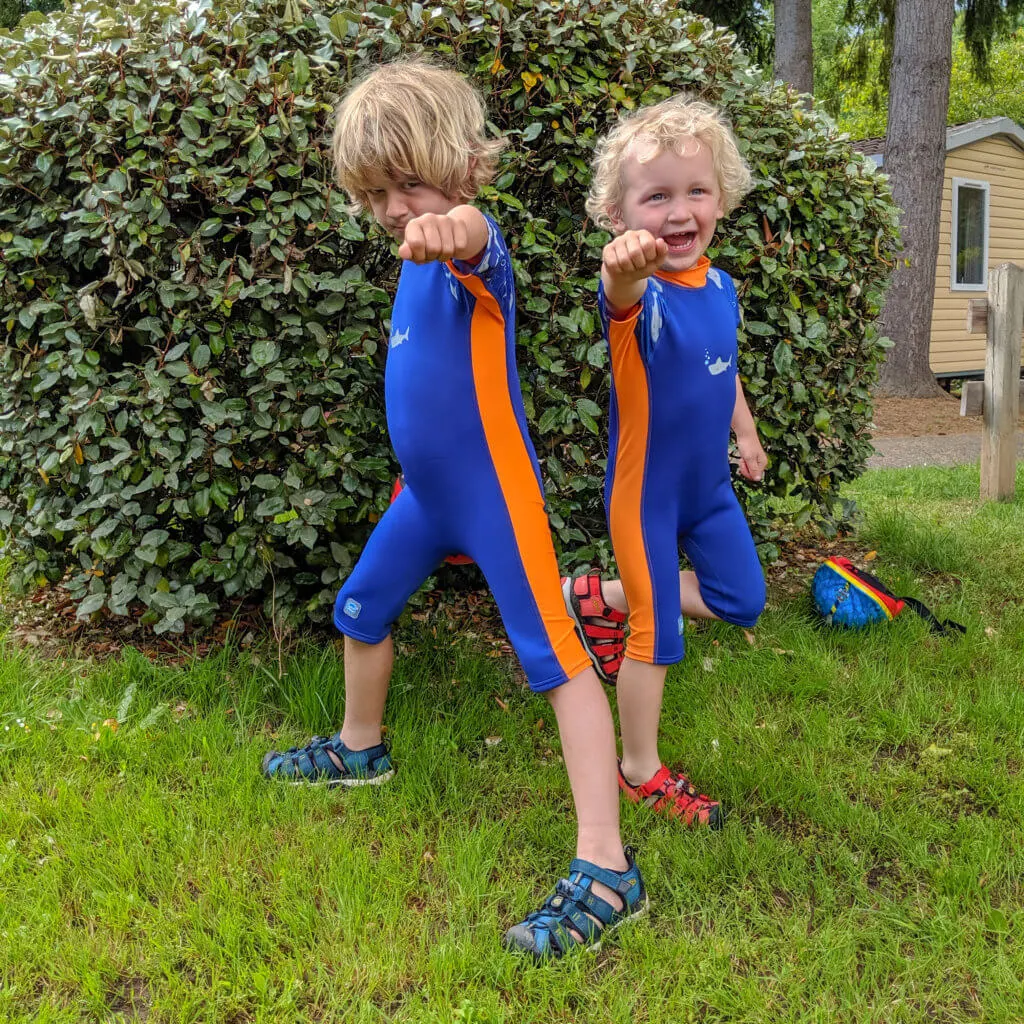 On our recent trip to the Dordogne with Eurocamp for May half term, the pool at Camping Le Port de Limueil was again on the expected chilly side, and there was also a beautiful river right next to the parc, perfect for a paddle except the water was freezing! I did consider putting the boys in a full wetsuit, but I knew that once they got out of the water they would melt with the 30°C air temperature. Yet they would get cold quickly in the water wearing normal swim shorts.
The Splash About UV Sun & Sea Suit is perfect for this scenario. Not only is it UPF 50+ and offering great protection from the sun, but it also acts as a lighter wetsuit to keep their core warm. Therefore longer play in and outside of the water!
My boys both chose the Shark Orange Sea Suit, because sharks are very cool (according to them) and they like the colour combination of orange and blue. And because the fabric is slightly thinner and more flexible than a normal wetsuit material, it was easy for my boys (aged 3 and 5) to get it on and off; although I had to help them with the zip at the back.
It's such a clever combination of materials with the wetsuit core and sleeves as a normal swimsuit material. A sunsuit and wetsuit combined. It's great for dipping in and out of the water and means that they are comfortable all day long.
Head over to the Splash About website to order. They have eight designs in total and sizes are 1-2y, 3-4y and 5-6y. The sizes I ordered for my boys (to match their ages) fitted perfectly.
---
You may also like to read:
Lanzarote with kids: off the beaten track
Best Châteaux to visit in the Loire with kids
Lisbon with kids: a 3 day itinerary