The Asia Interviews is a series of guest posts where fellow family travel bloggers talk about their best destination in Asia for family travel. TraveLynn Family hasn't been everywhere, and I love hearing about the adventures of other families in Asia and being able to share them with you.
Kyla from Where Is The World chats about visiting Luang Prabang with kids (Laos).
Hubby and I dipped out toe into Laos over a decade ago. We are desperate to get back to South East Asia and would love to explore more of Laos with the boys. Kyla has certainly got my feet itching and travel juices flowing with this month's interview!
1. Tell us a bit about yourselves. Where are you from and how often do you travel as a family? How old are your children?
We're a Canadian family of four, and we absolutely LOVE to travel!! We live in Northern Canada, so the winters are long and very cold. Travel gives us an escape from the dark, and allows us to see & experience the world outside of our tiny, frozen corner.
I'm Kyla, mom and travel planner. I'm an optometrist (eye doctor) and I own my practice alongside 2 business partners. We've set up the practice in a way that allows our families to take a lot of vacation.
Randy (dad) is a financial consultant who works periodically from home, when we're home for long enough stretches at a time! We have two girls, Calais is 7 and Kacela just turned 6. They're both in French immersion school this year, and so far, are enjoying a bit of routine and normalcy.
We tend to travel somewhere every month, with at least 1-2 international trips a year. We've just returned from a gap year where we travelled through 31 countries in 12 months!
2. How many times have you travelled to Asia and why do you love travelling there?
Technically we've only travelled to Asia with our kids twice, however we've spent 7 months there! We love everything about Asia, but most of all we love the food. Each country offers something different, but it's all fresh and delicious.
3. Why is Luang Prabang your favourite destination?
Luang Prabang is definitely our favourite city in Asia for kids. It's a smaller city than many other popular cities in Asia, and has a small-town vibe to it. The main tourist area in Luang Prabang is full of beautiful colonial buildings with tree-lined boulevards and wide sidewalks, making it easier to keep the little-ones safe. A lot of the main sites are easily walkable, and when the kids get tired there are rickshaws available on most corners. That, and it's full of great food, culture, nature and lots to do.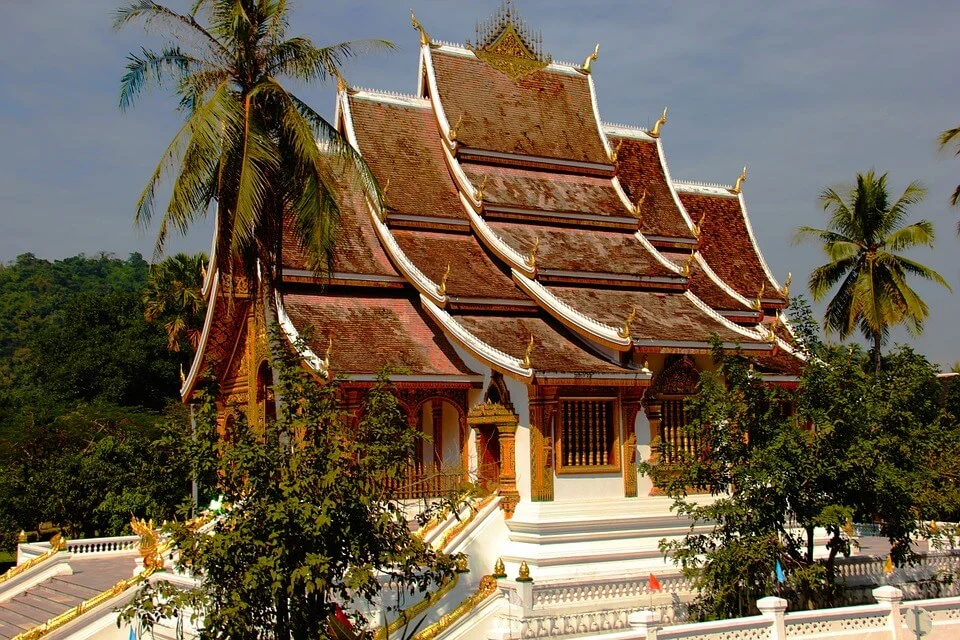 4. What were your top 3 things to do Luang Prabang with kids?
Laos Buffalo Dairy – this is a little ways out of town, but it's completely worth the effort to visit. It's on the way to the popular Kuang Si waterfalls, and it's easy to combine a visit to both. The dairy is socially responsible and focuses on giving back to the farmers in the surrounding community. You can go for a tour, or just stop by for delicious buffalo ice cream! There's a few small animals to feed, and a playground for the kids to run off the ice cream energy.
Ock Pop Tok Dying class – It's almost impossible to visit Luang Prabang and not be aware of the multitude of fair trade artisan shops. Ock Pop Tok is one of these, but takes it to a whole new level. They offer weaving classes (only appropriate for older kids or adults) and a family-dying class (great for young kids). You'll learn all about the process of dying fabric using natural materials, make your own dye, and then create your very own scarf or t-shirt.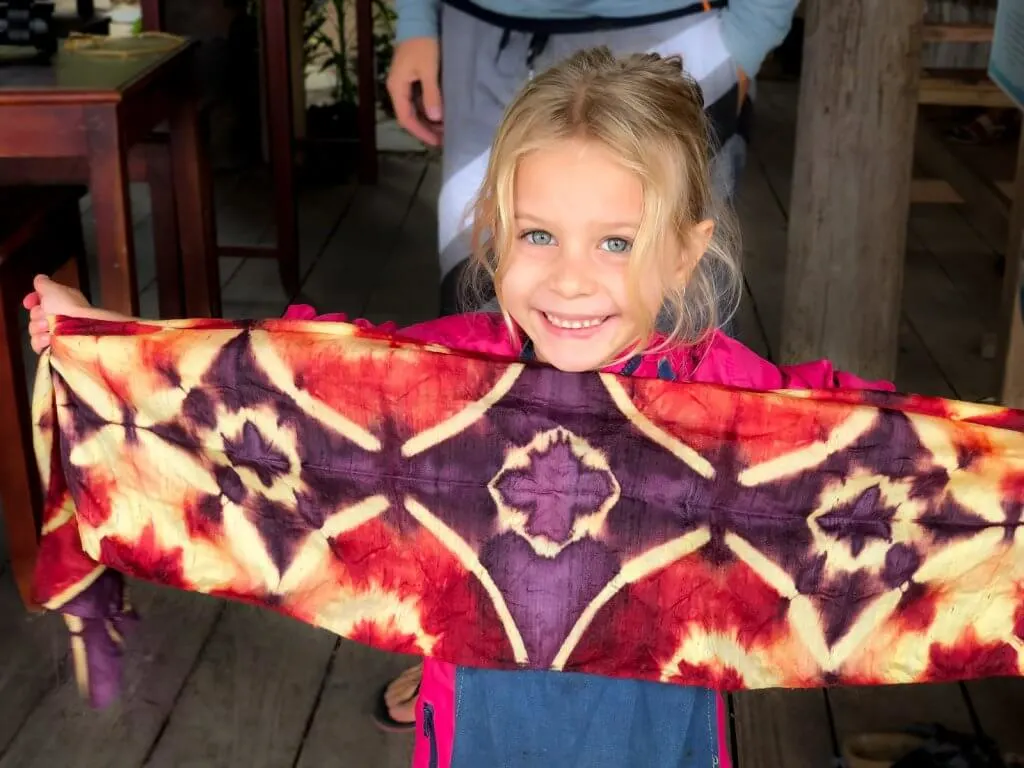 Royal Palace Museum – Normally a museum isn't high on the list when traveling with kids, but the palace museum in Luang Prabang is different. The former palace has been turned into a small museum displaying many royal artifacts, which is worth a visit if you're interested, but it's the palace grounds that are the real star of the show here. You can visit the gardens for free, and it's the perfect place to let the kids run around. There's a number of grassy areas, with big trees, lots of shade, and no traffic. It's ideal for little and big kids alike!
5. Where did you stay and do you recommend it?
We stayed at Villa Somphong in a family room. It was very centrally located but still on a quiet street, the room was clean and in good shape, and the included breakfast was delicious. I'd definitely recommend staying here!
6. What did the kids eat?
Luang Prabang has some of the best food in Asia, with a very European flare. We're blessed to have kids that eat pretty much everything, so we mostly stuck to local food. A few of their favourites were the Charcuterie platters, noodle soup and croissants from the Swiss bakery.
7. How did you get around Luang Prabang with kids?
We got around by walking as much as possible! Luang Prabang is an easy city for walking, with wide streets, sidewalks and most activities near to each other. When we weren't walking, we'd catch one of the tuk-tuks or trucks (songthaew) that were always driving around town. A few times, when we had a bit further to go, we used the Grab app.
8. What is your top tip for families travelling to Luang Prabang?
Give yourself time to wander and enjoy the city. Part of the charm of Luang Prabang is found in the everyday lives of the people living there. Wander down the quieter streets, take the unexpected detour, and enjoy getting lost in this cute colonial city.
9. What item could you not have done without at Luang Prabang?
We did so much walking in Luang Prabang, I would've been lost without my Ipanema gladiator sandals. I love them because they're lightweight and offer better support than a flip flop because of the ankle strap. They're also jelly shoes, so they dry quickly and can be easily washed.
10. Where are you off to next?
We're doing one-on-one trips with the girls this fall, which everyone is really excited about! Randy and Kacela are heading to Germany, Luxemborg & Switzerland to do a European candy tour. Calais and myself are going to London and Cyprus, and she's come up with an incredibly mature itinerary that I'm really excited about! These will be our first individual trips with the kids, and we're looking forward to more of these in the future.
---
You can follow Where Is The World and their adventures on their website, Facebook, Instagram and Pinterest.
You may also like to read:
One day Bangkok itinerary with kids
India with kids: top 10 things to do
Ten day Thailand itinerary with young kids and no internal flights or overnight trains