Rising majestically from the barren desert, the glitzy skyline of Doha is forever changing as money oozes from the oil and gas refineries and pours into the rapid and constant development of the city. The current political situation (neighbouring countries have severed ties with Qatar), seems to have done little to halt this and the region is booming. Have you considered doing a stopover in Doha with kids?
Disclaimer: The Intercontinental Doha kindly hosted us for the afternoon and Qatar Inbound Tours discounted our half day desert tour. However the opinions and words are all our own, based on our own experiences. This post contains affiliate links. Should you click on a link to purchase, it is at no extra cost to you, but I get a small commission that goes towards the running of this blog.
With our visit back home to the UK, we thought we would take advantage of our Qatar Airways flight and stopover in Doha for a couple of days. We had previously done a stopover in Abu Dhabi with kids, and as it had worked so well, we thought we'd try Doha for a stopover.
However, when we initially scoured the hotels online, we thought we had made an expensive choice. Doha promotes itself as a high end tourist destination where one enjoys luxury hotels, dines at fine restaurants and shops at shiny malls. This isn't quite us. In fact, far from it.
So is a stopover in Doha worth it? And what is there to do in Doha for kids?
Where we stayed in Doha with kids
Although it would have been lovely to stay in a 5* resort, we couldn't justify the cost. We had pre-booked the 4* Golden Ocean Hotel, which was a huge mistake. After a 30 minute wait to check in, we were shown a room with a tiny bed for all four of us to sleep in. The hotel were happy to show us another room with a larger bed, however one of the rooms still had a person sleeping in it (!!!) and another was thick with cigarette smoke. We hastily left.
We quickly realised that Doha is perhaps a place you need to stretch the budget a bit and we opted for the 5* Saraya Corniche Hotel after a super quick booking.com search. I would say that it is more 4*, although it's a great location (short stroll to the Corniche), comfy and clean rooms (many with amazing views across the bay) and there is also a indoor pool and kids play room. We really only used the hotel as a base for exploring and it was more than adequate for this.
Views from the room:
Experiencing 5* resort luxury for the afternoon
TraveLynn Family were invited to spend the afternoon at the Intercontinental Doha. We had heard from friends and bloggers living in the area that this is THE place for families, and we can see why! With a wonderful playground, kids' swimming pools and a sandy private beach overlooking the bay, we were all still playing once the sun had set. We also enjoyed a marvellous buffet lunch; after 6 months living in India the boys particularly enjoyed the bangers and mash, whereas I had my eye on the scrummy sushi and the delicious range of cheese and cured meats.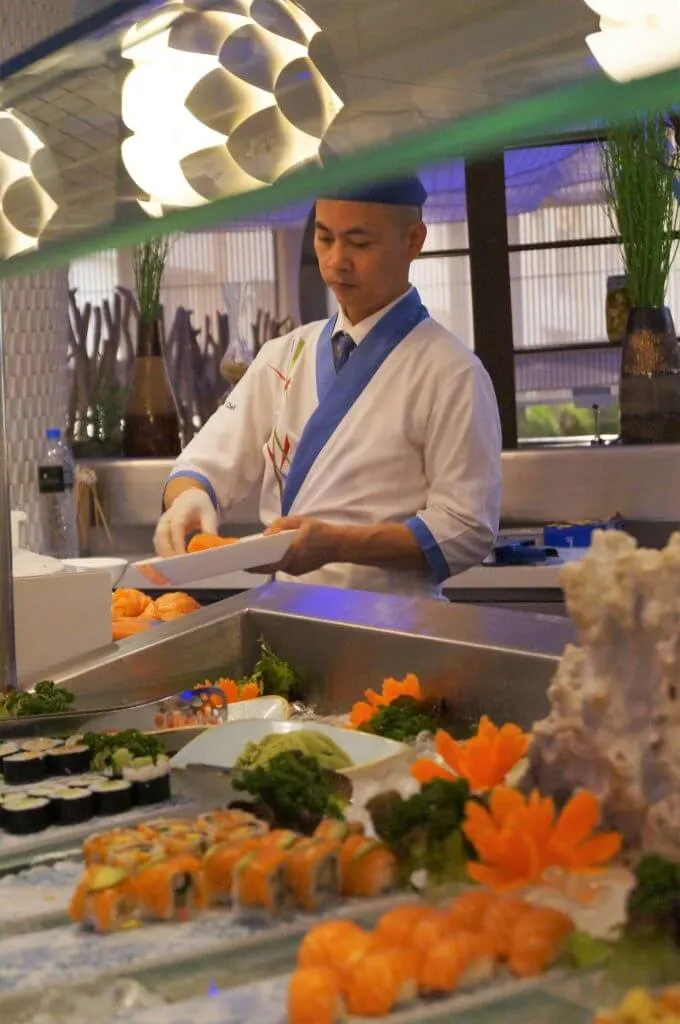 Non-guests can pay for a day pass to use the pool area and beach for the day. Entrance is FREE for children below the age of 3. Prices for children (aged 3 to 12) and adults (13 years and above) are dependant on the days of the week:
Sunday, Monday, and Thursday: QR 200 (Adult) / QR 100 (Child)
Tuesday and Wednesday: QR 100 (Single female) / QR 200 (Single male / per couple) / QR 80 (Child)
Friday, Saturday, and Public Holidays: QR 350 (Adult) / QR 150 (Child)
If you are visiting at the weekend, or you have children aged 3 and above, the cost does add up and you're probably better off paying to actually stay at The Intercontinental Doha.
Doha Desert trip with kids
No visit to Qatar would be complete without visiting the desert. We booked a fantastic half day desert tour with Qatar Inbound Tours (Half day QAR800 for the entire group/prvivate 4×4).
The drive south to the desert from the city took about 25 minutes along a wide, clear highway. When the tarmac ran out, the driver let the air out of the tyres in preparation for some dune bashing and we took a ride on the camels. Admittedly this isn't quite what we expected. We essentially spent QAR60 (£12) for two camels to walk 40 metres up and down a car park. However, the boys absolutely loved it and it's just one of those thing we had to do.
But it was the dune bashing that we had come for. What absolute exhilarating fun! I will never forget the giggles from all the boys as our skilful driver careered up, over and around the silky dunes. We also stopped to take in the seemingly endless views of untouched sand and drove so far south we could see the coastline of Saudi Arabia.
Free things to do in Doha with kids
As you may have gathered so far, it's quite easy for the budget to blow out of the window in Doha. However, there are some fantastic free things to do, which are all within easy walking distance of each other.
We loved wandering around Souq Waqif; smelling the array of spices, browsing the eclectic shopfronts and getting lost amongst the maze of alleyways. It has been cleverly redeveloped to retain the character and structure of the original 19th-century souq.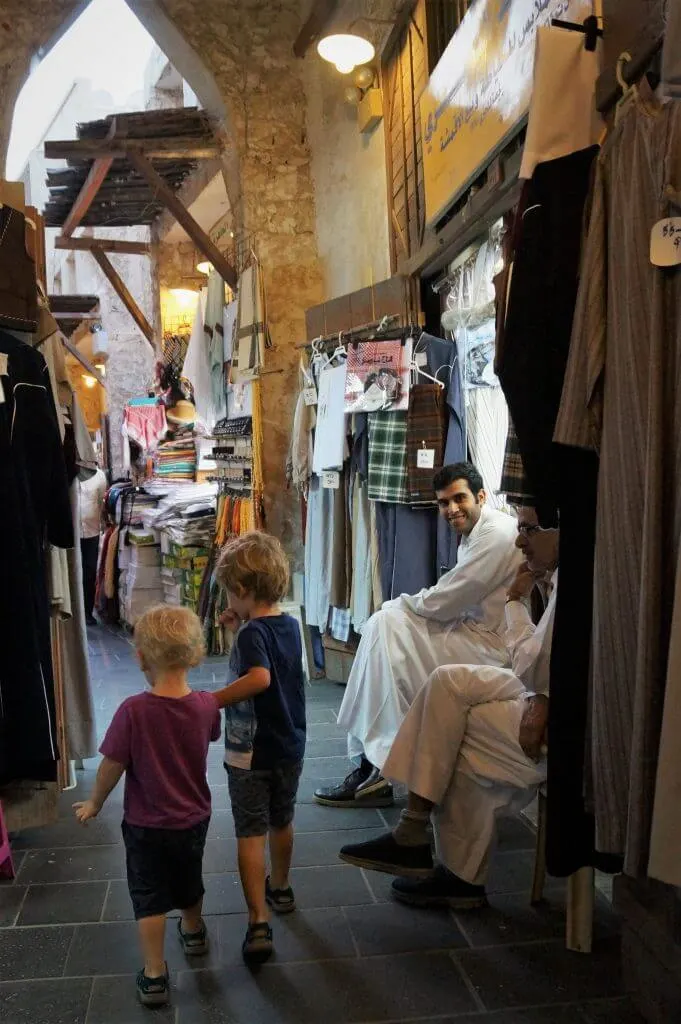 From Souq Waqif you can cross under Al Corniche St towards The Pearl Monument, and enjoy a stroll along the Corniche Promenade. To escape the daytime heat, this is best enjoyed in the evening when the skyscrapers across the Bay are colourfully lit up.
Follow the Corniche around to the right (East) towards the Museum of Islamic Art (open until 7pm every evening, free entry). A bit further along is MIA playground, afantastic play space for kids with two large playgrounds – itt does get very busy on weekend evenings. There is also a good playground at Sheraton Park.
For a comprehensive list of what to do with kids in Qatar, visit Wandermust Family's post: Ultimate Guide of What to do with kids in Qatar in Winter. Or check out this list of things to in Doha.
Getting around
If it's too far to walk, taxi is your best option of getting around. These are all metered and easy to flag down. Taxis are reasonable and start from QAR10. To get from the Museum of Islamic Art, around the Bay to The Intercontinental Doha (11km) is about QAR25.
Many hotels offer an airport shuttle service for free. Otherwise a taxi to/from the airport is around QAR40.
Thankfully Hamad International Airport, Doha, is very well organised and is often voted as one of the best family friendly airports in the world. Also, check out this handy guide for what to wear in Doha airport.
Is it worth doing a stopover in Doha with kids?
Most definitely! Okay, so we soon realised we needed to stretch the budget, a lot (particularly for accommodation), and we spent a bit more than we would normally for a two-day city break. But hearing the boys giggles as we careered down those sand dunes was priceless and the clean order of everything was a fascinating contrast to the chaos of Bangalore where we live. Plus, we still found lots of free things to do.
Useful Travel Info:
Best time to visit: Winter (Nov-March). However, we visited in late October; the heat of the summer was passing and it was comfortable.
How to get there: Qatar Airlines is the main provider to Doha's Hamad International Airport. Other providers include SriLankan, IndiGo, Kuwait Airways, Jet Airways, Oman Airways.
ATMs: Multiple ATMs are available at Hamad International Airport and they are plentiful across the city (map).
Visas: In August 2017, Qatar removed visa requirements for citizens of 80 countries, including Australia, the European Union, New Zealand, the UK and the US. Visa waivers are issued on arrival and you can stay for up to 60 days.
Language: Arabic is the official language of Qatar, with Qatari Arabic the local dialect. English is widely spoken as a second language.
Time: GMT+3
Government travel advice: https://www.gov.uk/foreign-travel-advice/qatar
---
You may also like to read:
Abu Dhabi with kids
Visiting Dubai with kids
How to beat jet lag with kids