The Asia Interviews is a series of guest posts where fellow family travel bloggers talk about their best destination in Asia for family travel. TraveLynn Family hasn't been everywhere, and I love hearing about the adventures of other families in Asia and being able to share them with you.
Thailand is one of our favourite destinations for family travel, and no trip to Thailand is complete without visiting bustling Bangkok, and one of the islands. I'm often asked what the best beach in Thailand is for families, and whilst I've always said Klong Dao, Ko Lanta… I'm desperate to check out Koh Lipe with kids after reading this week's The Asia Interviews with Melissa from Thrifty Family Travels.
1. Tell us a bit about yourselves. Where are you from and how often do you travel as a family? How old are your children?
We are Thrifty Family Travels which is made up of myself (Melissa), my partner Andy and our daughter Myla who is currently 8. Both Myla and I are born and breed Australians, however Andy is from New Zealand but has called Australia home for almost 30 years. We travel as often as we can around school and work both internationally and within our own country which is Australia and even our own local city of Brisbane.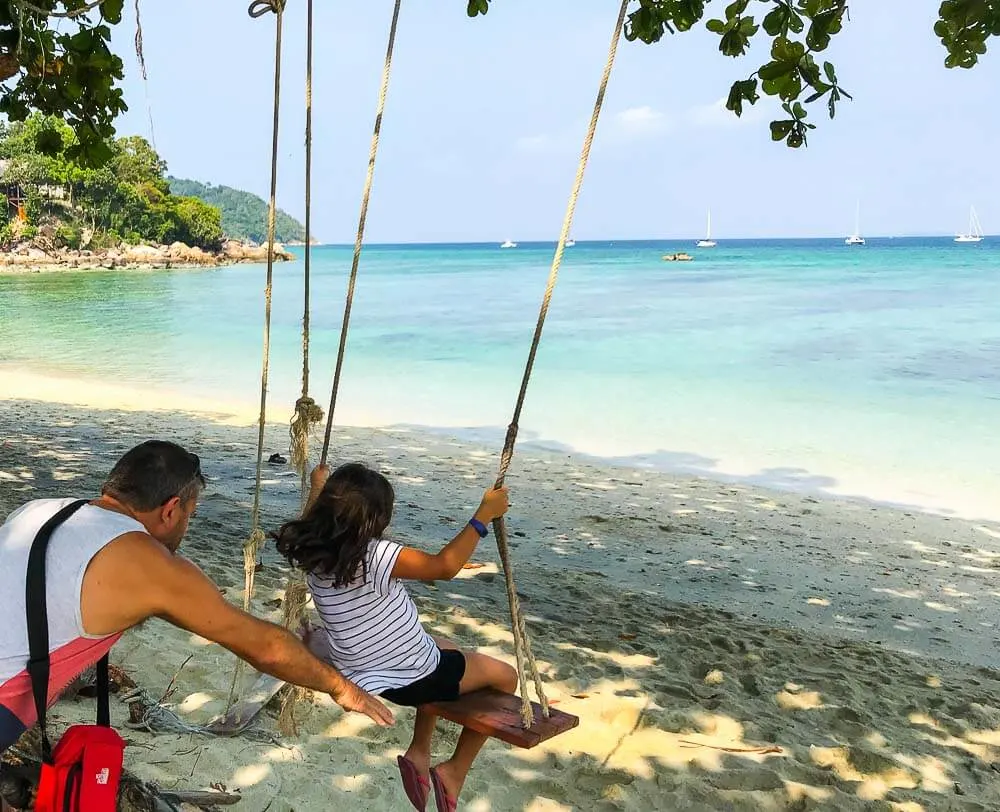 2. How many times have you travelled to Asia and why do you love travelling there?
I personally have been to Asia over 10 times, gosh maybe even over 20 times! Even Myla has been to Asia around 10 times. Myla's first international trip was to Thailand when she was 18 months old.
Given Asia, in particular SE Asia, is so close to us in Australia it makes it an easy and cheap holiday destination. We also love the gorgeous beaches, the exotic culture and how friendly and welcoming the people are in SE Asia. Oh and the food – it is amazing!!!! We love Asian food.
3.Why is Koh Lipe your favourite destination?
Koh Lipe is such an amazing island to visit. We just love it for it's calm, crystal clear water, cheap massages on the beaches and great places to eat. Unlike many other Thailand beach destinations, there aren't many vendors trying to sell you stuff, so it's far more relaxing.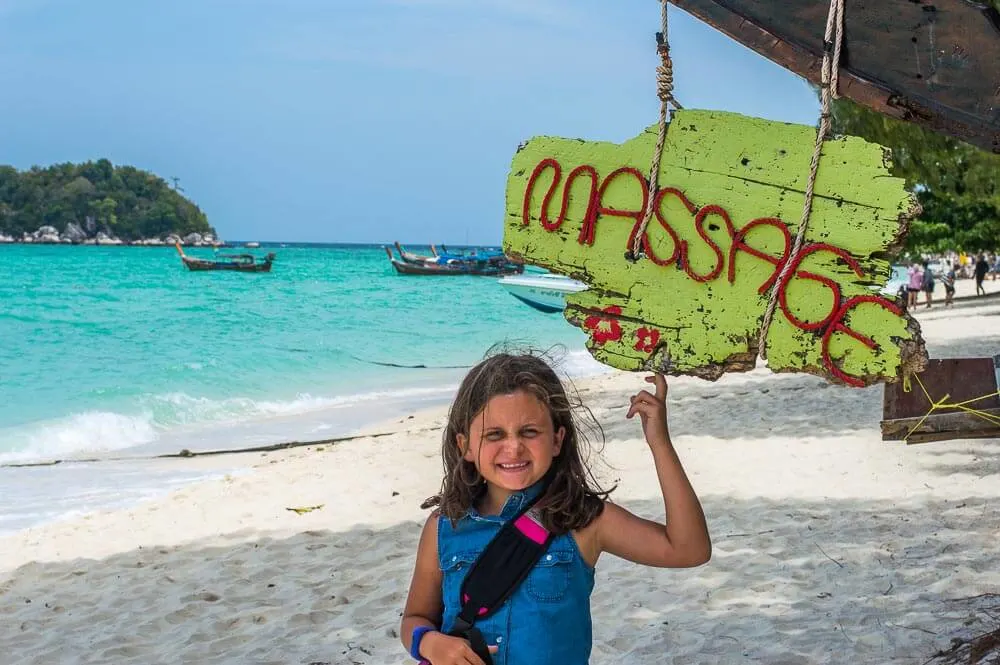 I love the fact that the water is calm so its super kid friendly. Andy and I can dine on the beach or have a few drinks and Myla can swim in the shallow water or build a sandcastle.
Once you have had enough of lying around, there are a few other beaches to explore with some great snorkelling.
4. What were your top three things to do on Koh Lipe with kids?
Swimming in the calm ocean, kayaking around to the different beaches and snorkelling.
5. Can you recommend any family friendly accommodation on Koh Lipe?
We stayed at a few different places in order to try and experience the various beaches.
On Pattaya Beach we stayed at Green View Beach Resort which is fairly basic – just huts on the beach. The location is absolutely fantastic!
On Sunrise Beach we stayed at Salisa Resort as well as the Mountain Resort. Sunrise is within walking distance to town, whereas Mountain Resort isn't. However I loved Mountain Resort for it's stunning beach and being close enough to kayak around to Sunset Beach which has fantastic snorkelling as well as a few secluded beaches.
If I had to just pick just one beach for families to stay at, I'd recommend Pattaya. The beach is fantastic for kids, plus there is loads of places to eat.
6. What did the kids eat?
Well Myla loves rice, so she's always good in Asia. There is all the usual western food if your kids are not into Asian food like sandwiches and chips.
7. How did you get around Koh Lipe?
Walking. There are a few motorbike taxis and when we stayed at Mountain Resort they had a vehicle that took guests into town every so often, but really the island is super tiny and you just walk everywhere.
8.What is your top tip for families travelling to Koh Lipe?
If you have time, try out at least 2 different beaches. I'd also recommend you hire some kayaks and spend at least a few hours exploring the little beaches around Sunset Beach – they are stunning and this is where we found the best snorkelling. If you're not into kayaking, you can even just go from the beach.
9. What item could you not have done without on Koh Lipe?
Swimmers and a sarong – seriously you won't need anything else!
10. Where are you off to next?
We are going to Japan! Our first time but it's been on our bucket list for ages!
---
Read more about Thrifty Family Travels on their website. You can also follow on Facebook, Instagram and Twitter.
You may also like to read:
Thailand with kids: 10 day itinerary with no internal flights or overnight trains
Best beaches in Thailand for kids
Bangkok with kids: a one day itinerary