For any outdoor loving family, a compact picnic mat is an essential item. Whether we're hiking in the hills, off to the beach, or pulling over for a picnic on an epic road trip in our Mazda Bongo, it's always handy to have a picnic mat to plonk our behind on.
This is a paid partnership with Rubbastuff. As always, this is an honest review.
Now there are a lot of picnic mats to choose from, and I suppose you could just use a blanket or towel. But for us, we always travel light and so we need a picnic mat that is compact, yet big enough for us all to sit on. Add in durable and waterproof material that is machine washable, and it's a winner for us.
So I was extremely delighted when Rubbastuff gifted us one of their PACMAT family mats. Not only does it tick all the boxes for us, BUT… this one has the OS Map of the Peak District on it! For anyone who doesn't know, we live in the Peak District and I'm also the editor of the Peak District Kids website. Plus, I'm absolutely map obsessed. I honestly spend hours staring at various maps, and anyone who visits our house comments that there are maps everywhere!
The Rubbastuff PACMAT
PACMATs are perfect for those who travel light. They're compact, waterproof and washable, plus they come in a range of sizes:
Patch (a waterproof, thermal sit mat for one. 60cm x 60cm)
Solo (140cm x 60cm)
Family (140cm x 140cm)
XL (240cm x 140cm)
XXL (240cm x 280cm)
We received the OS Peak District Family PACMAT, which features the Peak District plus Manchester, Sheffield and Stoke-on-Trent. It's big enough for all of us to sit on (plus food!) and packs away small in to a netting bag (15cm x 12cm x 12cm). The weight is only 445g, including the bag.
There are lots of different OS Maps to choose from, including London Parks, Lake District, Snowdonia, and Dartmoor. But there are also lots of lovely patterns to choose from. See photo below or check them out here.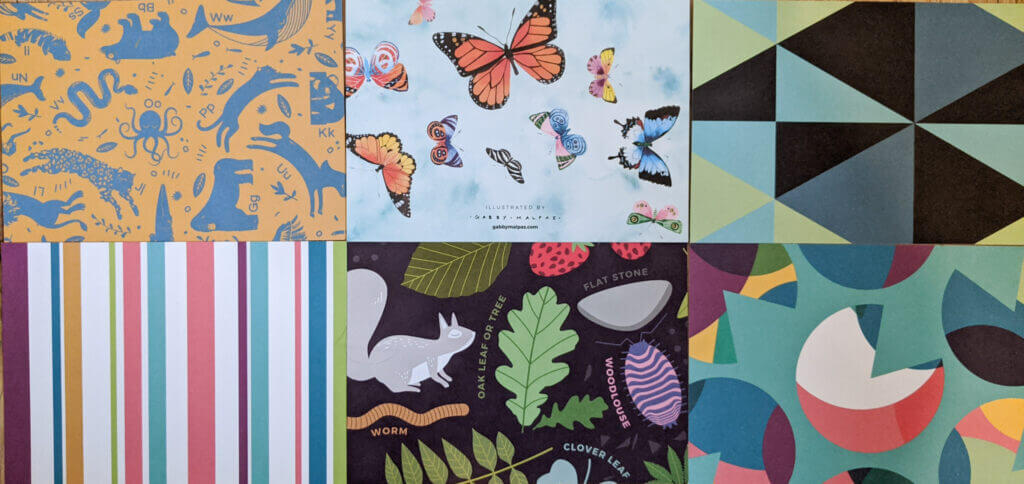 You can also purchase some pegs to keep it in place on a windy day. There are little slits in the corners to put the pegs through.
What did we think of the PACMAT?
It perhaps seems a little strange to get so excited about a picnic mat, but in a nutshell…. we love it, love it, LOVE IT!!
I'm totally won over by the design with the OS Map of the Peak District, but more importantly its folds up really small into our day bags for hiking and is super light.
We tried it out on the Three Shires Head walk in the Peak District last weekend. I laid the PACMAT out on a rock next to the waterfalls for our picnic stop. As the PACMAT is waterproof, there was no problem with the boys stepping on to it with their wet feet after paddling. There was also an eager puppy jumping around who came on to our mat for a big shake off after being in the water. The PACMAT dried in no time, although our sarnies got a bit soggy!
Our PACMAT will also be joining us on our Bongo camper adventures! Van life is all about minimal living and saving on space, so the PACMAT is perfect for our next camping or road trip. Indeed the PACMAT has become an essential item on our Bongo packing checklist.
And we're not the only one's who rave about the PACMAT. The lovely Karen at Mini Travellers says: "This Pacmat lives in my day out bag and is used almost weekly. A definite addition for our household." I can also see ours being used weekly. A worthwhile investment.
Where can I buy my own PACMAT?
Head over to the Rubbastuff website to order yours.
I think the PACMAT also makes a really lovely gift. Rubbastuff also make foldaway ponchos and waterproof carry bags that you can sit on.
---
You may also like to read:
The BEST childrens walking boots
21 USEFUL travel gifts for kids
Is it worth getting a GoPro for family travel adventures?