The Asia Interviews is a series of guest posts where fellow family travel bloggers talk about their best destination in Asia for family travel. TraveLynn Family hasn't been everywhere, and I love hearing about the adventures of other families in Asia and being able to share them with you.
Nicky from Go Live Young chats about travelling Bhutan with kids.
1. Tell us a bit about yourselves. Where are you from and how often do you travel as a family? How old are your children?
Hi, I'm Nicky from 'Go Live Young'. We are a family of five, with three boys, aged 14, 12 and 10, living in South Wales in the UK. We've recently returned from a nine month round the world trip. Now settled back at home we are travelling as much as the school holidays will allow.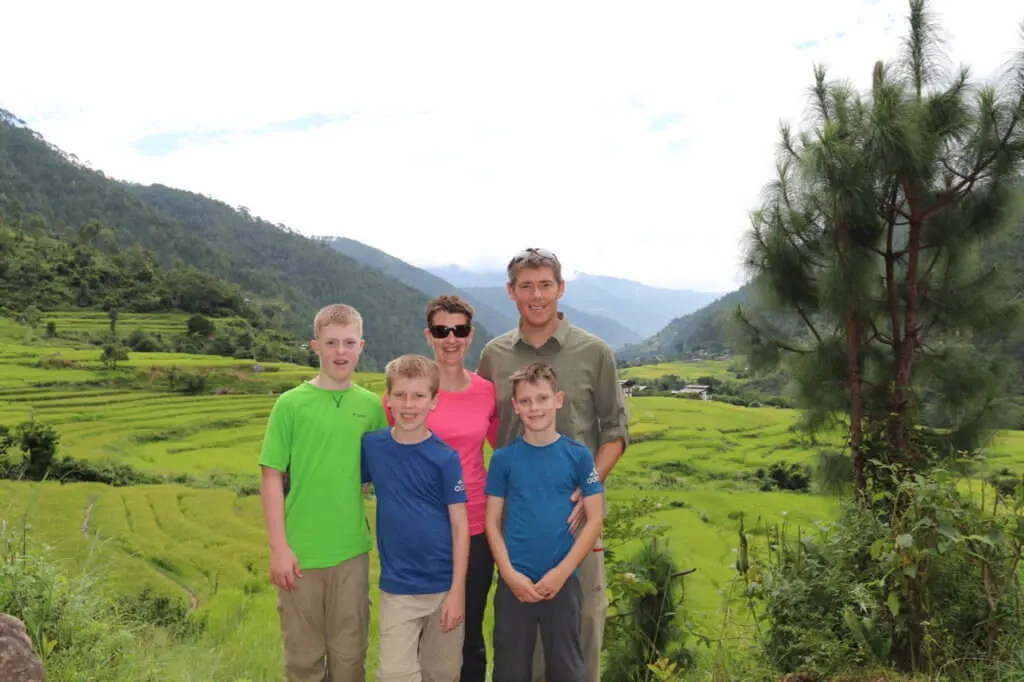 2. How many times have you travelled to Asia and why do you love travelling there?
We're very lucky to have travelled a great deal in Asia. On our family world trip we spent five months in this part of the world! We love the culture and history in Asia, as well as the amazing scenery – beaches, desert, mountains and rainforests, they've got it all!
3. Why is Bhutan your favourite destination?
Bhutan is a tiny Himalayan, land-locked country, that almost seems to have stood still in time! It became my favourite country on our round the world trip. There is the beautiful mountain scenery, traditional dzongs and monasteries dotted around the country, and a very different and interesting culture.
4. What were your top 3 things to do in Bhutan with kids?
Hiking – we did several hikes in Bhutan, all of which were beautiful. The most iconic of which was the hike to Tiger's Nest Monastery, perched on a cliff high above the valley. Hiking in Bhutan has plenty of interest for kids, as there are rocks to climb or jump on, rough trails to follow, and for the grown ups, the most amazing views.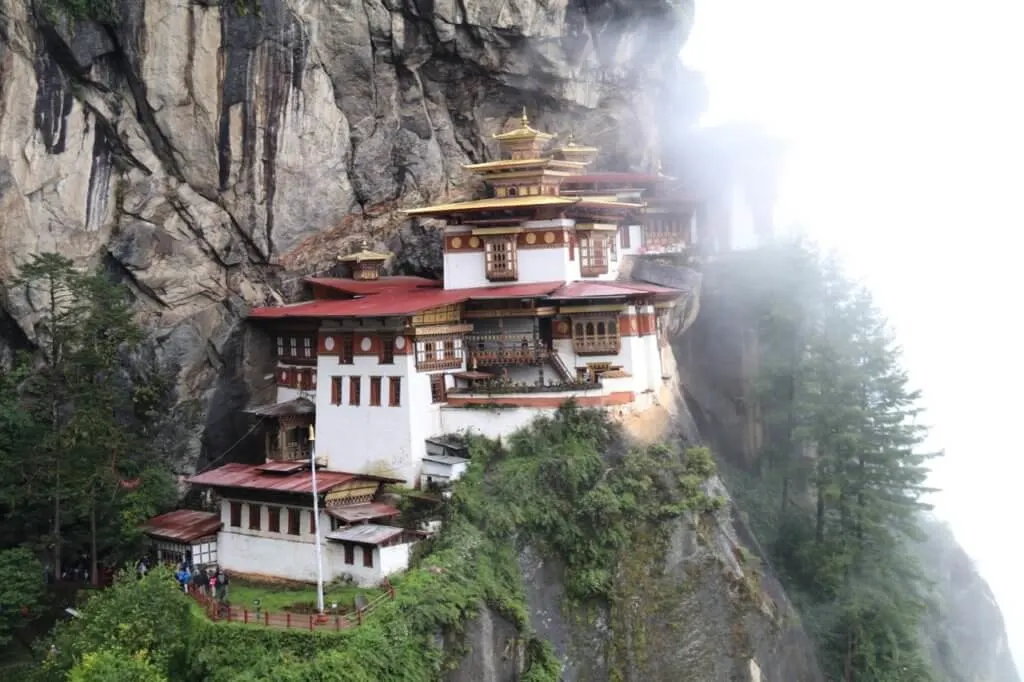 White water rafting – it was the boys first time rafting and they loved it. We rafted the Mother River (Mo Chhu) in the Punakha Valley, which is a relatively calm stretch of water with smaller rapids, suitable for children. Our youngest was 8 at the time of rafting. The river gave us enough action to keep everyone entertained and wet, but was not so scary that we felt we'd end up in the river at any point. A great first rafting experience.
Watching archery – on three occasions we came across archery being played. The boys were fascinated watching the men firing their arrows at the targets some distance away. Archery is the national sport of Bhutan.
5. Where did you stay and do you recommend it?
We spent a week in Bhutan, staying in three different locations. Our trip was based in the three towns of Thimphu, Punakha and Paro. These three locations make a great one week Bhutan itenarary with children.
6. What did the kids eat?
Food in Bhutan is a mix of Chinese, Tibetan and Indian. They like spicy food and every meal includes chillies! We quickly learned to ask for "no chillies" on everything.
Rice is always available, although it may be red! Rice is usually accompanied by meat and vegetables. Momos, steamed dumplings, are great for children.
Basic food precautions should be followed for kids – drink bottled water and peel fruit and vegetables.
7. How did you get around Bhutan with kids?
Travel in Bhutan is very different to the majority of world countries. Government regulations require all visitors to travel with a pre-paid and pre-planned itinerary, organised through a Bhutanese travel company. You will be accompanied by a Bhutanese guide throughout your trip.
Every visitor pays a tourist tariff, a daily fee, per person, to visit Bhutan. This tariff covers 3 star accommodation, all meals, a licensed Bhutanese tour guide, and a car (mini-van) with driver, for getting around.
8. What is your top tip for travelling around Bhutan with kids?
In Bhutan children under the age of 5 travel free. Children between the ages of 5 – 12 years are exempt from the US$65 government royalty, which is a component of the daily fee, and pay only 50% of the remaining daily tariff. Adults and children over 12 years of age pay US$200 or $250 per person, per day, depending on the time of year. This means that travelling with young children is the best way to do Bhutan. Don't wait until they are older as it gets more expensive!
Children also need to be prepared for a trip to Bhutan. Hotels are basic, although comfortable enough, and the food is very different.
9. What item could you not have done without in Bhutan?
Trousers and long sleeved tops are needed in Bhutan. The Bhutanese have a fairly formal dress code for both themselves and visitors. They like men to wear a collared shirt/polo shirt and trousers, and women to wear trousers and long sleeved tops. Kids however are fine in shorts and t-shirts. Easy to 'put on' shoes are needed as shoes will need to be removed at every monastery or temple.
10. Where are you off to next?
Next up we're skiing in Whistler, our favourite ski resort in the world!
---
You can find out more about Go Live Young and their adventures on their website. You can also follow them on Facebook, Twitter, Instagram and Pinterest.
You may also like to read:
Nepal with kids: 16 day itinerary
Northern India itinerary with young kids
THE ASIA INTERVIEW: Yangshou with kids (China)