The Asia Interviews is a series of guest posts where fellow family travel bloggers talk about their best destination in Asia for family travel. TraveLynn Family hasn't been everywhere, and I love hearing about the adventures of other families in Asia and being able to share them with you.
Ariana from A World of Travels with Kids chats with us about visiting Lovina with kids…
Bali has been a popular choice in The Asia Interviews, but Ariana takes us away from the crowds to explore the more rustic and quieter Northern region.
1. Tell us a bit about yourselves. Where are you from and how often do you travel as a family? How old are your children?
We are a family of 4 from Australia & Nicaragua… our daughter was born in Peru and we were long-term Peruvian residents, so we consider ourselves a little bit Peruvian too. Parenting is a tough gig, and even harder when you are in a "third culture" different to both parents. When our Little Miss was about 2, we moved to Western Australia, which is Ariana's home state. We moved so Ariana could be closer to her family, but also for economic reasons – having a salary in Australia is more than we could ever expect to earn living in Latin America. It is hard to believe that was 5 years ago, the first 2 years were a massive adjustment. Not only did both adults suffer culture shock but our little guy came along as well. We've always travelled, so we are always out and about. In the past 2 years we've chosen a "one big international trip a year" format but that could change in a blink of an eye. The Kiddos are currently 7 and 4.
2. How many times have you travelled to Asia and why do you love travelling there?
Ariana spent a lot of time in Asia as a backpacker – probably a couple of years if you add up a couple of different stints in China and a lot of South East Asia as well. As a family, we have only travelled to Bali on a 3 week family holiday.
As a family – or a backpacker – Asia is easy (as in, quite touristy) which means lots of choices of accommodation, and lots of things to do and see. Frequent and easy transportation in most places makes it easy to get around… and not to mention the beaches and culture. The culture in Asia is so delicate, beautiful and graceful it is hard not to fall in love with it. And let's not start on the food – scrumptious!!!
3. Why is Lovina your favourite destination?
When we first considered a trip to Bali, we felt that it wasn't going to be challenging enough for us, even though our kids were still pretty small. But – largely for economic reasons (and also Visa reasons – travelling on a Nicaraguan passport is not easy) we ended up choosing Bali, which is a quick cheap flight from Perth. We quickly headed away from the southern coast with Kuta, Legian and all the popular spots are and spent time in the Lovina and Munduk areas. It felt like many other parts of rural Asia, and we didn't see a lot of other tourists. In addition, the people were friendly, and the lovely Balinese were generous in sharing their culture. Expectations can make or break a trip; if you go with high ideals of what you will see you can be disappointed. We expected all of Bali to be touristy and 'spoiled' but were pleasantly surprised.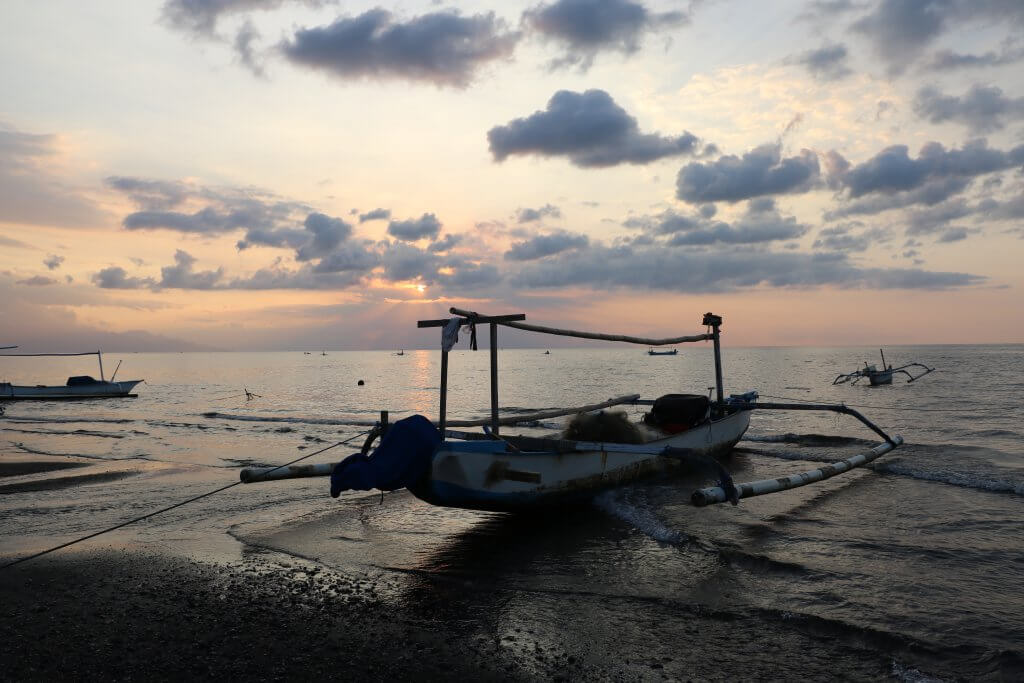 4. What were your top 3 things to do in Lovina with kids?
1. The pool at the hotel (am I allowed to say that? Our kids love playing in the pool!) With black sand beaches we did spend time playing on the beach, but didn't venture into the water.
2. Riding in a horse carriage in Singaraja during an improvised city tour
3. Walking in the rice paddies in nearby Munduk and Jatilweh.
5. Where did you stay and do you recommend it?
We stayed at the Bali Taman in Lovina – yes we would totally recommend it. It was small, relatively cheap and didn't have a lot of people staying there. It was also outside of town, so we took the local bemos to get into either Lovina or Singaraja.
6. What did the kids eat?
Our daughter is quite adventurous and tried a lot of the Balinese dishes that we would pick each night (rice and vegetable type dishes) but… at 6 years old she got a little tired too and by the end was happy for Spaghetti Bolognaise or Pizza (which is readily available all around Bali – a definite pro of the island). Our son is a picky eater and mostly ate chips (French fries), copious amounts of Sprite, ice-creams and packets of potato chips. He usually eats white rice, but didn't like it in Bali. His diet was not a high point of our trip.
7. How did you get around Bali with kids?
We decided to take car seats on this trip – for a multitude of reasons. None the least, we were nervous about this particular trip which was our first outside Latin America in about 10 years.
At each hotel we would contract a different private driver to take us for the next leg of the trip – then fit the car seats. It wasn't the easiest way to get around, that is for sure! We had the car seats in big duffel bags and would immediately store them after arriving at the hotel.
Once based in the hotels we used a mix of bemos (the local buses) and local taxis.
For our next trip we would travel using a mix of private cars and probably some local transport, mostly for the experience.
8. What is your top tip for travelling to Lovina with kids?
Quite simply: do it!!! Get away from the Nusa Dua and Kuta areas, and head to Northern Bali. You might feel a little challenged because there is not loads published about it, but it is very easy, very safe and makes you feel like you have encountered the "real Bali."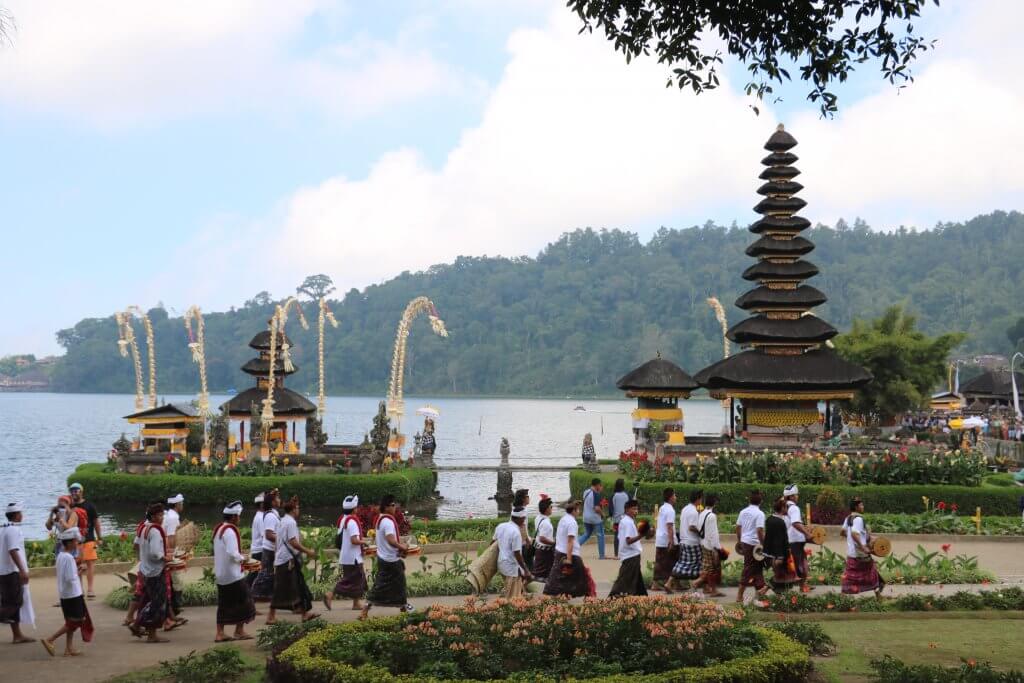 9. What item could you not have done without in Northern Bali?
Our son was just under 3, and he was in the Ergo Baby carrier a lot during this trip. With busy streets we always felt safer carrying him in the Ergo. He did get hot and sweaty, but on the plus side, Mumma came home a few kilos lighter.
10. Where are you off to next?
2018 is the year of 'being' for us, so we are going to be spending more time at home. This means less weekends away or even staycations.
In June, we will be heading off to the Americas – so far the only things booked are our flights to the USA. The rough plan will be to spend a couple of weeks in California (Sequoia and Yosemite National Parks), a month in Peru, and then about 6 weeks in Nicaragua and Costa Rica. It is unlikely that we will add any 'new' countries to our "list" of countries visited, as these are all places we have visited before. However, the intention is to visit friends and family, to "slow travel" and to get to know places better.
In regards to Asia, we are considering a Nepal and Singapore holiday, but whether it will come to fruition is uncertain.
We are also trying to be more practical – we were about to book a 4 day Yoga Retreat in Ubud when we realised that with a bit of commitment and planning we could actually do daily yoga, detoxing and meditation while being at home. (But of course, we haven't done it now the travel impetus has been lost!)
---
Read more about A World of Travels with kids on their website. You can also follow on Facebook, Instagram, Twitter and YouTube.
You may also like to read:
The Asia Interviews: 5 Lost Together chat about UBUD with kids
A day in Bangkok with young kids
Sri Lanka itinerary with young kids